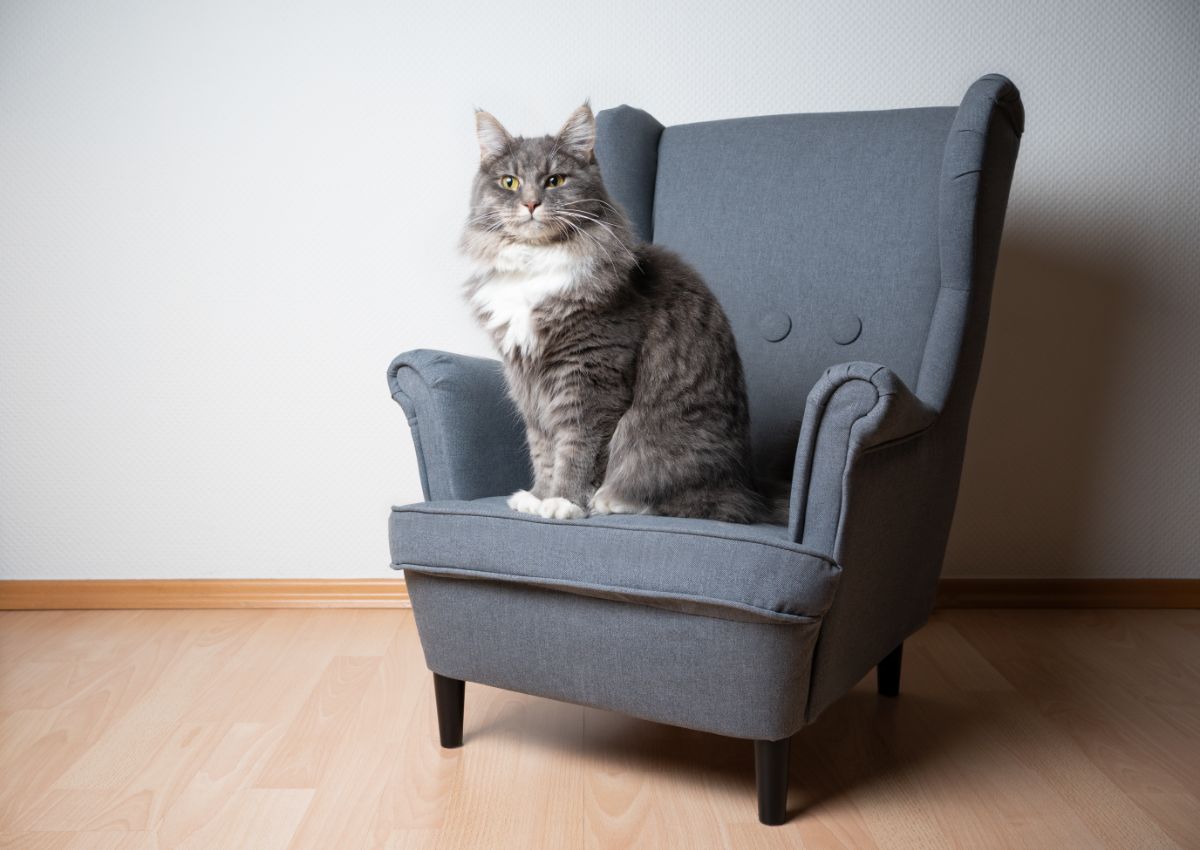 Maine Coons are gorgeous, loving animals, but they have some behavioral quirks. One of these is their increased tendency to scratch furniture compared to other breeds.
Training any cat is challenging, but if your Maine Coon is destroying your furniture, you will want to know how to stop them.
If you're at your wit's end trying to keep your beloved kitty from destroying your furniture, read on to discover seven helpful tips from expert trainers.
Jump to:
Maine Coon Traits
Maine Coon cats are:
Active
Highly intelligent
Playful
Curious
So owners sometimes struggle to keep them from becoming bored. Incredibly athletic, they entertain their owners with jumping and playing. But these traits also make this "doglike" cat breed prone to ruining your favorite furniture.
Why Do Maine Coon Cats Scratch?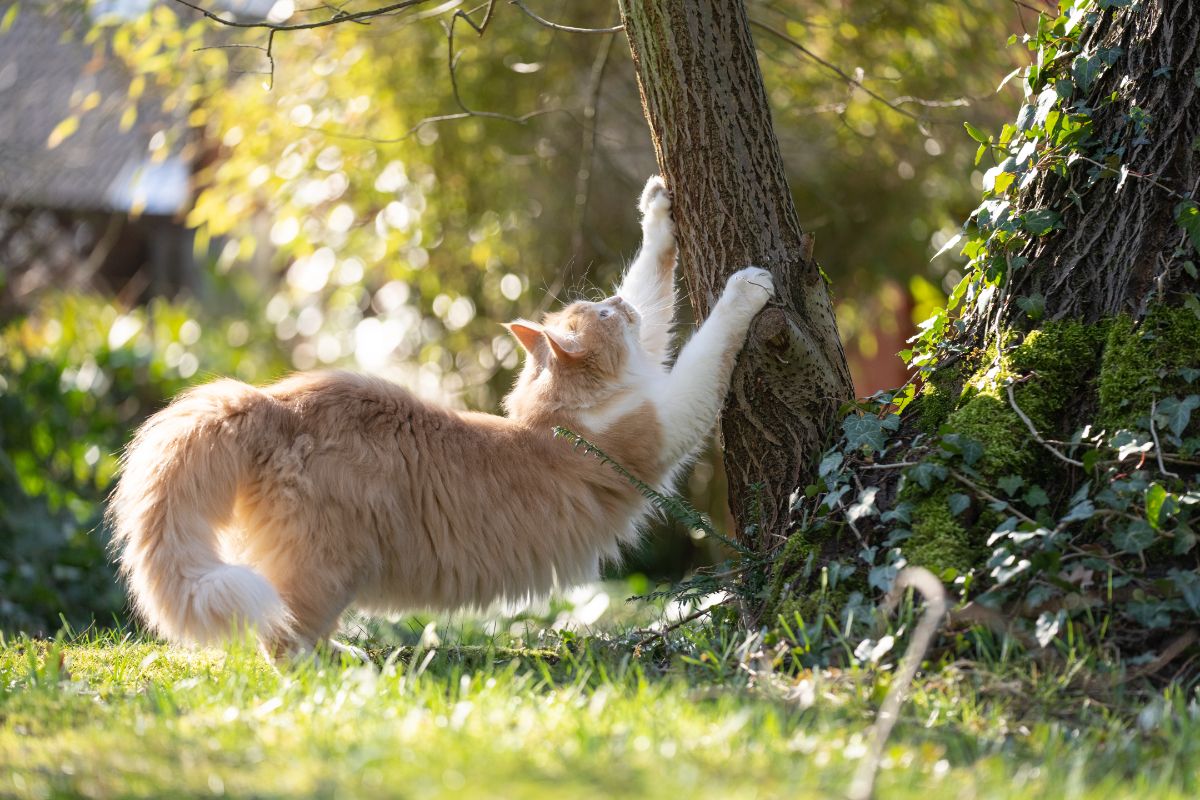 Scratching is a natural behavior from the days when cats lived outdoors. To understand why they scratch furniture, you need to know why they do it in general.
Natural Scent Marking Behavior
Scratching is one of the ways that cats mark their territories. Scent glands in your cat's paws deposit pheromones. These pheromones give off a calming scent to your cat while warning others away at the same time.
Need To Keep Nails in Good Condition
Cats scratch furniture partly to keep their claws in top condition. Scratching helps to peel away old claw sheaths, leaving fresh, sharp claw tips underneath. Outdoor cats tend to take care of this need by scratching and running up trees.
Boredom
Maine Coons need physical and mental stimulation. They become bored quickly. If they form a habit of scratching your furniture, they may use it as a self-soothing activity, especially if you're out of the house for long periods.
How Do I Prevent My Maine Coon Cat From Scratching Furniture?
Now that we've established why cats scratch furniture, we must address how to stop the behavior.
Cat owners may already know how difficult it is to train a feline. They're intelligent, seemingly stubborn, and don't seem motivated by praise.
Fortunately, many cat trainers have ideas about how to keep your kitty from destroying your furniture. Here are seven effective strategies to save your furniture from your Maine Coon cat.
1. Keep Nails Trimmed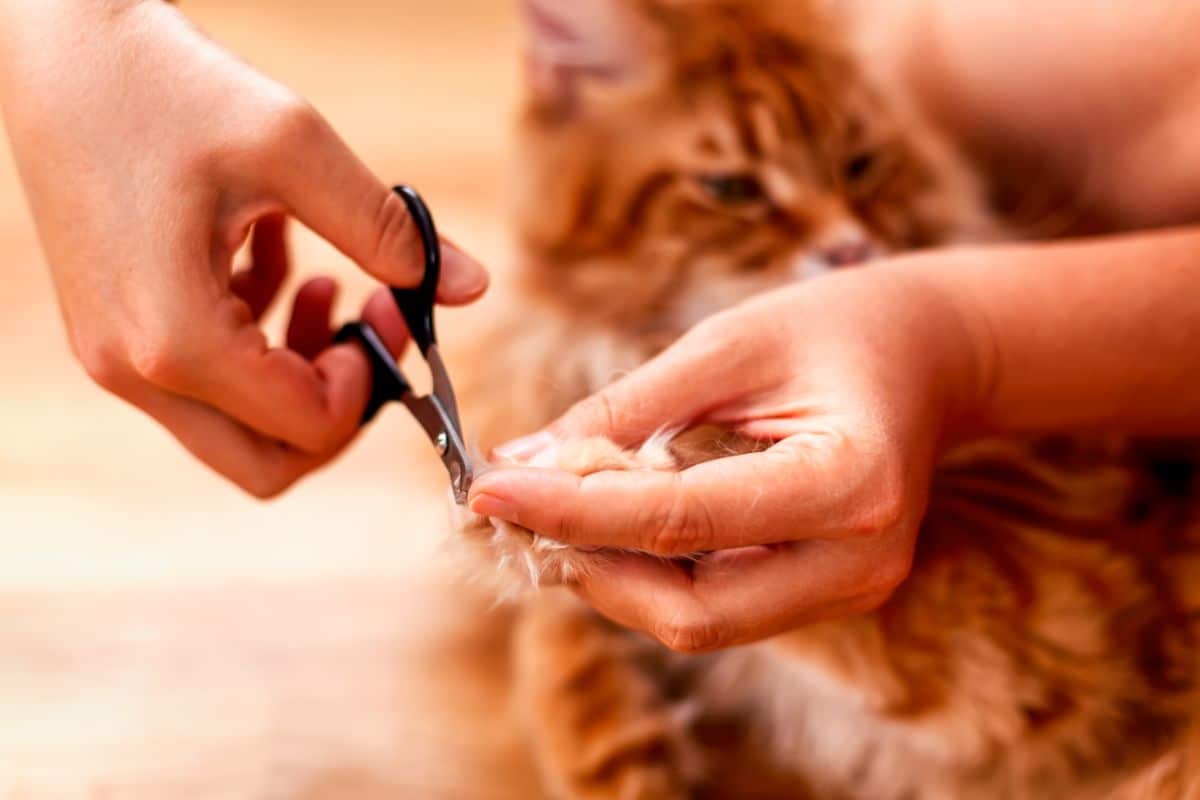 The top tip on this list is the easiest. Make sure that you keep your cat's nails trimmed at all times. When claws are less than razor-sharp, they will not damage the furniture as much. This tip is especially important if you have an indoor cat.
2. Maine Coon Scratching Post
The most important strategy to keep your Maine Coon from ruining your furniture is to give them appropriate places to exercise their scratching instinct. Even if you already have one scratching post, get a few more. Place them near all the areas that your cat tends to scratch.
Carpet-covered scratchers may not be as effective in tempting your cat away from the sofa. Textured cardboard and jute rope satisfy many cats' need to scratch. Replace your scratching posts as soon as they start to fray.
If you can't find an appropriate scratching post, consider making your own. All you need is jute rope and some wood!
3. Use Cat Anti-Scratch Spray
Cat anti-scratch spray mimics the pheromones that Maine Coons deposit when they scratch. If they smell the scent, it may trick them into thinking they've already marked that area. You can get this spray online or at any large pet store.
4. Try Nail Caps
Some Maine Coon owners swear by nail caps. These soft plastic caps glue onto your pet's claws and prevent them from damaging soft furniture fabrics.
Many cats dislike wearing them, so they may constantly chew them off or fight you when you try to put them on. If so, try one of our other solutions.
5. Use Cat Scratch Tape or Vinyl Panels
Cat scratch tape is a double-sided sticky tape that cats dislike touching with their paws. Try putting it on the furniture at the first sign of scratching.
You can also buy vinyl panels to screw onto the sides of your furniture to prevent scratching.
6. Banish Boredom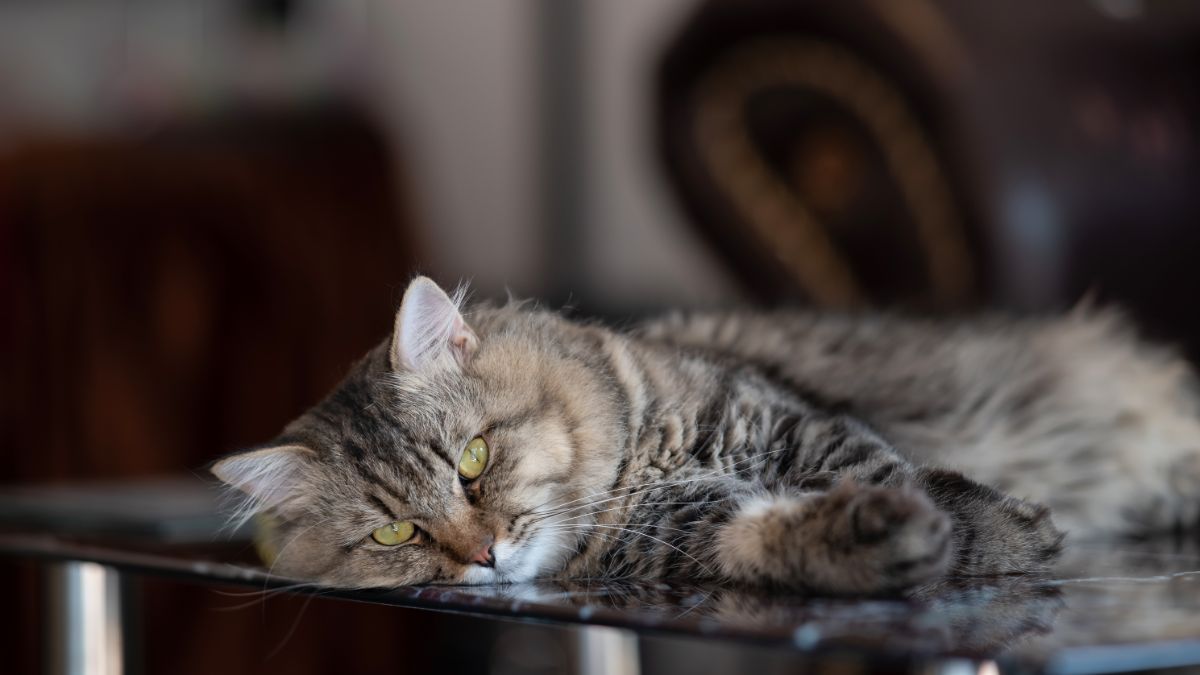 Maine Coons often scratch out of boredom. Since these cats are so intelligent, they need much mental stimulation. They may fall back on scratching if they have nothing better to do and need to self-soothe.
Be sure to wear them out with active play sessions at least twice daily. Provide enriching puzzle toys to keep their minds sharp. If you have the capacity, consider adopting another feline to keep them entertained when you're not around.
7. Redirect the Cat
Finally, use the cat's natural intelligence and redirect them through careful training. Whenever you see the cat scratching furniture, bring them to an appropriate scratching post and encourage them to use it.
If the cat scratches the post, give them a treat. Most Maine Coons have strong food motivations, so training them with treats could work in your favor.
The Dangers of Declawing
Owners fed up with scratching may be tempted to have their cats declawed, but this surgery can be associated with long-term pain and behavioral effects. It's better to exercise the above tips than to undertake significant surgery that may be detrimental to your cat's well-being.
Can You Train a Cat Not To Scratch Furniture?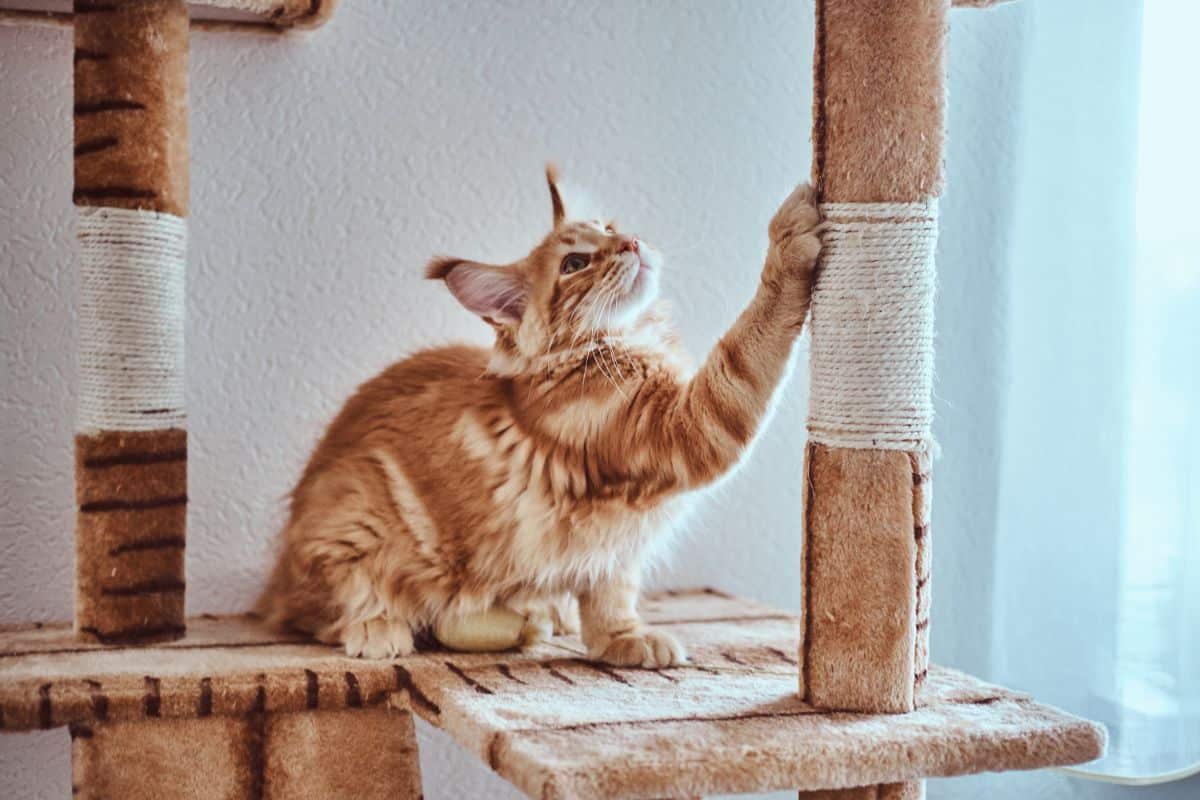 Maine Coons are a large, strong breed that can do a lot of damage with their claws. Use preventive methods and deterrents to keep them from scratching your furniture. You may even be able to train them to seek out better-scratching posts.
Maine Coons are unique companions, and dealing with their scratching is part of taking care of them. Using these seven tips, you'll be able to reduce the amount of scratching so you can enjoy your special bond with your cat.
Final Thoughts
Whether you have a cat whose constantly scratching your furniture or you're considering adopting a Maine Coon and want to be prepared, the above tips can help keep your furniture in tip-top condition.
If none of these tips help, contact a cat behavioral specialist or talk to your vet.