If you're a cat owner, then you know that there are times when your feline is in heat. It means that your cat is ready to breed. And while this may not seem like a big deal at first glance, it can be uncomfortable for you and your pet if you don't handle it properly.
The article will highlight signs of Maine Coon cats in heat to help you avoid any potential problems down the road.
Jump to:
1. Squatting
The most obvious sign of a Maine Coon cat in heat is squatting when you stroke her. The behavior happens at the same time every morning. Maine Coons will often squat to urinate, which is normal behavior.
2. Urine Spraying
If your Maine Coon is in heat, you may notice that they start spraying. Spraying is a behavior ingrained in cats, and if yours does, it's one way to let other cats know she's ready for them. When a Maine Coon sprays on her territory, she leaves behind his scent, so other cats know where to find her when looking for males.
It is also common for male cats, including male Maine Coons, to spray in order to lure a female cat that is in heat.
3. Attention Seeking Behaviors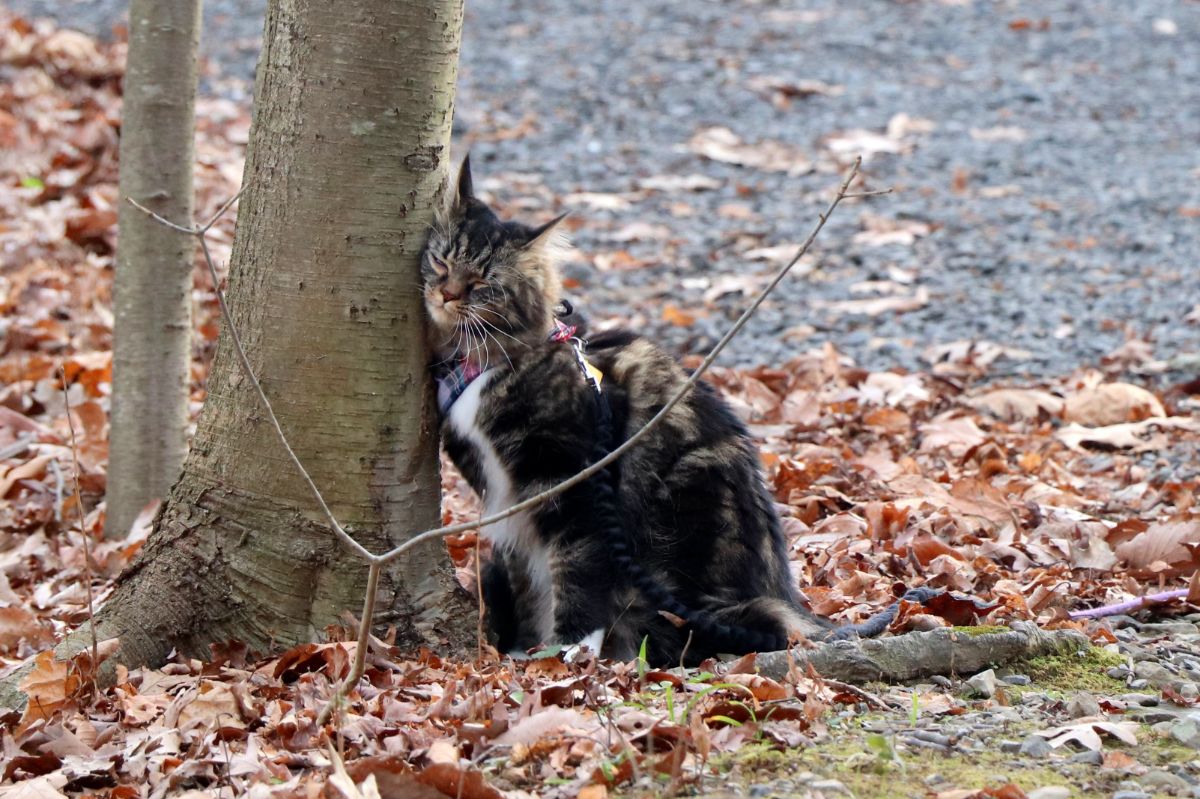 Your Maine Coon will rub her head against objects and people. That's a sign that she is in heat, and it's another way to get the scent of other cats on her. The smell will attract male cats, who mate with your feline friend. You'll notice that your Maine Coon cries out for attention when you're not around or even when you are.
4. Loud and Sharp Meow
Your Maine Coon will be very vocal when in heat. She may meow loudly at night or when other cats are around. She may also meow at you while rubbing up against your legs and begging for attention. That's not a sign that she wants food. It's just her way of communicating her needs.
5. Excessive Grooming
Your cat's genitalia may swell and become bothersome throughout this period, prompting her to spend extra time grooming there.
6. Begging To Be Outdoors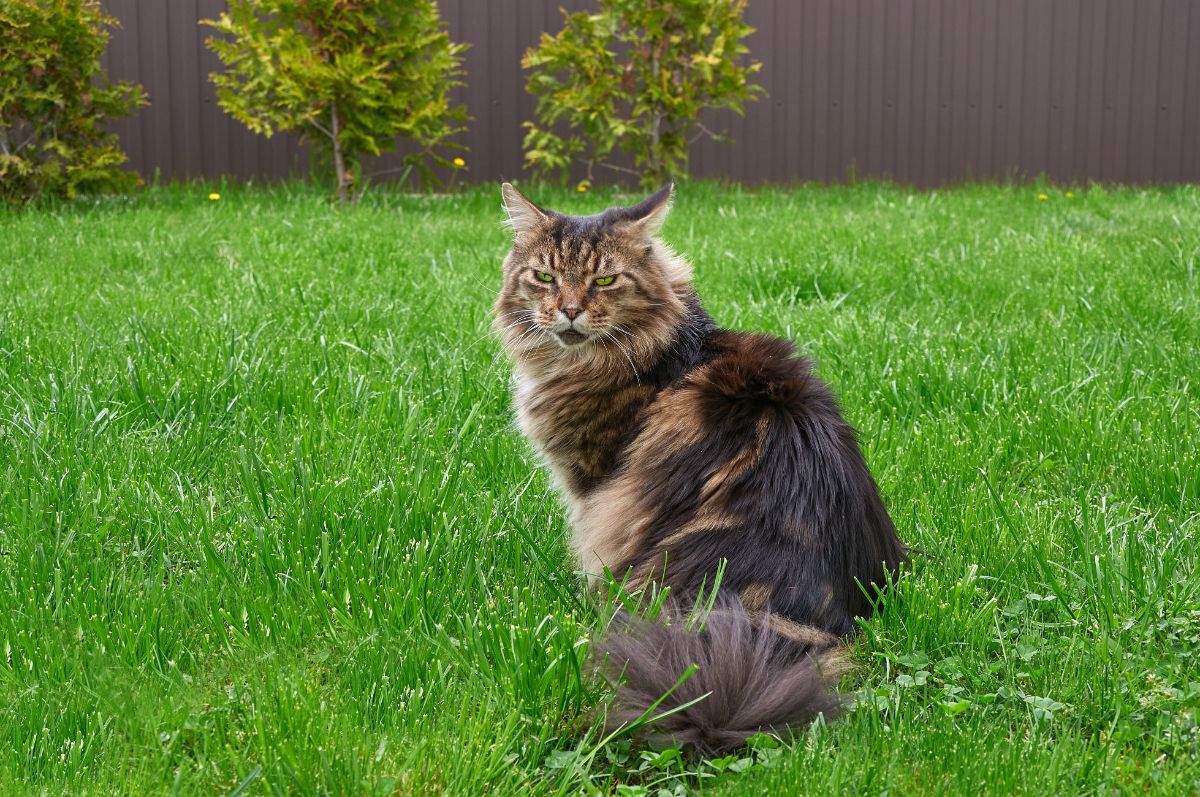 If your Maine Coon is in heat, she might wish to go outside and walk around to spread her scent. She could be harboring the prospect of stumbling onto a receptive male. If you own one, you should secure the cat flap to ensure she doesn't escape and other cats don't enter.
7. Restlessness
It is possible that your Maine Coon is in heat if she cannot relax or find a comfortable position. She may constantly walk around and seem more curious than usual. That's particularly true if she is calling at the same time.
How Long Is a Maine Coon Cat in Heat?
Typically, there's a one-week heat cycle for Maine Coons. The next time they go into heat is between one and three weeks later, with the average being twenty-one days.
Do Maine Coons Do Well in Heat?
Maine Coons can do quite well in heat. They may become more affectionate and loving towards their owners, and are more likely to spend time with you. However, they can also become aggressive and frustrated if not allowed to find a mate. This frustration can spill over into aggressive behavior, loss of appetite, and marking their territory.
Your Maine Coon may attempt to fight any other female cats within your household in her quest for territory.
If a Maine Coon queen is permitted to breed during her heat, average fertility indicates it is likely she will fall pregnant. Maine Coons are likely to have large litters, with the average being six kittens. It should be noted that pregnancy can be quite difficult for any cat, with risks such as uterine torsion.
While your Maine Coon may do well in heat, and even be of ideal breeding age, it is wise to eventually get her spayed.
How Often Do Maine Coon Cats Go Into Heat?
Maine Coon cats can go into heat every 2 to 3 weeks from when they reach sexual maturity, starting at around six months. If you have a female Maine Coon who is not pregnant, she will likely be in heat once every 21 days.
If a Maine Coon cat is old enough to have kittens but not pregnant yet and has not been spayed, this may cause her to go into heat more frequently than usual.
Final Thoughts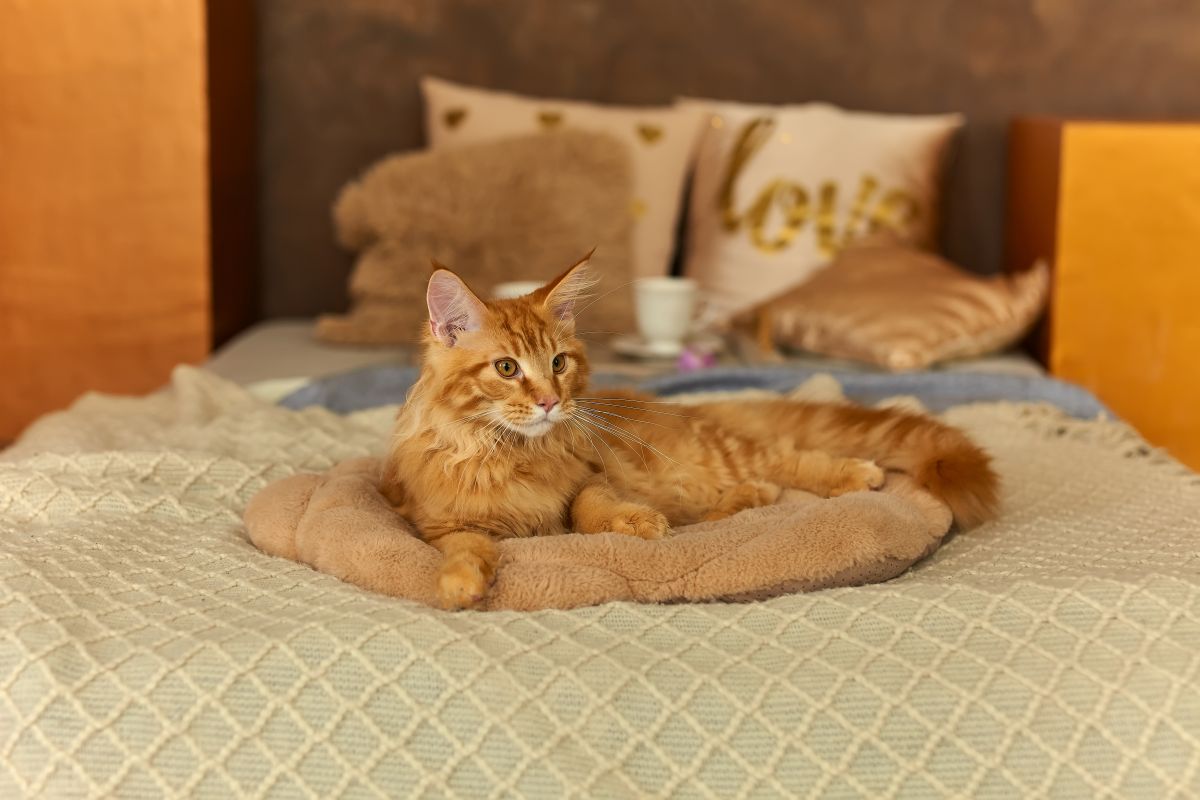 Maine Coons in heat are not always happy. When your Maine Coon cat is in heat, she'll be extremely moody and irritable. These behaviors are just signs that your pet is experiencing hormonal changes during the ovulation period, and they're part of what makes cats so challenging to housebreak.
Always talk to your vet if unsure how to handle your Maine Coon cat in heat.