There's nothing more adorable than a sleeping kitty, mainly when its tongue is sticking out! But why do Maine Coons sleep with their tongues sticking out? What purpose does it serve them? Here's everything you need to know about why your Maine Coon sleeps with their tongue sticking out!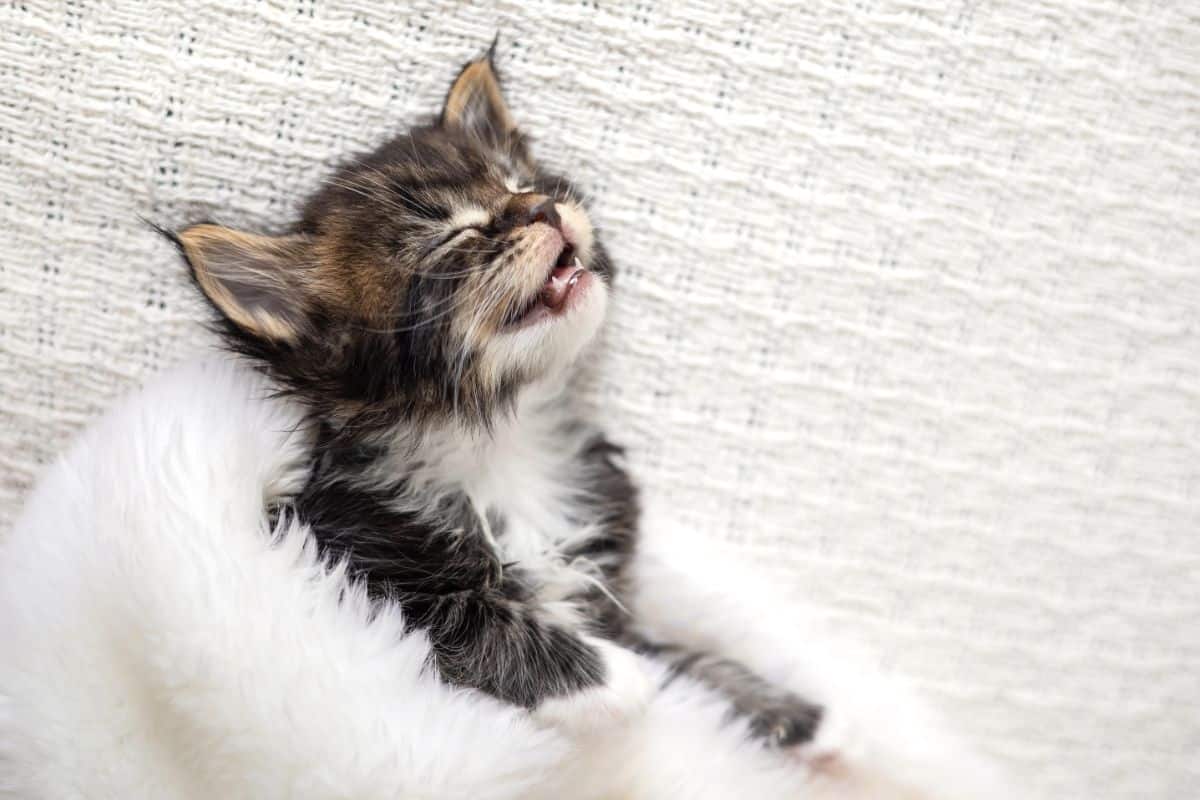 Jump to:
Why Does Your Maine Coon Sleep With Its Tongue Out?
Tongue protrusion during sleep is a normal behavior in cats, often seen in those with long tongues. While it may look odd, there's usually no cause for concern. Here are a few reasons why your Maine Coon's tongue is hanging out during nap time.
Your Maine Coon Is Comfortable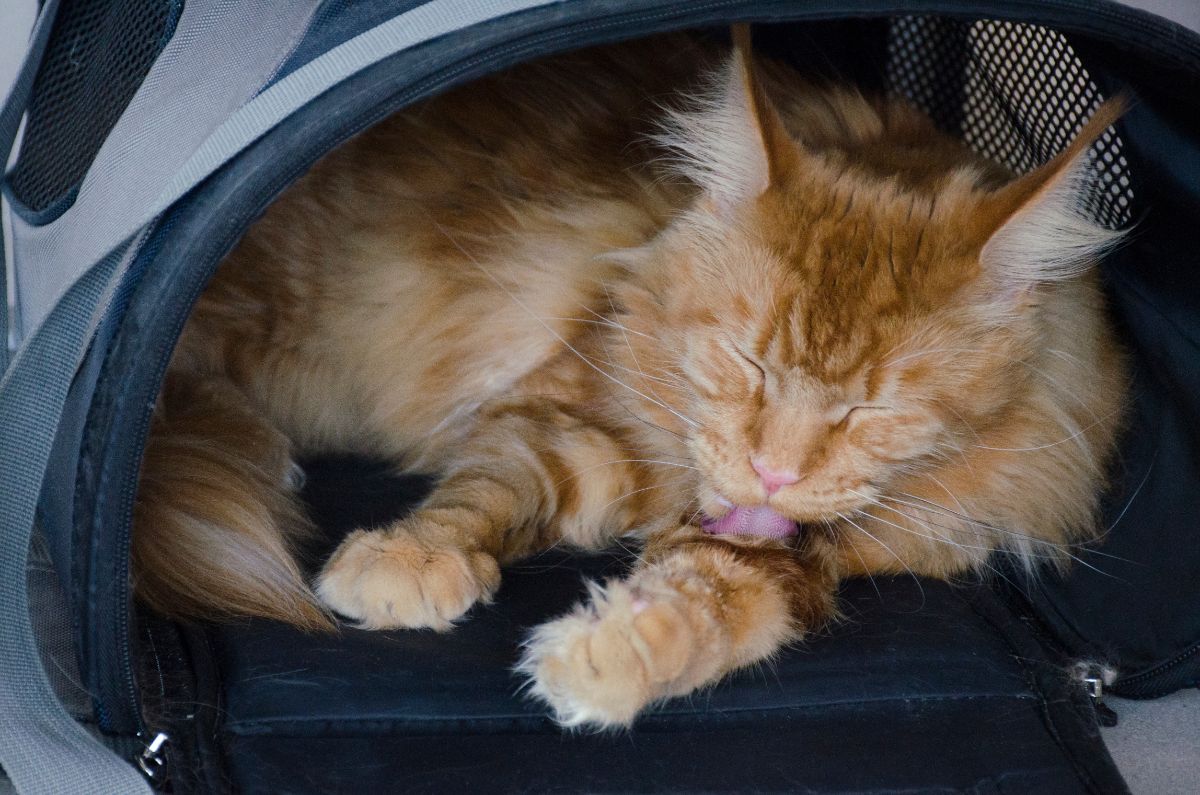 Sleeping with its tongue out may seem like a strange habit for a cat, but for Maine Coons, it's perfectly normal.
Once your cat relaxes, its jaw will release, causing its mouth to open just wide enough for the tongue to slide through. For most cats, this would be considered an awkward position and would result in drooling all over their fur.
However, Maine Coons have long tongues that can reach past their teeth, meaning they can stick their tongues out without drooling. So your Maine coon will generally have its tongue out when they're comfortably sleeping.
Due to Flehmen Response
Another reason is due to the Flehmen response. Flehmen response is an intuitive way for cats to sample their surroundings. When a cat inhales during the Flehmen response, its nostrils constrict, causing it to thrust its tongue out.
Pheromones or other scents in the surroundings are to blame for this response. Your cat receives information from these smells or pheromones; for instance, the reaction may enable them to identify nearby predators or prey and whether these animals are in heat.
So next time you see your cat sleeping with its tongue out, don't be alarmed. It's just their way of sniffing the world around them.
A Swollen Tongue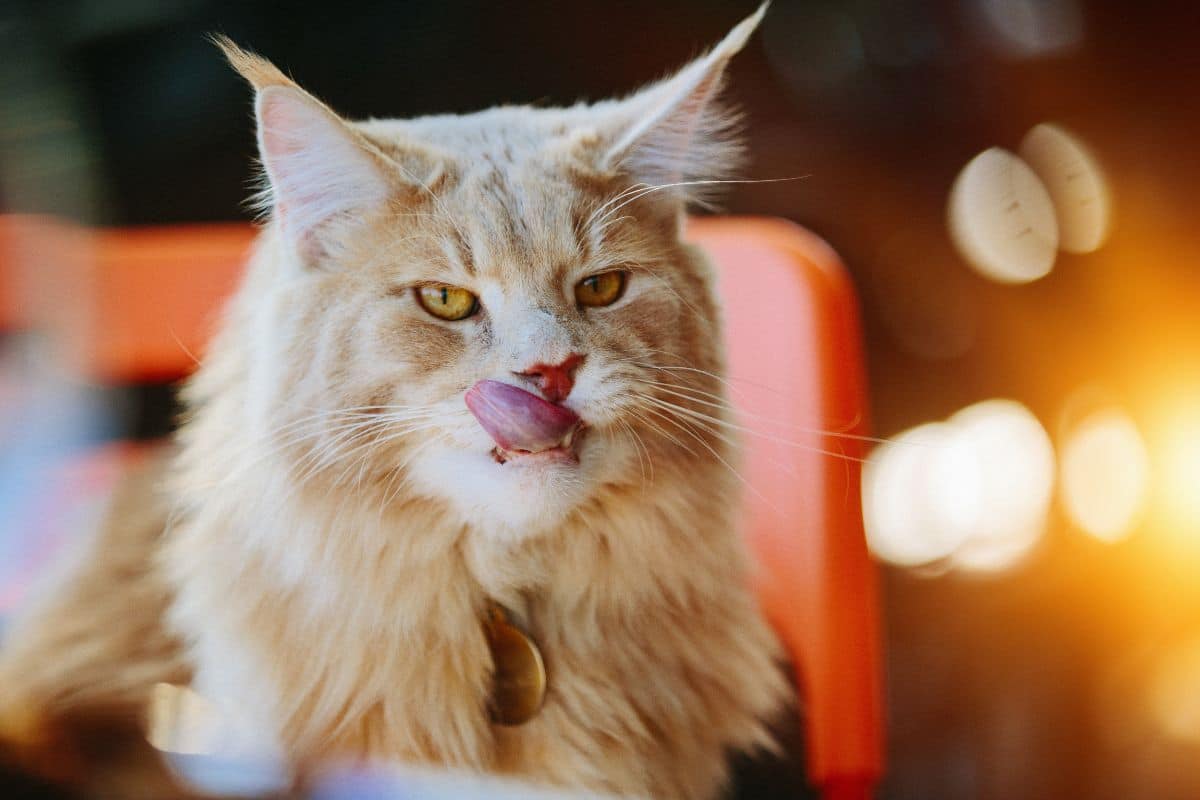 If your cat's tongue is swollen, he may be unable to insert it into his mouth. This can be due to an allergic reaction, an insect sting, or other irritation.
If your cat's sleeping habits have changed recently, it's worth checking his tongue and throat to see if anything there might be causing a breathing problem. If you're concerned about your cat's health, it's always best to consult with your veterinarian.
Food Stuck in Teeth or Bad Taste
Most frequently, your Maine Coon will engage in this behavior right after eating or playing with a toy. A cat that behaves in this manner regularly usually tries to get something out of its mouth or has something lodged in between its teeth.
Sadly, their paws are not much of a help here. For kittens, they could be sticking their tongue out to try to knock their baby teeth out. So, if you see your Maine Coon engaging in this behavior, try checking its mouth for any foreign objects or food particles that may be stuck.
If you cannot find anything, they are just trying to get rid of a bad taste in their mouth. In either case, there is no need to worry, as this is normal behavior for a cat.
Dental Issues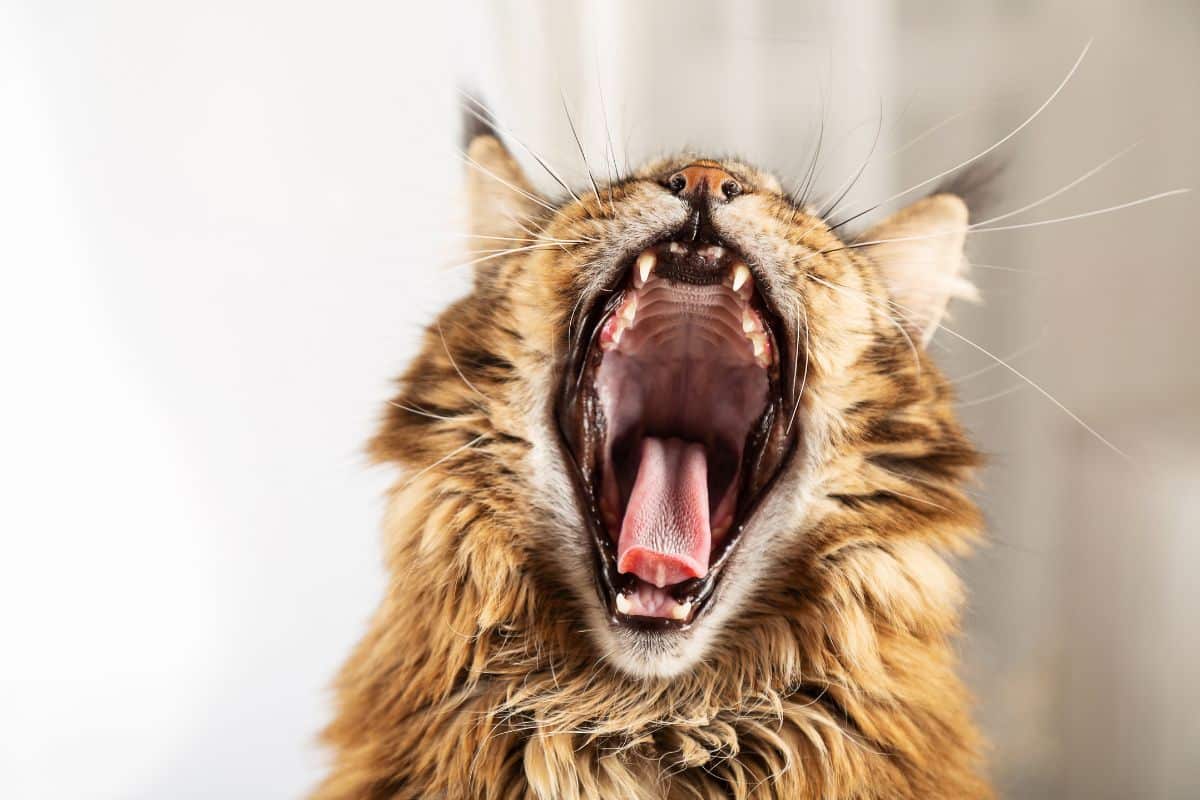 If your cat sticks out his tongue, it's possible he's experiencing discomfort in his mouth. Conditions that could lead to this include abscesses, gum disease, and tooth decay.
If your cat is showing any other signs of dental problems, such as excessive drooling or chewing on his paws, it's essential to take him to the vet for an examination. In most cases, dental problems can be effectively treated with proper care and regular brushing.
However, if left unchecked, they can lead to more severe health problems, so it's best to address them as soon as possible.
Conclusion
So, why do Maine Coons stick their tongues out when they sleep? The answer is a little bit of all of the above. First, poor dental health can cause discomfort and make it challenging to keep the tongue in place.
Being comfortable and relaxed can also lead to sticking out the tongue. And finally, the flehmen response and food stuck in their teeth are likely causes for Maine Coons to stick their tongues out while sleeping. Thanks for reading.