When their feline friends get a sensitive stomach, most cat owners will begin reading their cat's food list or carefully examining the human food they've been giving them. They might even start avoiding foods that contain certain ingredients.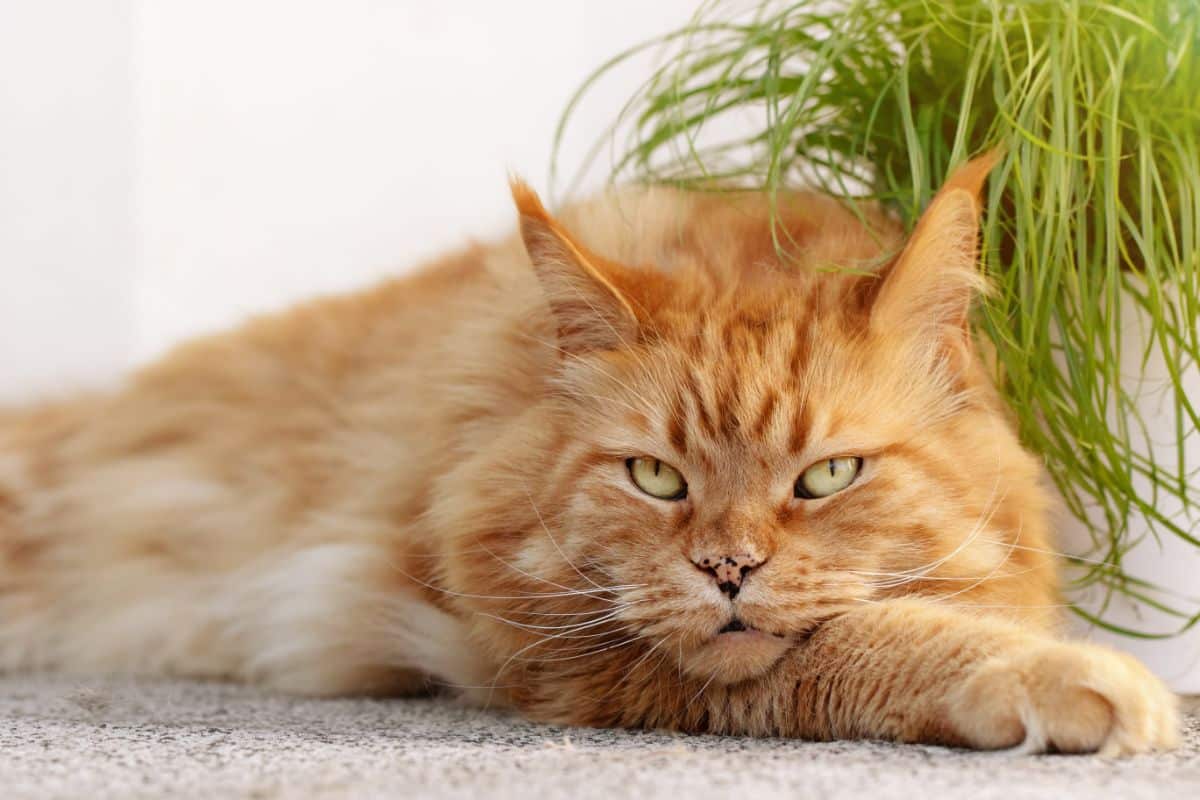 However, before you go and throw your cat's food away, you ought to be aware that a sensitive stomach doesn't always result from food. Certain cat breeds are more prone to sensitivities than others.

So, if you've been wondering, do Maine Coons have sensitive stomachs? Here is the answer.
Jump to:
How Prevalent Are Sensitive Stomachs in Maine Coons?
Maine Coons are a hardy breed. It's part of what makes them such well-loved house cats. But they're also likely to develop sensitive stomachs like any other cat, especially when they are kittens. It's a frequent problem that, in most cases, you can solve with little effort. The sooner you recognize the symptoms, the sooner you can get your cat the treatment it needs.
The reason why certain Maine Coons are more prone to stomach upset than others is unclear. Nevertheless, it is a known truth that some eat well-rounded diets than others, which is a significant factor in how well a cat digests food. Feeding your Maine Coon with food that suits its age is essential. Purchasing ready-made meals from a reputable brand makes it easy.
Sometimes, a Maine Coon may be born with a predisposition to stomach sensitivity. In such a situation, your only option is to consult your veterinarian. They may be able to determine the root cause and discover as much as possible about how to manage it.
If your cat has a sensitive stomach, it will exhibit apparent symptoms that you can easily spot. These symptoms include:
Diarrhea
Lethargy
Vomiting
Gas
Loss of appetite
Causes of Stomach Sensitivity in Maine Coons
It's not hard to recognize when a cat has an upset stomach, but it's a lot trickier to figure out the root cause. You won't find a single definitive solution. Your cat's stomach sensitivity may result from a mix of different things. Here are the most prevalent factors contributing to Maine Coons stomach sensitivity.
Stress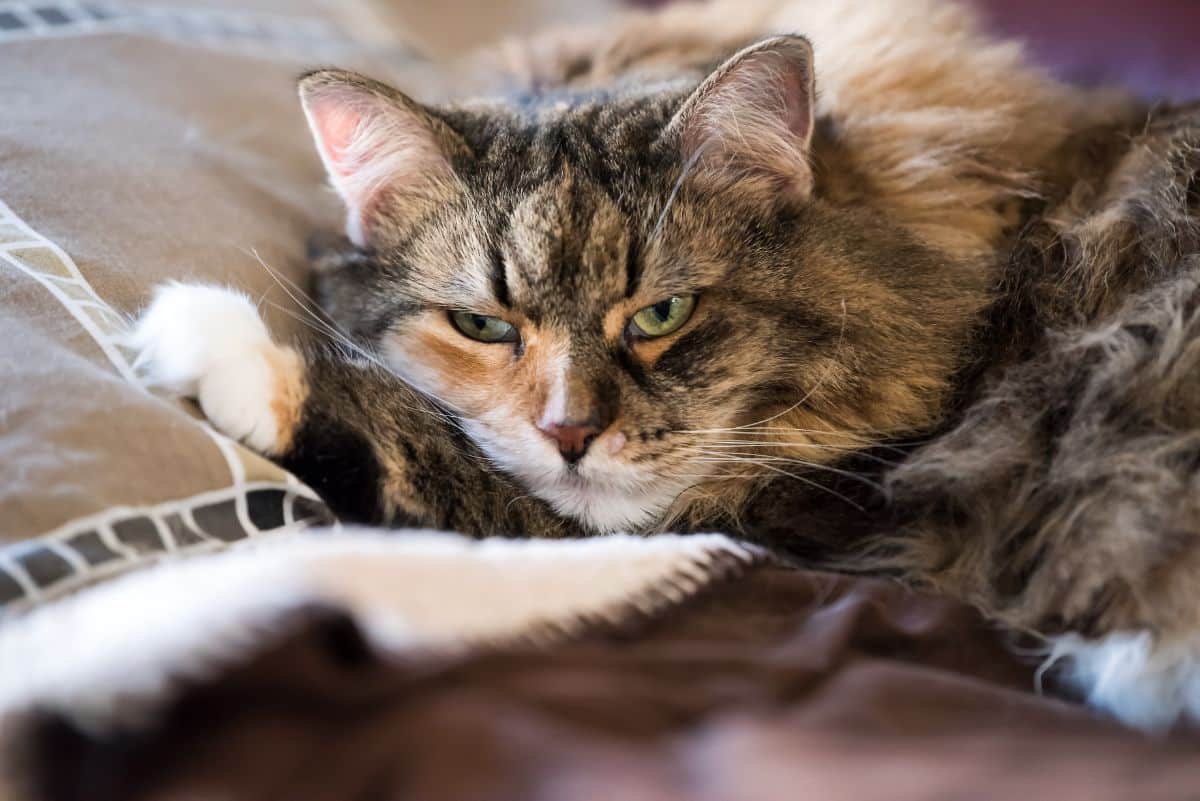 As with other cats, Maine Coons can experience health and behavioral problems due to stress. Cats are always on the lookout for potential threats, which heightens their awareness of the shifting dynamics of their surroundings. Stress, both short-term and long-term, can cause gastrointestinal distress.
Some of the most frequent triggers of anxiety in Maine Coons include:
Relocating to a new house.
Changing furniture arrangement.
Bringing a new pet into your home.
Altering their routines, such as where they use the restroom or when they eat.
Food Allergies
Sometimes Maine Coons might have immunological reactions to certain ingredients in their foods. Protein is usually the culprit. Whatever food you feed your Maine Coon, he will likely have an allergy to something in it.
Cats are commonly allergic to chicken and wheat. If your Maine Coon has a sensitive stomach, try switching his food regularly to see if you can find one that he tolerates better than others.
Food-allergic cats frequently itch and lick themselves. If your Maine Coon is constantly itching and has a sensitive stomach, allergies could be to blame.
Your Cat Eats Too Quickly
Maine Coons tend to wolf down their food, which is especially problematic when it's dry. As the digestive tract fills with liquids, dry food swells. If your cat wolfs down on a large quantity of dry food in a short period, its stomach may grow overly full, causing it to vomit.
Excessive Fur in Digestive Tract
Maine Coons are famous for their long, fluffy fur, which can cause many problems with digestion. When the hairball becomes big enough, your cat will vomit. Brushing your Maine Coon more frequently can assist in preventing this. You should also ensure you regularly trim your Maine Coons fur, especially around the hindquarters.
Low-Quality Food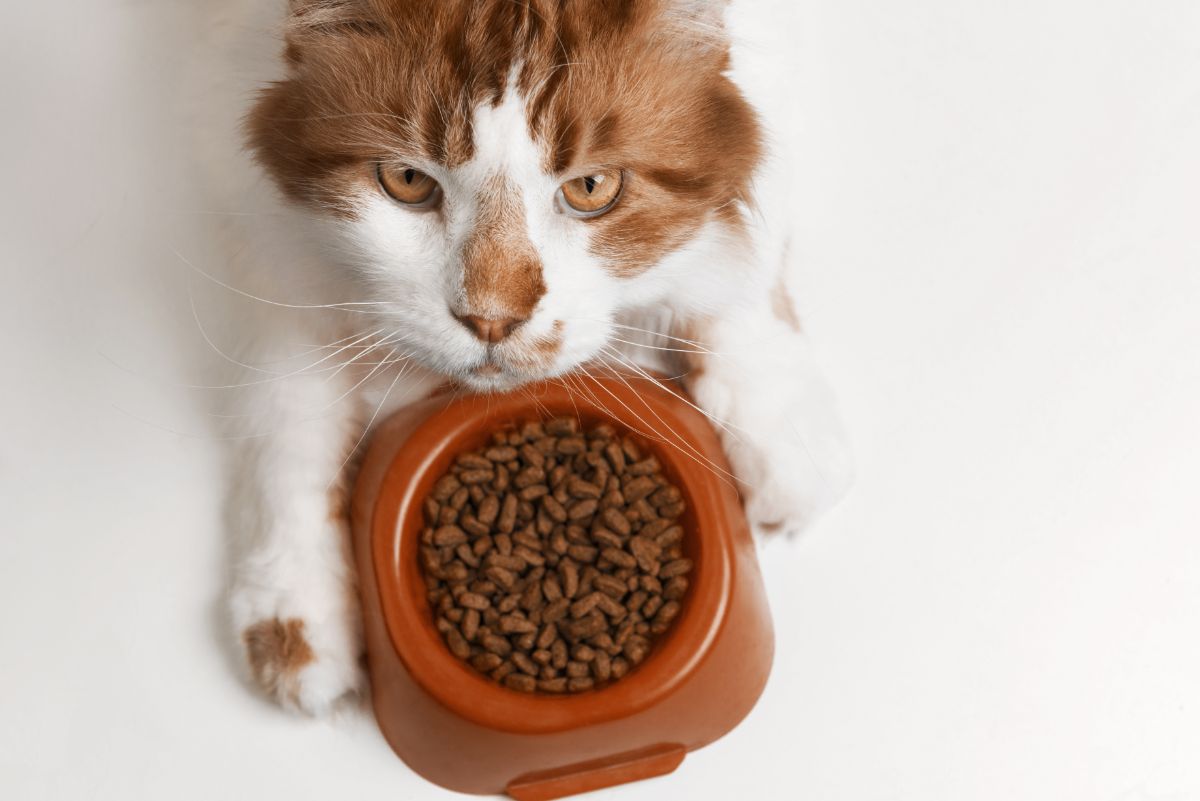 How often do you consume processed food and then feel terrible? The same is true for a cat fed an unhealthy diet. To keep your cat healthy, you need to provide it with high-quality food.
Giving your cat poor-quality food will also feel like garbage because it lacks essential nutrients. Always read food labels before buying some for your Maine Coon. There are many affordable and healthy alternatives in online stores.
Foreign Materials and Objects
Like many cats, Maine Coons occasionally try to eat something that isn't food. That might happen by accident when a cat swallows a broken toy shard while playing, or it can result from a disorder known as feline pica.
The medical disorder drives cats to eat things they shouldn't. The ultimate consequence is digestive problems or even a life-threatening intestinal obstruction because the digestive system cannot handle these non-food substances.
Food Intolerance
When your Maine Coon has a food intolerance, it's because their digestive system has difficulty digesting certain foods or ingredients, leading to uncomfortable side effects like nausea, diarrhea, and bloating.
Although the side effects are uncommon, if your cat has one, it could cause stomach issues. Your Maine Coon will have a food intolerance if you feed them only one kind of food for a prolonged period or if you change their diet suddenly.
Medical Prescription
If your cat exhibits symptoms of an upset stomach immediately after starting treatment with new medicine, then you know where to look first. Diarrhea is a common side effect of antibiotic use in felines. Contact your veterinarian immediately if your Maine Coon experiences stomach distress after taking a new medication.
Underlying Issues
There are several circumstances in which having an upset stomach is not the primary concern. It's a sign of a deeper problem. Your Maine Coon could suffer from severe medical conditions, including irritable bowel syndrome, cancer, and kidney problems.
It's advisable to consult a veterinarian if you are unsure of what is triggering your cat's stomach issues because there is always the possibility it might be a symptom of a more severe and perhaps life-threatening condition.
How To Help a Maine Coon With a Sensitive Stomach
In ideal situations, your Maine Coon's digestive system will always be pristine. Luckily there are many things you might do to keep your cat from being sick.
Avoid Dairy Products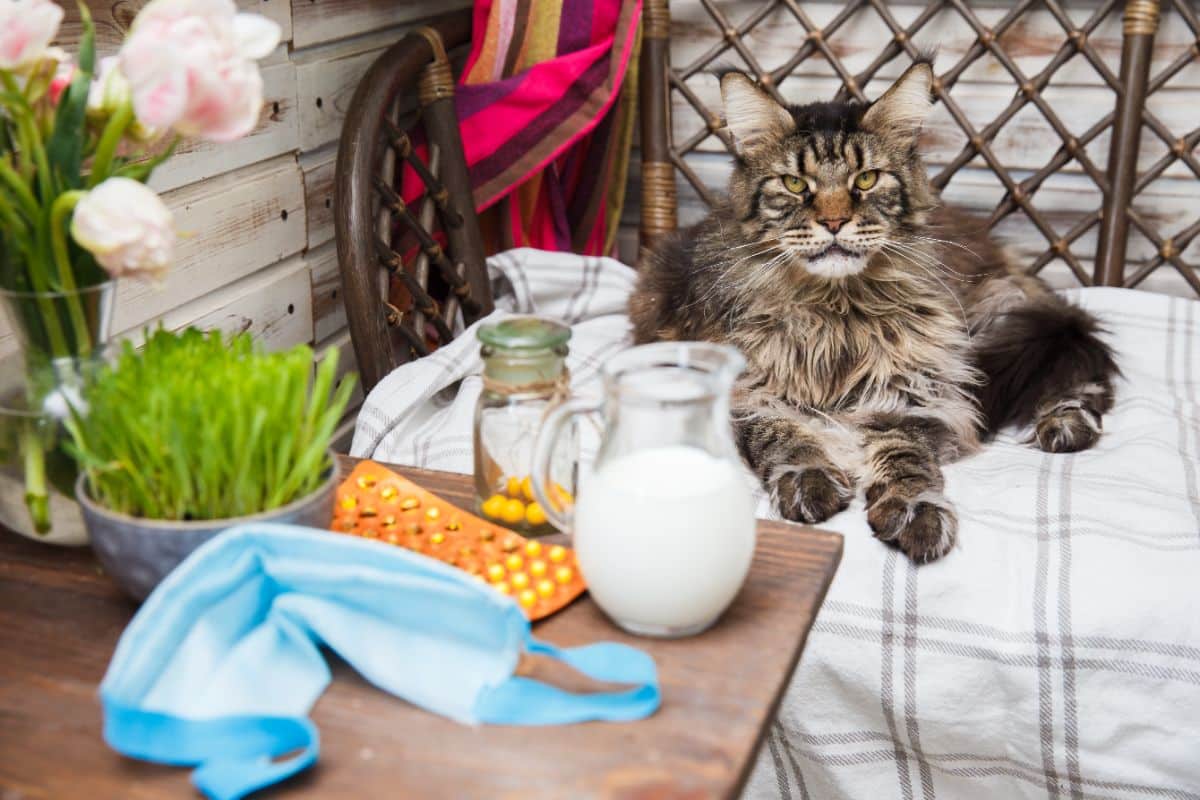 Dairy products are high in lactose, which is difficult for cats to digest. Lactose intolerance can cause diarrhea and gas, as well as vomiting. That's especially true if your Maine Coon is eating dairy products regularly.
So, it's best to avoid giving them any form of dairy. Cats who overeat dairy products may develop an intolerance to lactose and might need close monitoring by a veterinarian.
Avoid Sudden Dietary Changes
You should try out different types of cat food, mainly if they are of better quality. There is always a way to transition your cat to a new diet. Your cat's digestive system may suffer if you switch its diet abruptly.
Instead, it would be best to introduce a new diet over two weeks. Keep the amounts small at first and gradually increase the portion. Your cat's dietary needs will vary depending on its size.
A daily caloric intake of 280 should be sufficient for a small Maine Coon weighing 10 pounds. Approximately 360 calories per day should be enough for an adult Maine Coon, weighing roughly 15 pounds. When deciding what to feed your cat, it's essential to consider things like age, size, and routine.
Help Them Manage Stress
Stress can cause digestive issues in cats. Stress in Maine Coons is associated with fear and anger. Many factors contribute to stress in Maine Coons, including lack of exercise or being left alone too much while they're sick.
You can help your Maine Coon manage stress through exercise and playtime. However, if you feel something isn't right with your cat, it might be worth speaking with your vet immediately so they can help find out what could be causing the problem before things get worse.
Make Sure They're Drinking Enough Water
Cats need to drink a lot of water, especially if they are prone to digestive issues. Water is essential for cats' health and well-being, so it's vital that you provide your Maine Coon with clean water. Fill a bowl with fresh water and change it daily. Ensure the bowl is always in place so your cat can get a drink.
Feed Them Grain-Free Diet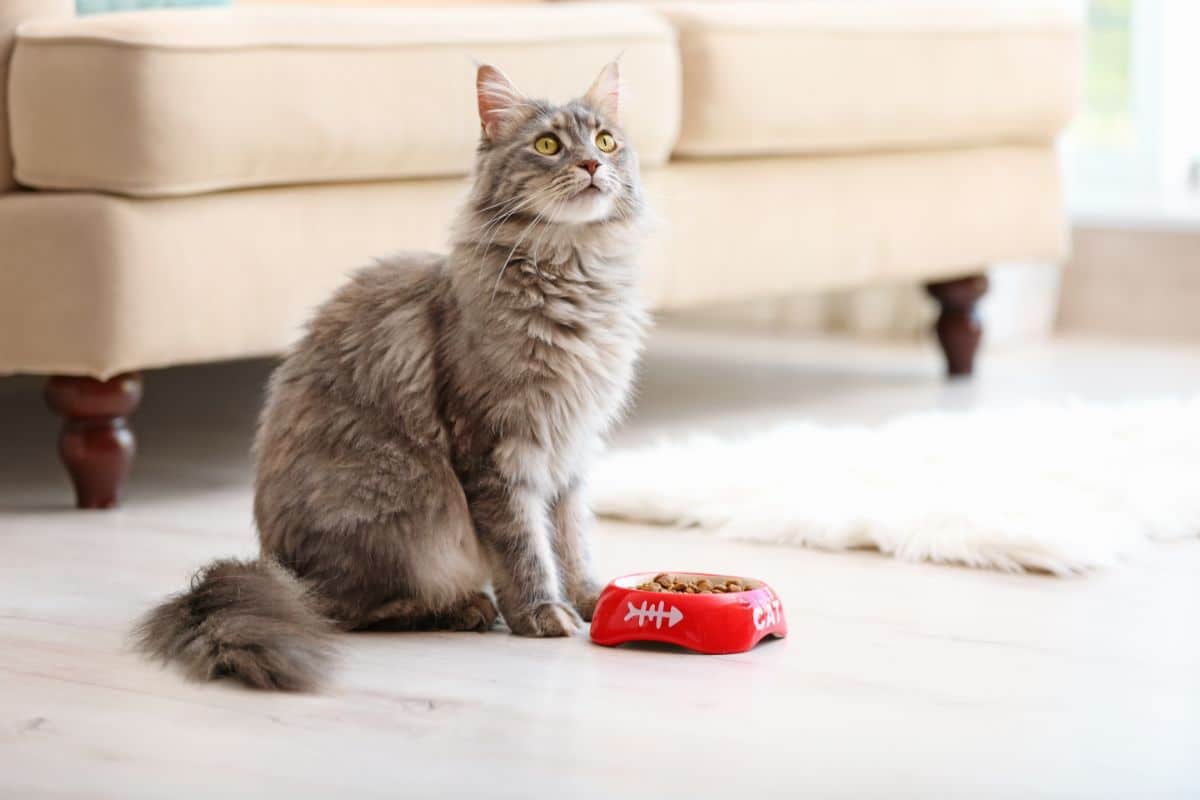 Try to find grain-free alternatives that contain meat. Similarly, food labels shouldn't have a lengthy list of unusual ingredients. The optimal diet consists of both dry and wet foods. Dry food is more convenient and beneficial to your Maine Coon's teeth, while wet food is better for your cat's hydration.
Purchase Sensitive Stomach Cat Food
Numerous premium cat food brands are available, many of which have hypoallergenic formulas for felines with digestive sensitivities. The diets contain low protein sources that are easy to break down.
Seek Assistance From Your Veterinarian
Experienced veterinarians are the most reliable sources of information. Collaborate with your veterinarian to develop a diet and routine optimal for your Maine Coon. Testing bodily fluids, such as urine and blood, might also be essential. It's an excellent first step in determining what your cat needs nutritionally and ruling out more severe problems.
Do Maine Coons Need a Special Diet?
You don't have to provide your Maine Coon with a special diet. Your cat needs diets with high protein concentration. However, consider providing the Maine Coon with more carbohydrates and less protein if you suspect it has stomach sensitivities.
Are Maine Coons Prone to Diarrhea?
Yes, Maine Coons will still experience severe diarrhea at an advanced age. Change your cat's dietary habits if you want to avoid diarrhea in Maine Coons. Older Maine Coons often experience diarrhea due to motility problems in colons.
Final Thoughts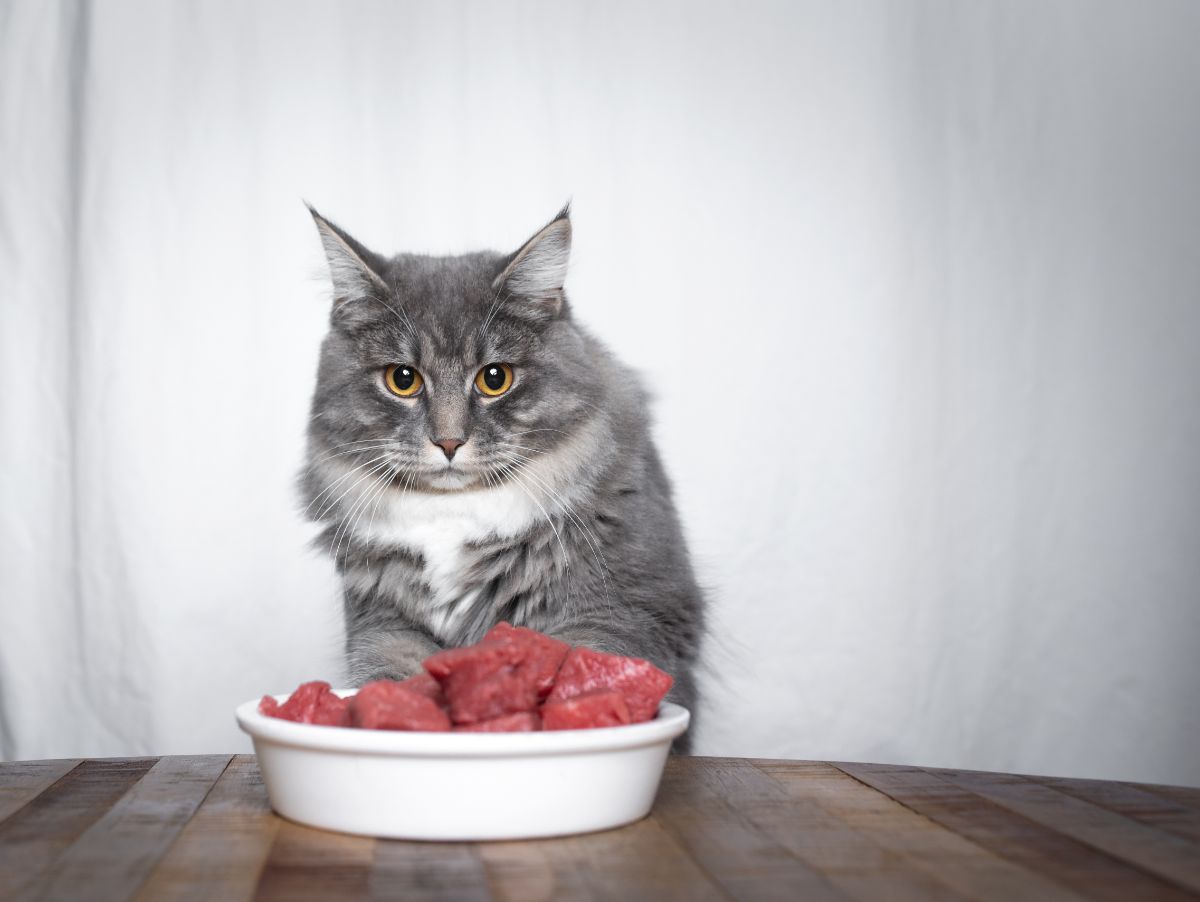 So, do Maine Coons have sensitive stomachs? Every single Maine Coon will probably have gastrointestinal issues at some point in their lives. In most cases, it's not something to worry about, but you should always look for warning symptoms of a more severe condition.
You can easily manage your cat's stomach problems by giving them water and soft foods. If you have been asking, do Maine Coons have sensitive stomachs? It's time to provide your Maine Coon with the proper diet to avoid severe stomach issues.