Urinary tract issues are common when it comes to your feline friend, so you need to ensure you help keep their urinary tract system healthy to prevent reoccurring problems. With this in mind, you should always take your cat to the vet if you notice any urinary issues. Clinical signs to look out for include the following:
Pain and issues with urinating
Increase in urination
Crying or screaming while using the litter box
Blood mixed in with the urine
Strange urination habits, such as peeing outside the litter box
Licking of the urethra
If you visit the vet with your cat and they tell you your cat has a urinary tract infection, they will typically give your cat antibiotics. However, if this, along with other urinary issues, become frequent, your vet may ask you to put your cat on a special diet.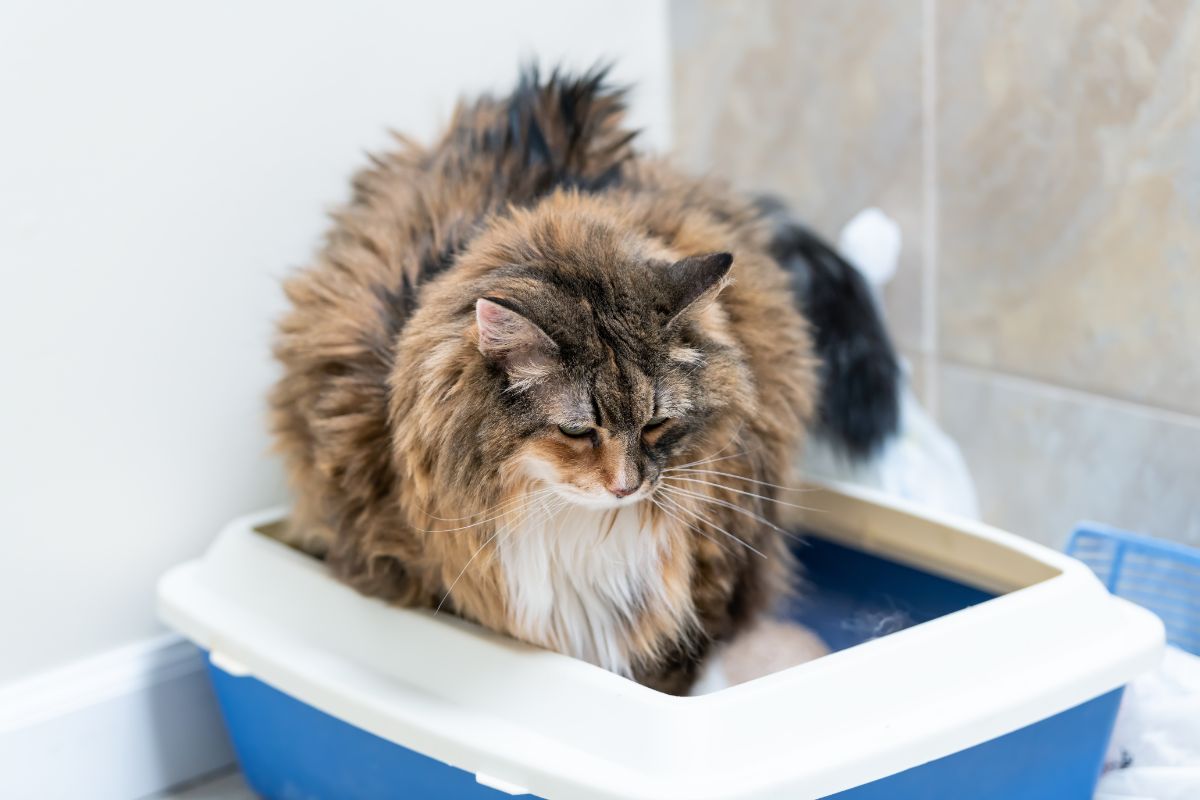 Many cat food brands make urinary health formulas to help your cat prevent future urinary issues and possibly aid with issues they already have. Feeding your cat these foods is the best thing you can do for them to keep their urinary system healthy. You'll need to consult with your vet to determine the best food for urinary health in cats.
Jump to:
What Should I Feed My Cat With Urinary Problems?
If your furry friend is experiencing urinary problems, you should start looking for urinary care cat food. You can buy some of these foods in stores and online, while others require a prescription from your vet.
How Can I Keep My Cat's Urinary Tract Healthy?
The first thing you should do to ensure your cat's urinary tract stays healthy is to give them constant water access to them. Water can help flush out any bacteria that may be lingering in your cat's urinary tract.
However, cats aren't big water drinkers. So, to ensure they get enough water, you should add water or broth to their food. Wet food is always the better option.
Along with water, you should give your cat urinary tract health supplements and food to keep their urinary system working correctly.
You should also make sure you're keeping up with vet appointments, so you can catch problems ahead of time.
What To Feed a Cat That Has Urinary Crystals
If you find that your cat has urinary crystals, feeding it a prescription urinary health diet can help. These diets should help dissolve the crystals naturally by changing the pH and chemical compounds of your cat's urine.
Is Wet Cat Food Better for Urinary Health?
Wet cat food is always better for your cat than dry cat food because it has a high water content to help keep your cat hydrated. As your cat ingests more water, bacteria will likely flush out of its system.
11 Best Foods for Your Cat's Urinary Health
Here are some of the best foods for urinary health in cats.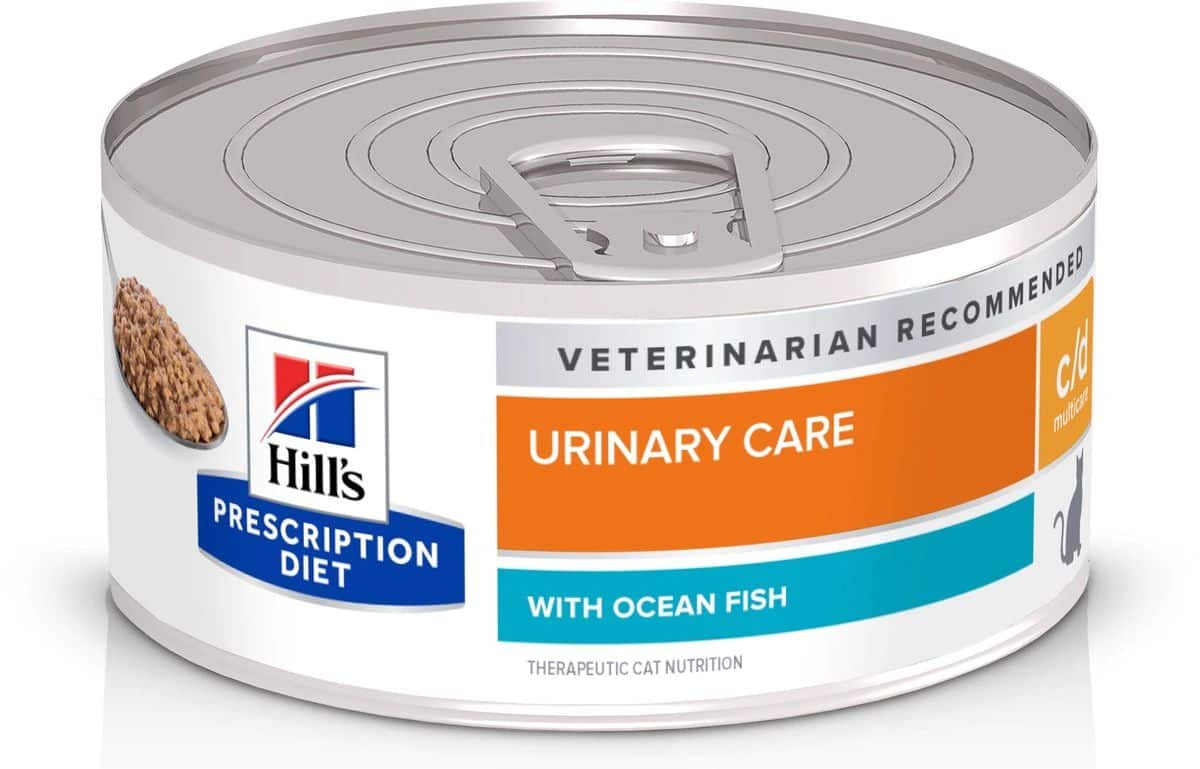 You will need a prescription for this food, but if you talk to your vet about your cat's urinary issues, they will probably prescribe it. Hill's Urinary Care Prescription food is eight times more successful at reducing urinary tract issues.
It can help dissolve urinary stones in seven to 27 days and reduce the risk of stones and crystals by altering the pH of your cat's urine. The food also has plenty of antioxidants, omega-3, and potassium to keep your cat healthy overall.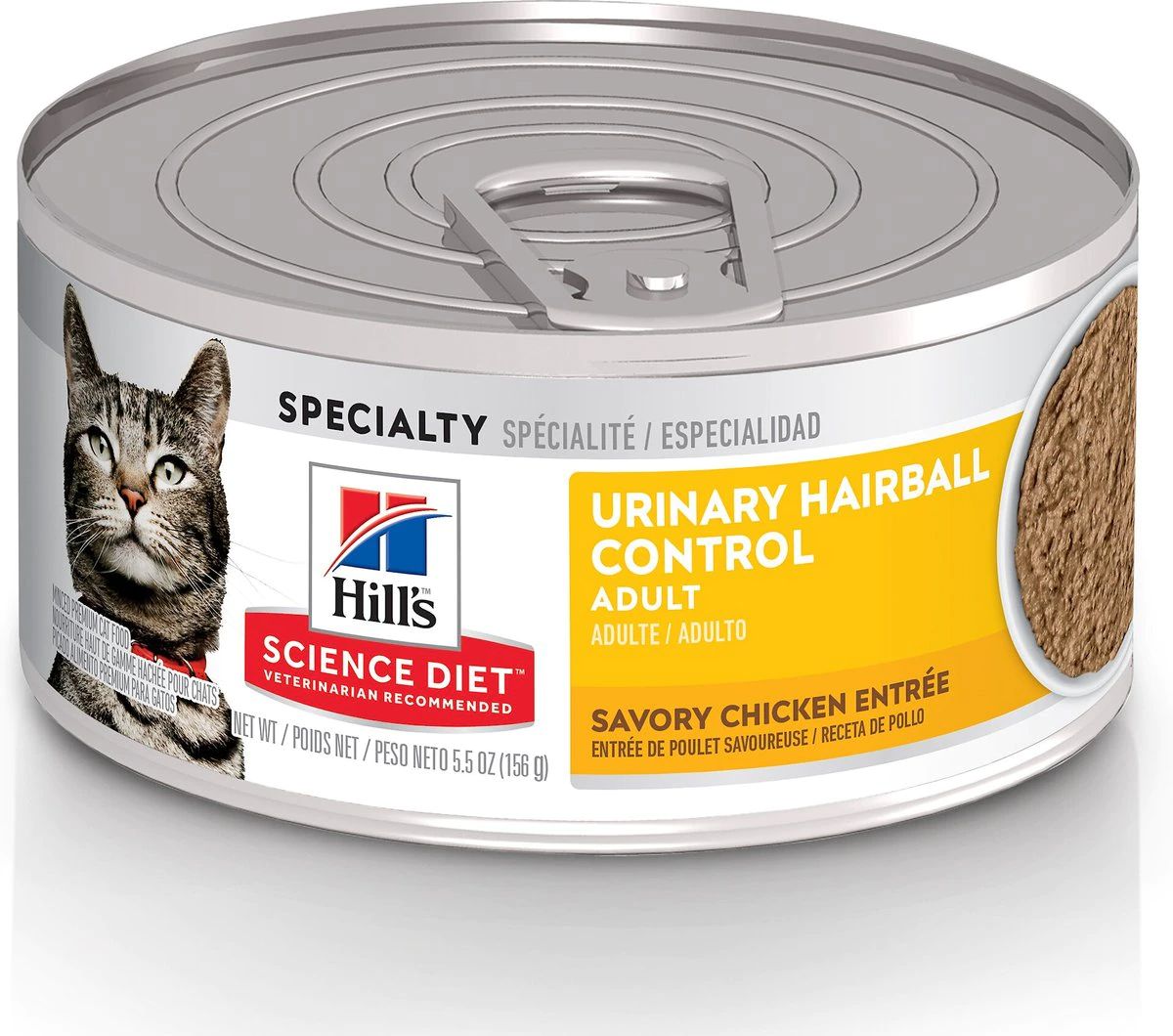 If you'd like to try Hill's but don't want to go down the prescription route, the company offers adult cat food that can help with keeping their urinary tract healthy and controlling hairball issues. This diet contains essential minerals and magnesium that help keep your cat's urinary tract, bladder, and kidneys in check. The food also contains:
Fiber to help with hairballs
Omega vitamins
Vitamin E
Taurine for heart and vision health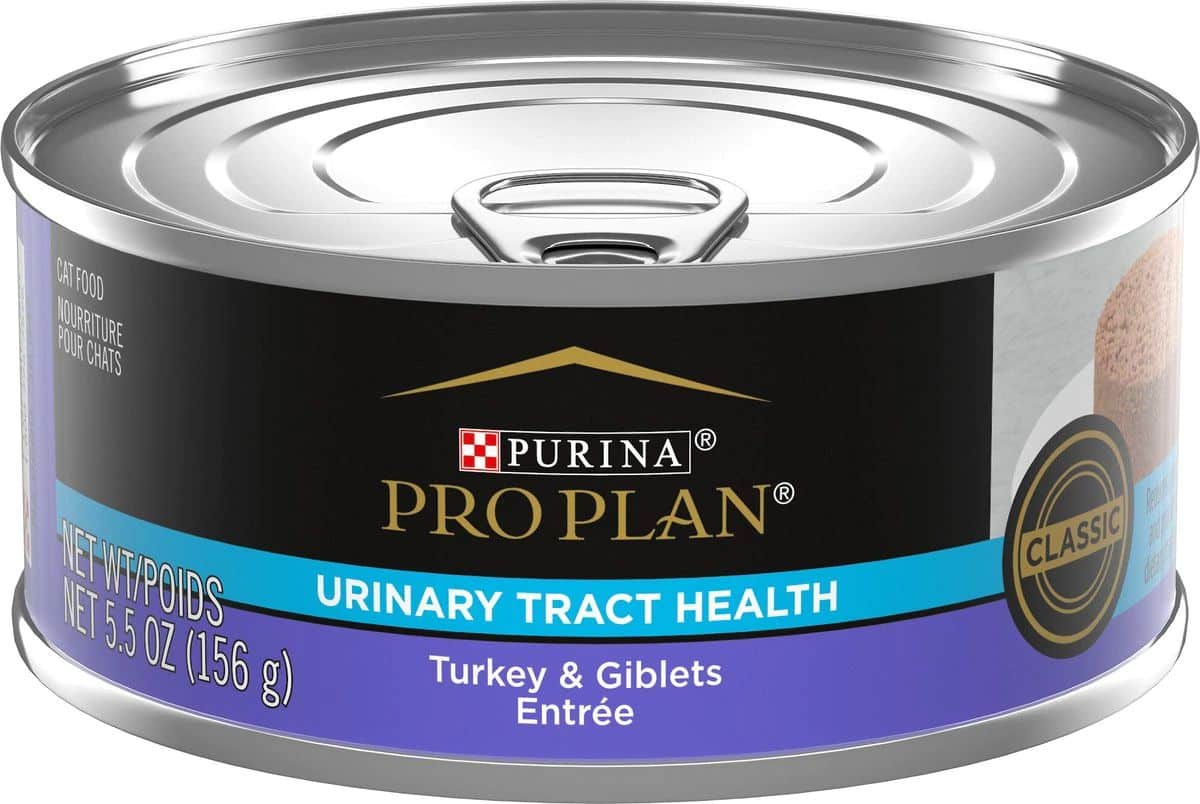 Purina offers cans of tasty paté that your cat will love, and their urinary system will love it too. There are multiple flavors available if you have a picky eater, including:
Beef
Poultry
Beef and chicken
Salmon
Ocean white fish
Turkey and giblets
Their easily digestible urinary tract health food formula contains 25 vitamins and minerals to keep their entire body healthy and has the power to change the pH in your cat's urine.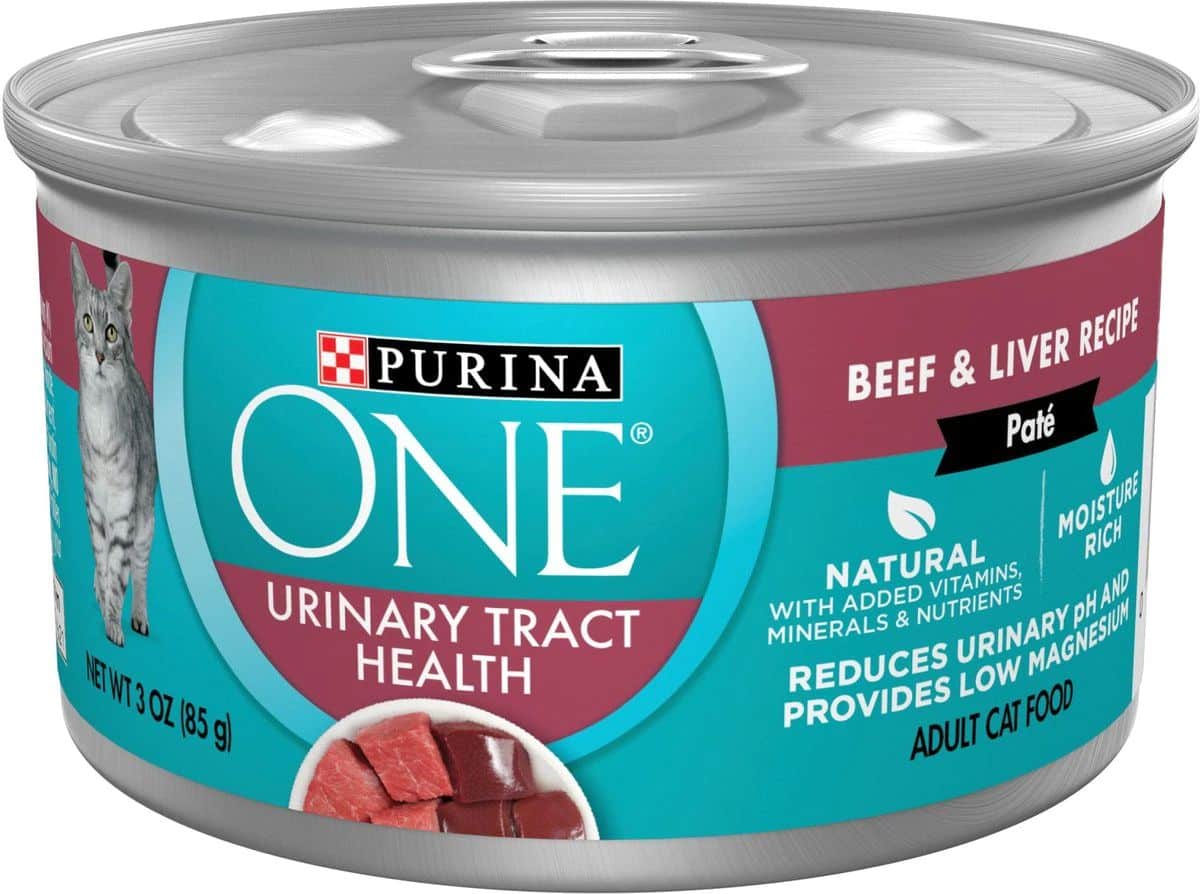 Purina One's urinary tract health cat food keeps your cat's urinary system healthy by reducing your cat's urine pH. The food contains mostly high-quality protein, as there are no artificial colors, flavors, or fillers.
It's also a great urinary food for felines with allergies, as there is no corn, soy, potatoes, or wheat in it. There are also extra vitamins added to ensure your cat gets all its nutritional needs.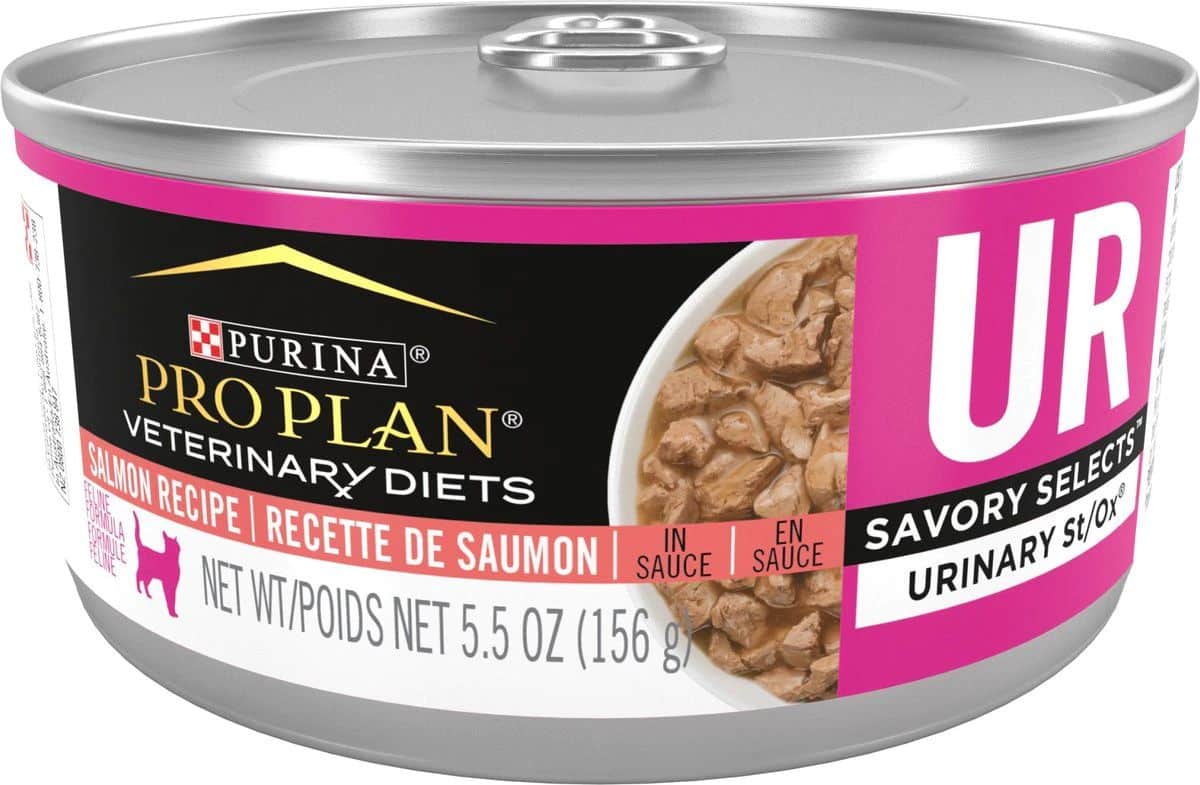 Purina Pro Plan's urinary veterinary diet requires a prescription and only comes in salmon or turkey and giblets. The food contains a significant amount of protein to keep your cat at an optimal weight, as well as a lot of moisture to help keep your cat hydrated. The extra moisture also helps to reduce and dissolve urinary stones and crystals.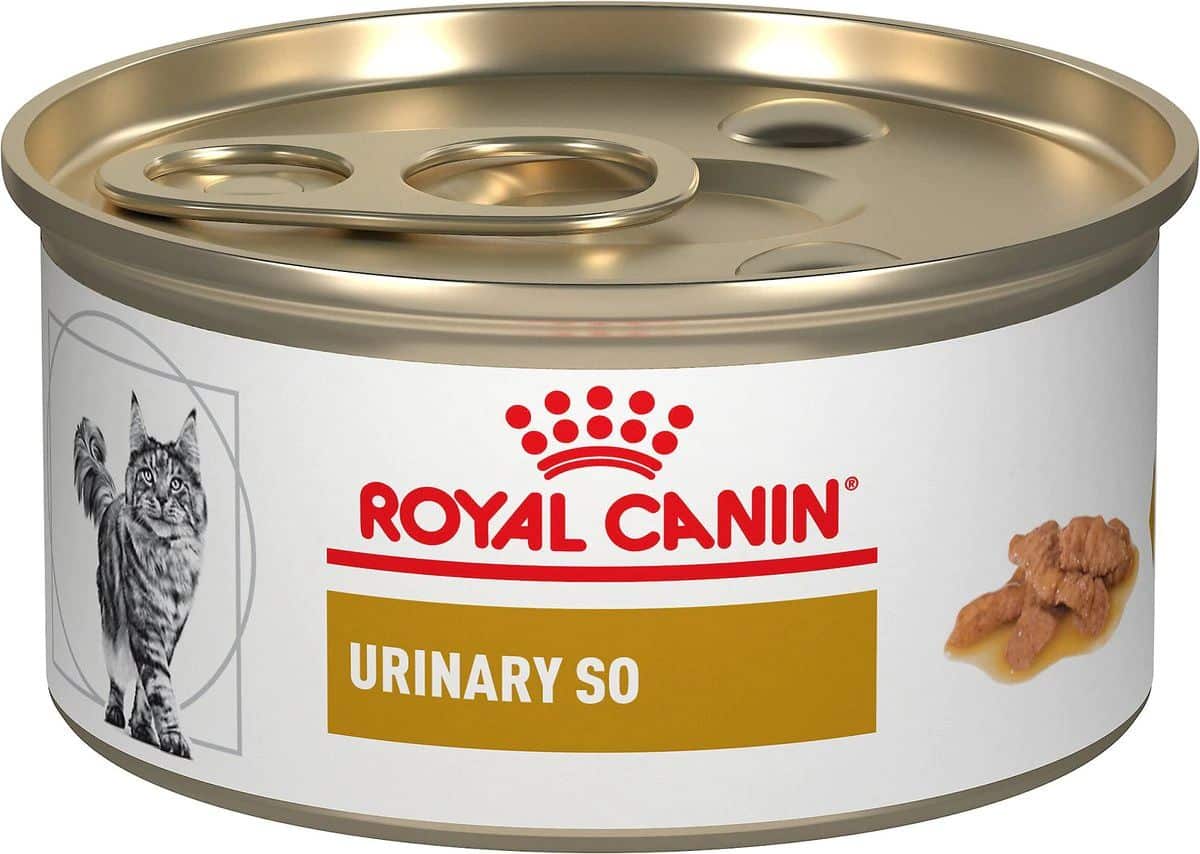 Despite the name, Royal Canin does offer cat food, and they have a great adult cat urinary health food. The food can do the following:
Dissolve and manage struvite crystals
Dilute urine due to extra moisture, ultimately reducing crystals
Reduce magnesium, which helps create struvite crystals
Royal Canin urinary food essentially creates an unfavorable environment for crystals and bacteria to form in the urinary tract.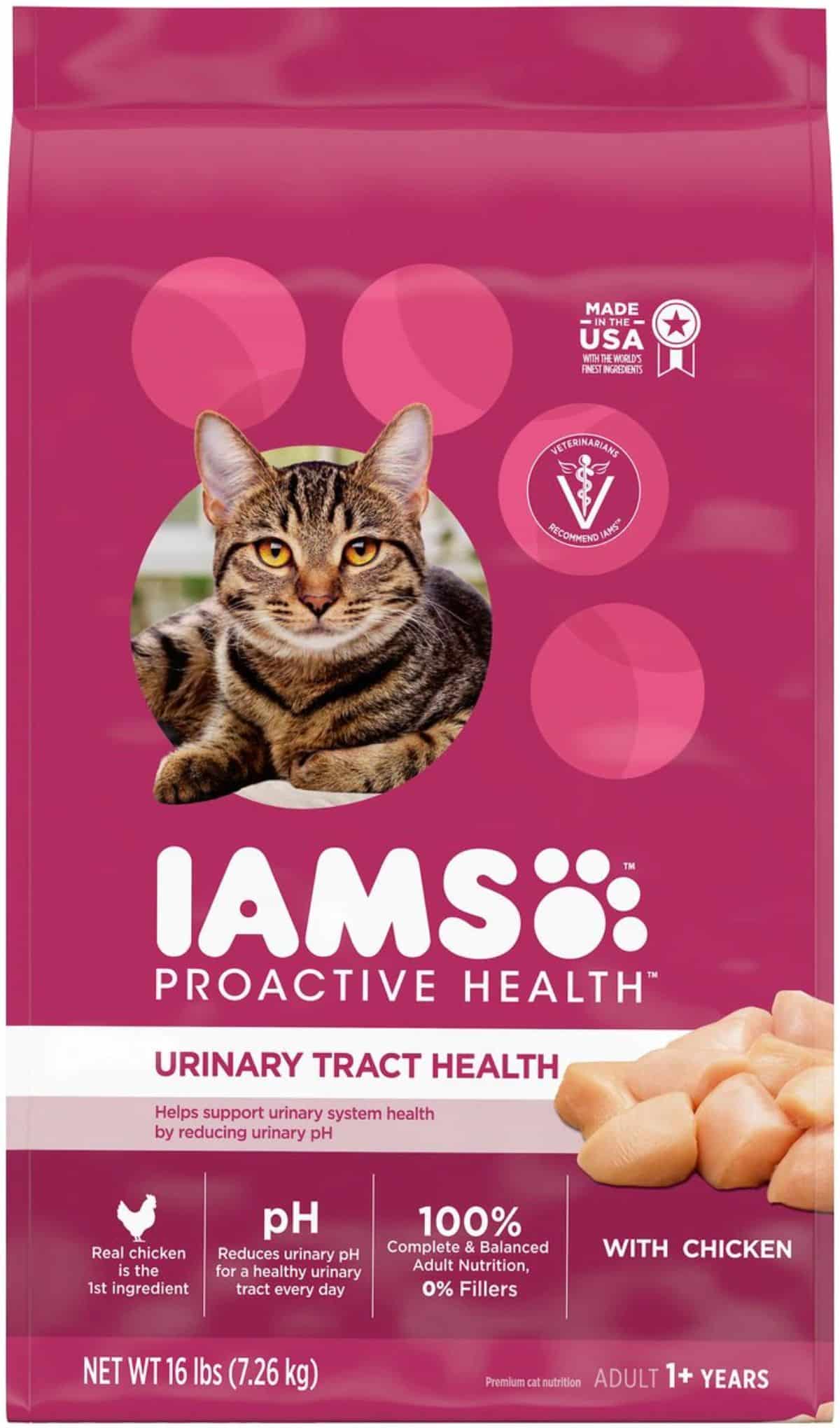 IAMS ProActive urinary cat food uses chicken as the first ingredient in its formula, ensuring that your cat gets the best protein possible. The food formula works to decrease your cat's urine pH, ultimately enhancing the health of your cat's urinary tract.
Vitamin E, calcium, and potassium are also included in the formula to support your cat's overall immune system and heart. A healthy immune system is vital when fighting things such as urinary tract infections and other illnesses.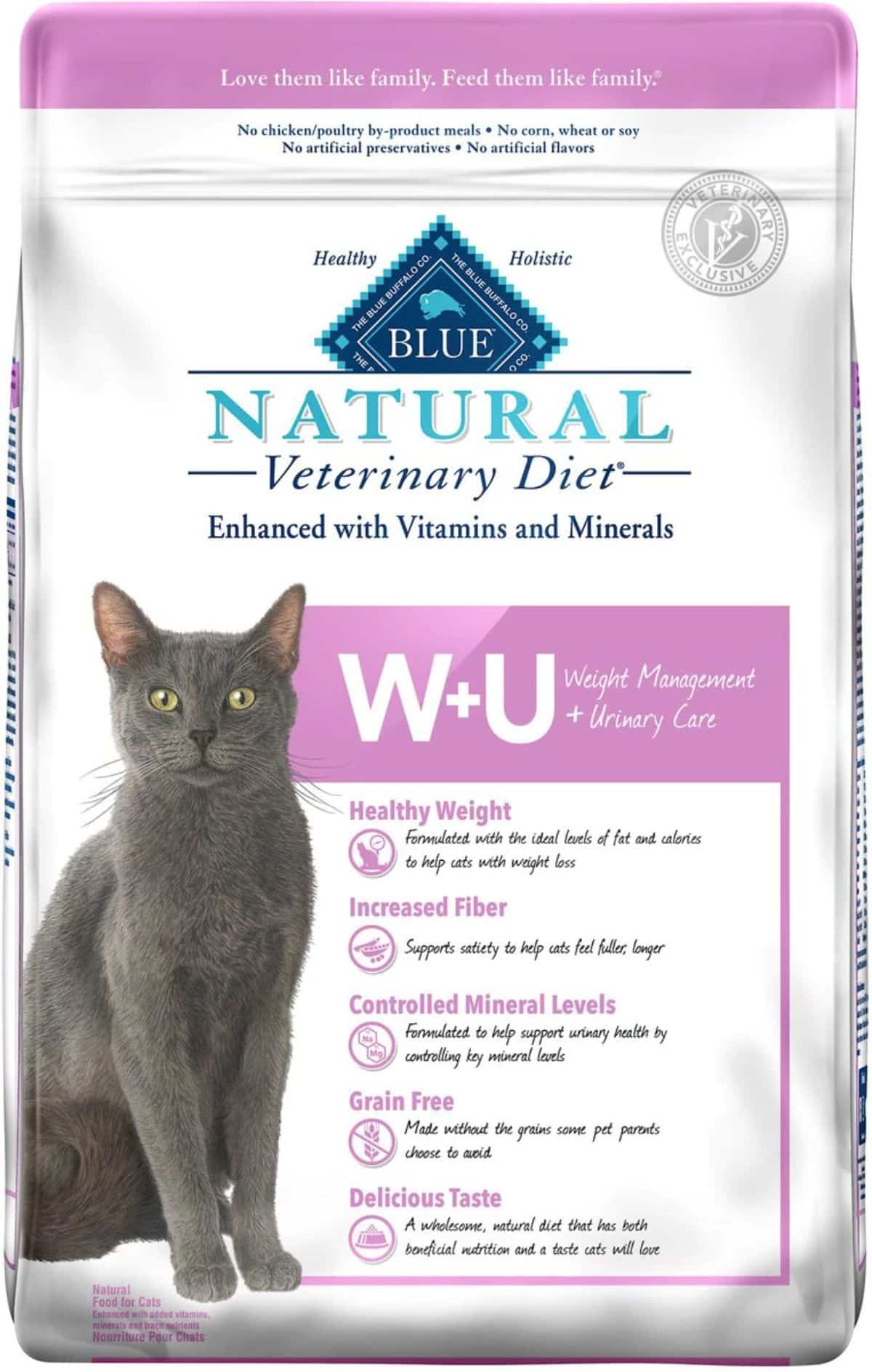 Blue Buffalo offers a tasty grain-free formula that can help keep your cat's urinary system healthy while also controlling weight. The food contains protein and fiber to help keep your feline full, while minerals, such as sodium and magnesium, work to keep their urinary tract healthy. This food is by prescription only.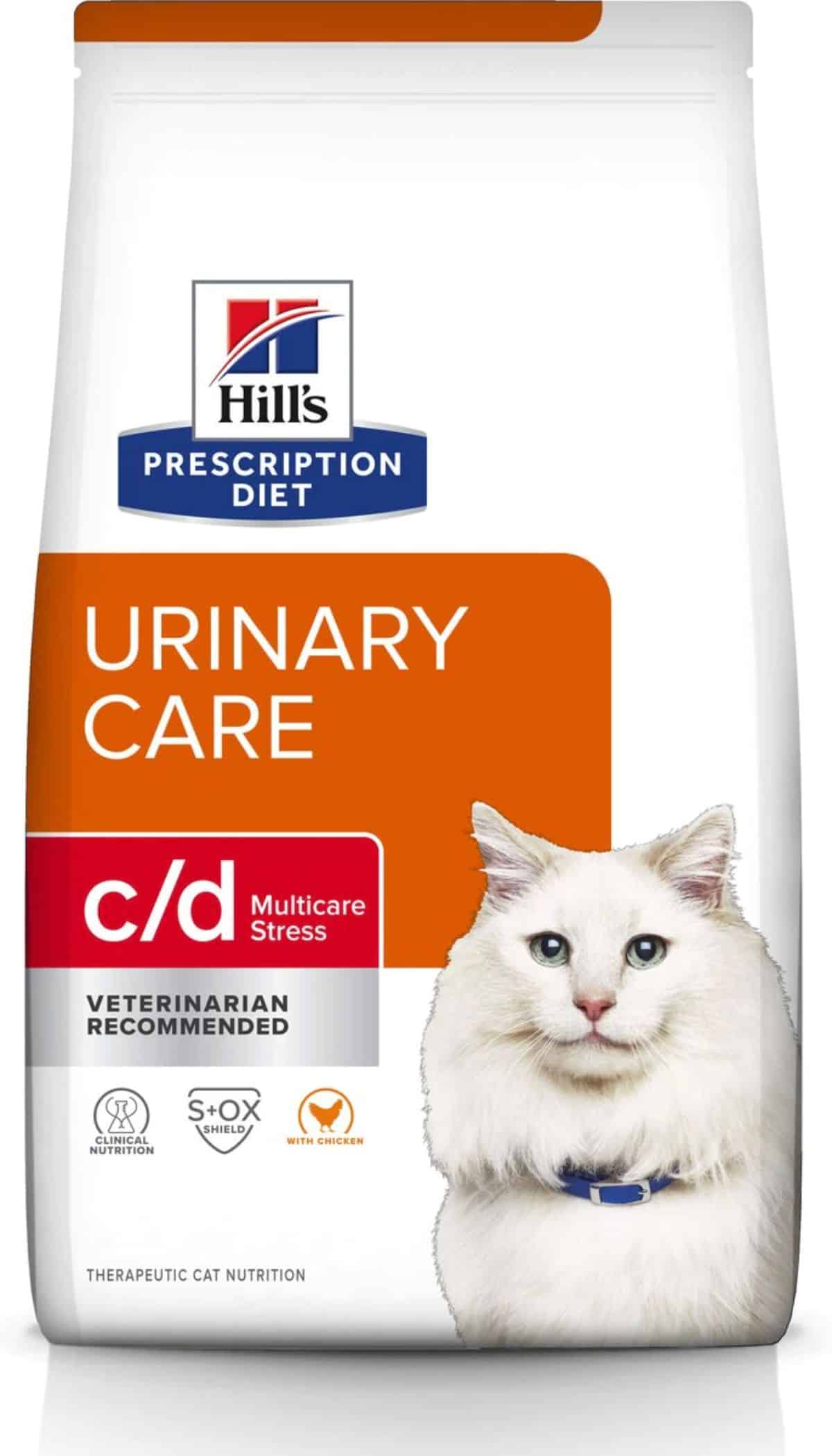 If your cat has urinary issues due to stress, Hill's provides this prescription-only dry food, which can reduce recurring urinary issues by a whopping 89% and fix pH level problems. Choose from chicken or fish, and the ingredients and nutrients inside will help your feline manage stress and dissolve urinary crystals and stones.
You can find controlled levels of the following:
Antioxidants
Omega-3
Calcium
Potassium
Magnesium
Phosphorus
Farmina gets 94% of its protein from animals, uses nothing artificial, and provides a urinary tract-specific formula to bring the urinary system back to optimal health and prevent crystals from forming.
The formula contains duck, quinoa, cranberry, and camomile, along with low magnesium levels to help reduce crystal development. It's also great for sensitive feline tummies, as the formula excludes grains.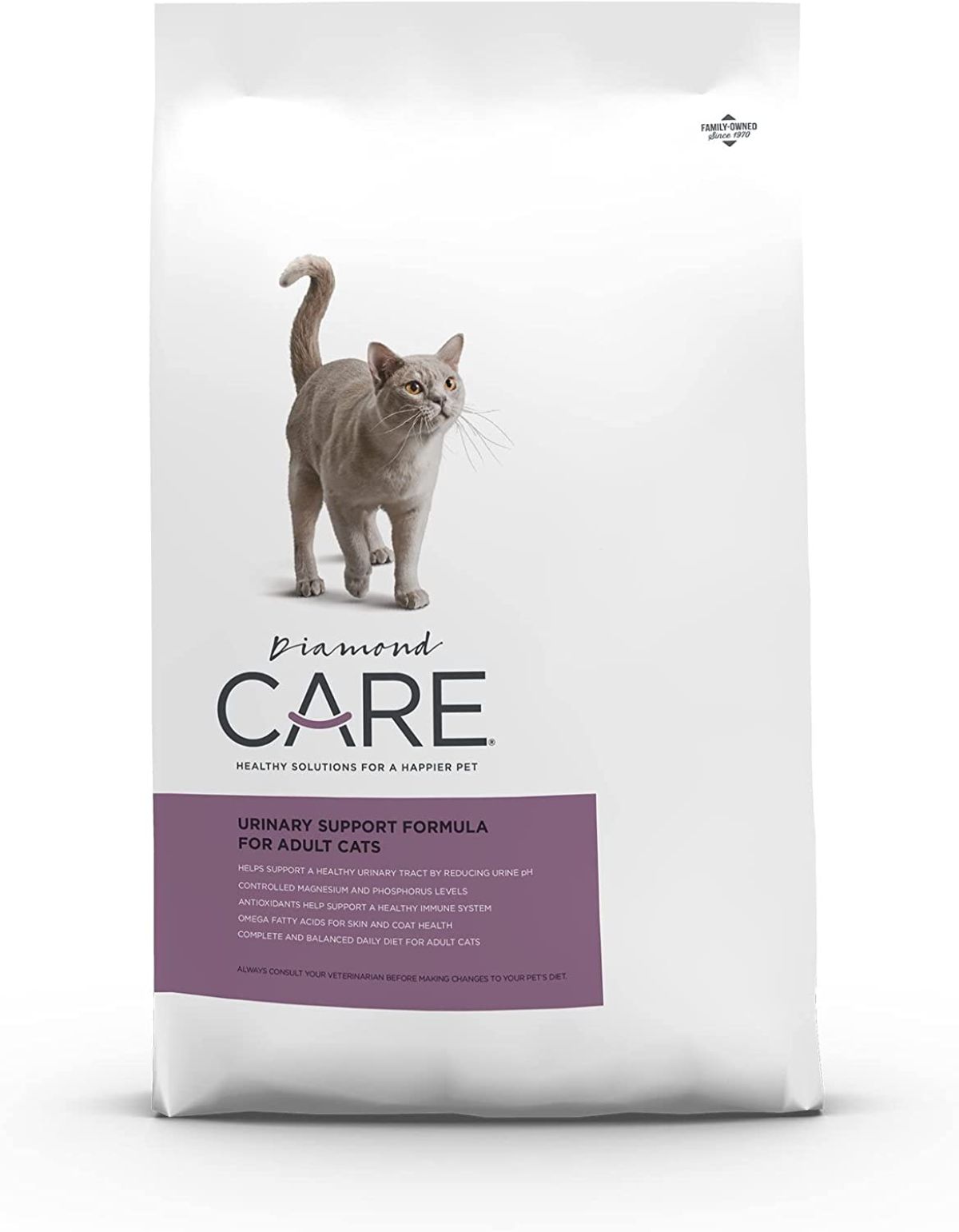 Diamond makes a urinary tract supporting dry food that helps to reduce the pH of your cat's urine, as well as prevent crystals from forming. The formula has controlled phosphorus and magnesium levels, as high levels help create crystals and stones.
The formula also contains Omega fatty acids and antioxidants to help create a strong immune system to help your cat fight infection on its own.
Do's and Don'ts When Keeping Your Feline's Urinary Tract Healthy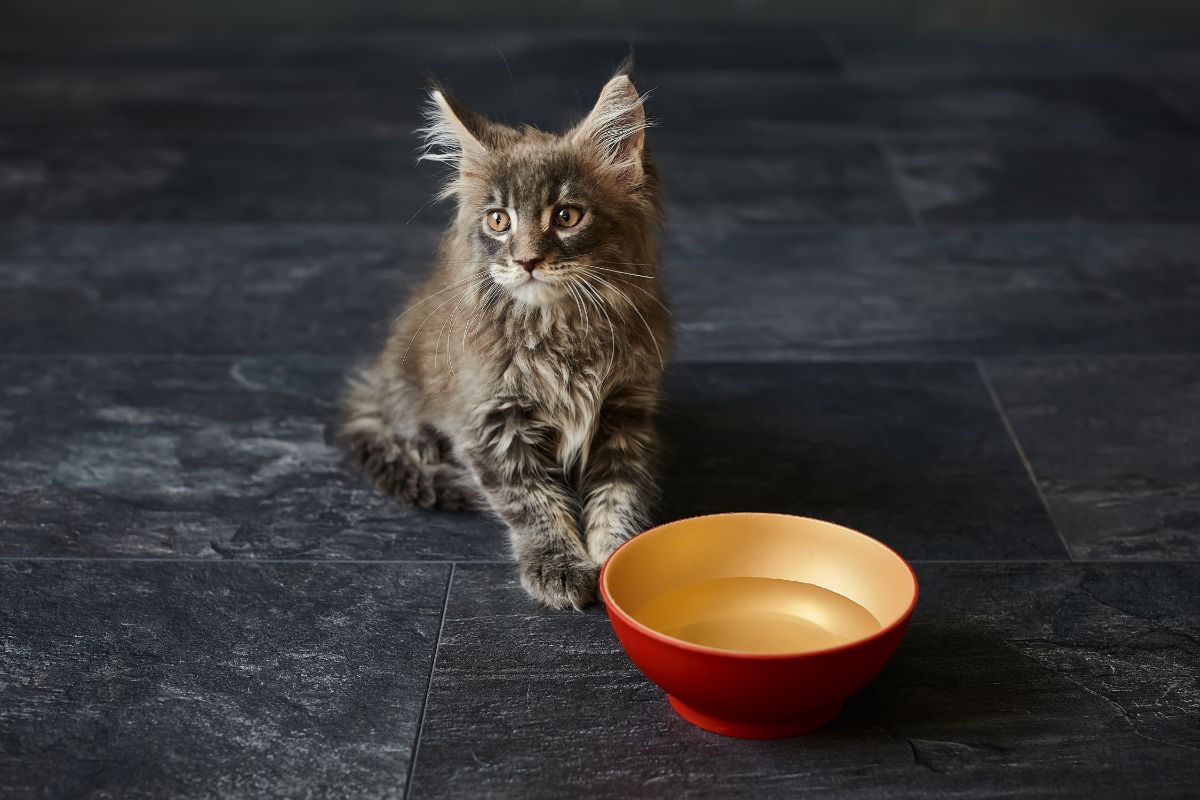 Here are some do's and don'ts to keep in mind when it comes to keeping your cat's urinary system in top shape.
Do's
Keep your cat hydrated
Feed them wet food, or add hydration to their dry kibble
Reduce their environmental stress
Use urinary health diets with controlled minerals
Provide your cat with urinary health supplements if needed
Don'ts
Neglect vet appointments
Only offer dry food, as your cat can get dehydrated and gain weight (dehydration is bad for the urinary tract)
Give your cat cranberry juice, as the sugar content is bad for your cat
Final Thoughts
Always pay attention to your cat's bathroom habits, as their litter box visits can tell you a lot about their health. If you notice any urinary issues, your first line of action should be a vet visit to diagnose the issue, and then you should look into preventative options.
A urinary health diet is the best option to keep urinary issues at bay and prevent extra vet visits. Use this list of the best food for urinary health in cats as a starting point to figure out which food is best for your feline friend. If you feel lost due to the plethora of options, consult with your vet so they can help you choose one that will help with your cat's specific needs.