Have you recently become an owner of a large Maine Coon cat? If so, you may wonder about the type of food Maine coon cats love to eat. After all, you want your pet to have a healthy diet and all the nutrition needed to help him stay healthy.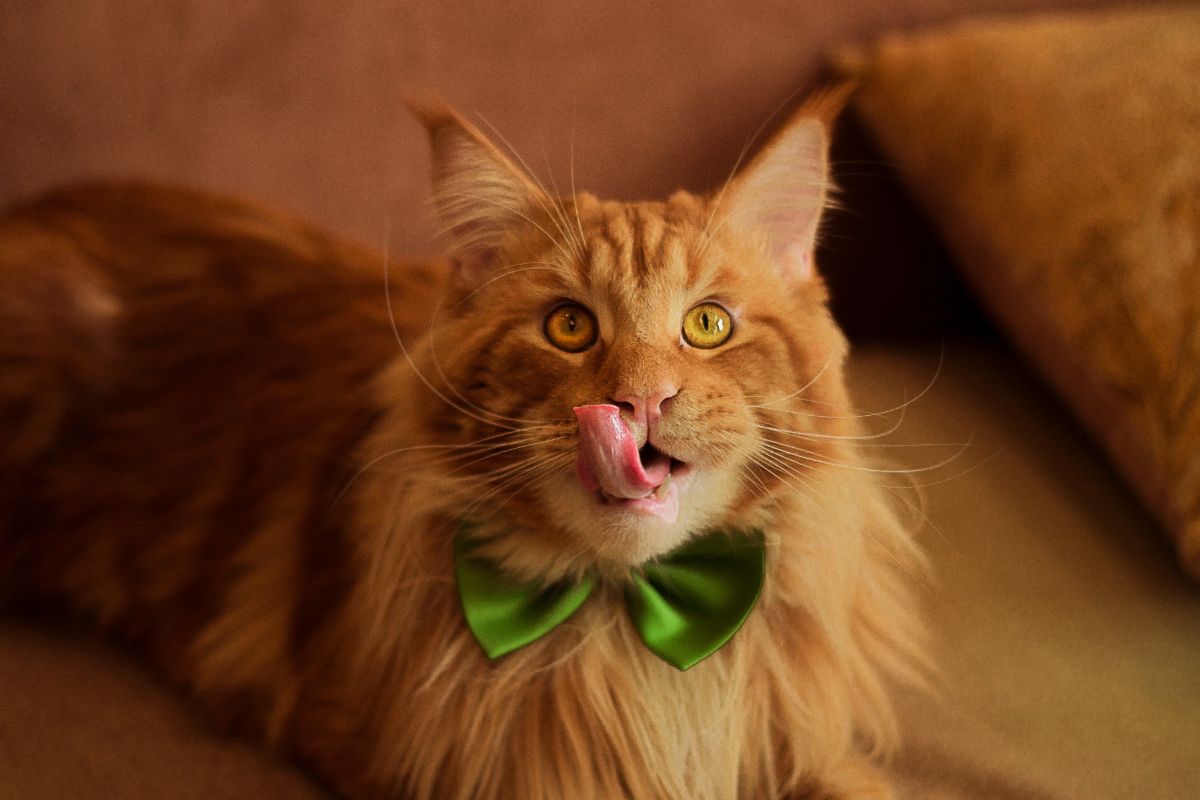 You're in luck! Here, we will detail the top 11 foods Maine Coon cats love to eat and explain why they enjoy these meals or snacks. Ready to learn more about the diet of Maine Coon Cats? Then, let's get started!
Jump to:
What Do Maine Coon Cats Love to Eat?
First, you should understand that all cats need to consume specific nutritional components. All cats need to eat:
Protein
Carbohydrates
Amino acids like arginine and taurine
Fats and fatty acids
Vitamins and minerals, including vitamin A
The Maine Coon Cat needs plenty of protein in its diet, and the best proteins include fish, chicken, or other meat. Further, you should consider giving your cat a mix of wet and dry food. That way, your cat can use her teeth more to bite the dry food while getting more fluids when eating wet food.
Maine Coon cats surely love the taste of fish and chicken. They also need it to get enough energy and nutrition to handle their large size.
If you leave a Maine Coon Cat to fend for itself in the wild, the typical things the cat will consume include:
Insects
Reptiles
Small birds
Small rodents
Small mammals
So, what are the top 11 foods that Maine Coon Cats love to eat? Keep reading to find out!
The 11 Favorite Foods of Maine Coon Cats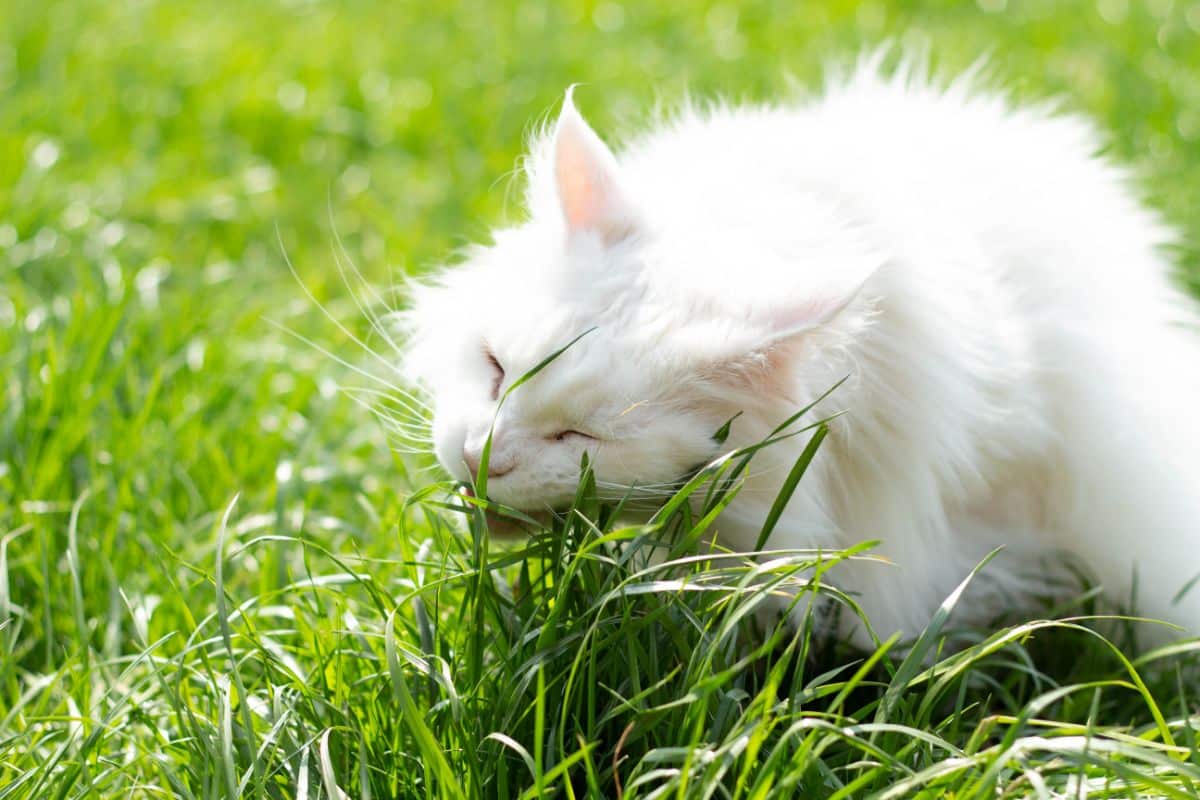 Below, we detail the 11 top foods that Maine Coon Cats enjoy the most and explain why they love these items.
Salmon and Other Fish
Salmon and fish are truly tasty foods that your cat will love. However, it goes beyond the delicious flavors. Salmon is a fatty fish and has omega-3 fatty acids, which these cats need for their nutrition. It's also packed with protein.
Chicken
Chicken tends to have a savory and greasy taste that Maine Coon Cats can't get enough of. The mouthwatering meat also packs plenty of protein to keep your cats healthy and full of energy.
Canned Cat Food
Most cats love canned cat food and can't get enough of it. The reason canned cat food is a good idea is that many cats fail to drink enough water throughout the day. Canned cat food is another form of wet cat food. It ensures that your pet gets enough fluid throughout the day.
Turkey Liver
While plenty of humans do not like the taste of liver, the Maine Coon Cat loves the meaty flavors and the texture of turkey liver. The best part? It's another easy way to get your cat the protein and fats she needs to live a healthy life.
Venison
Many cat foods use venison as the main ingredient. Your cat will enjoy the savory meat and benefit from the protein and fats found in venison.
Dry Cat Food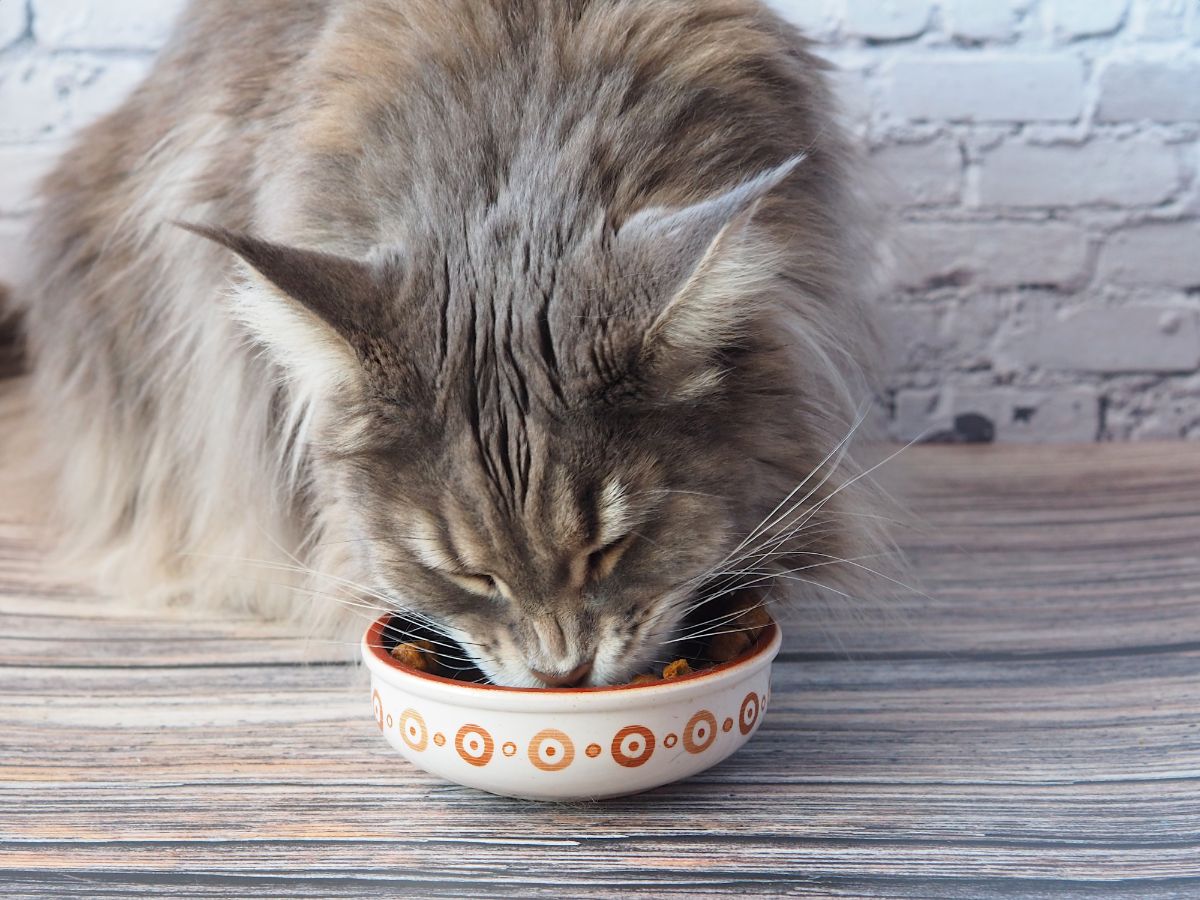 Your kitty needs to have dry cat food in his diet. Give your cat about three ounces of dry food daily. That way, your cat will have stronger teeth and better dental health. It may even help prevent periodontal disease.
Wet Cat Food
Your kitty will enjoy having wet cat food two or three times per week. For example, canned cat food filled with fish provides the right amount of moisture to keep your cat hydrated.
Rabbit
Cats love chasing rodents and rabbits outdoors. Maine Coon Cats are no exception. They'll love the meaty taste of a rabbit and get plenty of protein from their hunt as well.
Cat Treats
What cat doesn't love a good treat? However, remember to avoid giving too many treats on a standard day. Save them for a special occasion.
Mice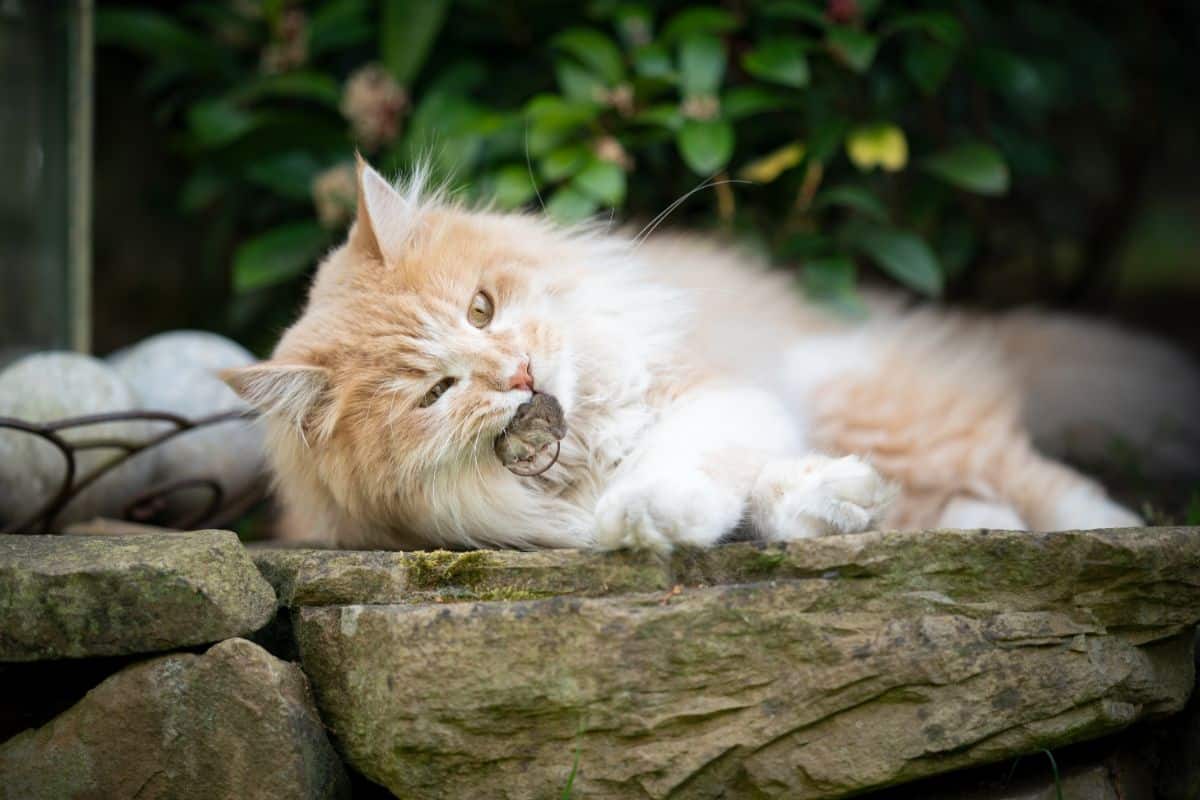 Remember the cartoon, Tom and Jerry? Cats are known to love hunting mice, rats, and rodents. They love the chase as well as the meaty flavors of rodents. Most importantly, mice have a fair amount of protein for the large Maine Coon Cat.
Fatty Foods and Supplements
Your cat will need to consume fatty foods to have a proper diet. Luckily, the Maine Coon Cats love fatty fish like salmon or mackerel. You may also want to give your cat omega-3 supplements along with vitamin and mineral supplements to keep him healthy for years to come.
Before You Go
Now you know exactly what type of diet your Maine Coon Cat needs to live a long and healthy life. Choose as many of the options as you can from the top 11 foods Maine Coon Cats love to eat. That way, your cat will have a varied diet. Now, go enjoy playing with your fun-loving kitty!