Cats love to be warm and snug, so many hate when the cold weather comes and they get chilly. You can cover them with a blanket or cuddle, but a better option is a heated cat house!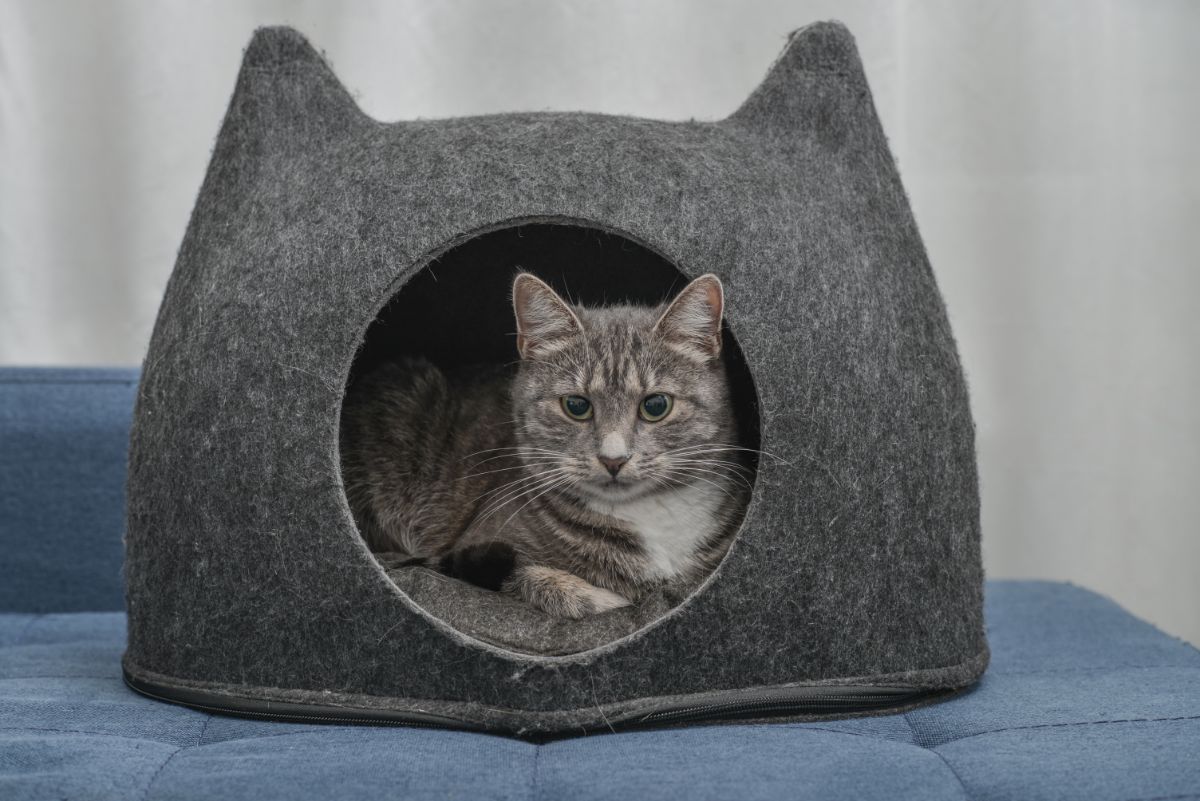 These innovative products are the perfect place for your favorite feline to curl up and enjoy the warmth.
Jump to: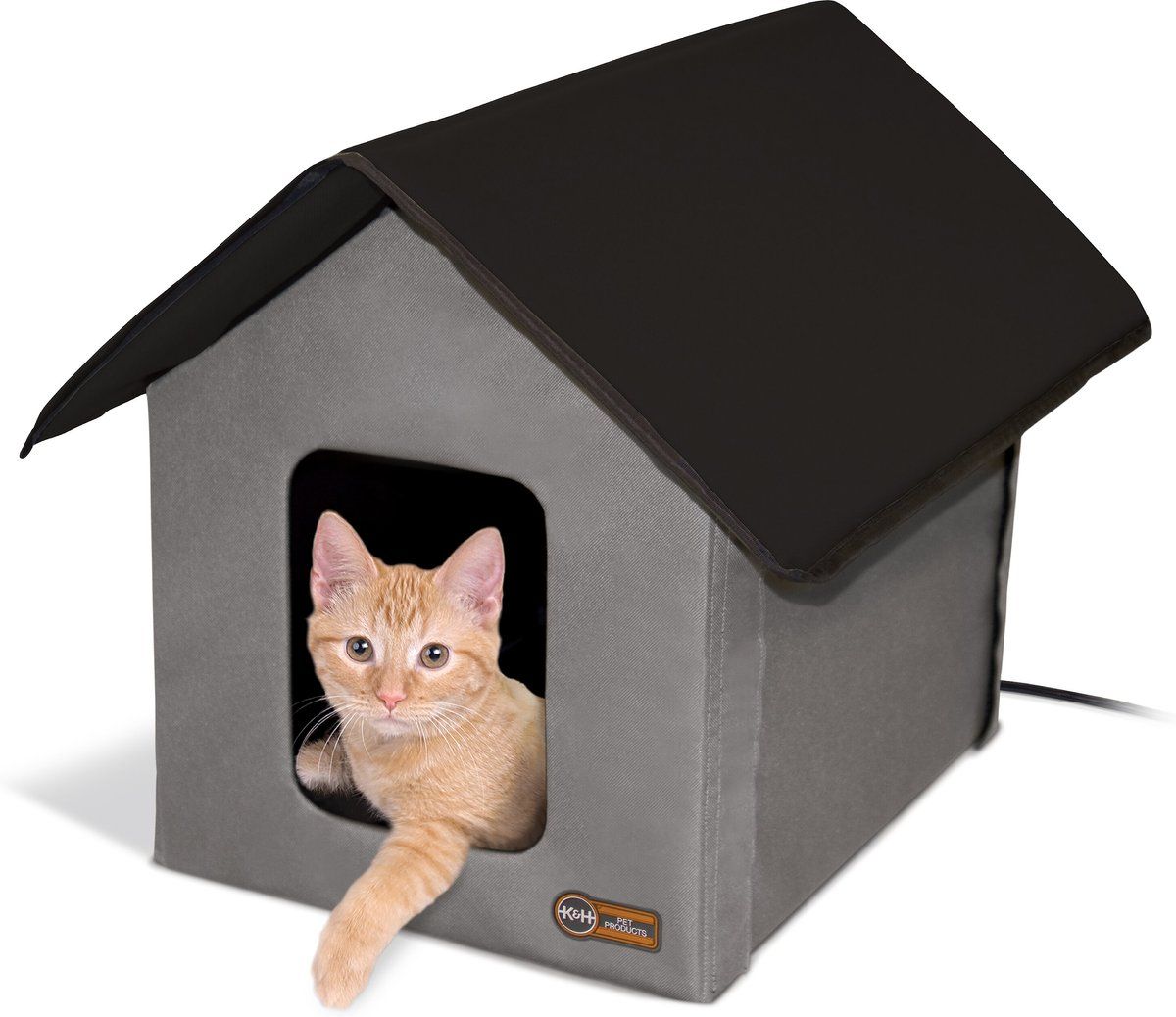 Our top pick is the outdoor heated house from K&H Pet Products. This house is the perfect product for your cat who wants to be comfy and warm in their bed. It's suited for outdoor and indoor use and falls in the middle of the price range for these houses.
It uses a K&H Lectro-Soft heated bed that is MET safety listed, so you know your kitty will be safe. The house uses durable and weather-resistant materials like vinyl and nylon. The interior is fuzzy to keep your cat snug in its bed.
You don't need tools to assemble the house, as it comes together in a few minutes using built-in zippers and fasteners, so it's also convenient for transport if you want to take it on vacation with you!
You can choose from a few basic colors or order the house with a fun and whimsical design, like faux brick or camouflage. The house can even fit two regular-sized cats, but it's best for one cat, especially a larger breed like a Maine Coon.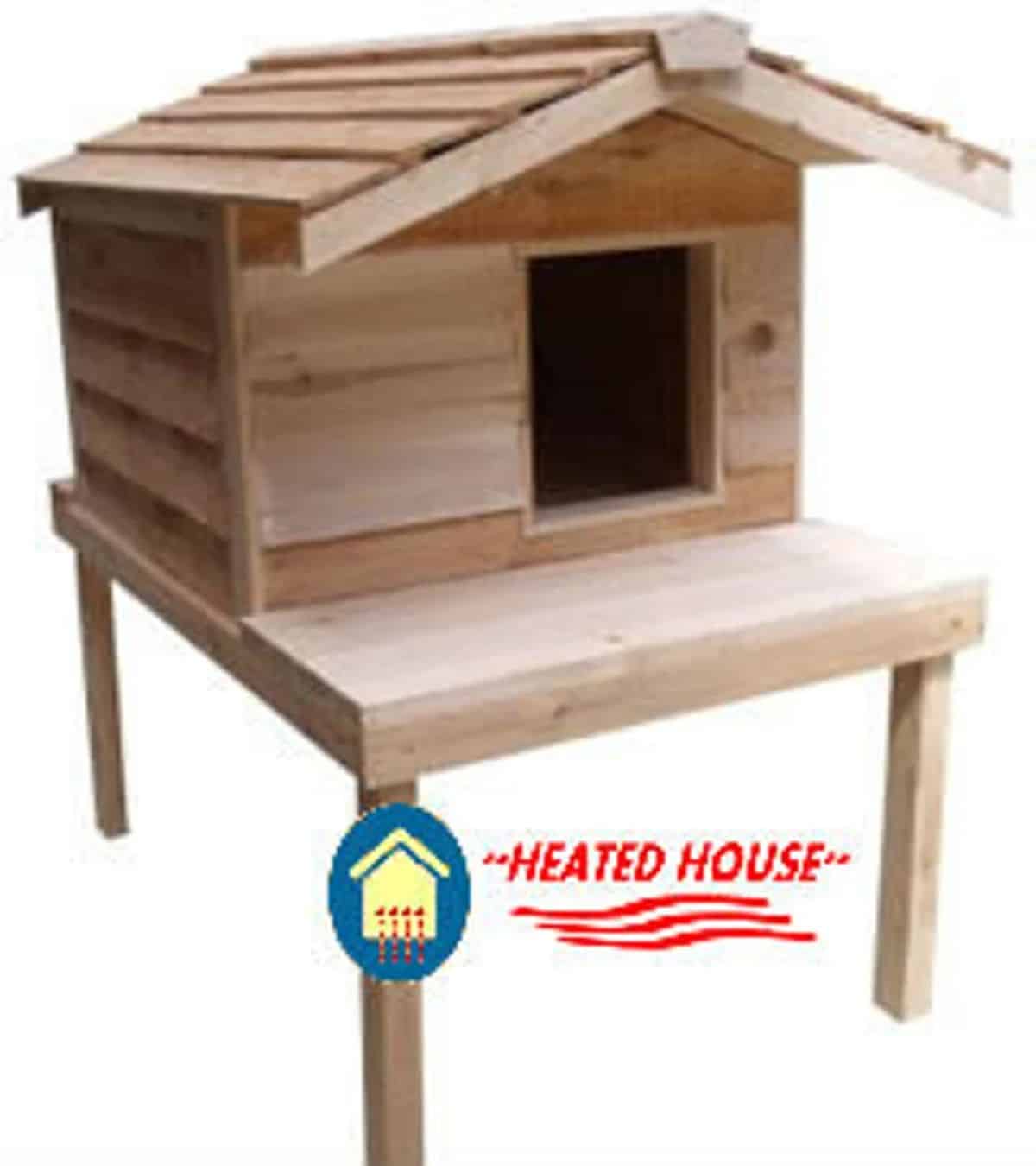 This heated cat house from Undercoverpethouses is massive and high-quality. If you want your cat to live a life of luxury, get them this enormous heated cat house featuring a platform, extended roof, and tiny porch.
This house is handmade from premium wood and other materials, so it's super durable and made to last forever. It's ideal for outdoor use, but you can keep it inside if you have the space. The Thermal-Ply insulation keeps the house warm in the winter but cool in the summer, so your cat is always content.
Your cat can even lay in the sun on the porch and catch some rays! It's fully weatherproof and big enough to accommodate two cats comfortably. This heated house is the best option if you live in an area with particularly nasty weather but have cats who love the outdoors.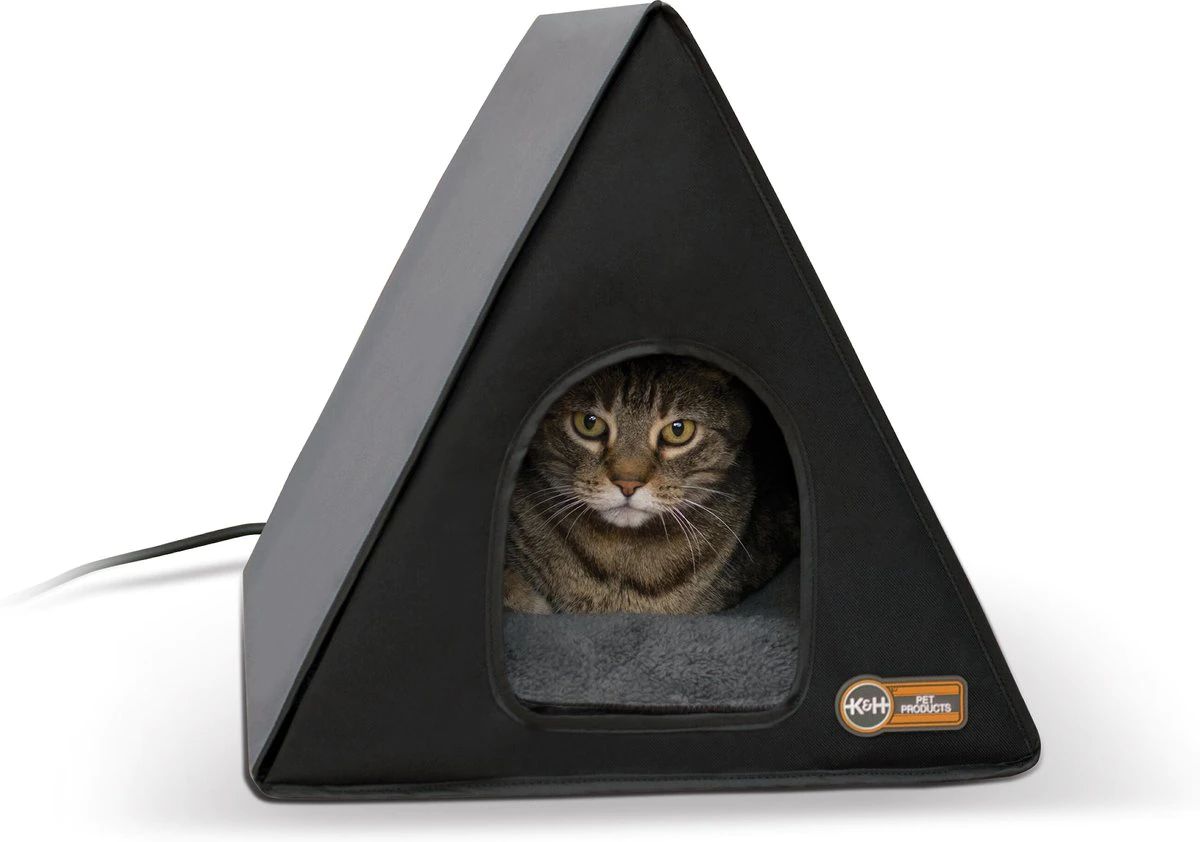 While humans like to spread out and stretch in their beds, many cats prefer a more compact place to relax, making them feel safe and more secure.
If you have a cat who loves to curl up in small places and hide in the nooks and crannies in your home, this is the house for them. This adorable A-frame heated cat house warms to the exact temperature of your cat's body, so it'll never feel too hot or cold.
It's weatherproof, so suitable for indoor or outdoor use. The compact size also makes it easy to store or transport, as it folds up neatly. All the components are machine-washable too!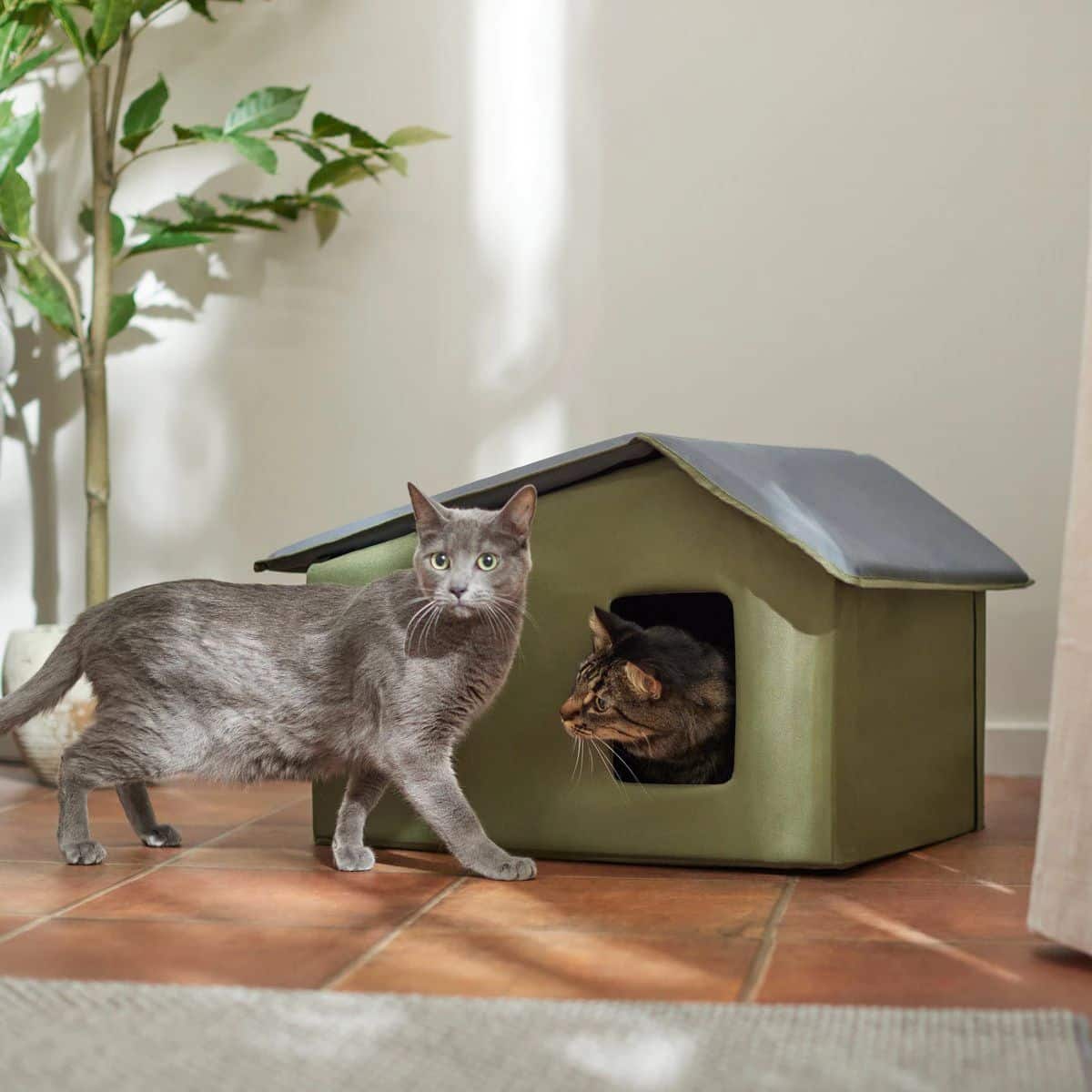 On the other hand, if you have a cat who likes to have extra space or two cats who want to cuddle up next to one another, check out this extra wide heated house. It comes in three colors and is super affordable!
The heating pad is big enough for two cats to lounge and uses an ETL- certified power adaptor with 100-240V input and DC output via a 110-inch power cord. While this extra-wide cat house is weatherproof and durable, it's not rated for outdoor use. It could work outside if you ensure the power cord is waterproof and the weather is not too harsh.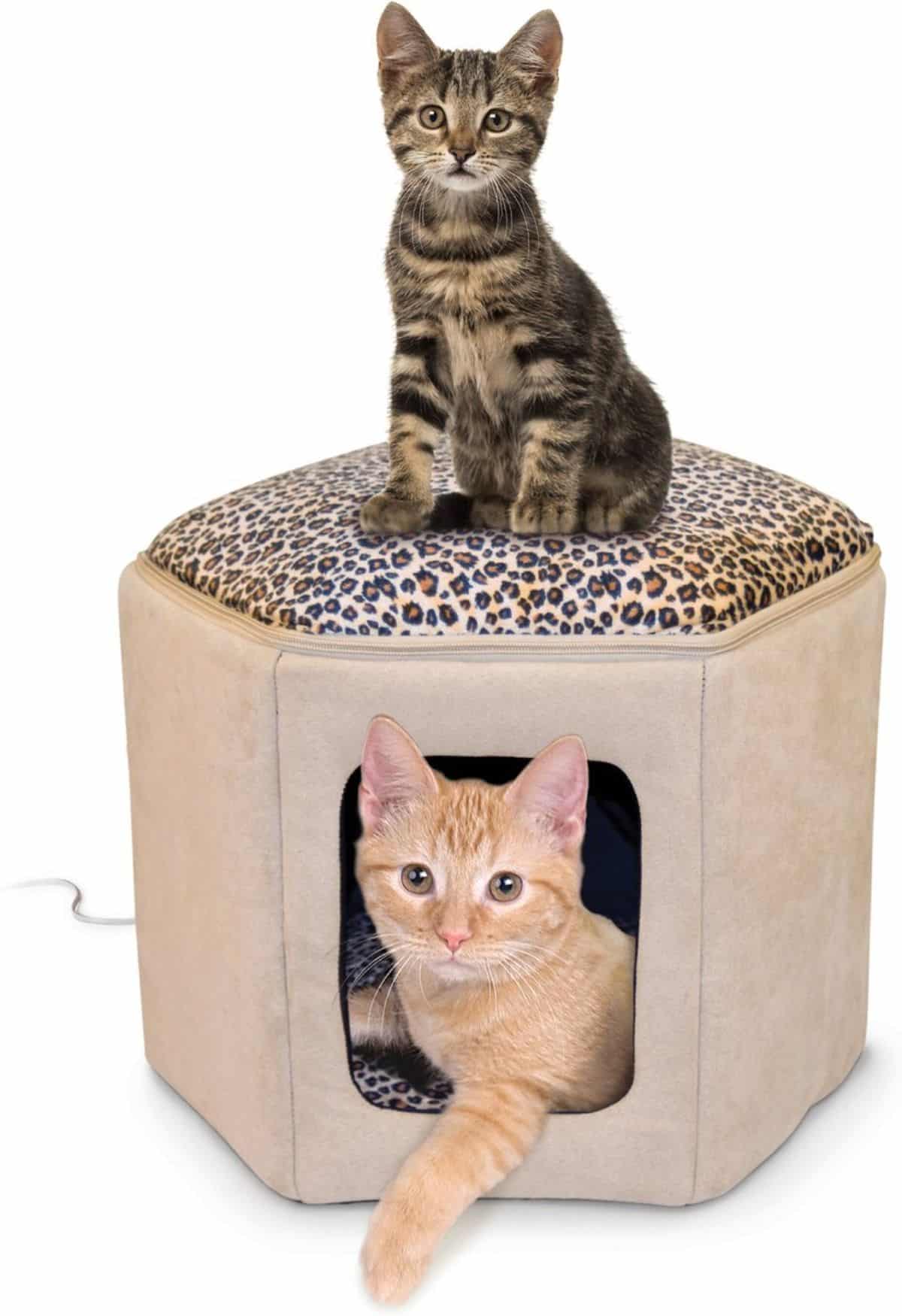 Kittens get cold, too, maybe even more than full-grown cats! This tiny sleep house from K&H is ideal for chilly kittens.
It's even smaller than the A-frame house mentioned above, so it isn't suitable for an adult cat. But your kittens will love the soft fabric inside the house and on top, allowing them to sit inside or chill on the roof.
The removable 4-watt heating pad will heat the home to the perfect temperature for your kitten's little body. It's sturdy, with durable plastic walls covered in velvety fabric. It also is a stylish leopard print pattern so your kittens can let out their inner jungle cat!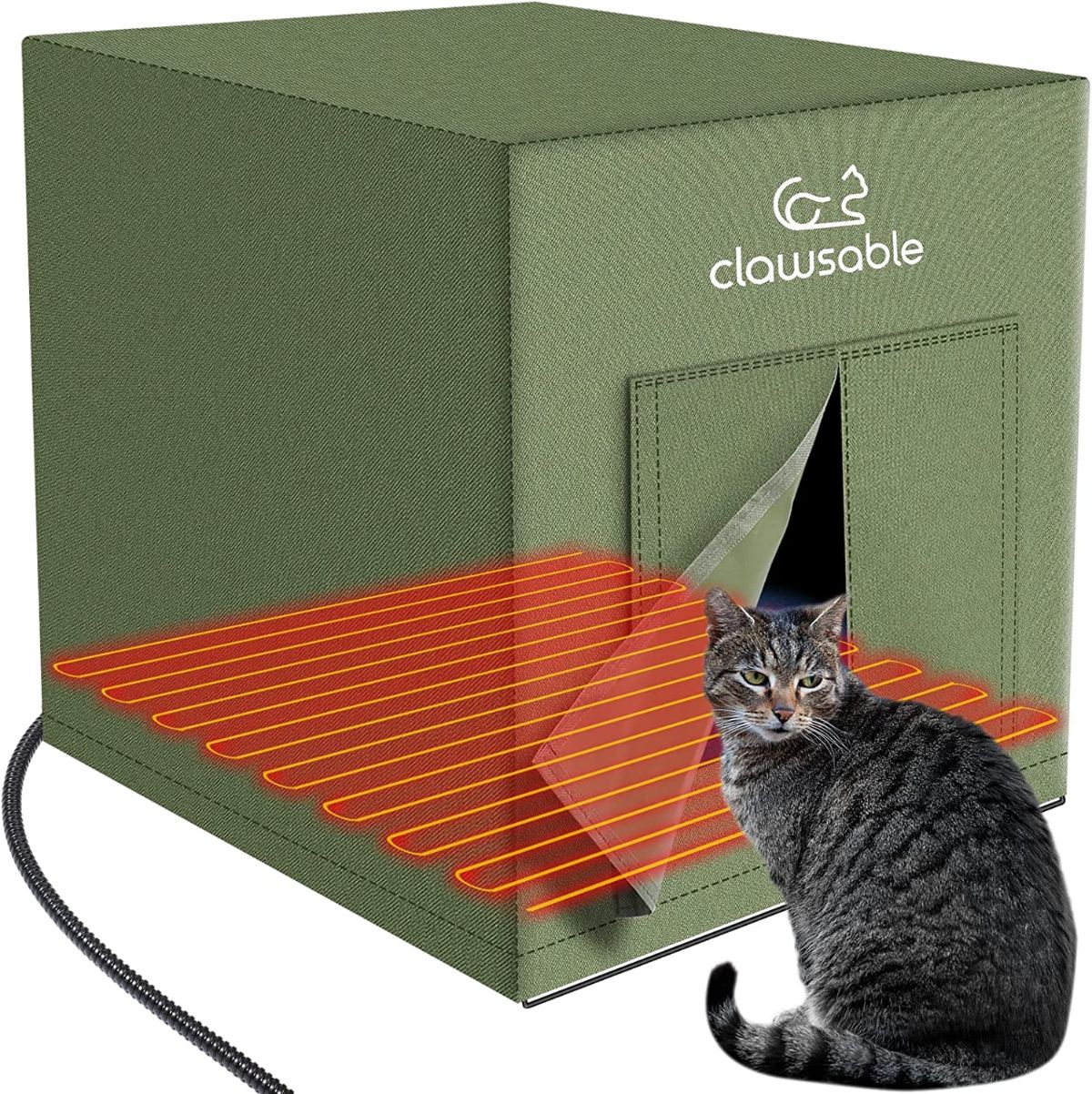 Sale
All the houses on this list are warm and durable, and most are wonderful for outdoor use. However, when it comes to the heating element, this Clawsable cat house is the best choice.
Even when the winter wind roars and the snow falls, this heated house will still keep your cat warm, safe, and comfortable. It heats to a toasty 113º Fahrenheit according to your cat's body temperature and outdoor temperature.
It uses military-grade materials which are waterproof and weather resistant. It even folds up into a bag with handles so you can carry it on your shoulder wherever you and your cat go! The house is big enough for two cats or small to medium-sized dogs. It's one of the most reliable heated cat houses you'll find.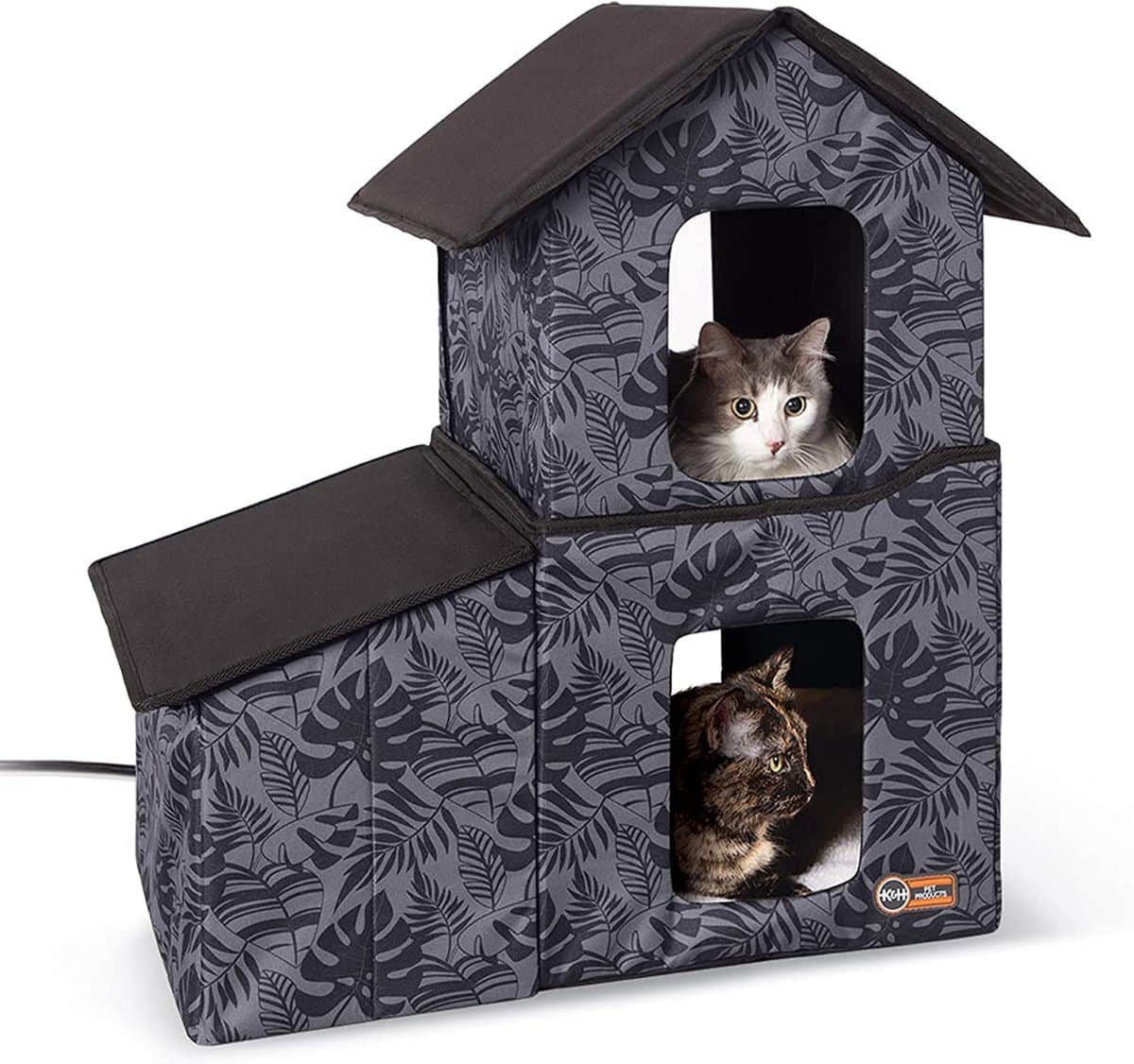 This product is a heated cat house for multiple cats, so if you have a collection of cats, this heated house can fit them all. The house has two stories and a tiny dining room for them to hang out or eat.
It can comfortably fit two or three cats at once, keeping them all warm and content. It's suitable for indoor or outdoor use, thanks to the weatherproof materials and durable construction. Cats under one roof tend to stay near one another, so now they can stay under their own roof right next to each other!
Despite the spacious interior, the house is compact enough to keep indoors but will be safe and warm for your cats outdoors, even in the winter. One downside is only the bottom floor is heated; however, the heat will radiate upward to keep all cats toasty.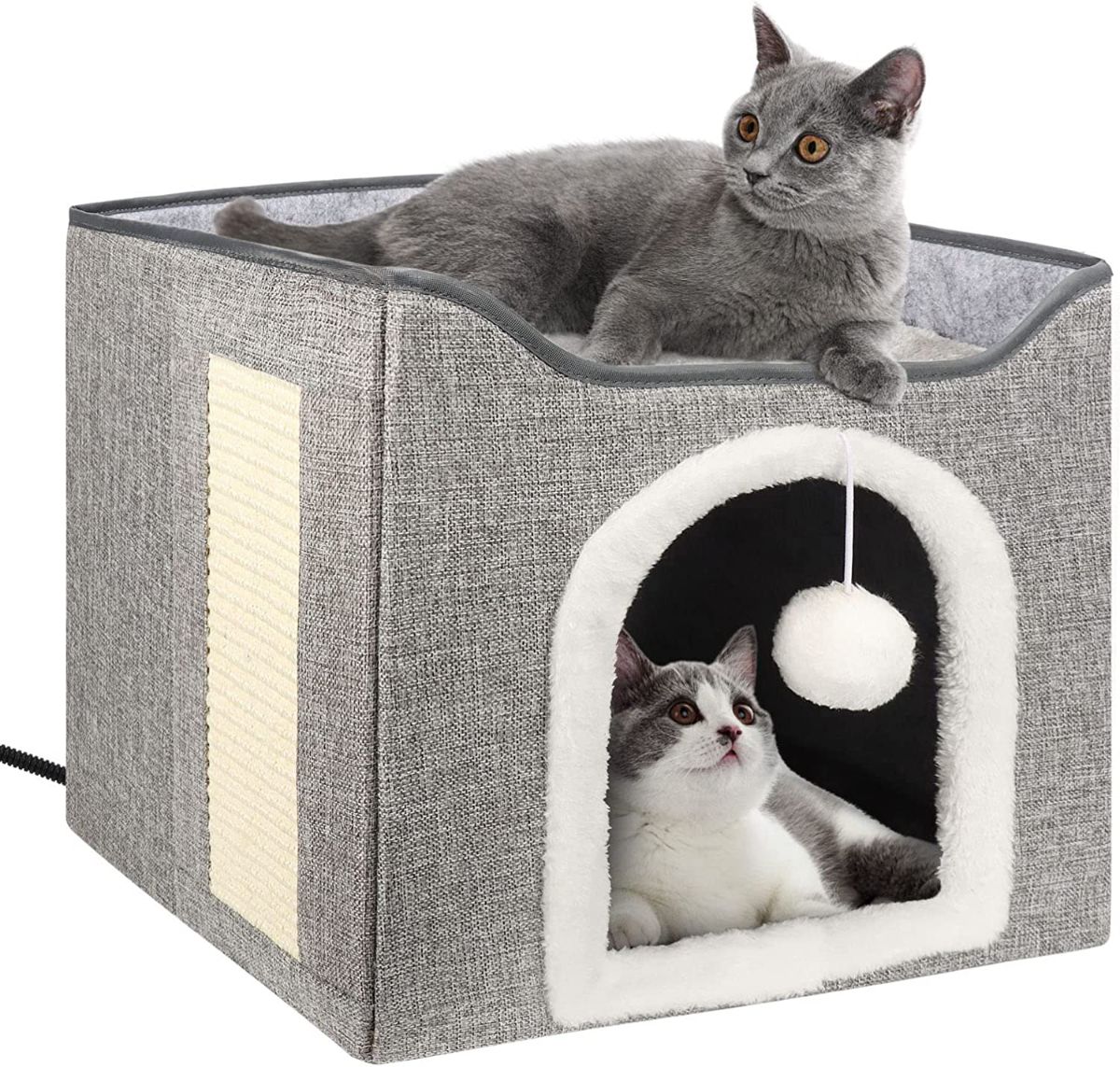 If you have rambunctious cats who like to play with toys or scratch at things, this house can keep them warm and entertained! In front of the house's door is a hanging fluff ball they can bat around and toy with when they get bored.
On the side of the house is a scratch pad for them to stretch and get their scratching urges out without destroying the house. They can lay inside on the heating pad or lounge on top, where there is a soft bed.
Unfortunately, this house is best for indoor use, as it's not perfectly weatherproof. But it is dirt-resistant, so it could be outside when there is no precipitation, and the weather is not harsh.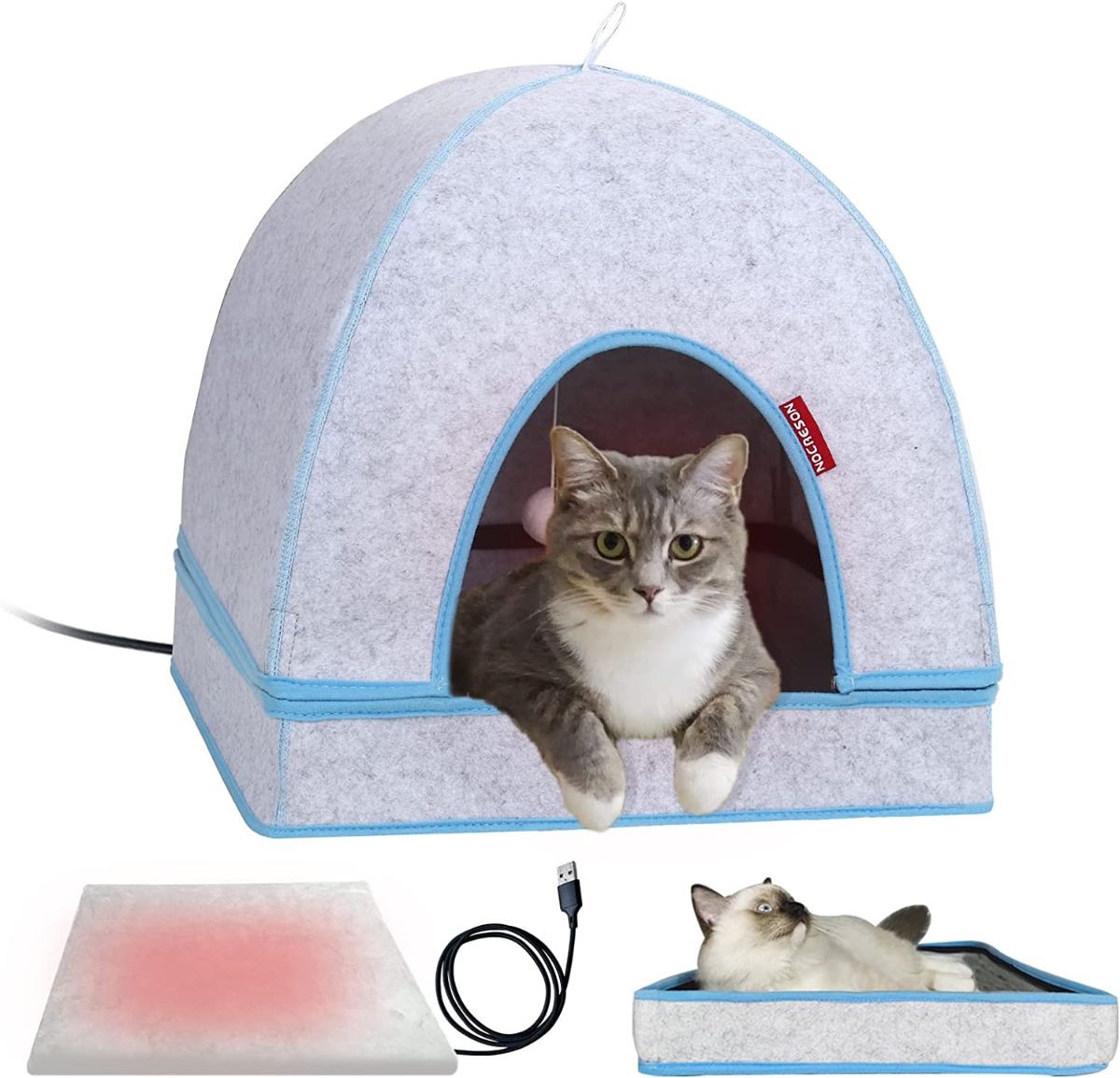 NOCAESON Cat Bed for Indoor Cats, Cat House Year Round with Heating Pad and Fluffy Ball Hanging, Foldable Heated Cat House for Joint-Relief and Hidewawy, 16x16x14 inches, Grey
YEAR ROUND 2 IN 1 CAT HOUSE: Warm in winter and cool in summer for your cat! Heated cat house for winter, summer, and year-round care that provides warmth to pets that are recovering from illness, injury, or suffering from arthritic conditions, as well as to those that are either newborns, pregnant, or older pets. The constant 50°C / 122℉ keeps your cat warm for a long time.
While exploring this list, you may feel overwhelmed and deterred by the price tag on many of these houses. But this product is super affordable and will keep your cat warm in its bed. It uses lightweight materials that retain heat well, like fiberglass and felt.
It is weatherproof and soft, so it can be used outdoors or on your porch. The interior heating pad will gently keep your kitty warm, and the soft materials make this the perfect place for snoozing. The 4-layer heating pad has a safe and effective design for the winter.
It's even scratch-resistant, so rambunctious kitties won't destroy it when they get restless. One of the best parts of this house is the removable cushions and sections, which are machine-washable, making it easy to keep it clean and eliminate icky cat odors.
Heated Cat Houses FAQs
Below are a few commonly asked questions about heated cat houses.
Are heated cat houses safe?
Yes, heated cat houses are generally safe. Like any electrical appliance, use it with caution and moderation. Some cat houses don't use an electrical system but trap your cat's body heat to warm the house!
How do you keep a cat house warm in the winter?
You can keep a cat house warm using insulation like blankets, styrofoam, or even straw. You can also add a safe heating element to your cat house, like a heated blanket.
Can you put a heating pad in a cat house?
Yes! You can add a heating pad to a standard cat house to keep your cat warm and cozy. It's best to opt for heating pads with an automatic shutoff feature for added safety.
How hot does a heated cat house get?
The temperature of a heated cat house depends on the brand, but the average temperature is 102º Fahrenheit. They can range from 80º to 120º.
Final Thoughts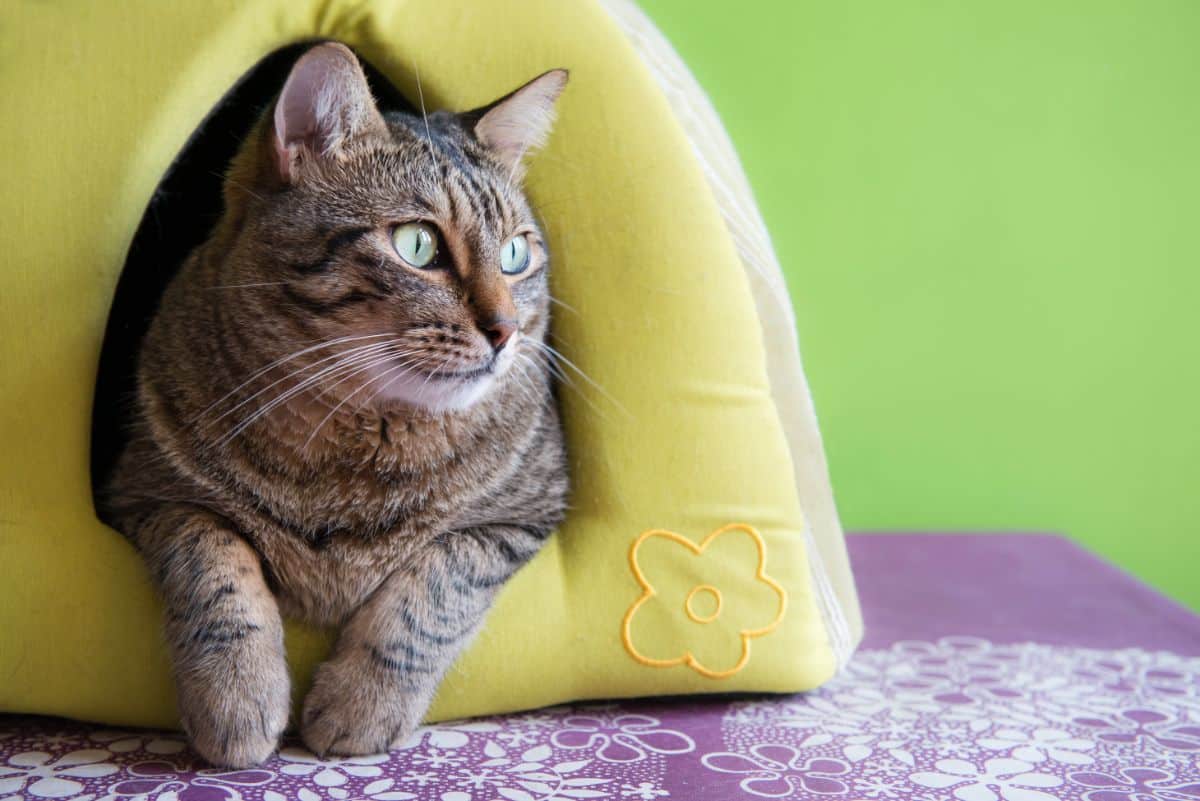 Even if you think your cat doesn't need or want a heated bed, it's nice to give them a place of their own when they feel like hiding or napping. Rather than get your cat a boring cat bed, get them one of these super cozy heated cat houses!