Cat lovers in cold climates may be looking for a feline that can handle lower temperatures without much distress. So naturally, a cat with an abundance of thick, long fur would be the obvious choice for colder locations, making the Maine Coon an ideal pet.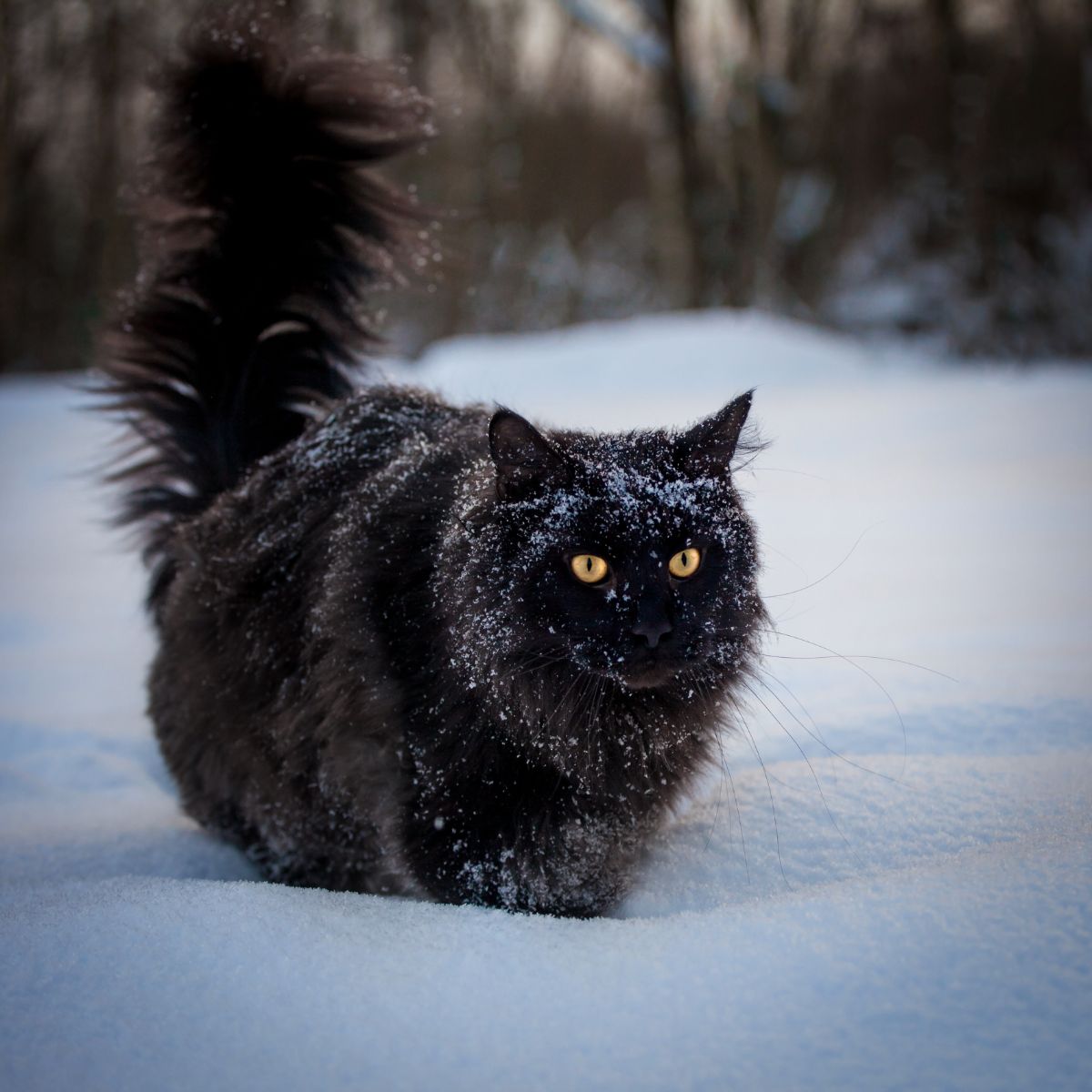 But how cold is too cold for a Maine Coon? Even these fluffy felines, with their long fur and bushy tails, can only sustain freezing temperatures to a point. Although this breed is quite tolerant to the cold, your cat shouldn't be outside in temperatures of 12°F (-11°C) for long periods.
Jump to:
What Makes a Maine Coon Special?
Just looking at a Maine Coon and comparing it to another cat breed will give you some indications of why these felines are unique when it comes to colder weather.
Some features of the Maine Coon that enhance its ability to withstand cold weather include:
Dense, water-resistant coat
Built-in snowshoes
Permanent fluffy scarf
Its enormous size
Dense, Water-Resistant Coat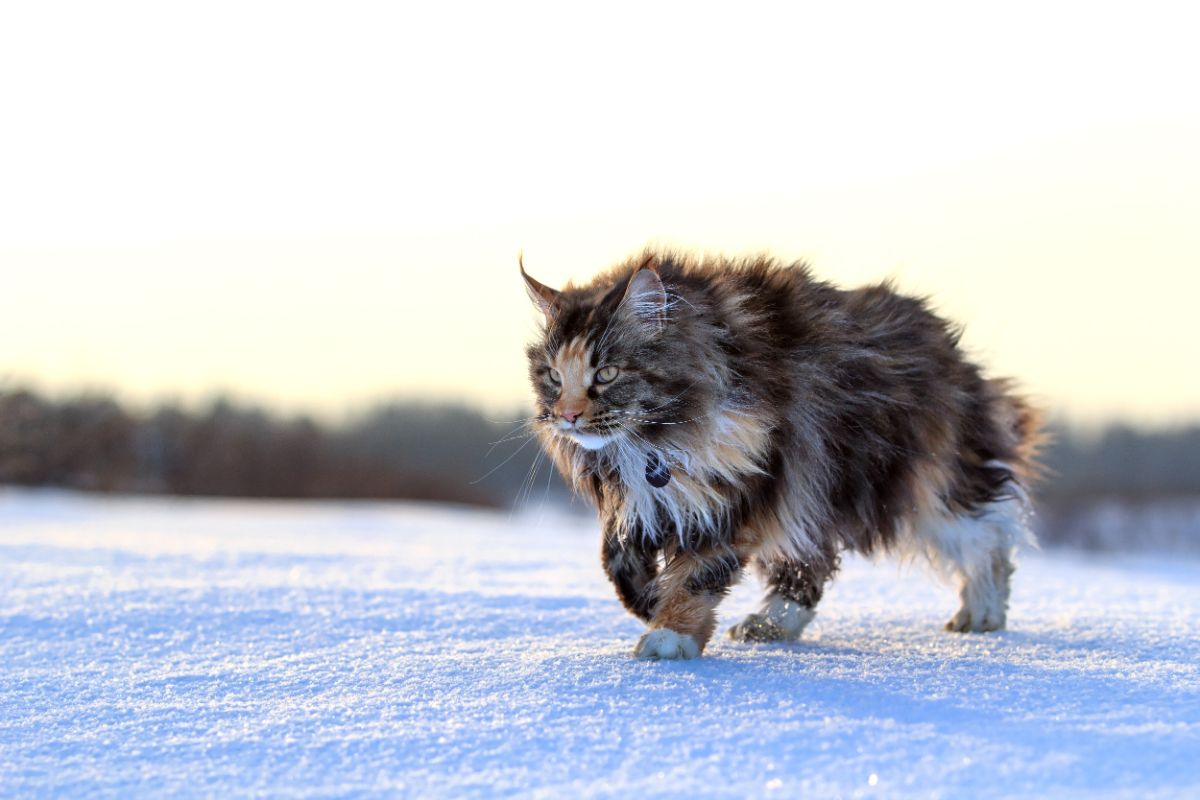 Maine Coons have an extremely dense, water-resistant fur coat that helps keep them warm and dry, even when temperatures drop. The layers of fur help regulate this cat's body temperature while keeping the cold out.
Although their coat is not waterproof, it allows melted snow and rain to slide off before penetrating deeper layers. This way, the Maine Coon has a better chance of staying warm and dry than short-haired cats.
As a bonus, their fur is longer on their neck, stomach, and legs to deter snow and cold temperatures from penetrating the layers. In addition, these areas are more prone to coming in contact with snow, so their natural coat gives them extra protection.
Built-In Snowshoes
Because of its large size, a Maine Coon's paws must also be larger to accommodate its body. Therefore, when you compare a standard tabby house cat's paws to a Maine Coon, there is a noticeable difference.
This breed has enormous paws that are wider and larger than other cats, which act like snowshoes to keep them from sinking in deep snow. In addition, their long tufts of fur extend around the feet and through the toes, providing extra protection from the cold.
Enormous Size
Maine Coons are known as gentle giants in the feline world because of their enormous size. So naturally, the larger the cat is, the more body heat it produces since it has more muscle and fat tissue.
Although it's not the only reason these cats are more resistant to cold temperatures, their size is advantageous.
Permanent Fluffy Scarf
For a bonus, a Maine Coon's tail is extended and sports long, thick fur. This attribute gives this feline a permanent fluffy scarf to wrap around its body to keep out the cold.
Do Maine Coons Like To Be Warm?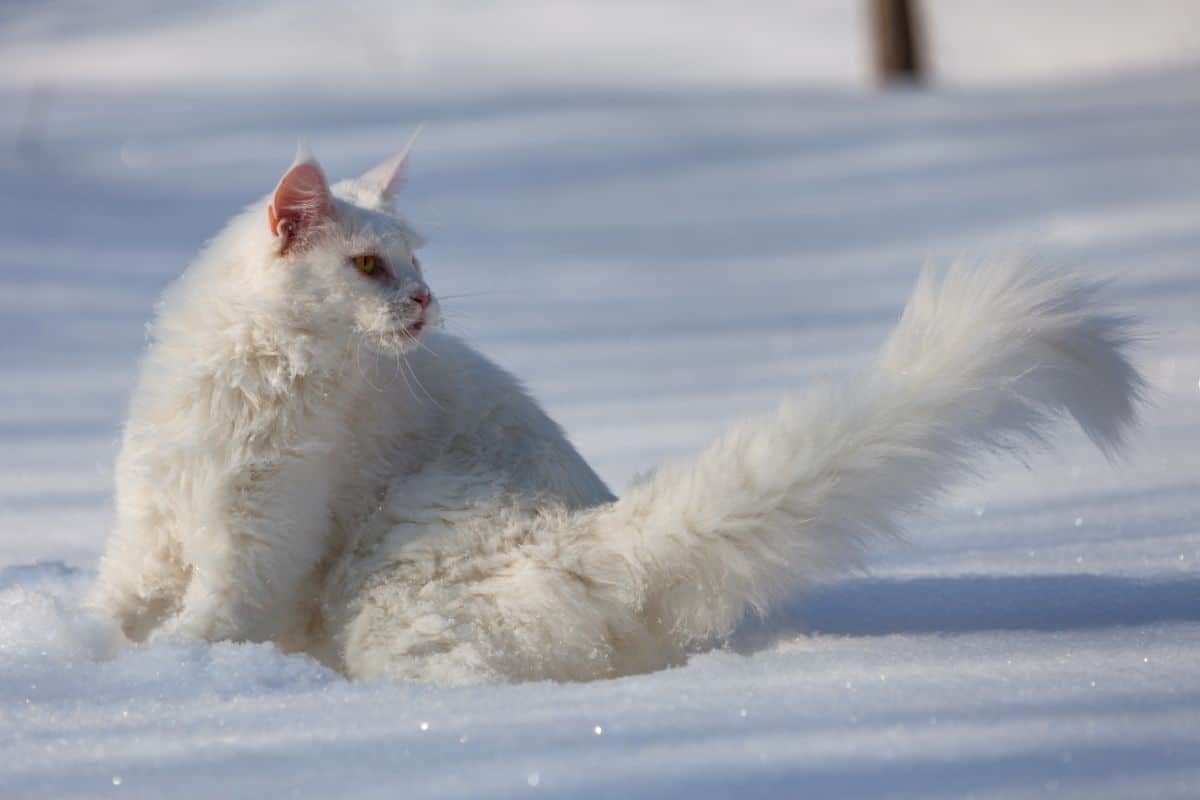 If you love cats, you may know how they love to bask in the sunshine through a window or lie around the yard on a warm summer day. But is this behavior similar for all breeds? Since the Maine Coon has a long, thick fur coat, you may wonder how warm they like to be.
This cat breed is not unlike others. They like to be comfortable, avoiding places that are too cold or too hot. However, their coat makes their internal temperature climb higher on a warm day than other cats.
So, while your Maine Coon will enjoy being warm and lying in your window, it shouldn't be exposed to extremely hot temperatures either.
If you live in a region where the thermometer climbs above 90°F (32°C), it's best to keep your pet indoors where it's cooler. This way, you won't have to worry about your kitty suffering from dehydration or heat stroke with overexposure.
Can Maine Coon Cats Survive Outside?
Many pet owners love to let their animals outdoors to explore. Thankfully, the Maine Coon has evolved into a well-dressed kitty with more natural protection from the elements than other breeds.
A Maine Coon cat can survive outside depending on the location and weather. However, if your region experiences severe cold or hot temperatures, your pet should have a place to get out of the cold or heat when they need it.
Therefore, you may notice that your Maine Coon prefers to be outside exploring until temperatures drop to 32°F (0°C). Once it reaches the freezing mark, your pet will not be as comfortable and will need to work harder to find water to drink and regulate its body temperature.
As long as you have a warm, secure place outside where your cat can retreat to when it needs to, it can survive in regions that hover around freezing. However, once the mercury drops below freezing, there are more risks to your pet with long-term cold exposure.
What Is the Coldest Temperature a Cat Can Tolerate?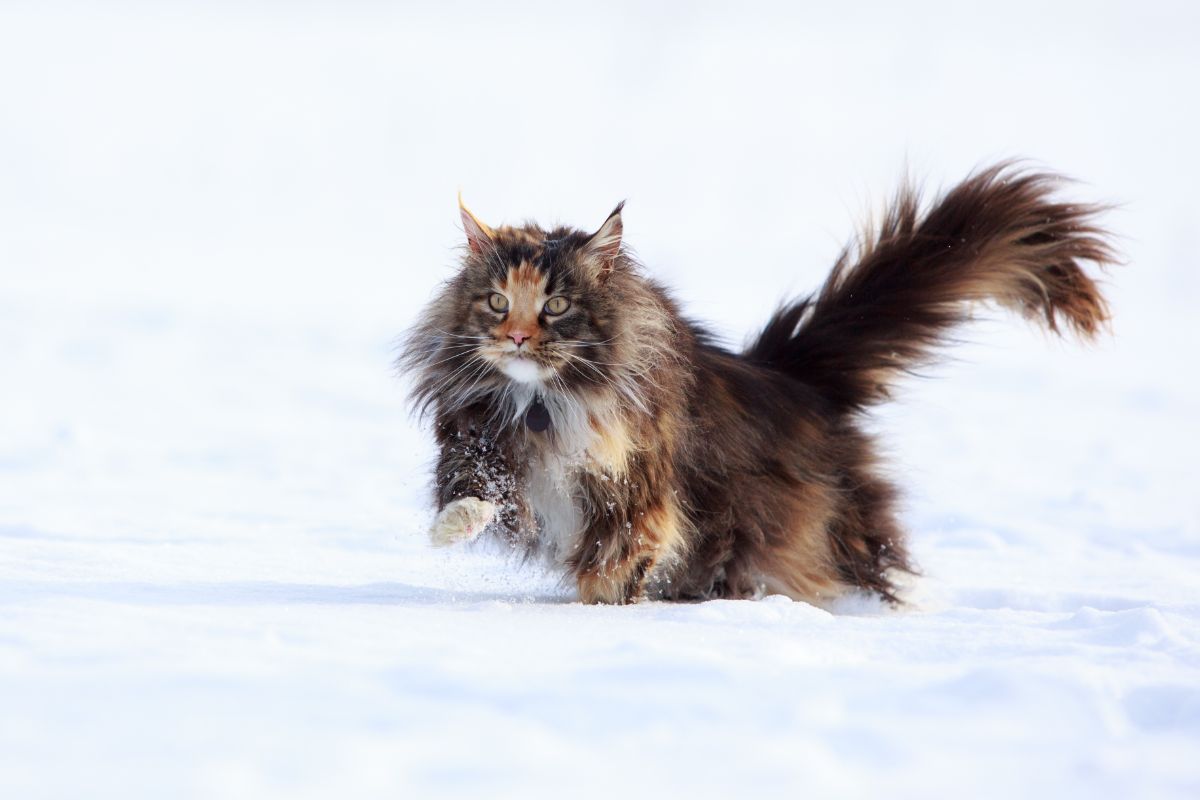 Having a temperature guideline can help ensure your Maine Coon cat remains safe throughout the year, no matter where you live or what weather you have.
Although Maine Coons are better off handling colder temperatures, they are not invincible to hypothermia and frostbite. Even these well-evolved cats can suffer these adverse effects if left outside in the cold for too long.
You may notice that your Maine Coon loves to walk outside in colder weather. Some cats even enjoy playing in the snow for short periods. But you should always be conscious of the temperature when your pet is outdoors.
Can cats freeze in 20°F (-6°C) weather? Although this range is not extreme, if your pet is left outside for too long, it can experience frostbite and freeze even in mild temperatures like this.
Ideally, your cat should not be outdoors for extended periods once the weather reaches 12°F (-11°C). However, living in regions with high winds, freezing rain, or other extreme weather can also affect your pet's resistance to the cold. Therefore, you should take precautions with temperatures below 0°F (-17°C) and closely monitor your pet for overexposure symptoms.
11 Adverse Hypothermia Signs To Watch For With a Maine Coon In Cold Weather
Of course, some cats will handle the cold temperatures better than others, just like people do. So, knowing what hypothermia signs to look for in your Maine Coon will help you keep them safe and healthy, even during the cold winter months.
Your cat's skin, ears, paws, or nose are cold when you touch them.
Its fur appears fluffed up more than usual and stays that way.
Your pet stays in a curled ball position.
It is visibly shivering.
The cat is moving slowly, like it is weak.
You notice your pet is slow to respond or completely unresponsive to their name, treats, or other stimuli.
It may exhibit slow or labored breathing.
The cat's eyes may show dilated or fixed pupils.
You may observe stiff muscles when handling your pet.
It may have a weakened heart rate.
Your cat may fall unconscious.
The Takeaway
Although your Maine Coon cat looks ready for the winter, they are still vulnerable to cold temperatures. As a responsible pet owner, you should always monitor your cat's time outdoors and be ready to take action if they exhibit any signs of hypothermia.