If you're in the market for a new furry friend, you've undoubtedly come across Maine Coon cats. These gentle, fluffy giants are essentially the feline version of a dog. They're one of the largest cat breeds and are perfect for cuddling. What's best about Maine Coons is that they're a relatively healthy breed, so you won't have to worry too much about genetic predispositions.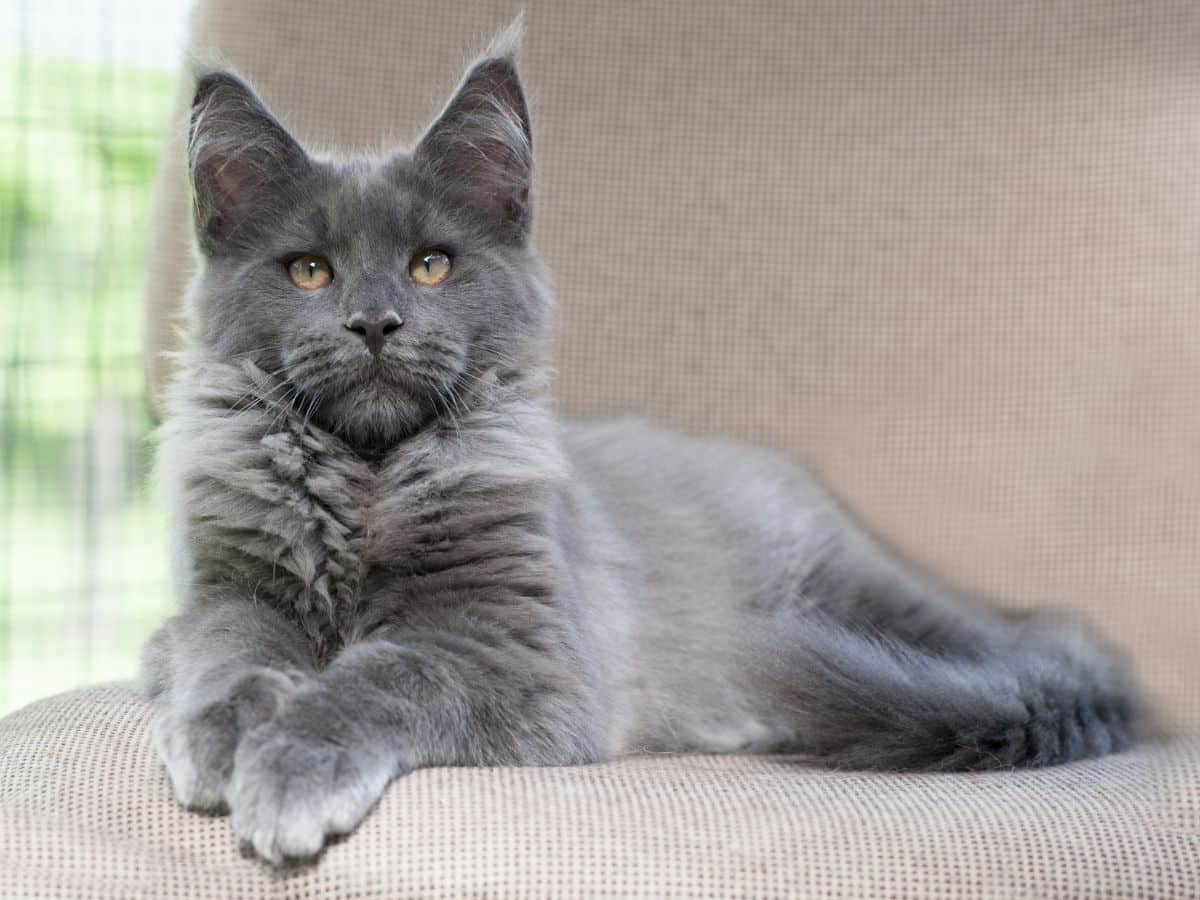 As a potential pet owner, you want to know what to expect when you bring your Maine Coon kitten home. That includes dietary needs, grooming, and, of course, how long you can expect your pet to live. So, how long does a Maine Coon live? Keep reading to learn all about this lovable breed's lifespan.
Jump to:
Do Maine Coons Live Longer Than Other Cats?
A Maine Coon's lifespan falls at the lower end of average compared to other cats. A typical indoor cat can live 12 to 18 years with proper care. However, a Maine Coon's average lifespan is 13 to 14 years, although many owners report owning Maine Coons that lived much longer.
An important distinction to make when discussing a cat's lifespan is whether your pet is an indoor or outdoor cat. Maine Coons love to roam and enjoy outdoor exercise, but outdoor cats usually have shorter lifespans. On average, any outdoor cat, be it a Maine Coon or other breed, will only live approximately 2 to 5 years.
What Is the Oldest Maine Coon Cat?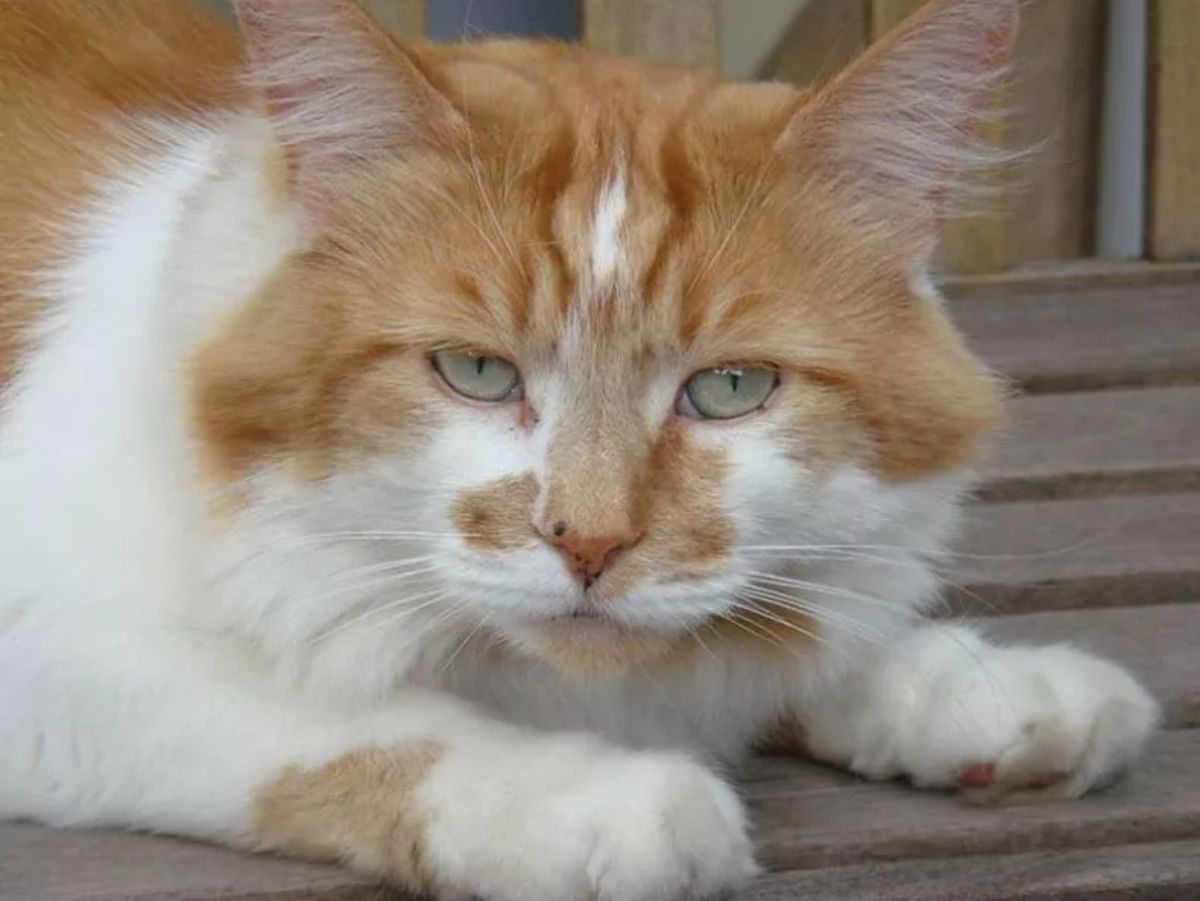 Most people are surprised when they hear of a cat reaching its twentieth birthday. So imagine their shock when they hear about Rubble, the 31-year-old Maine Coon from Exeter in England. Sadly, in 2020, Rubble passed away, leaving behind his owner, Michele, and her husband.
How Long Do Female Maine Coons Live?
Female Maine Coons follow the typical Maine Coon lifespan of approximately 13 to 14 years. So when you adopt or purchase your female Maine Coon, you can feel confident that she'll have a long life.
How Long Do Male Maine Coons Live?
Fortunately, there doesn't appear to be any difference between male and female Maine Coons as far as lifespan. No genetic, medical, or other biological indicator suggests one will live longer than the other.
Do Maine Coons Have a Lot of Health Problems?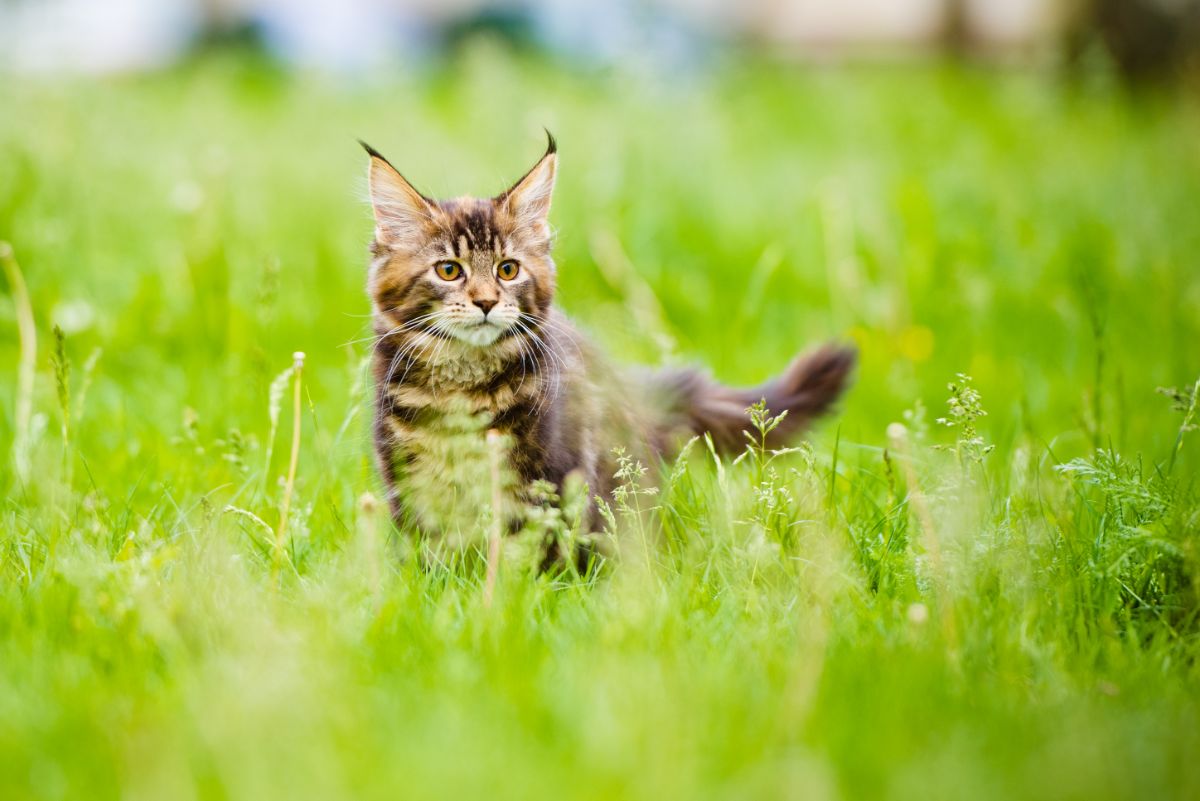 Maine Coons are a healthy cat breed with relatively few health issues. However, as with most cat breeds, there are a few conditions to be aware of when purchasing or adopting your Maine Coon.
Asthma
Many cats, including Maine Coons, can suffer from feline asthma. Similar to human asthma, feline asthma affects your cat's trachea and lungs and usually presents with coughing, wheezing, and sneezing.
If you've noticed these issues with your furball, don't worry. Your vet should be able to prescribe medication to get your Maine Coon's asthma under control.
Hip Dysplasia
Certain animals are genetically more predisposed to a condition known as hip dysplasia. This condition can lead to arthritis in larger cats like Maine Coons, which can be quite painful as your cat ages.
It's crucial to have hip dysplasia treated as soon as you notice its symptoms. Maine Coons who suffer from it could live in significant pain or even become paralyzed.
Spinal Muscular Atrophy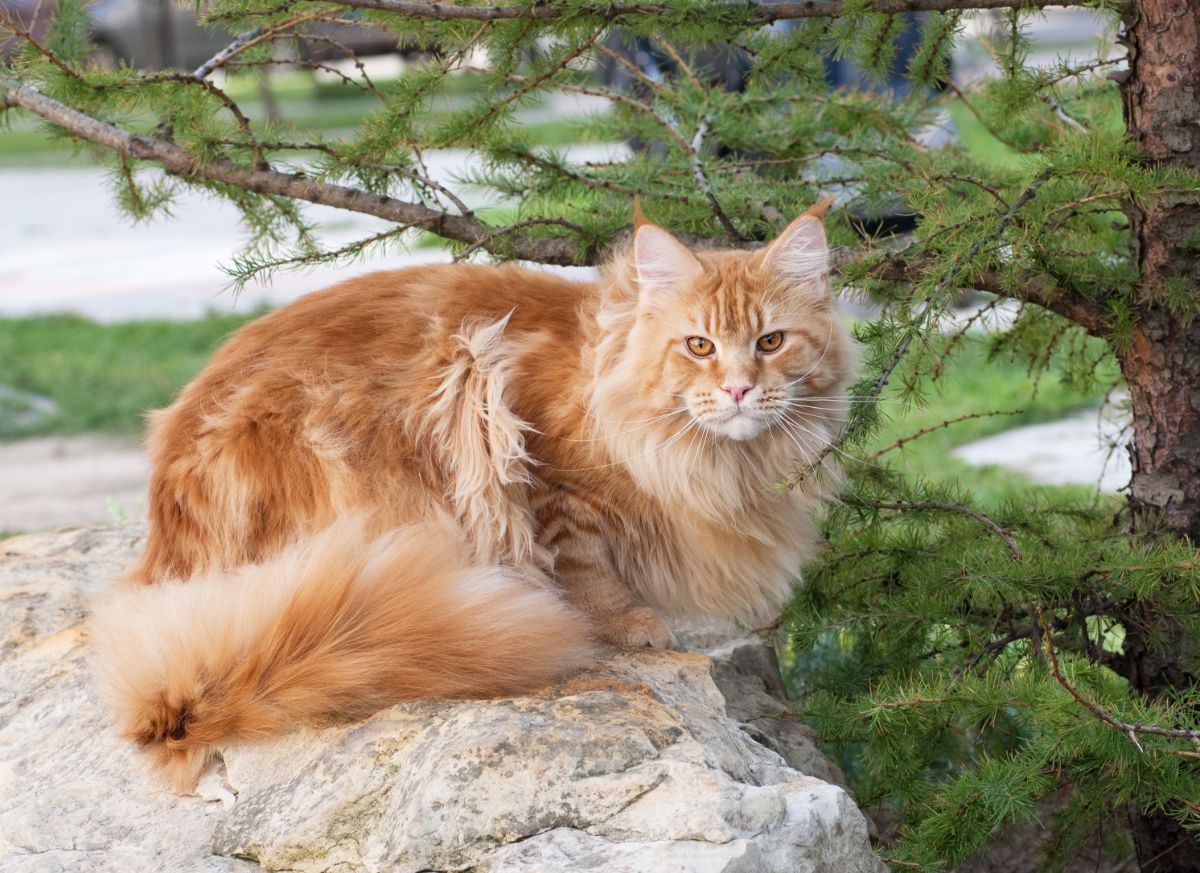 Spinal muscular atrophy is a condition that causes Maine Coons to lose motor neurons in their spine and develop atrophy in their legs. This is a lifelong condition, with initial symptoms usually appearing around three months.
Fortunately, your Maine Coon's lifespan shouldn't be shortened due to SMA. However, since the condition can lead to instability, keeping your cat indoors is best to avoid accidents caused by its wobbly gait.
What Affects a Main Coon's Lifespan?
As with any pet, many factors determine how long your Maine Coon cat will live. Of course, genetics is a significant factor, if not the biggest factor. Still, there are several areas you can focus on to ensure your kitty lives its best life as long as possible.
Healthcare
Proper healthcare is essential to your Maine Coon's life. Annual vet visits can provide insight into your cat's health, dietary, and other medical concerns that could cause your cat to struggle.
Regular vet visits also give you the chance to get your Maine Coon's teeth cleaned. Cats are notorious for tartar buildup, and often, the vet is the best way to remove it.
Exercise
Maine Coons are a lot like dogs in both size and temperament. If you've ever interacted with a Maine Coon, you'll know that they're anything but petite. However, since Maine Coons are on the larger side, it's essential they get regular exercise to keep their weight down.
Increased weight on an animal that's already large for its species can cause pain and other health issues. To avoid added weight, give your Maine Coon multiple outlets for its energy, whether it's a kitty playground or a few motorized mice, to ensure they get plenty of exercise.
Diet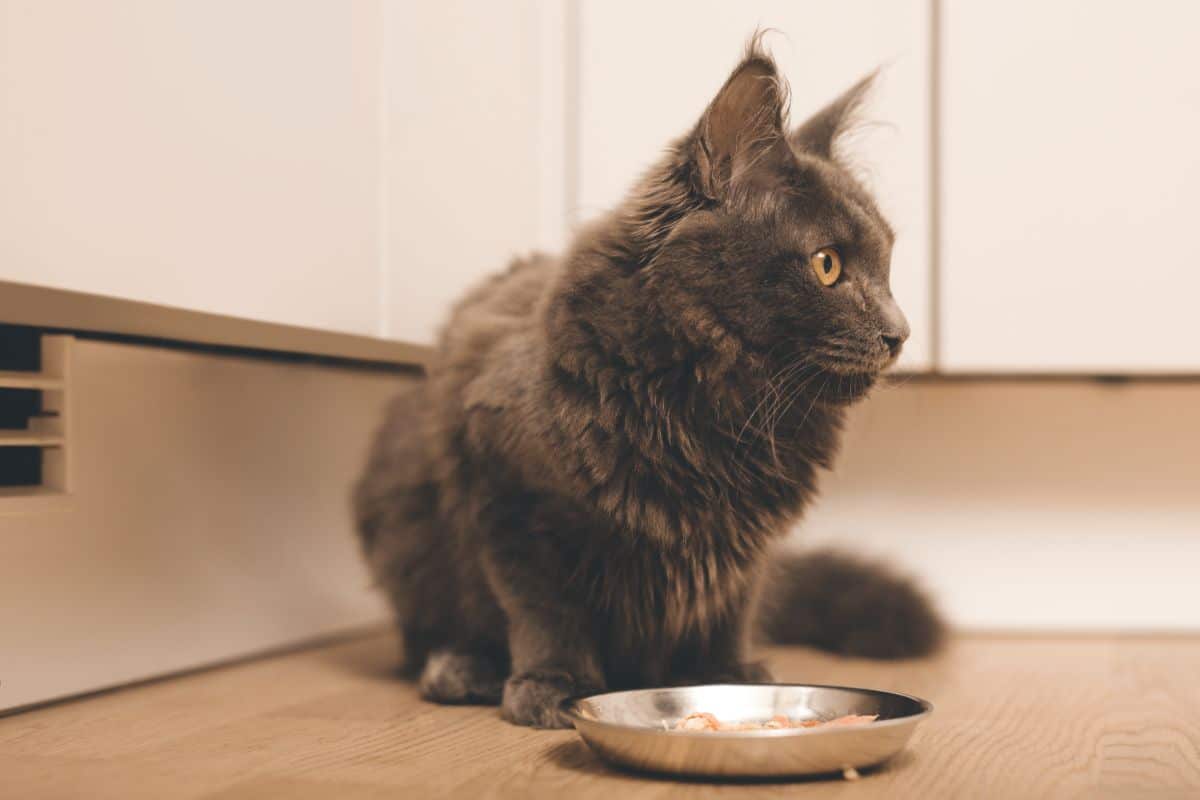 A Maine Coon's diet should consist of healthy foods formulated for cats. Cats are obligate carnivores, so your Maine Coon won't thrive on a diet of mostly grain or plants. To ensure a long life, ensure that your cat's diet is appropriate and that they aren't as indiscriminate as their canine counterparts.
As carnivores, cats need food that's high in protein - approximately 30-45%. Chicken is a popular choice, but you'll be hard-pressed to find a cat who turns down a bit of tuna. Most importantly, don't overfeed your Maine Coon. Your cat could become obese or develop diabetes, which could shorten its lifespan.
Final Thoughts
Owning a Maine Coon cat is a privilege many cat owners get to experience. These snuggly giants make wonderful companions and live long lives. With the proper care and attention, your Maine Coon will have a place at your side for 15 years or more. Although some things might be out of your control, it's essential to do all you can to ensure a long, healthy life for your cat.