Domestic cats need space to play, run, climb, and explore. Offering a space that meets your cat's needs ensures your pet can thrive.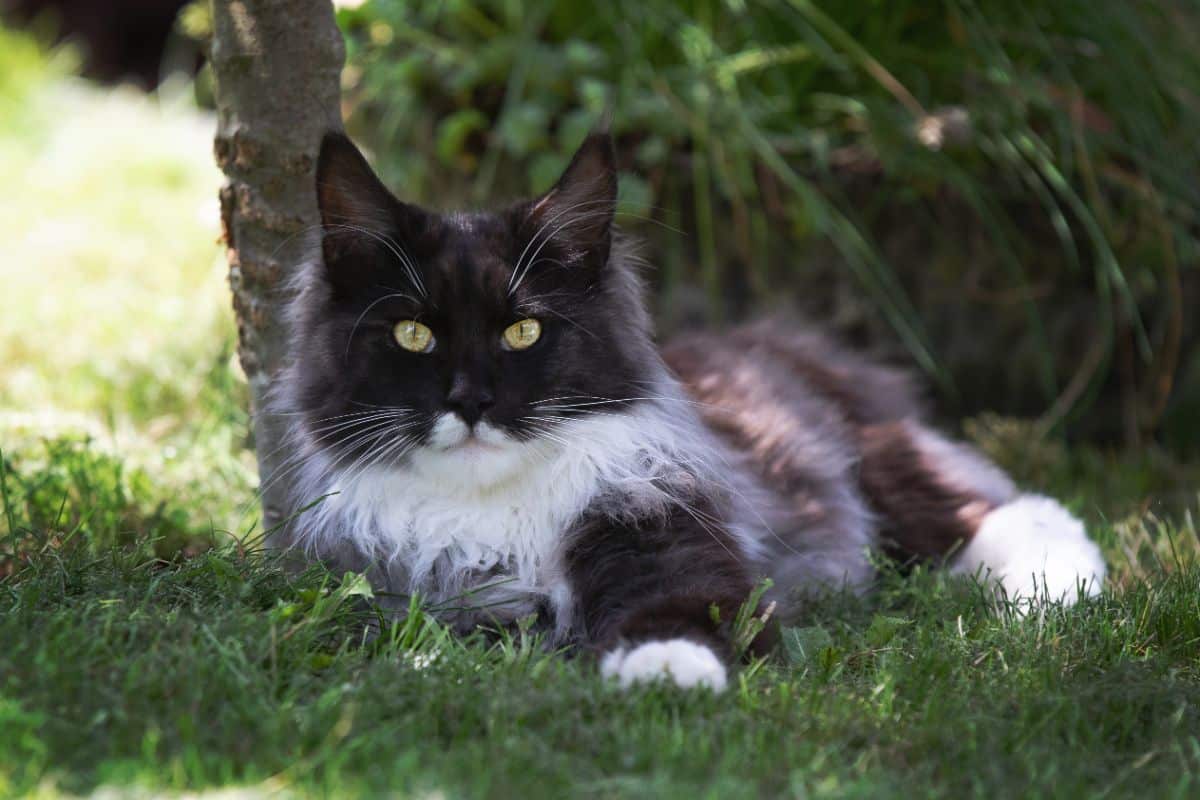 How much space does a Maine Coon need? Read on to learn more about this large cat breed and how much space you need for a Maine Coon.
Jump to:
How Much Space Does a Maine Coon Need?
An adult Maine Coon can reach 13 to 18 lbs. for a male and 9 to 12 lbs. for a female. These majestic cats typically reach their full size between three and five years of age. To give you an idea, a domestic cat only weighs 10 lbs. on average.
Maine Coons are larger and heavier than the average domestic cat. This breed is also muscular and tends to be more active.
What Is the Minimum Amount of Space You Need for a Maine Coon?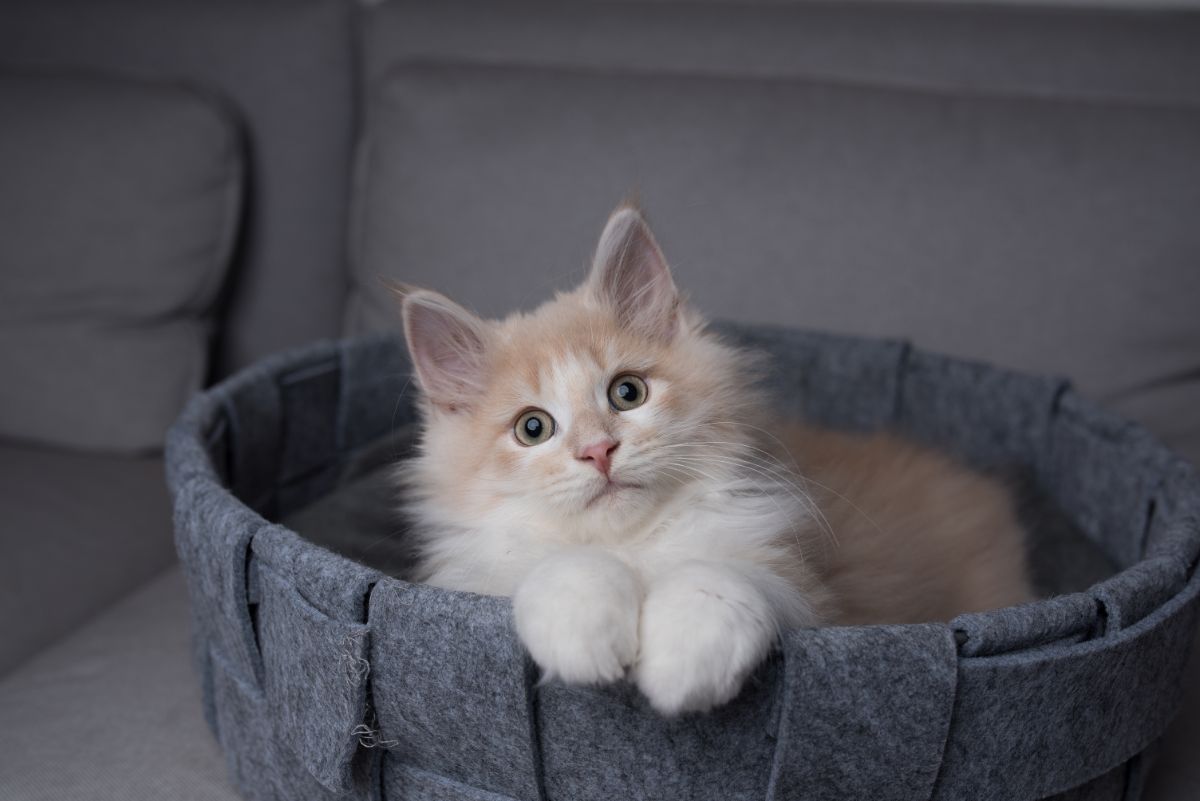 There are no strict rules for the minimum amount of space for a cat. These animals can adapt to a wide range of environments and do well in a small space as long as you're able to meet their needs.
On average, pet owners recommend having 18 to 20 square feet for a cat. Note that you can have 20 square feet across different rooms as long as your pet can roam freely.
The average apartment in the U.S. has 882 square feet, while new homes have over 2,500 square feet on average. Unless you have a small lodging or need to restrict your pet to a section of a home you share with roommates, you should have enough room for a Maine Coon.
The Case for a Larger Space
Keeping a pet in 18 to 20 square feet is a minimum. Offering a larger space has several advantages for your cat.
Indoor cats need 20 to 30 minutes of exercise a day. Since Maine Coon tend to be more athletic, they will probably be more active than the average cat.
Your pet can stay active by running, climbing, chasing toys, and more. Offering a larger space means your cat has plenty of room to run and have fun.
Providing more than 20 square feet can also help prevent boredom. Cats have hunting instincts and a nature that pushes them to explore. Indoor life can become boring if you don't provide enough intellectual stimulation and opportunities to explore.
Having several rooms to explore, some furniture to climb on, and some new activities to discover will help your Maine Coon thrive.
You should also consider the fact that cats can be territorial. If you have several cats or other pets, your Maine Coon will likely pick a spot and claim it as its territory. It's easier to prevent conflicts, stress, and aggression if you have enough room for all your pets. It's especially true if you plan to introduce a new pet to your household.
Making the Most Out of a Small Space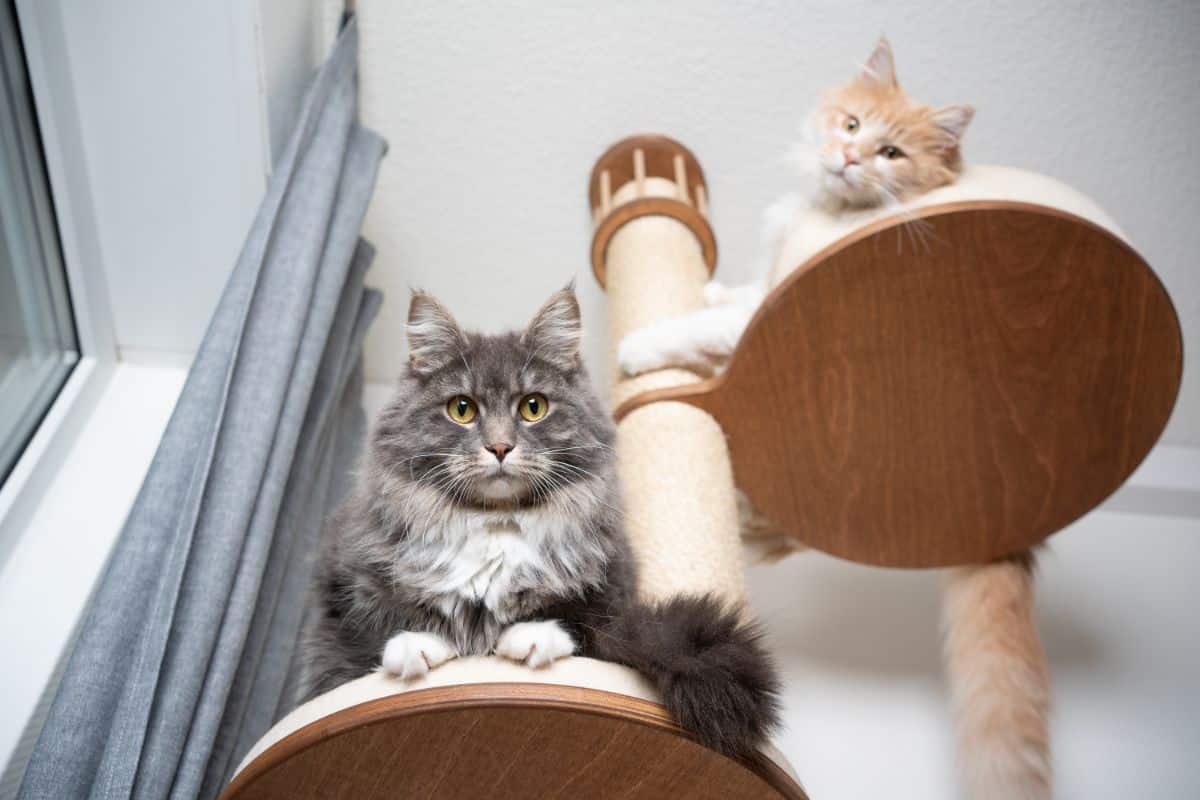 Your Maine Coon can only do well in a small space if you take steps to make your pet's life as enriching as possible:
Make sure your cat gets plenty of opportunities to interact and socialize with everyone in the family.
If you have a small home, take advantage of vertical space with cat trees and other climbing structures.
You can introduce some new activities and new things to explore on a budget by building DIY tunnels or cardboard houses.
An athletic cat can stay active and thrive thanks to a cat exercise wheel.
Introduce new toys regularly and take the time to play with your pet on a daily basis.
Food enrichment can help prevent boredom when you're at work. You can introduce slow feeders and reach feeders or simply hide some kibbles around your home.
A window can enrich your cat's life. Some pets also enjoy watching bird or fish videos on tablets.
If you have a young Maine Coon, get your pet used to walking with a harness. You can take your cat on walks, road trips, and other adventures to enrich its life.
Wrap Up
Maine Coons need a minimum of 20 square feet of space, but it's best to offer more room so your cat can stay active and thrive. If you live in a small space, look for ways to keep your pet active with toys and new activities.