Maine Coons are naturally large cats, and it's sometimes difficult to tell when one is overweight. What's considered overweight also changes depending on a Maine Coon's age, as they can grow for several years before they reach their full adult size.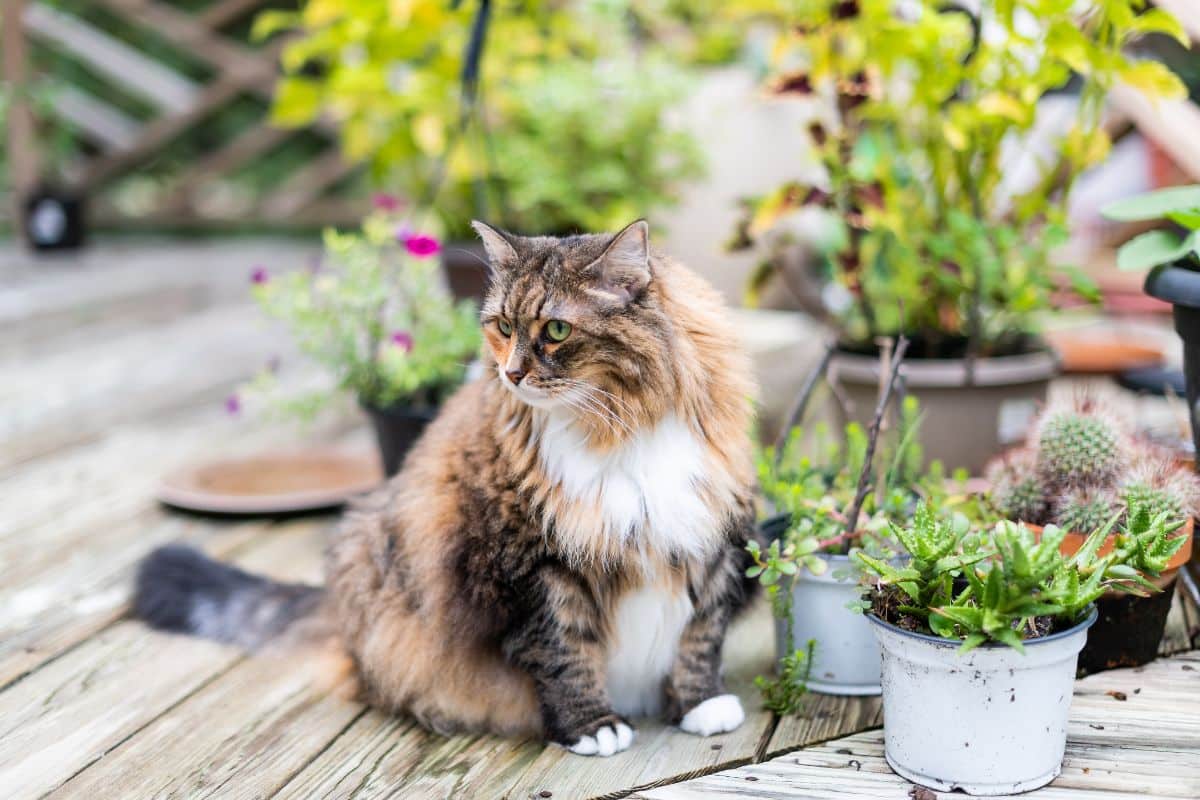 There's more than one way to determine whether your Main Coon is at a healthy weight or not, and none of them are challenging to do on your own. We'll go over each method below, but it's best to take your Main Coon to the vet and get a professional opinion on how much your cat should weigh.
Jump to:
Observe Your Cat's Shape
For starters, take a close look at your Maine Coon's shape. Specifically, look at the waist area to see how narrow it is. When it seems fully rounded out, that's a sign that your cat can benefit from shedding some weight.
Because you may have difficulty seeing your cat's waist due to its fur, you should also feel around the area with your hands. Try to check for some discernible curves in the waist. There should be some fat, but not so much that you can't feel a waistline.
Also, check your cat's bones to see how much they stand out. You should be able to feel the hip bones, ribs, and spine, but you should not be able to see your cat's ribs clearly when you look at them from a distance. If you find that you can see the ribs clearly, it's a sign that your cat is underweight rather than overweight.
Lastly, your Maine Coon's stomach should not protrude too much from the rest of its body. It's okay if some stands out, but you don't want it standing out so much that it's bulging. Again, you may find it difficult to determine the size of your cat's stomach by only using your eyes, so use your hands to feel the size.
Watch How Your Cat Moves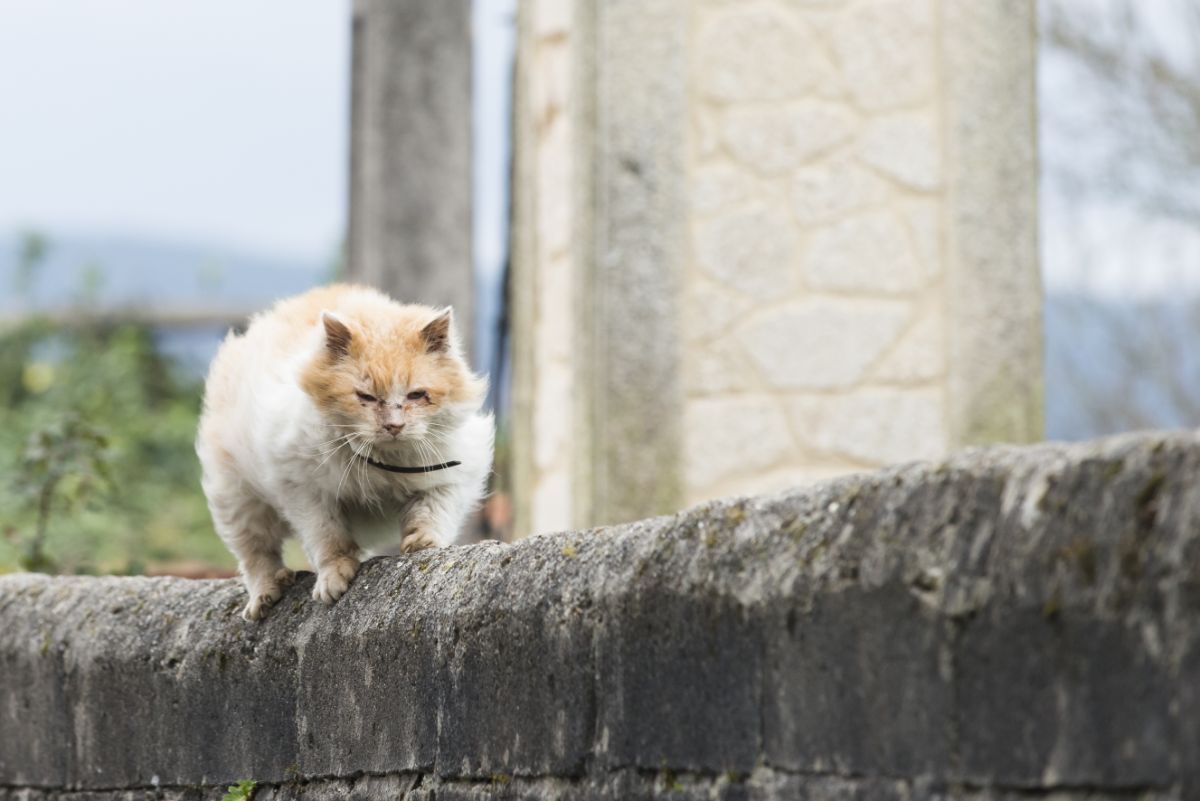 You can tell much about your cat's weight by watching how they move around. By nature, cats are quick and agile creatures that can move in the blink of an eye. They lose some nimbleness when they're overweight, so pay attention to how your cat moves around. When you notice them slowing down, it's most likely due to their weight, although sickness and old age can also impact mobility.
Specifically, pay attention to how your cat gets up. When you see it struggling to get up from a seated position, that's a telltale sign that weight is the issue. You'll also see a change once your cat reaches its senior years, as older cats frequently suffer from arthritis just like we do in old age.
That being the case, your Maine Coon may have to lose some weight once it reaches its senior years since it won't have the same strength to support itself.
How Much Should Your Maine Coon Weigh?
Typically, Maine Coons spend the first four to five years of their life growing steadily, so you can keep a close eye on them to ensure they don't get overweight. Once your Maine Coon reaches its full size, expect it to be between 15 and 25 pounds if it's a male and 11 to 20 pounds if it's a female.
Since Maine Coons are susceptible to many health problems when they get overweight, you want to be extra careful to ensure their weight doesn't go over or under the healthy threshold.
Do Maine Coons Have Big Bellies?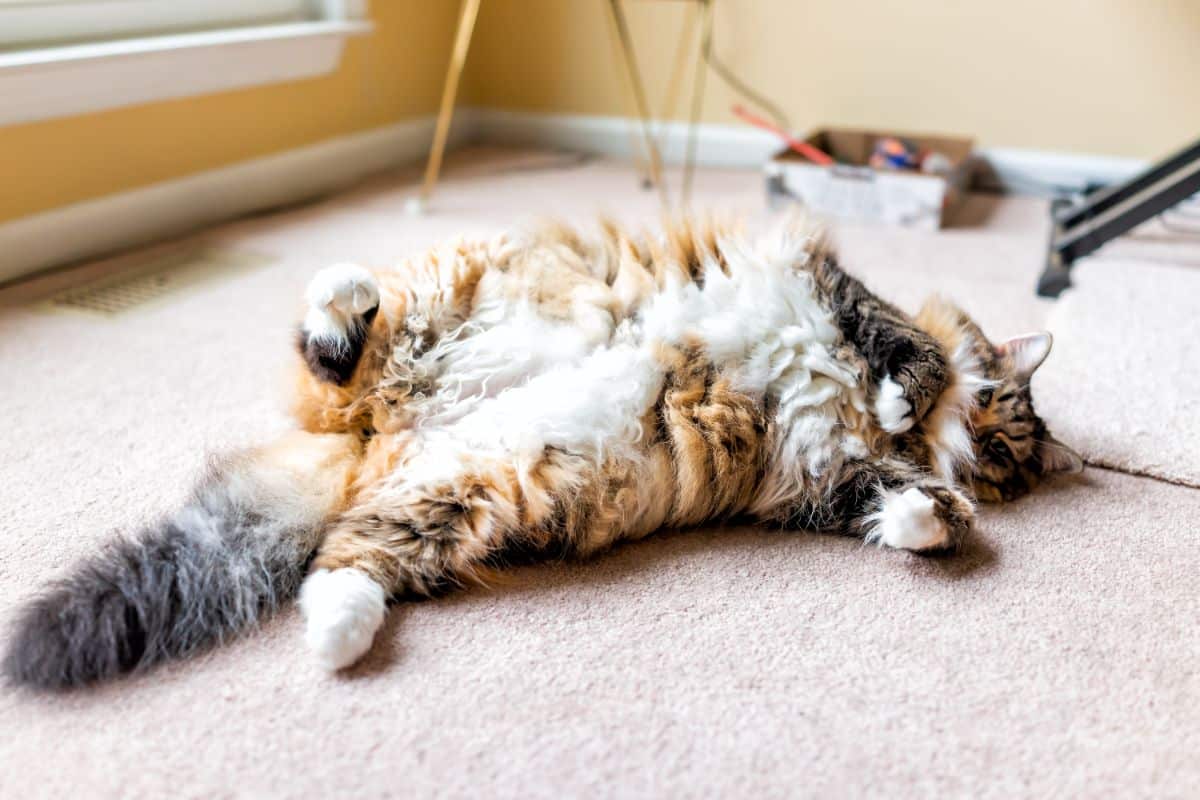 Yes, Maine Coons do have big bellies. Their stomachs are larger than other domestic cat breeds because they're the largest domestic breed. On top of that, they have a stomach pouch just like lions, tigers, and other big cats. So, when you look at your Maine Coon and see the stomach pouch hanging down, you might mistake it for extra fat or your cat being overweight.
Don't let that alarm you, though. The belly pouch is perfectly natural in Maine Coons and has a genetic characteristic that isn't harmful to your cat. It helps your cat store energy if it has to go without food for a long time.
How To Put Your Maine Coon on a Diet?
Putting your Maine Coon on a diet is a great idea when you know it's overweight or suspect it's going in that direction. However, while it's a great idea, it's not the easiest thing to do when you're new to dieting and don't understand some key factors that lead to success.
First, ensure you're feeding your Maine Coon a cat food formula that works well for them. There are many different cat foods, all of which have distinct formulas that focus on different areas, and you can't just grab any food off the shelf at the pet store and give it to your cat. You want to feed your cat a formula that provides all the necessary nutrition.
Once you have a formula to work with that you like, cut back on the number of meals you feed your cat or the portion sizes of each meal. Maine Coons will eat to their heart's content and rarely stop because they get full, so you have to help them out by feeding them a little less. Otherwise, they'll keep eating an unhealthy amount.
Your Maine Coon might not take too kindly to getting less food, but committing to the diet is essential for long-term health reasons. You can also still give them treats from time to time to keep them satisfied.
Finally, keep track of how many calories you're feeding your cat. You don't have to go crazy and write down every last number. However, you'll want to go with fewer calories when you can, especially if your cat doesn't get a significant amount of exercise regularly to burn off those calories.
Conclusion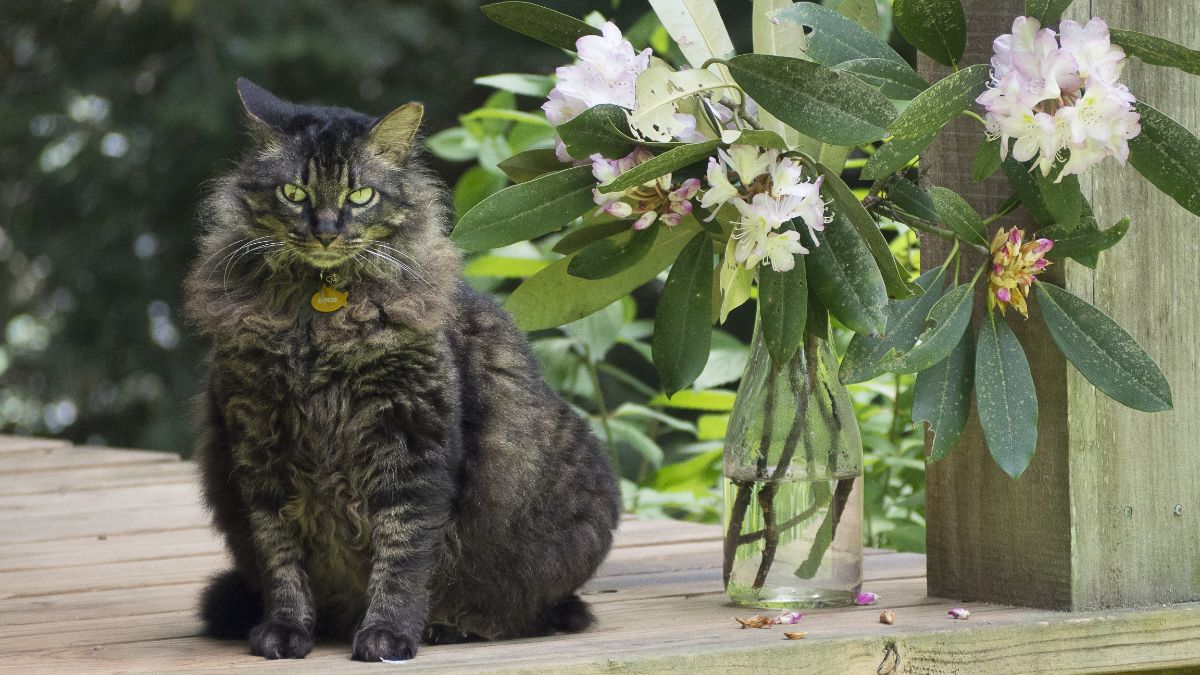 Telling when your Maine Coon is overweight isn't the hardest thing in the world. Still, you do have to know what signs to look for, and once you find those signs, you also have to know what steps to take to get your cat healthy. Dieting and plenty of exercise are the two best ways to slim down, so work at them little by little, and you'll have a Maine Coon that's happy and healthy.