If your inquisitive Maine Coon cat likes to go outside, you should buy and install a cat flap or door! We tested all the popular choices on the market and narrowed it down to our seven favorite large cat flaps perfect for Maine Coons.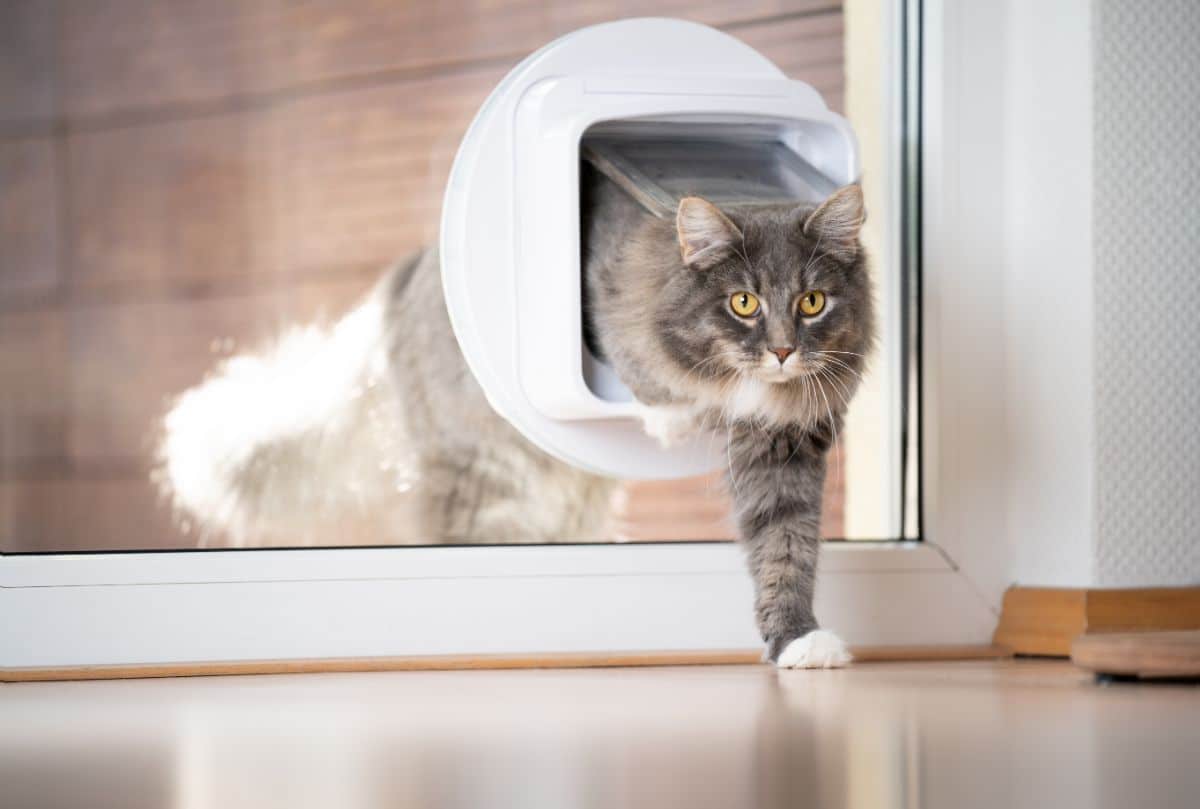 Jump to:
7 Best Large Cat Flaps for Maine Coon Cats
Without further ado, below are our top picks!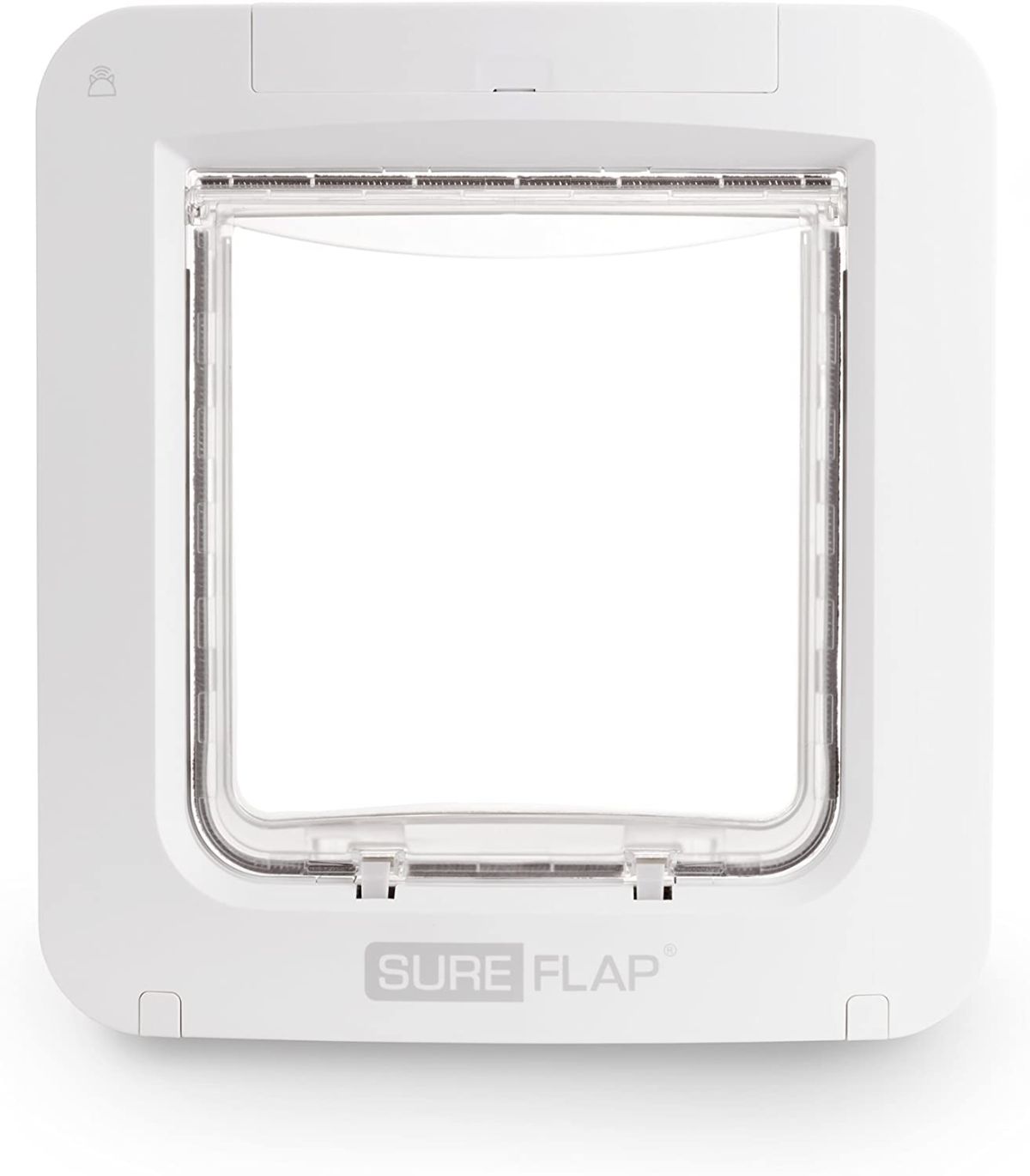 Our number one choice for large cat flaps is the SureFlap Microchip cat and dog door. This design has everything you could want in a cat door for a Maine Coon. The interior of the door is roughly 7 inches x 7 inches, the perfect size for a full-grown Maine Coon.
It's made with high-density plastic, making it super durable and weatherproof. It runs on batteries with a 4-way locking mechanism, giving you more control over how your pet comes and goes.
The best part is the microchip recognition, which allows only your pets in and out of the door. So random animals, like squirrels, raccoons, or strays, can't enter your home! At a reasonable price and an easy installation process, it's our top pick for anyone with an audacious Maine Coon.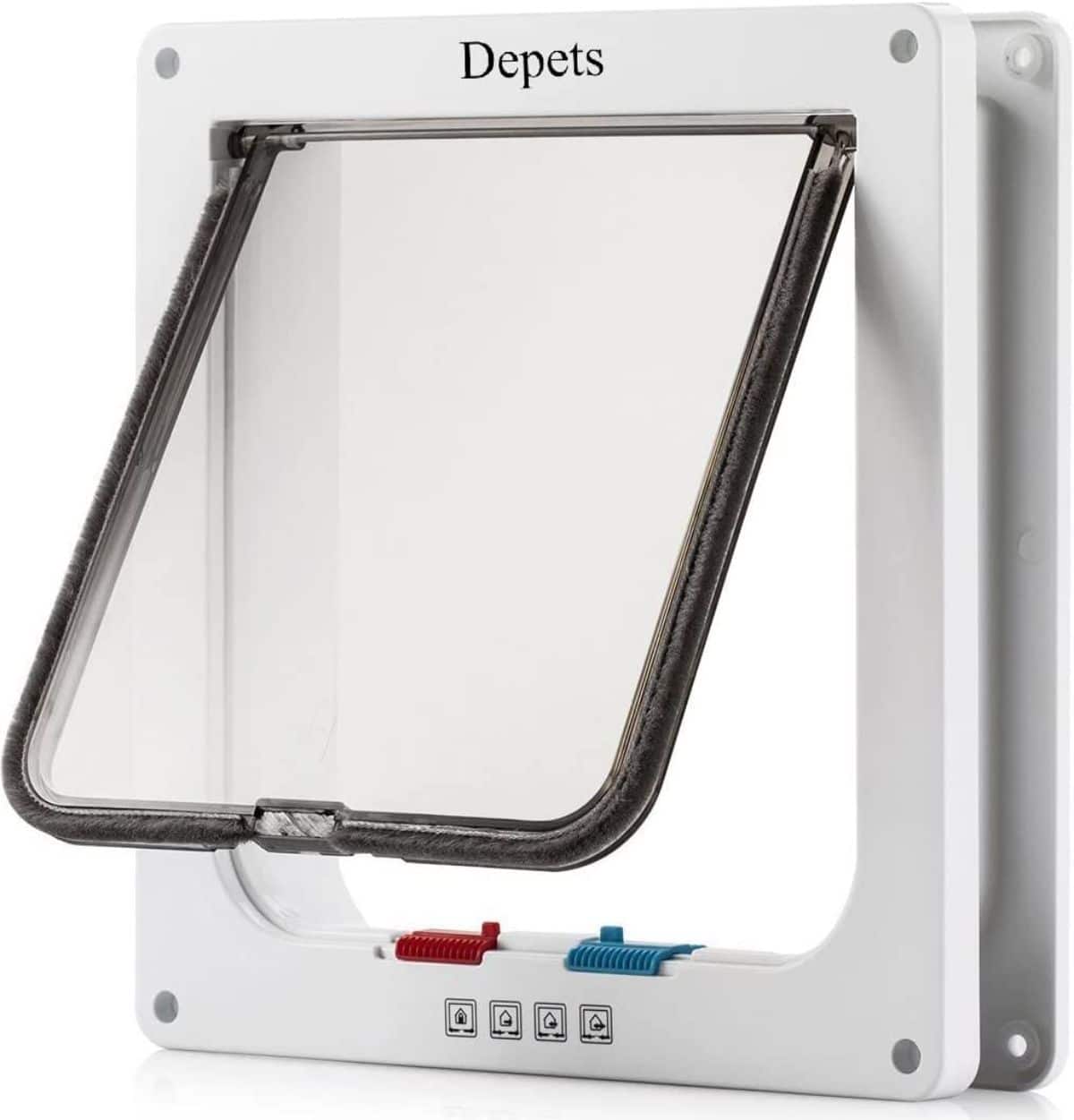 Sale
Not only is this our budget pick, but it's super comparable to the SureFlap door above! It has a 4-way locking mechanism with durable plastic materials.
It can be installed in a window, wall, or door. The construction also leaves something to be desired, but for the price, it's an incredible deal. It costs a fraction of what its competitors charge.
It's slightly bigger than the SureFlap at 7 inches all around the interior, so your cat should have no problem climbing through it. If you want to try out a cat flap for your Maine Coon but don't want to break the bank getting one, this is your best bet.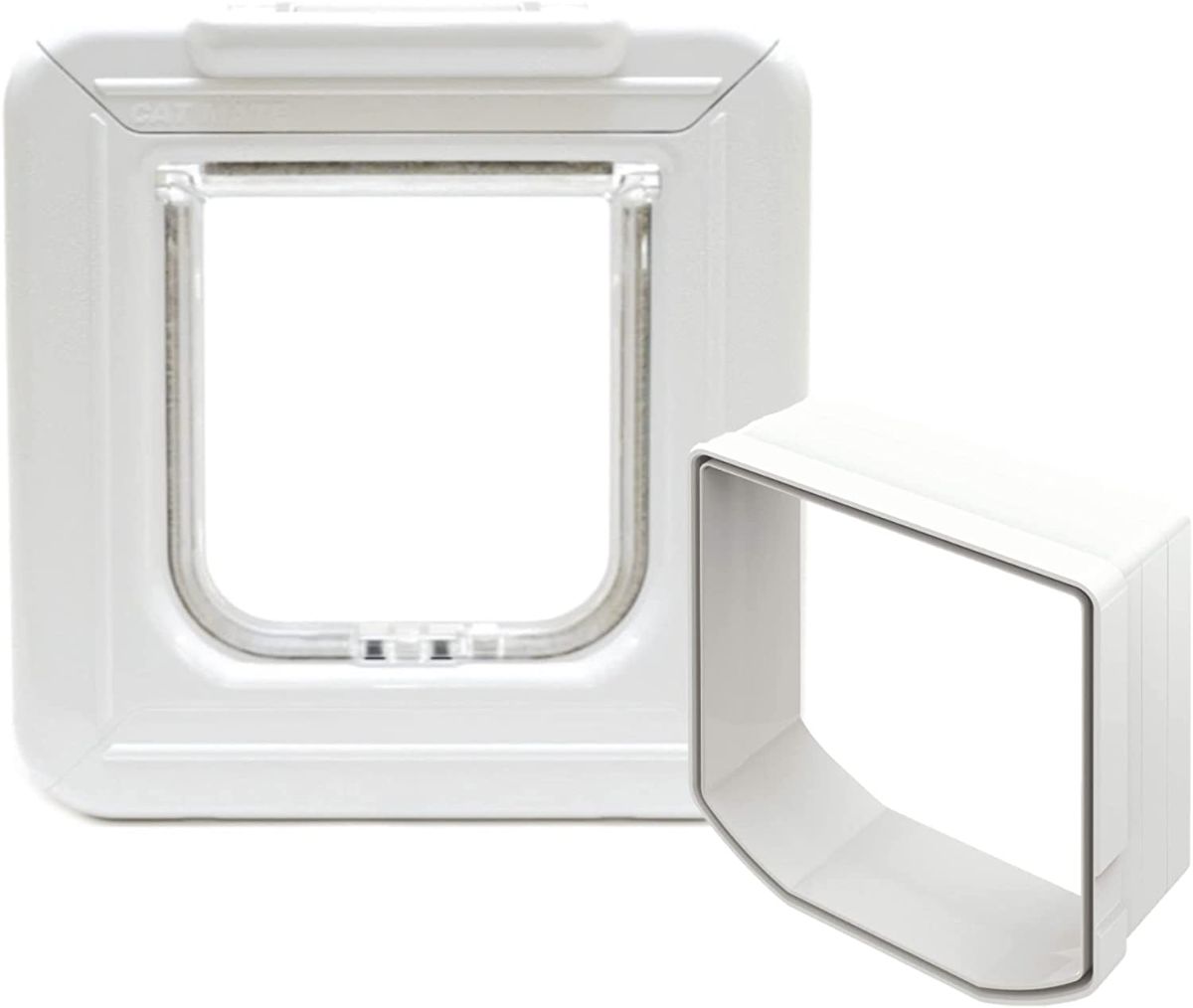 The microchip feature in cat flaps is fabulous and enhances the safety of your home. Our top pick has a stellar microchip system, but the Cat Mate Elite Super flap can track microchips and IDs.
Whether your cat has a microchip or an ID Disc, it can access the door while keeping unwanted visitors outside. And if you have a clowder of Maine Coons, this cat door can track up to nine different cats with microchips or ID Discs.
It has a brushed seal to keep rain, snow, and dirt out of your home while letting your cats enjoy the outdoors.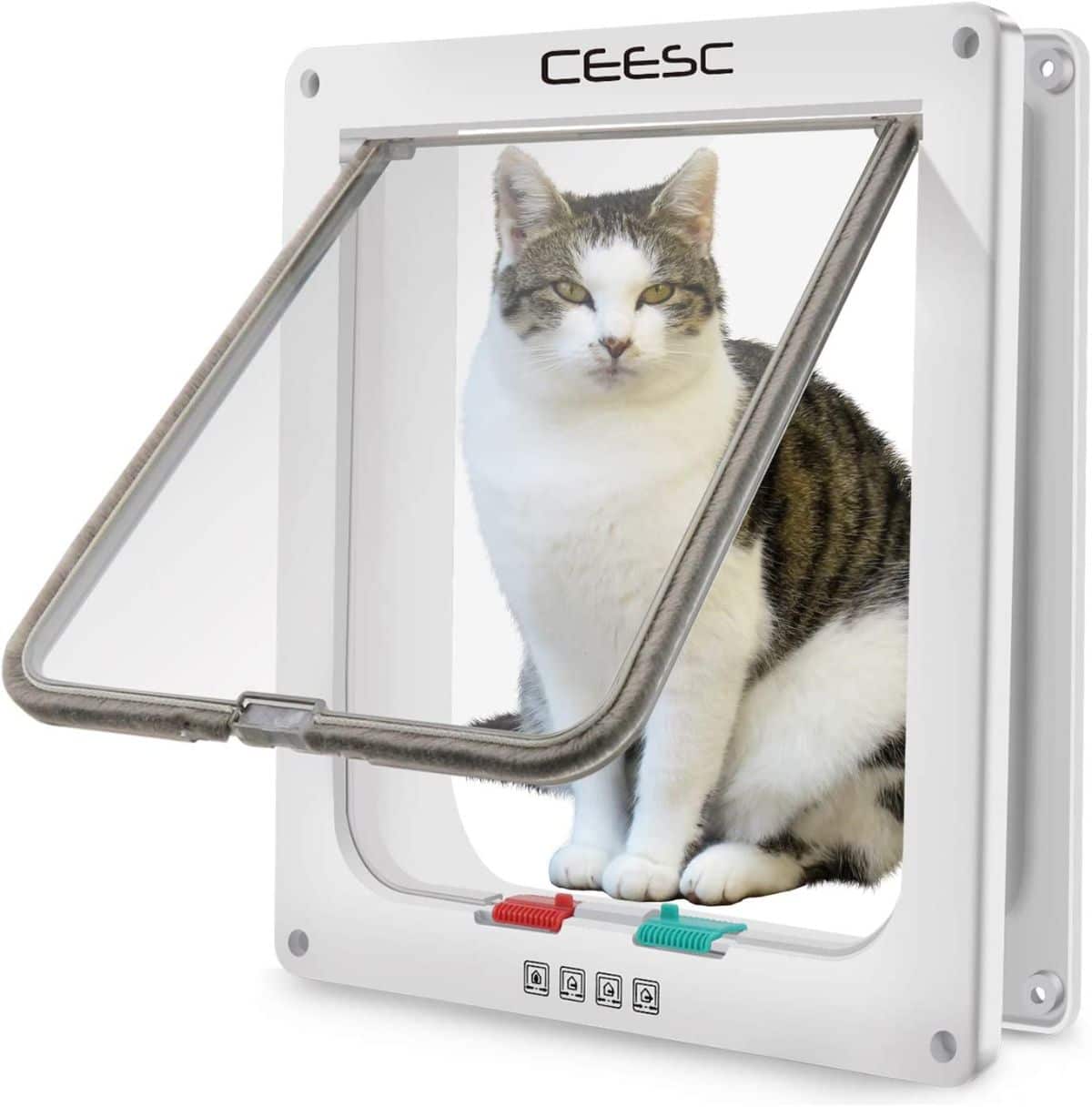 Sale
If your Maine Coon is a little chubby or just super big, check out this extra-large door from CEESC. Any size cat will be able to comfortably slip through this door! For people with dogs and cats, this door can work for both species, so everyone can enjoy the fresh air as they please.
The door is super affordable despite the top-notch construction and premium materials. While this door doesn't have microchip features, it does have 4-way locking capabilities, so you can control how pets go inside and outside. It's easy to install and use, so anyone can set it up!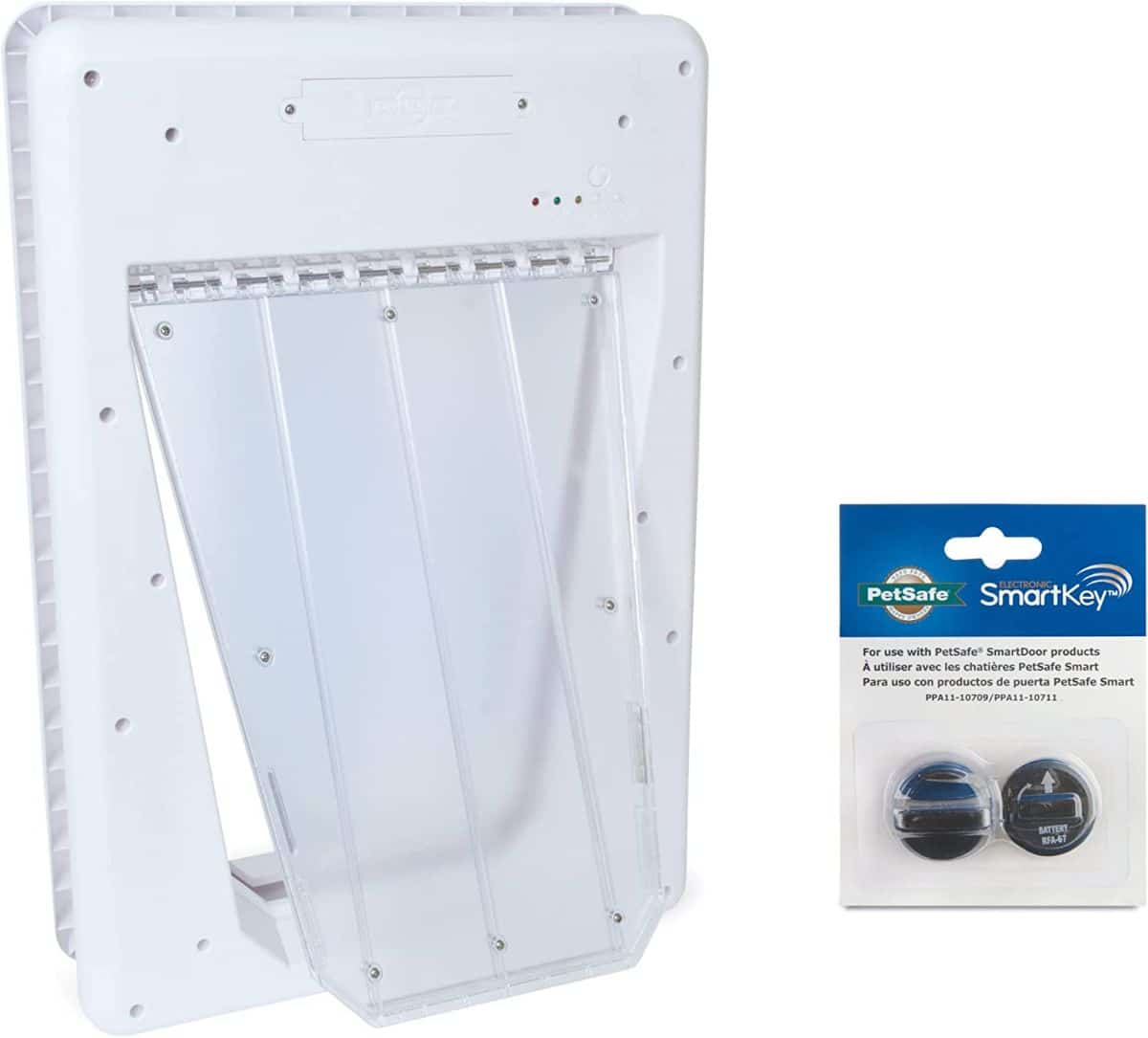 The cat door from PetSafe is our favorite fully electronic option. This SmartDoor comes with five SmartKeys, which you can put on your cat's collar so they can access the door while keeping intruders outside.
You can also customize the locking features, allowing your cat to only go inside or vice versa. You can also set times on the door so it locks at night and unlocks in the morning, making it easier to manage your cat's outdoor activity without worrying.
Despite the fancy features, this door is easy to use with its intuitive controls and lights. For a Maine Coon, the small door should be a perfect size!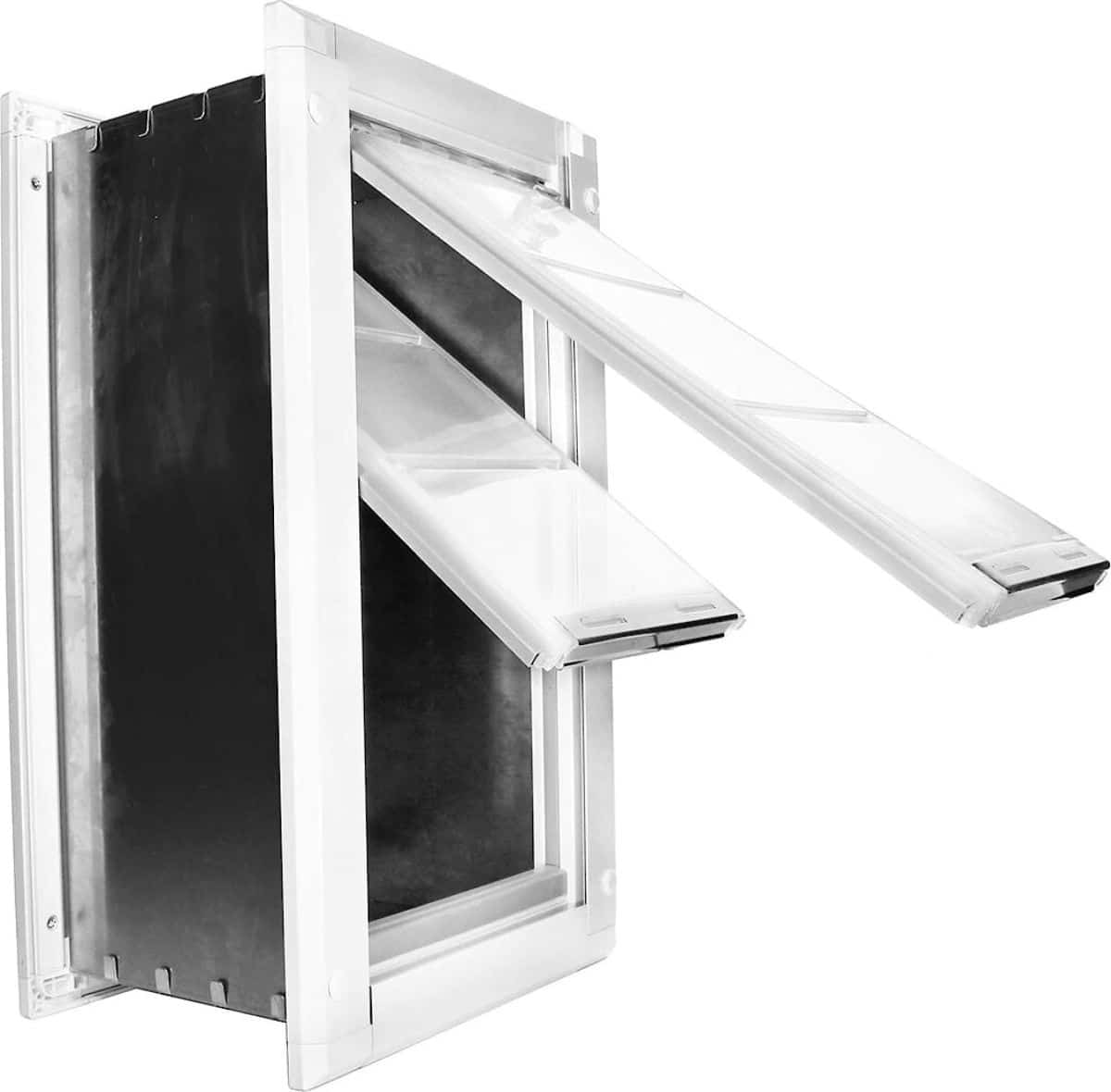 Large cat flaps with a tunnel are ideal for keeping your home insulated. If your cat constantly goes inside and outside, it can affect the temperature in your home.
But the double-doored cat door with a tunnel between prevents the cold winter air from rushing in or your summer air conditioning from rushing out. Compared to other doors with tunnels we checked out, this one is superb!
The secure locking feature gives your home added security and can withstand harsh weather. If you live in an area with particularly nasty weather, this door is the best choice.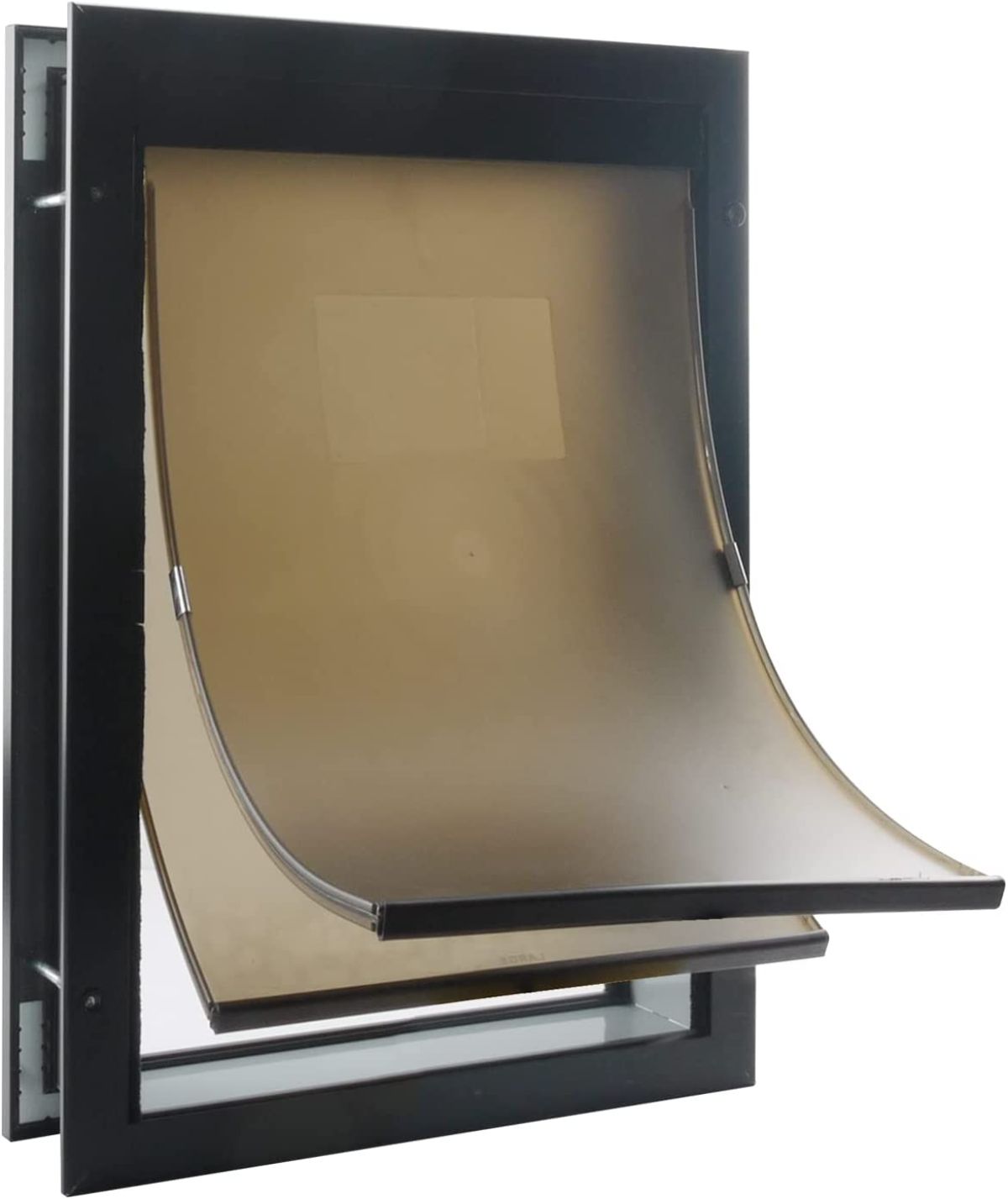 HARDLIGHT Weatherproof Dog Door with Sliding Lock Panel, Tunnel Adjustable, Double Flap Dog Door and Cat Door, Strong and Durable, for Medium, Large, and X-Large Dogs
【FLEXIBLE SIZE】 Fits paneled, wood, PVC and metal doors 1 ⅜'' - 2 ⅛'' thick, and is designed for pets up to 40 pounds. External size: 11 ¼''(W) x 15 ⅝''(H), Flap Opening is 8 ⅞"(W) x 12 ¼''(H)
When keeping your cat and home safe, aesthetics might not be the most important factor. But this large cat flap from Hardlight offers durability, functionality, and a sleek design! The frame is black, while the magnetic flap is a frosted gray, keeping your home private and stylish.
This door is technically made for dogs but is also suitable for large Maine Coons. Your cat likely needs the medium size door, as the larger sizes will be unnecessarily big.
These sturdy aluminum flaps allow your Maine Coon to come and go as they please without ruining the appearance of your home. The magnetic flap keeps dust, dirt, or rain from blowing into your home and the locking panel keeps your home safe.
FAQs
Below are a few commonly asked questions.
Can burglars get through cat flaps?
While burglars are likely too big to climb into your home through a large cat flap, they may be able to reach their arm through and unlock your door.
Unfortunately, adding a cat flap or door to your home weakens security. However, the large cat flaps on this list have superb locking features which can help keep your home safe.
Can a Maine Coon use a cat flap?
Absolutely! Main Coon cats love to explore and are quite a curious breed, so a cat flap allows them to roam outside and enjoy all the smells, sights, and sounds while accessing their cozy home.
The only issue is that Maine Coons are a large breed, so they can't fit their fluffy bodies through smaller cat flaps. Therefore, you should look for large or extra-large cat flaps or doors designed for small to medium dogs.
What size cat flap do I need for Maine Coon?
Usually, a "large" cat door with fit a Maine Coon or a dog door for "small to medium" dogs. Look for doors over 7 inches tall and 7 inches wide.
Cats don't mind squeezing through a flap as long as it fits them. So it doesn't need to be substantially larger than your Maine Coon's body.
Is there an alternative to a cat flap?
Aside from cat doors, which are lockable cat flaps, you can choose from some alternatives. Some people install lockable latches, which keep doors ajar.
Other solutions are DIY adjustments to a door or window or window inserts. The best option for you will depend on several factors, like your cat's habits, your type of door, and the weather in your location.
Final Thoughts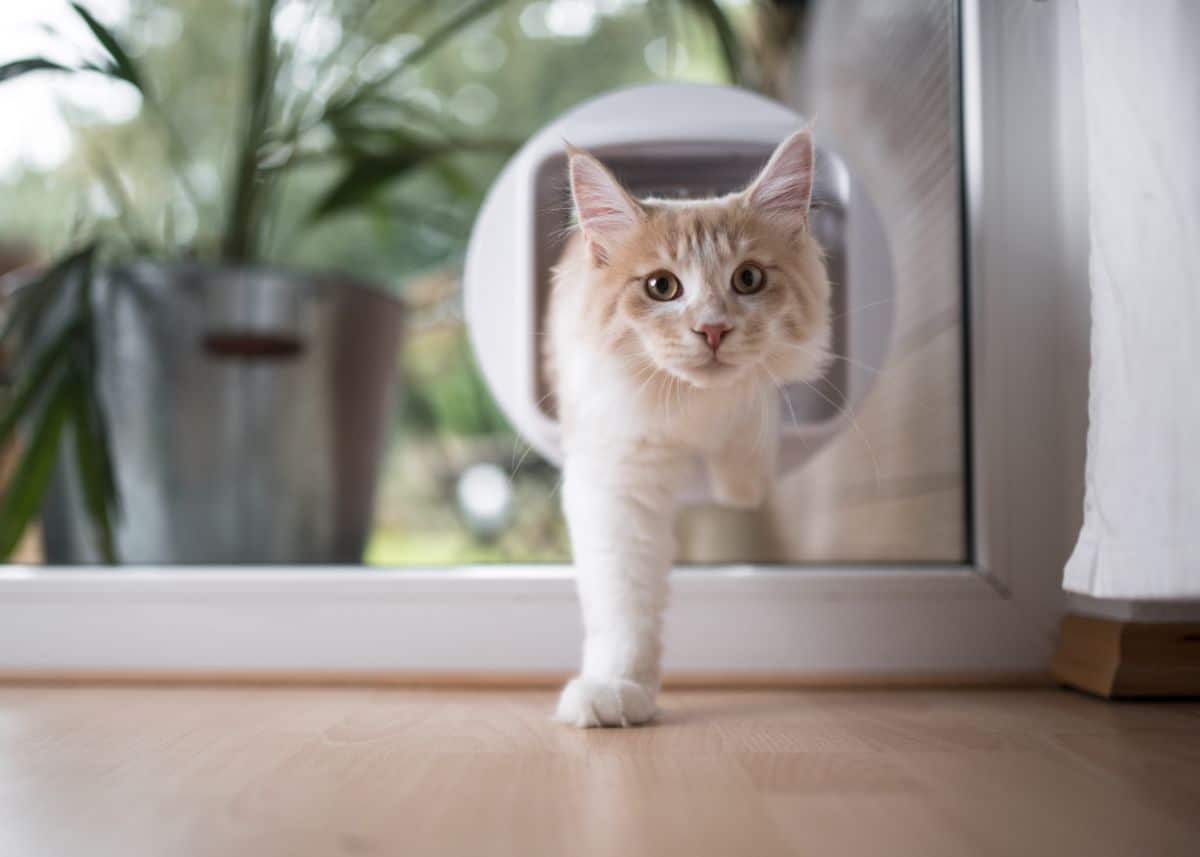 When choosing one of these large cat flaps, ensure it is compatible with your wall, window, or door material. However, the options we chose are compatible with most materials.
Installing a quality cat door can give you more peace of mind when your rambunctious cat wants to come and go!