Cats are famously fickle creatures and may not like any treats you offer. However, liquid cat treats might be the kind of snack your cat is looking to enjoy. Liquid cat treats are perfect for picky eaters, elderly cats who have lost teeth, or cats who have dental diseases that make eating solid treats difficult.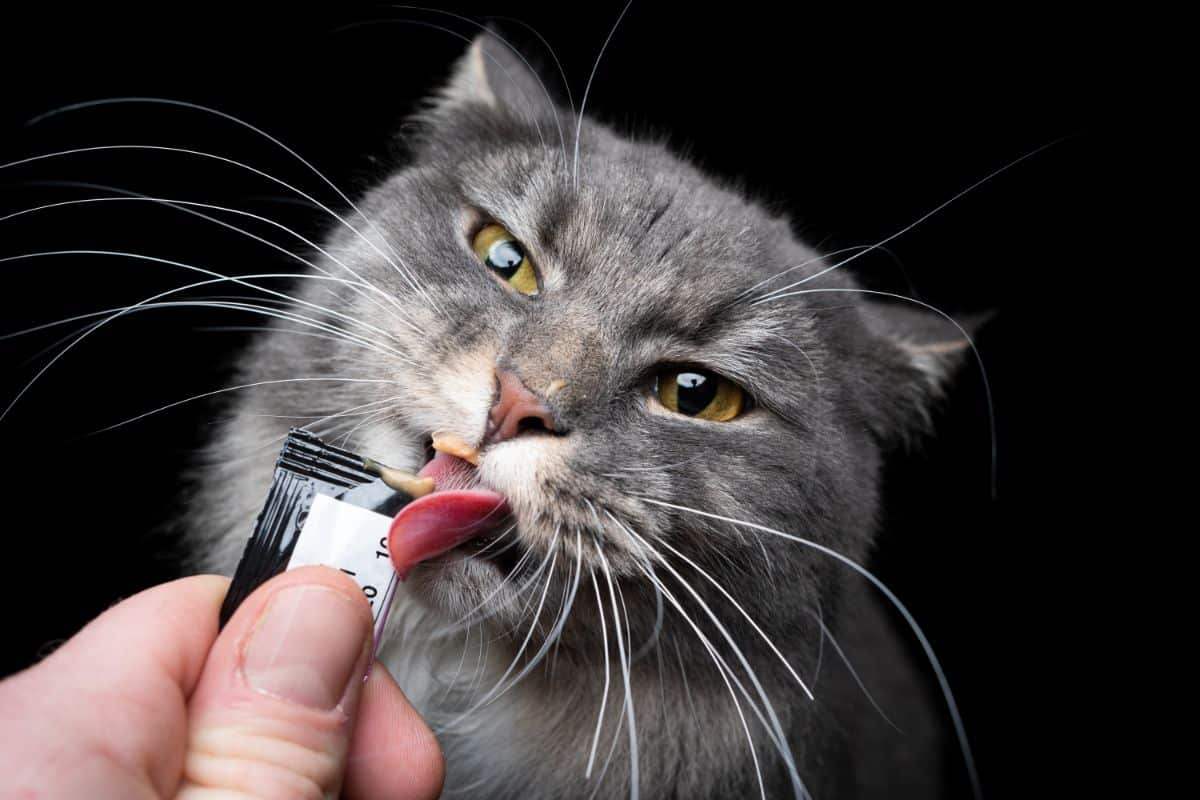 Additionally, liquid treats can ensure your cat gets all the nutrients and vitamins they need to be healthy and happy. Liquid cat treats can also help keep your cat hydrated.
Read on to learn which liquid cat treats are the best for your furry friend.
Jump to:
7 Purrfect Liquid Treats for Cats
These liquid cat treats will help your cat remain hydrated, healthy, and happy. Liquid cat treats are a perfect addition to your cat's snacking repertoire, especially if your cat has lost teeth or has trouble eating hard treats.
The Hartz Delectables Squeeze Up Treats are a perfect option for your cat if they need a little help eating treats. These treats are perfect for adult or senior cats who need a wholesome meal and nutrients. These squeezable treats are packed with real ingredients like tuna and salmon and vitamins that will make your cat's health thrive.
This option has 32 packets of squeezable treats that won't make a mess and will help you bond with your furry friend.
Reward your cat for its good behavior with this lickable and delicious liquid treat to make them feel happier and healthier.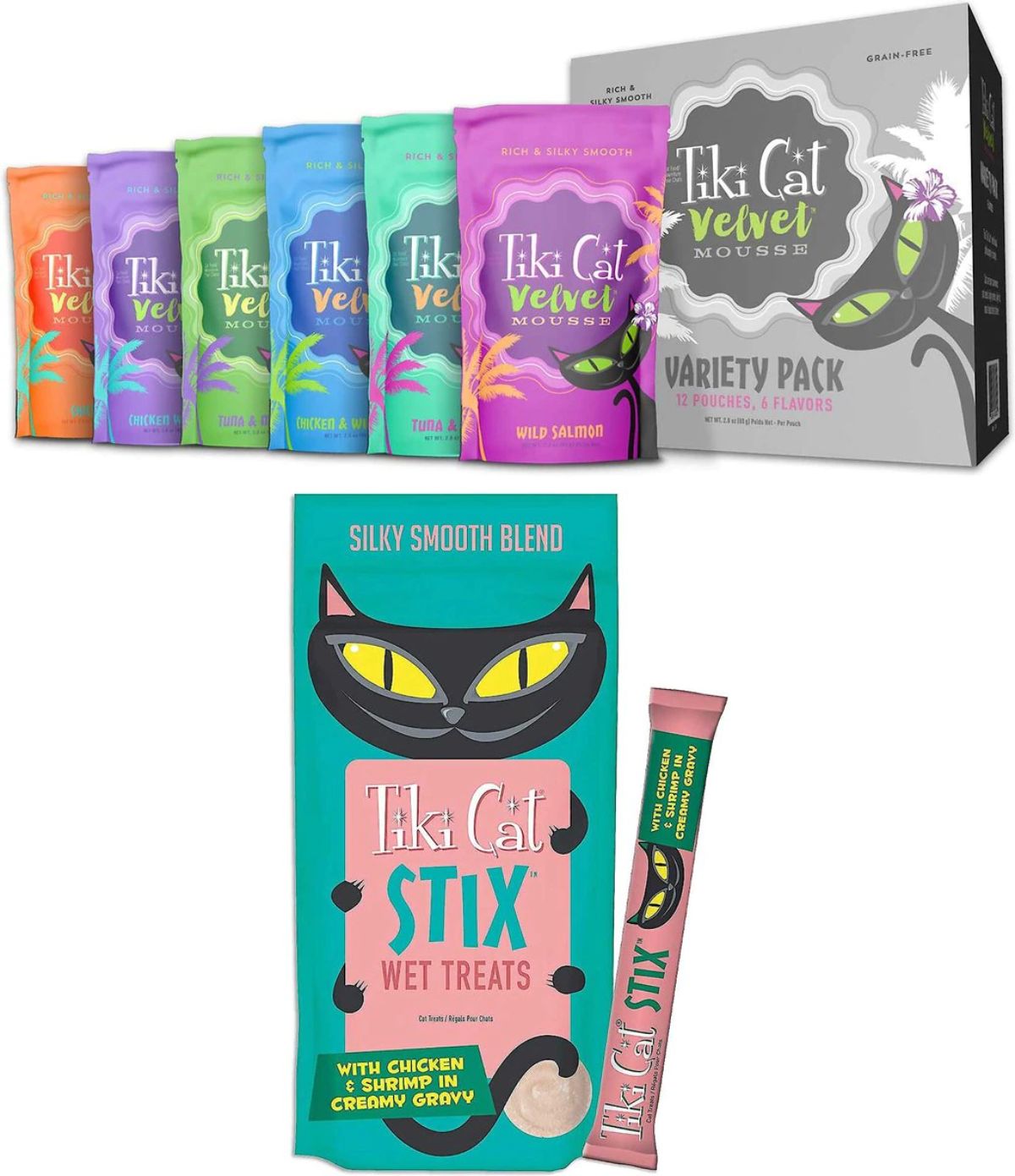 Tiki Cat Stix is perfect for cats who are constantly hungry or have a hard time getting other foods down. This soupy product will help your cat eat without missing out on any essential vitamins and nutrients in dry or wet foods.
This product comes in chicken and shrimp varieties and helps keep your cat hydrated. Use this cat treat option when your cat is feeling ill and may need extra hydration.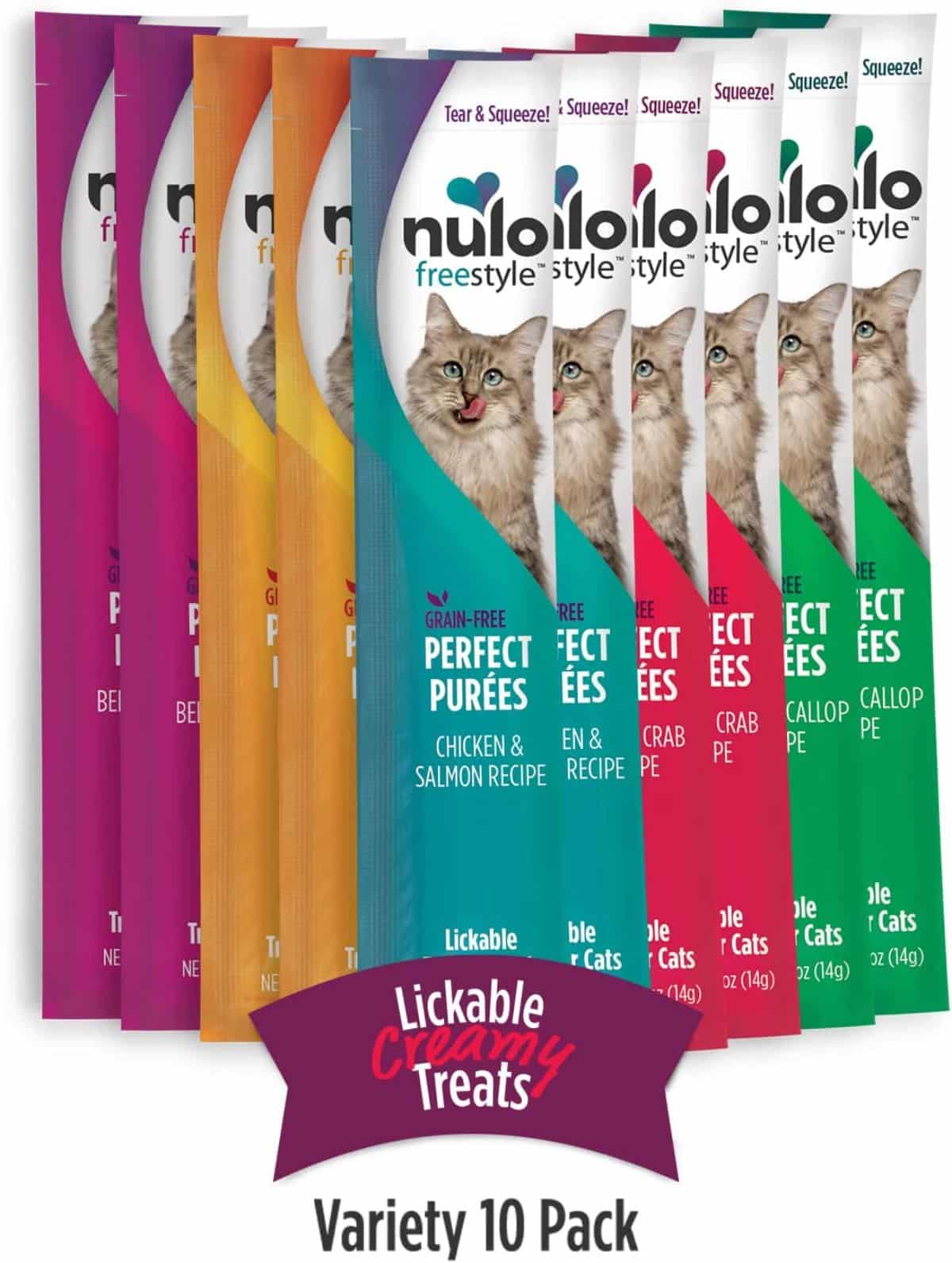 The Nulo Freestyle Perfect Purees are meal toppers that can be used as cat treats for elderly cats or those who have trouble eating. This product is simple and has wholesome ingredients that help a cat's digestive system. The amount of moisture in this product will help boost your cat's hydration and keep them healthy.
These snacks are available in beef, sardine, chicken, salmon, tuna, crab, and scallop flavors.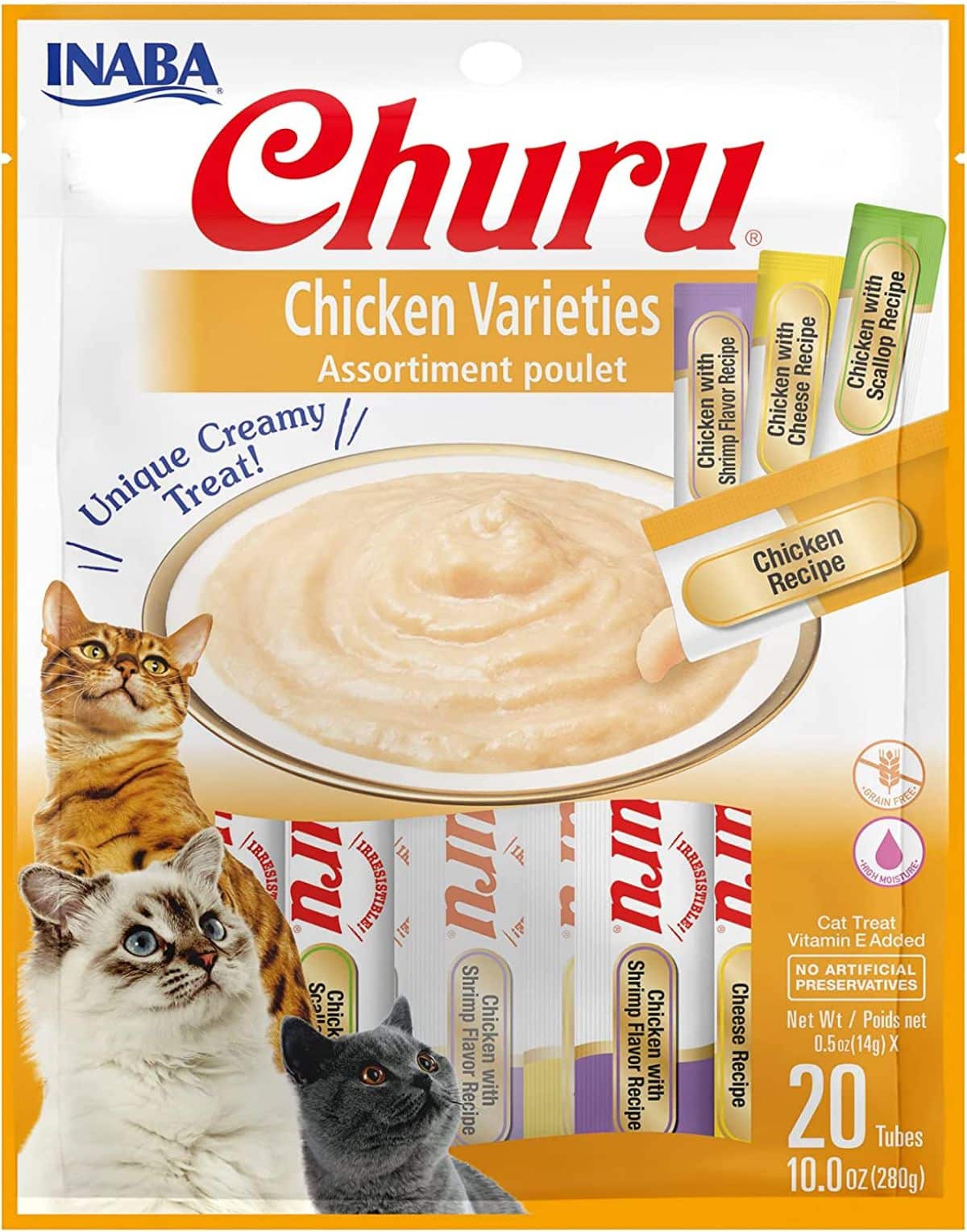 The INABA Churu Chicken Lickable Creamy Puree offers your cat a variety of flavors that will make them happy and meowing for more. These treats come in seafood, chicken, and tuna options, making them perfect for picky eaters.
This squeezable treat option is made with wholesome ingredients that you can rely on to give your cat the best possible health boost and hydration. These treats are easy to open and will mix well with your cat's dry food.
Cats of any age will adore this product's aroma and flavor.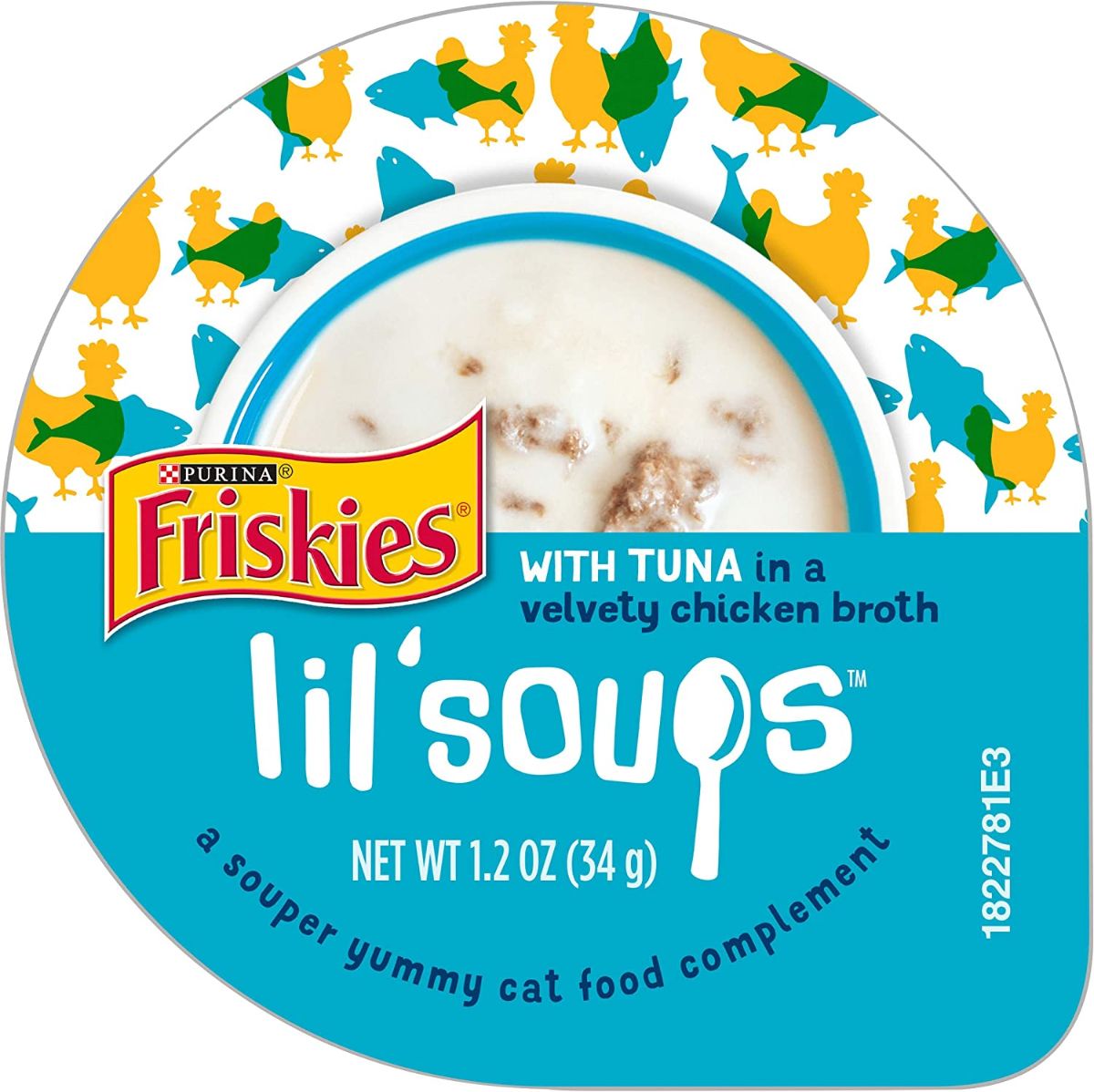 The Purina Friskies Natural Grain-Free Wet Cat Food is an ideal option for cats who need an added boost in their meals. This snack option is a creamy soup that will allow your cat a stunning, delicious meal without pain or struggle.
Consider getting one of these aromatic flavors:
Tuna in Chicken Broth
Chicken in Butternut Squash in Broth
Shrimp in Chicken Broth
Skipjack Tuna in Broth
Sockeye Salmon in Chicken Broth
Your cat will likely come meowing at your feet for more of this stunning snack.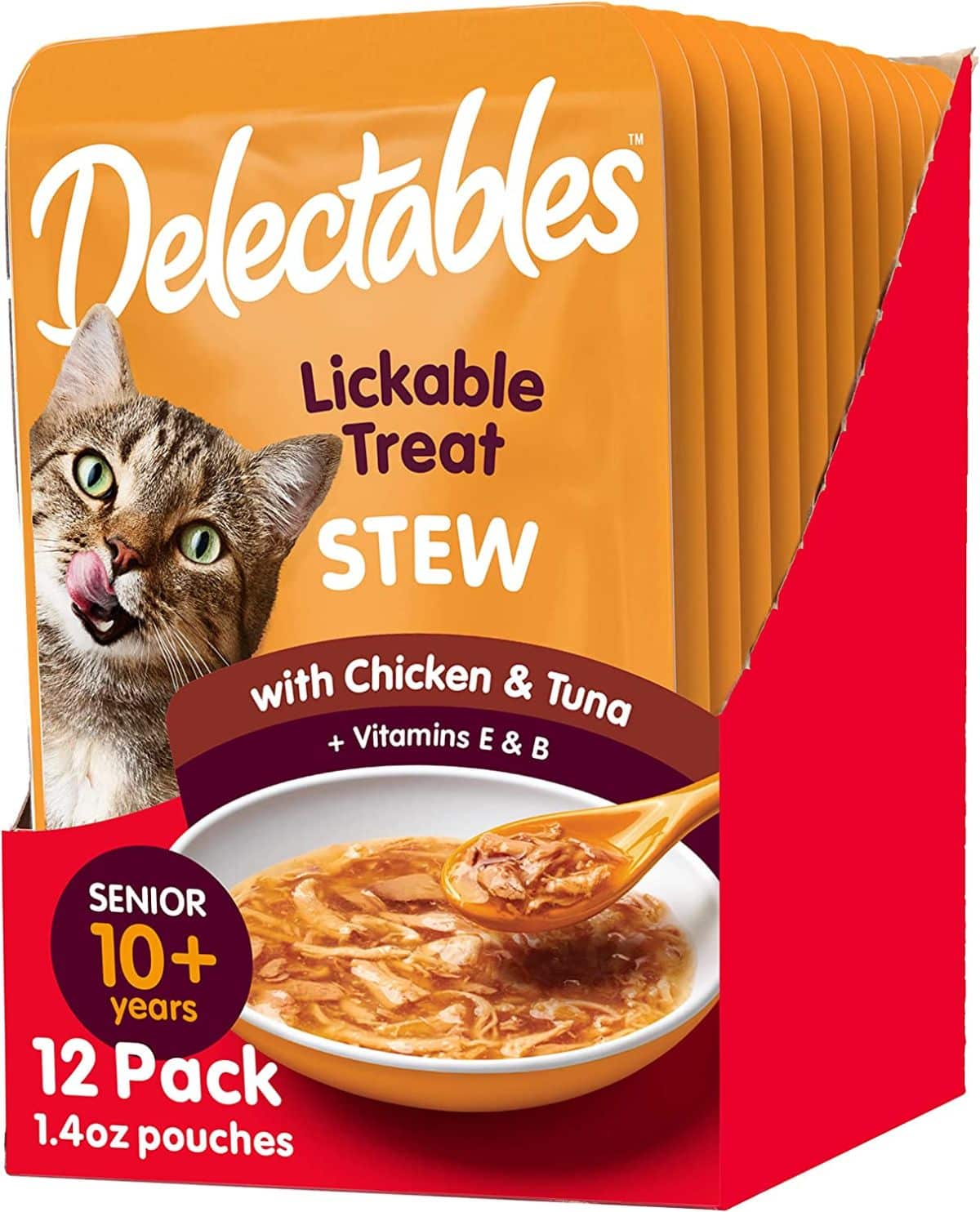 The Hartz Delectable Stew Senior Lickable Wet Cat Treats are ideal for senior cats who need help eating solid food and enjoying beef stew. These cat treats can be placed in your cat's dry food to help make it easier for your cat to eat. This product is lickable and contains no grain, fillers, or by-products that could negatively impact your cat's health.
Additionally, there are no added preservatives or colors that may make your cat feel tired or sluggish. This cat treat is perfectly served on its own or alongside other foods to make your cat feel more excited about mealtime.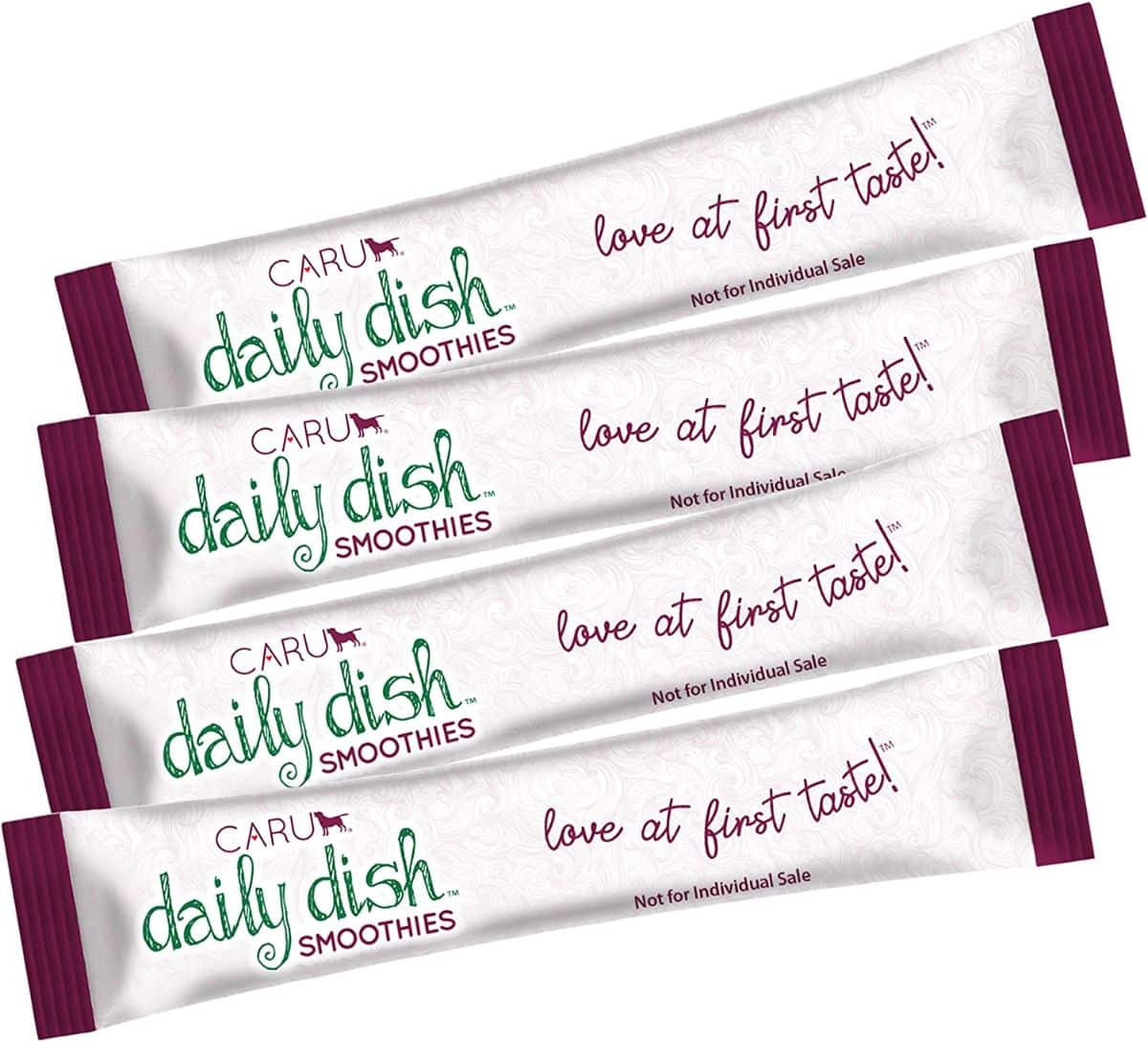 The Caru Daily Dish Tuna Smoothies will give your cat a tuna-flavored snack that has a creamy consistency and holds only the most natural human-grade ingredients. This product contains no artificial ingredients, colors, or preservatives that will poorly impact your cat's health. These treats also contain no wheat, corn, or soy, making them ideal for cats who have allergies or can't consume some ingredients.
Your cat can get a protein boost from this product, allowing your cat to feel more like itself and have much more energy than it previously had.
Why Do Cats Like Squeezable Treats?
Squeezable treats are ideal for cats because they are wet and easily dispensed. Cats will enjoy squeezable treats since they can be given on the go. These are perfect for road trips, vet visits, or vacations you want your cat to come along on.
Squeezable treats are very likable since they are created with many fresh ingredients that cats enjoy, including pureed salmon and tuna. These snacks are high in protein, which may interest your cat more. Many treats are aromatic and will help you and your cat bond.
What Liquid Food Can I Give My Cat?
Liquid foods, treat, and snacks are perfect additions to your cat's diet since they can help your cat get nutrients, vitamins, and liquid in their diet and prevent dehydration. Some of the best liquid foods to give your cat include options that offer them variety in their diet.
You may want to forgo a chicken-flavored liquid option if your cat's kibbles are chicken-flavored. For example, you can alternate poultry, fish, and beef dishes to prevent boredom in your cat.
Consider giving your cat a savory broth option if they are unwell or don't finish their wet food.
What Liquid Can I Add To Dry Cat Food?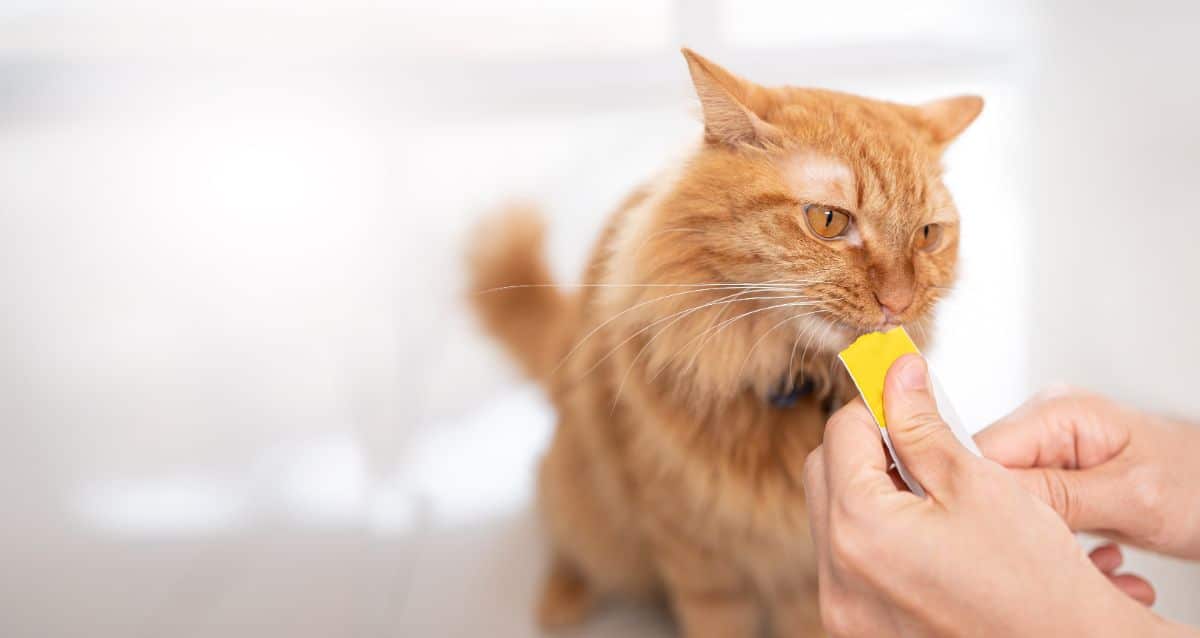 You can add broth or water to your cat's dry food to help your cat eat it. You may also want to mix your cat's wet food with their dry food to help them get the food down without too much fuss or struggle.
A few drops of broth or water is enough to soften the kibbles and make the dry food easier to eat. Consider adding broth or water to your cat's dry food if you note the following signs:
Your cat is struggling to chew.
Your cat won't eat their dry food.
Your cat exhibits signs of pain when chewing.
Consult your veterinarian if you have more concerns about your cat's overall health and wellness.
Final Thoughts
Liquid cat treats are a perfect way to help your cat remain hydrated and keep them up-to-date on all the vitamins and minerals they need to stay healthy. Liquid cat treats are also something that many cats may enjoy and meow at your feet at all times of the day.
Many liquid cat treats are in single-serve containers and can be given in small doses. Consider adopting one of these perfect options into your cat's snacking diet.