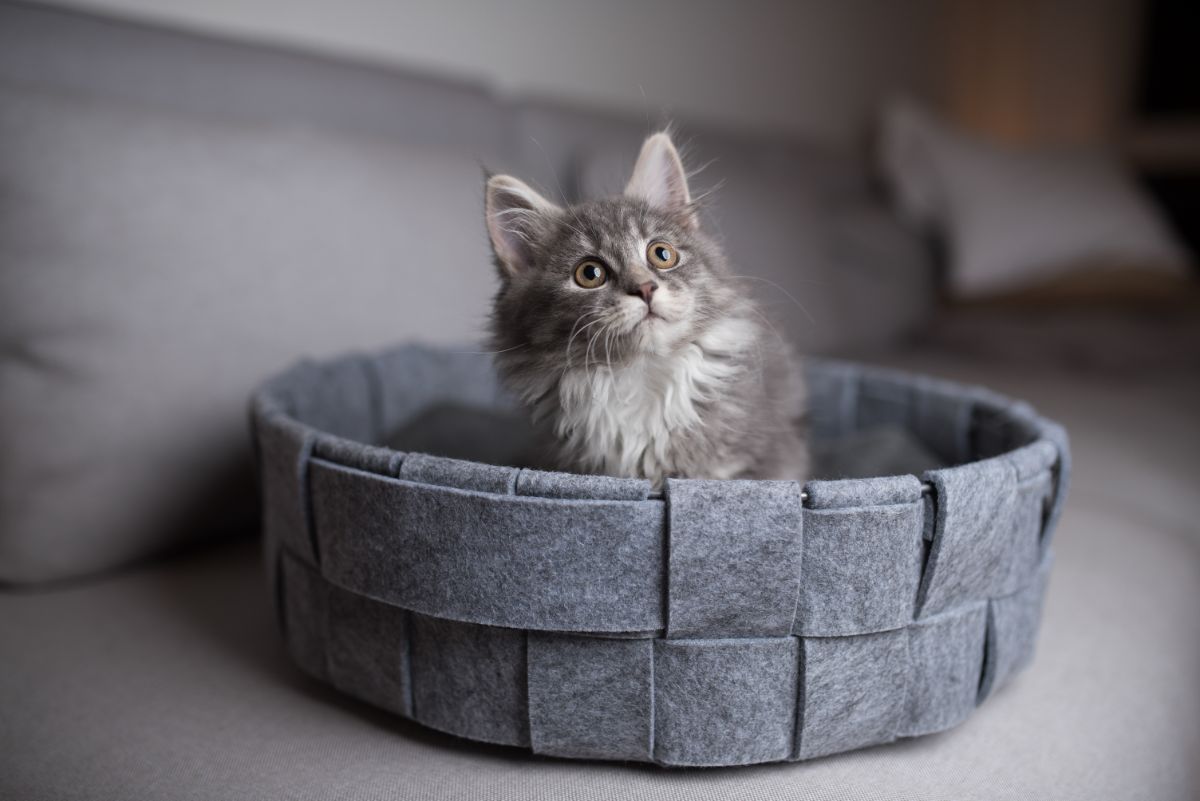 Cats love to do many things — crawl, climb, hide, sleep, cuddle, jump, scratch, and more. One of the best ways to allow your pet cat to enjoy these activities is to fill your home with high-quality, luxury cat furniture. Here are seven amazing pieces of luxury cat furniture that your cat will love.
Jump to:
1. Sha Cerlin Cat Tree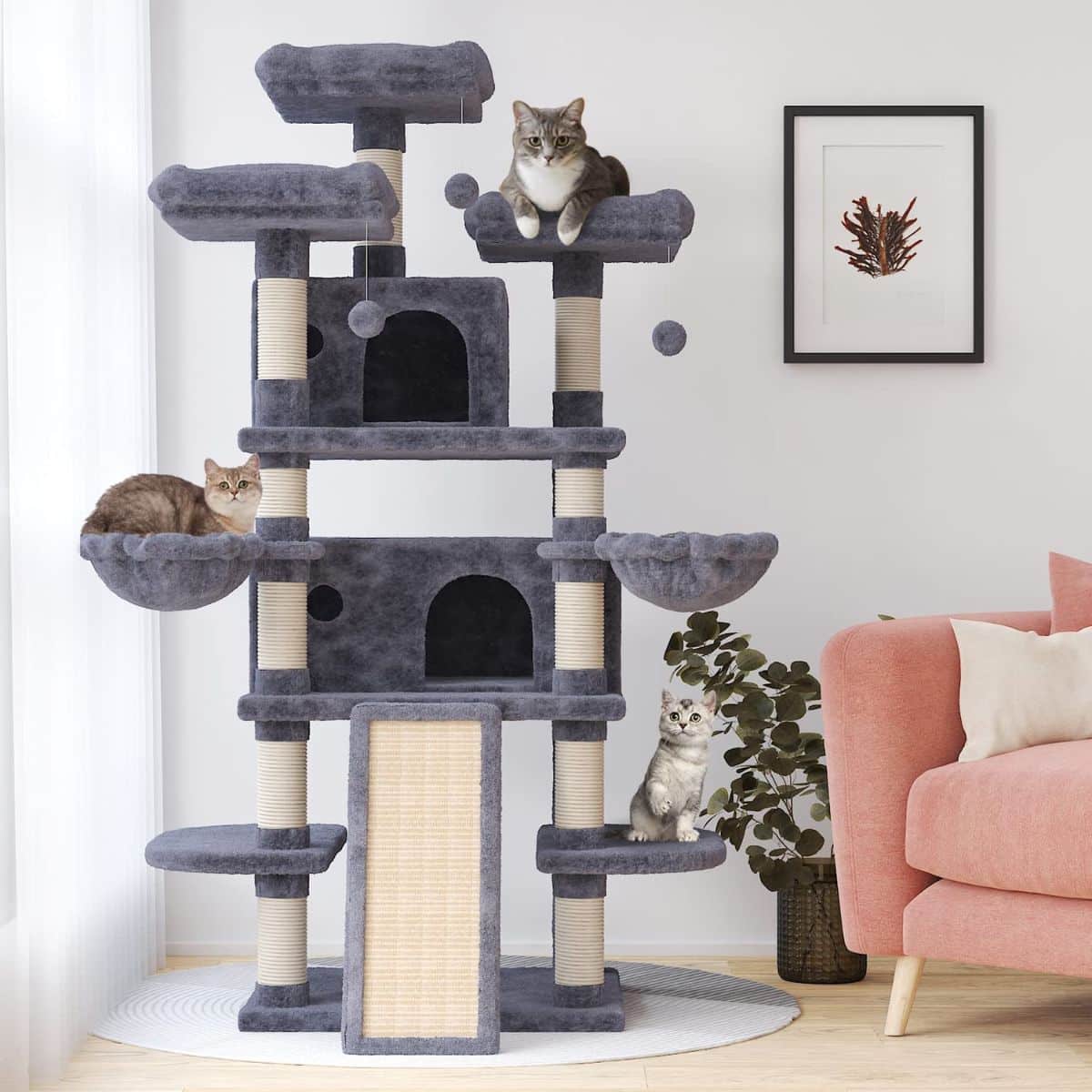 Sale
A cat tree, otherwise called a cat tower, offers a compact, space-efficient way for cats to be able to partake in various activities while only using a fraction of the room.
The Sha Cerlin Cat Tree is a luxury cat tower that offers a variety of opportunities for your kitty to self-entertain.
It has several plush cat perches and hammocks to relax, a scratching post to keep their claws, and multiple dangling toys for when they want to play.
Your cat will love spending time in this beautiful piece of furniture because there's so much to do in and around it, and simultaneously, it offers a space where your cat can simply enjoy doing nothing at all.
Pros:
Natural rope scratching posts
Warm lounging spots
Multi-level structure suitable for multiple cats
Supports 44 pounds
Cons:
Not suitable for very large cats
Difficult to assemble
2. Rolfe Wooden Cat Condo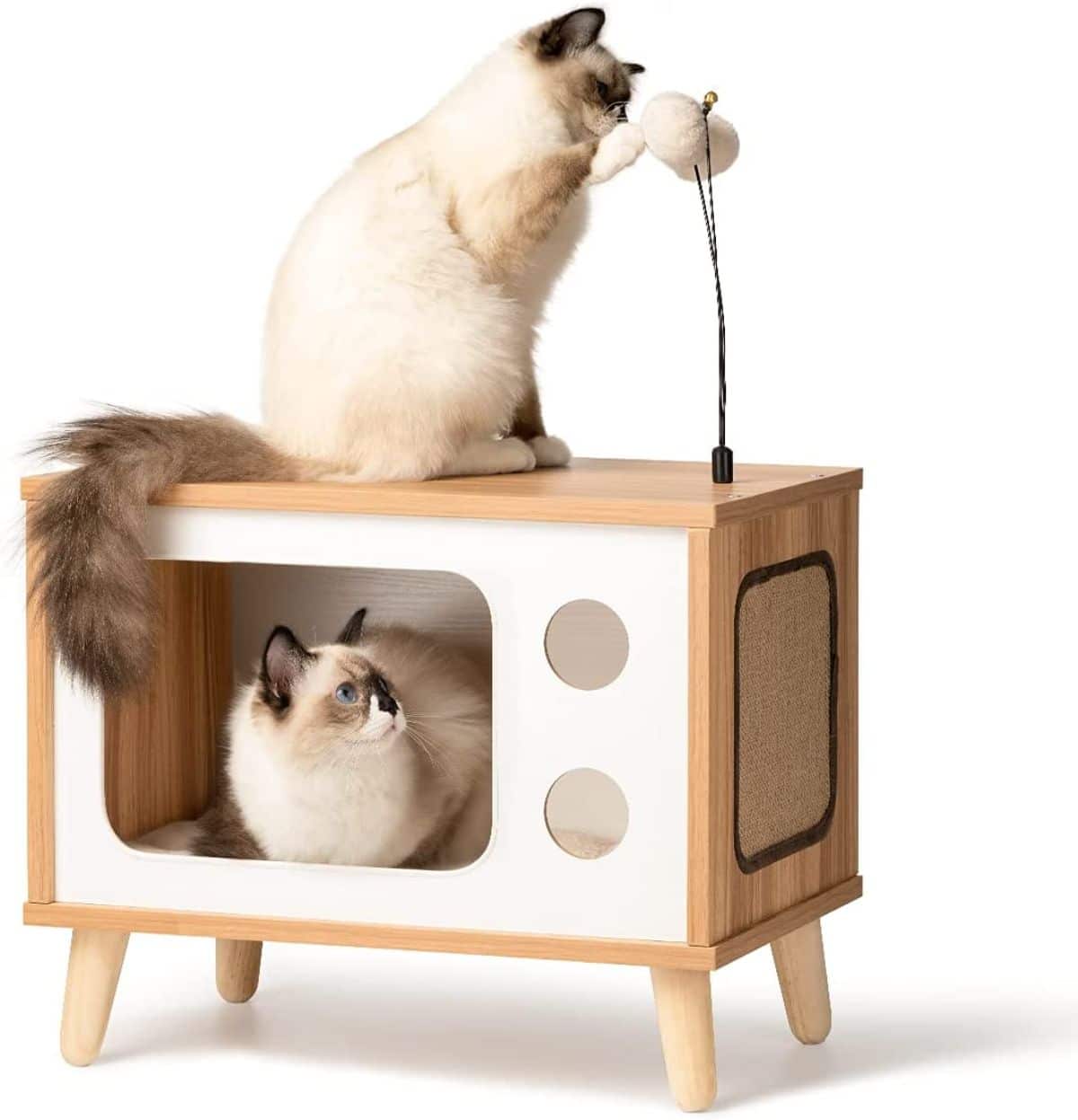 A cat condo is a type of cat furniture that offers a contained, usually private, space for your cat to sleep, lounge, or play.
The Rolfe Wooden Cat Condo is simple yet unique, featuring a retro TV design. The "TV box" is the cat's sleeping and lounging area, while the "antennas" serve as fur ball bells for your cat to play with.
This luxury furniture uses natural linen fabric and double-sided mats for ultimate comfort.
And although it seems simple, there are several uses for it. Your cat can sleep inside, play with the balls, scratch their claws on the side scratching panel, and hang their paws out of the open holes in the front. Plus, you can use it, too, as a footrest or bedside table.
Pros:
High-quality materials and structure
Easy to assemble
A modern and chic look
Both comfortable and enjoyable for cats
Suitable for large cat, such as a Maine Coon
Cons:
Not suitable for multiple cats at once
Cat board and antenna balls are not as durable as the TV structure
3. Tangkula Modern Wood Cat Tree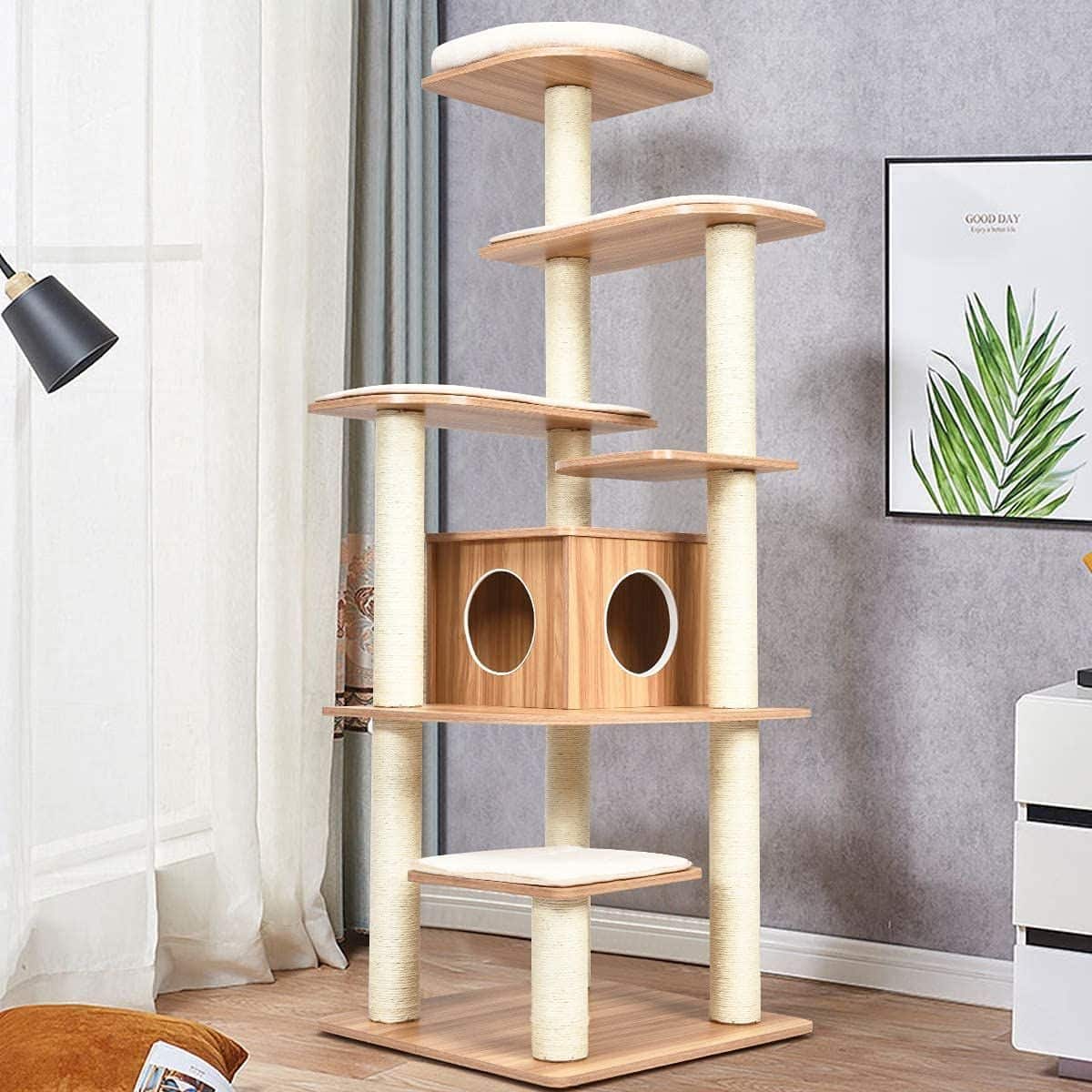 We've already discussed the versatility of cat trees and towers, but often, the appearance of these towers doesn't fit the design of our rooms, apartments, or houses.
If you're looking for a tree with a more sleek and modern design, you might look at the Tangkula Modern Wood Cat Tree.
This cat tree offers a multi-level space for your cats to enjoy. It has plush, soft flannel lounging areas that are as comfortable as ever without looking like they belong in a child's playroom.
The Tangkula Modern Wood Cat Tree is also easy to assemble despite its trendy, asymmetrical design.
Another excellent design feature is that the pads are removable, so they're super easy to clean in the laundry and reattach.
Pros:
Multi-layer design suitable for safe play
Easy to assemble
Easy to clean
High-quality rope scratching posts
Cons:
Pads may be too thin for some cats
No ball toys or hammocks
4. Mau Lifestyle Modern Cat Tower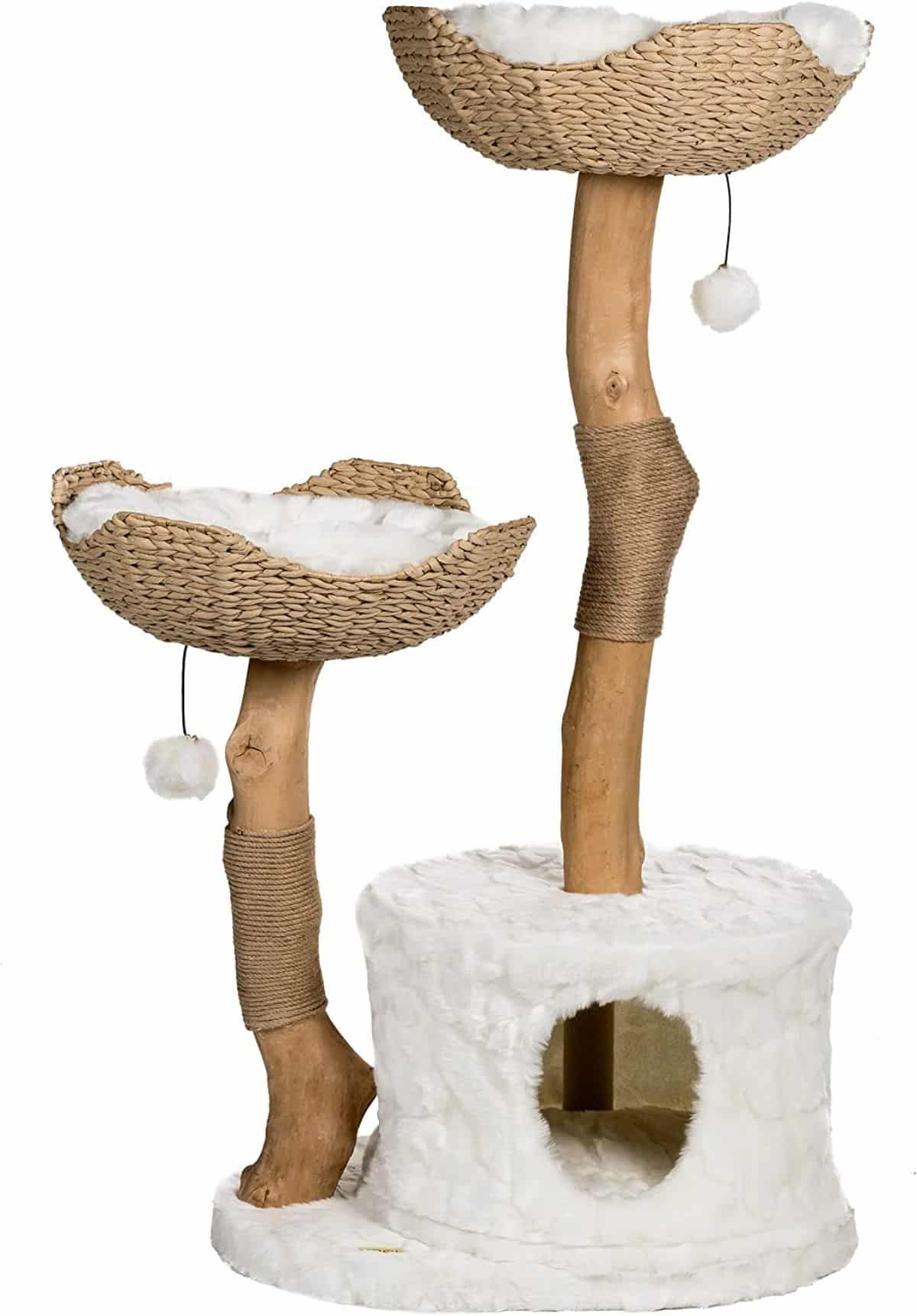 If you like the idea of a sleek and stylish cat tower but don't need anything as high as our last pick, consider the Mau Lifestyle Modern Cat Tower.
It fits right in with a trendy, contemporary, modern, or bohemian-style home and is suitable for larger cats up to 23 pounds.
Like the last pick, the cushions on this tower are easy to remove and are machine washable. Just replace them in the stylish wicker baskets afterward, and your cats will be ready to lounge and observe in them again.
It's a bit pricey, but another excellent aspect of this cat tower is that Mau Lifestyle offers a 45-day risk-free trial and a 1-year warranty. These offerings provide much-needed peace of mind when making such a large purchase.
Pros:
Suitable for large cats
Suitable for multiple cats at once
Machine-washable cushions
Great warranty and 45-day risk-free trial
Cons:
No jumping panel for active cats
Expensive
5. MEOWFIA Cat Bed Cave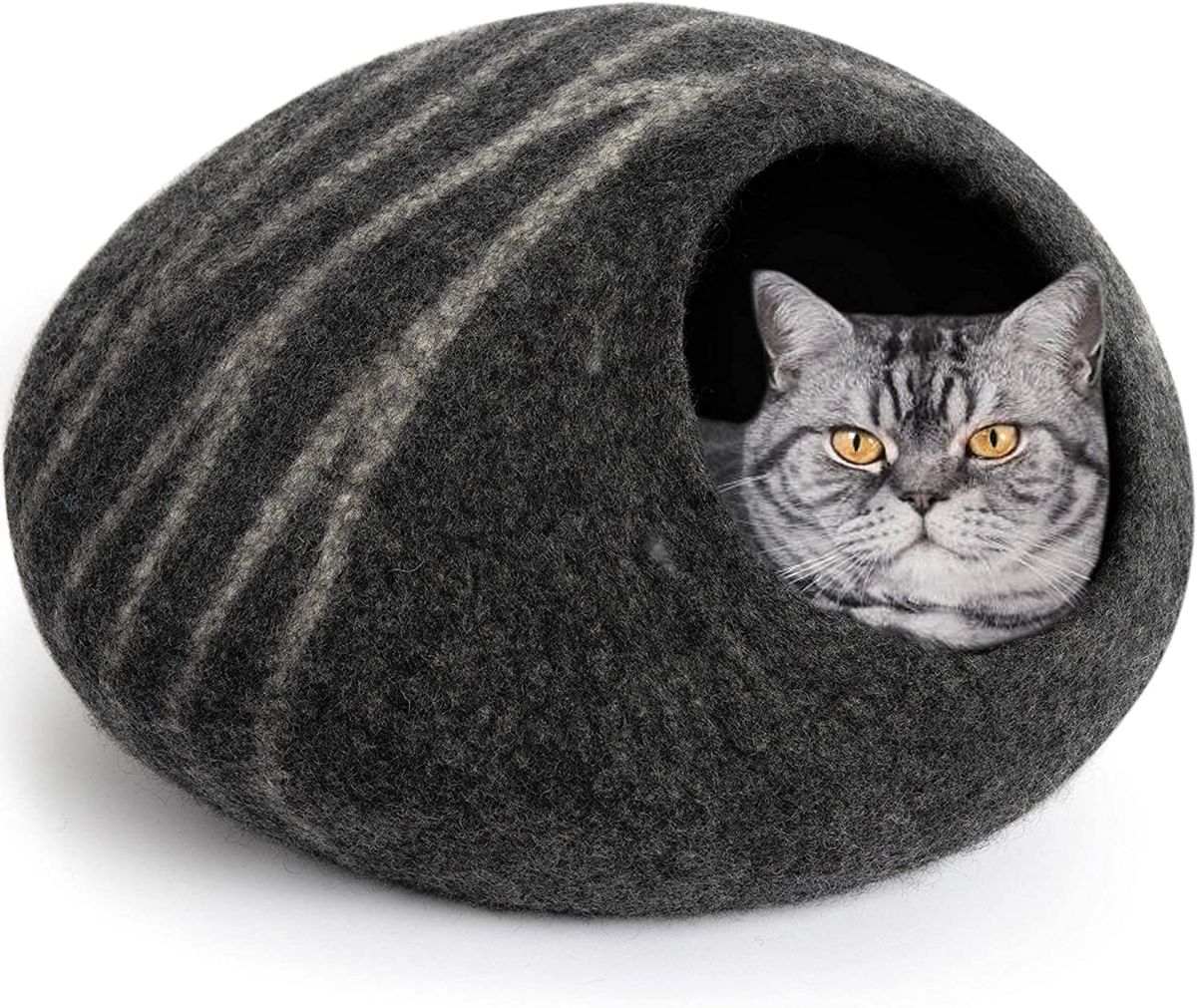 A cat bed cave is a type of luxury cat furniture that offers your cats a private, comfortable place to sleep or hide out.
The MEOWFIA Cat Bed Cave is made of 100% Merino wool, making it super soft, comfortable, and warm for your cat. The natural material is also great for insulating against both hot and cold temperatures.
This bed is also on the smaller side, making it great for kittens or toy breeds. And since it's made out of wool, it's naturally hypoallergenic and resistant to dirt, dust, and stains.
It seems like a simple place to sleep, but more likely than not, your cat will also use it to hide, observe, and even pounce on the top.
Finally, the sleek design and neutral color options fit right into any luxury home design.
Pros:
Sleek, stylish, and simple design
100% Merino wool for ultimate comfort, warmth, and insulation
Multiple uses
Cons:
Not suitable for multiple cats
Requires hand-washing and shape maintenance
6. On2Pets Cat Tree With Leaves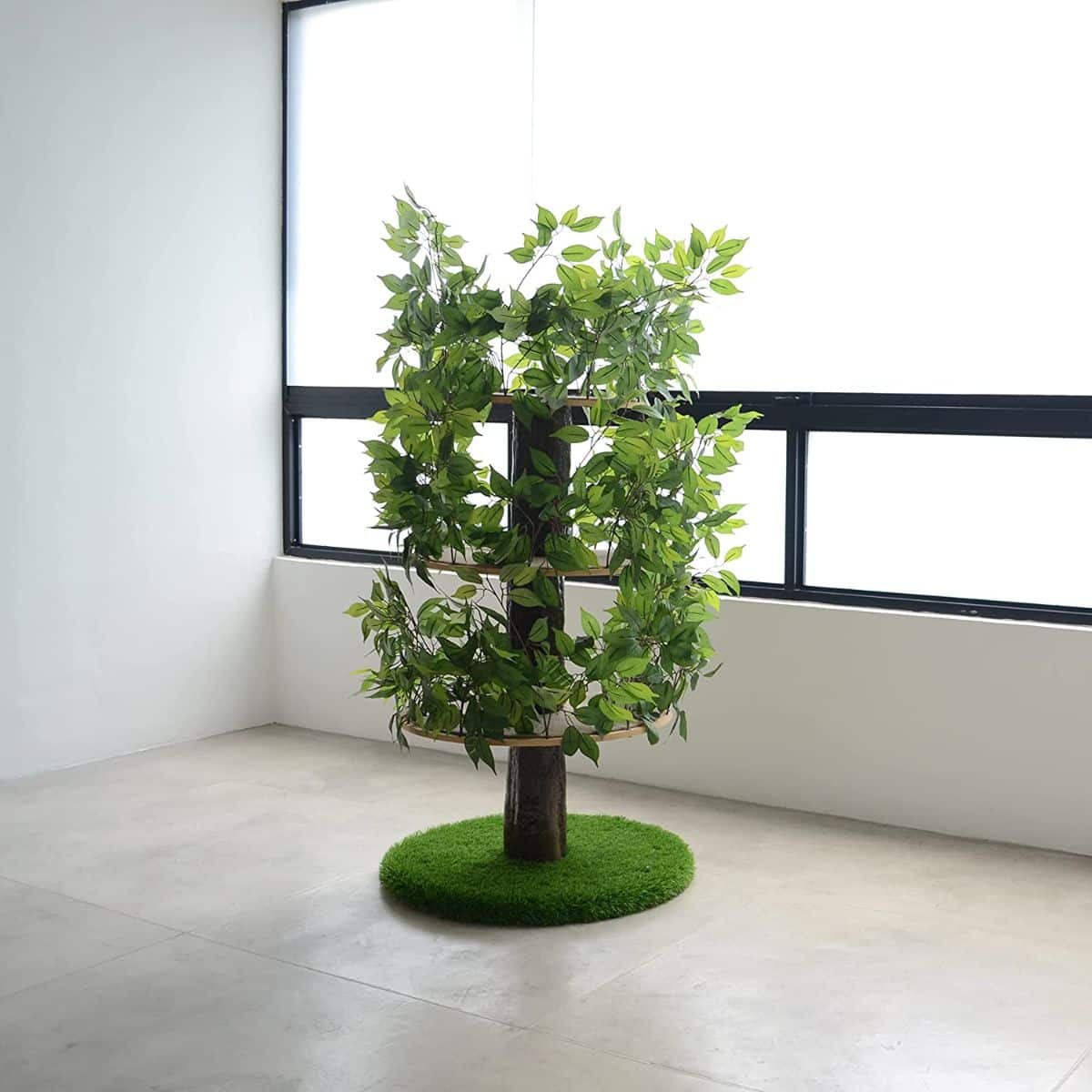 Cat trees are called cat trees because they are tall structures with lounge areas "branching off" of the center.
However, the On2Pets Cat Tree looks like a real tree! And if you have a cat, you probably know how much cats love climbing trees, so you won't be surprised if they immediately fall in love with this natural design.
This cat tree is perfect for cats that love to stay active and also love to hide out and observe their surroundings. It's bigger than it looks and can hold up to 32 pounds of weight, but it still should only take you about 15 minutes to assemble.
Plus, the materials are all high-quality, non-toxic, and pet-safe, providing a safe option for indoor cats to still get an "outdoor" experience.
Pros:
Non-toxic materials
Versatile use
Natural look and feel suitable for contemporary home design
Stimulating for cat's senses
Cons:
Not the best customer service
Not the most durable
7. CatastrophiCreations Wall Mounted Lounge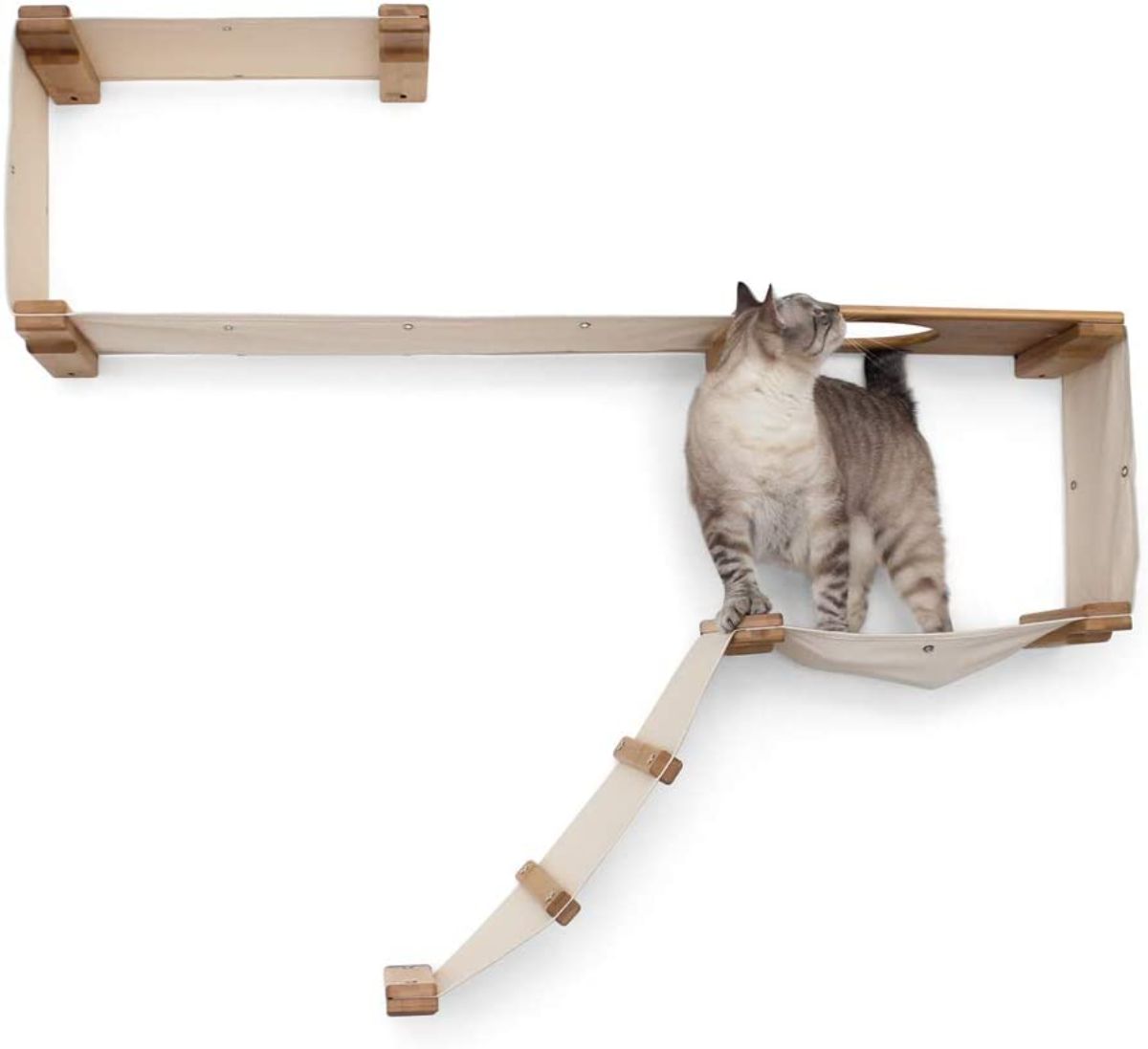 As you now know, cats love hammocks, trees, balls, and scratching posts. But do you know what else they love? Climbing!
A cat wall mount gives them a place to do just that — in luxury, of course.
The CatastrophiCreations Wall Mounted Lounge is a sturdy wall-mounted cat hammock that can hold up to 62 pounds per hammock. It's made out of durable fabric that you can remove for easy washing.
Plus, it looks great in the home. It has hidden bricks, giving the entire structure a unique, floating appearance.
Finally, the CatastrophiCreations brand makes many other wall mount structures, so you can start small and customize the wall setup by adding more to it in the future.
Pros:
High-quality material
Easy to wash
Heavy-duty weight hold
Floating design
Great for active cats
Cons:
Difficult installation
May require cat training
Final Thoughts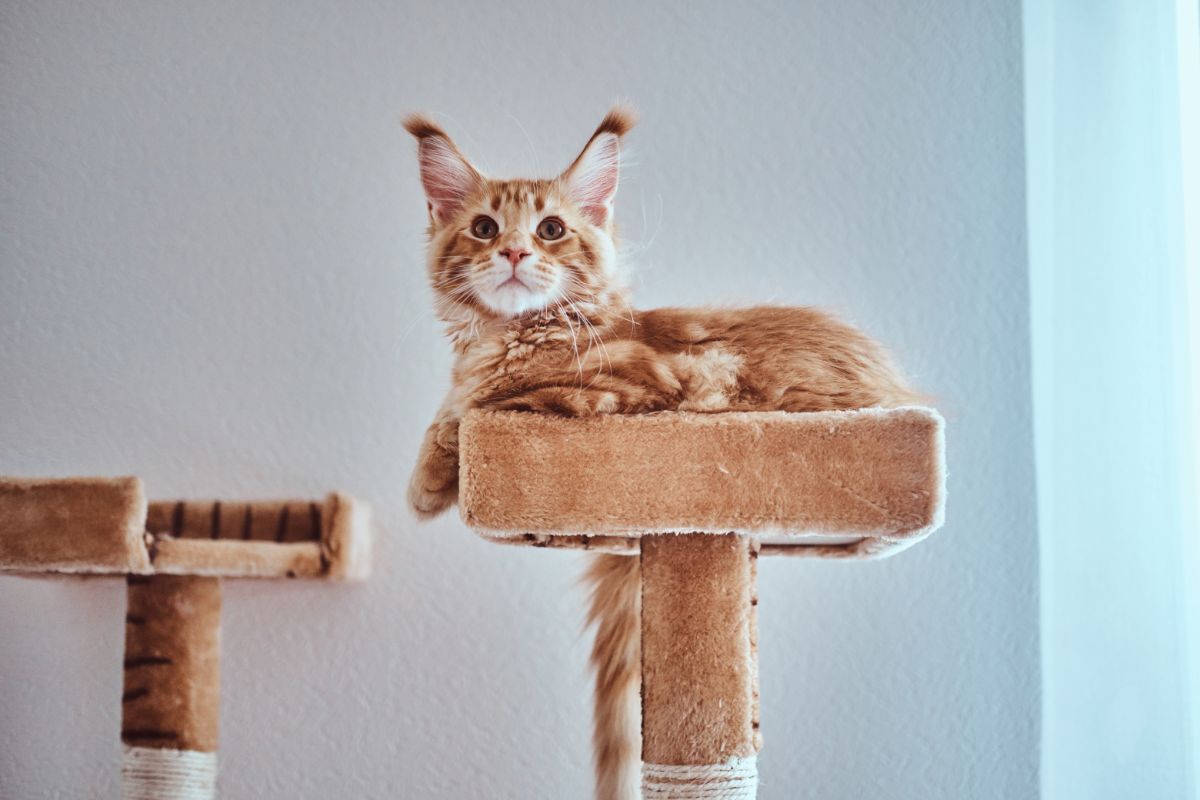 Cats love a variety of structures and furniture features, including hammocks, lounges, balls, scratching posts, jumping panels, sleeping/hiding boxes, and more.
The key is to figure out which luxury cat furniture has all of the best components for your specific cat's interests and activity levels.
We hope this list helped you discover something your cat will love!