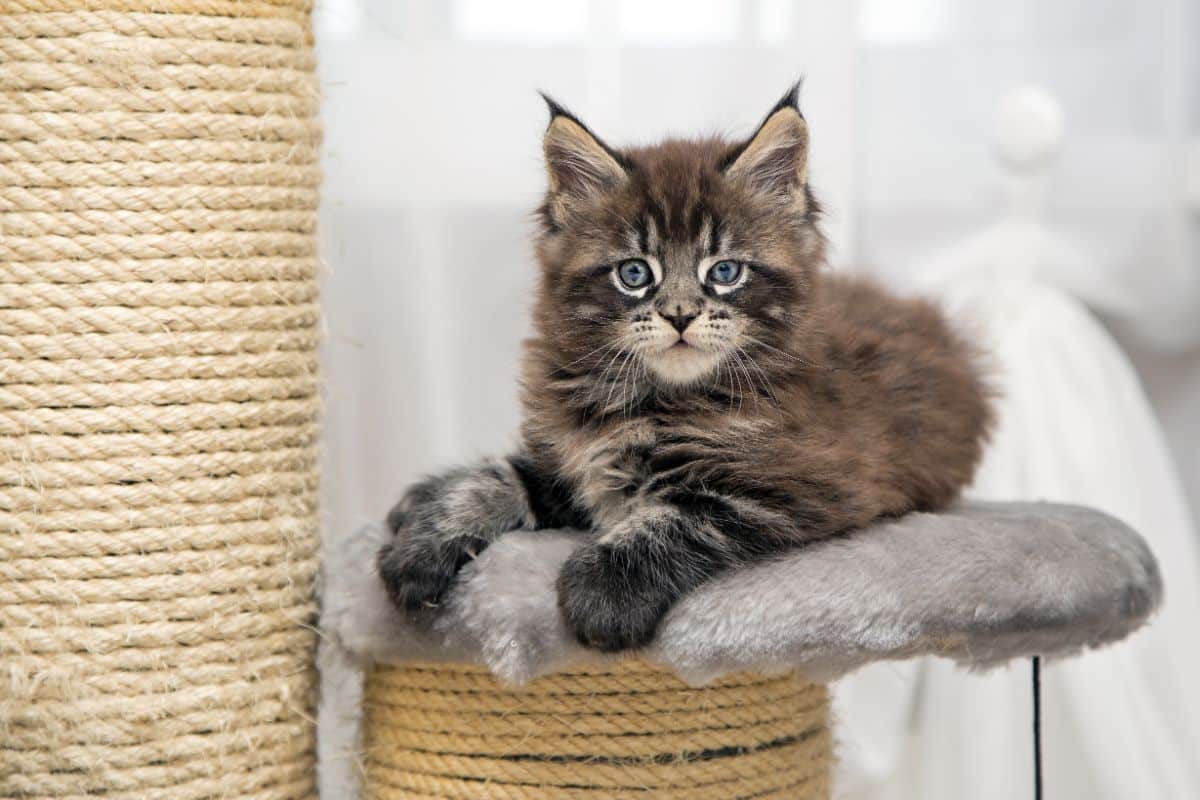 Maine Coon cats are active, playful, and curious. Playing with them is one of the joys of owning this delightful breed.
Of course, you likely want to give your beloved pet only the best Maine Coon toys on the market today. So, we compiled a list of the most fun toys around.
Jump to:
7 Best Maine Coon Toys
We researched the best cat toys we could find to determine which would be appropriate for our favorite breed, the Maine Coon. These toys will entertain you and your feline friend while giving your pet vital exercise.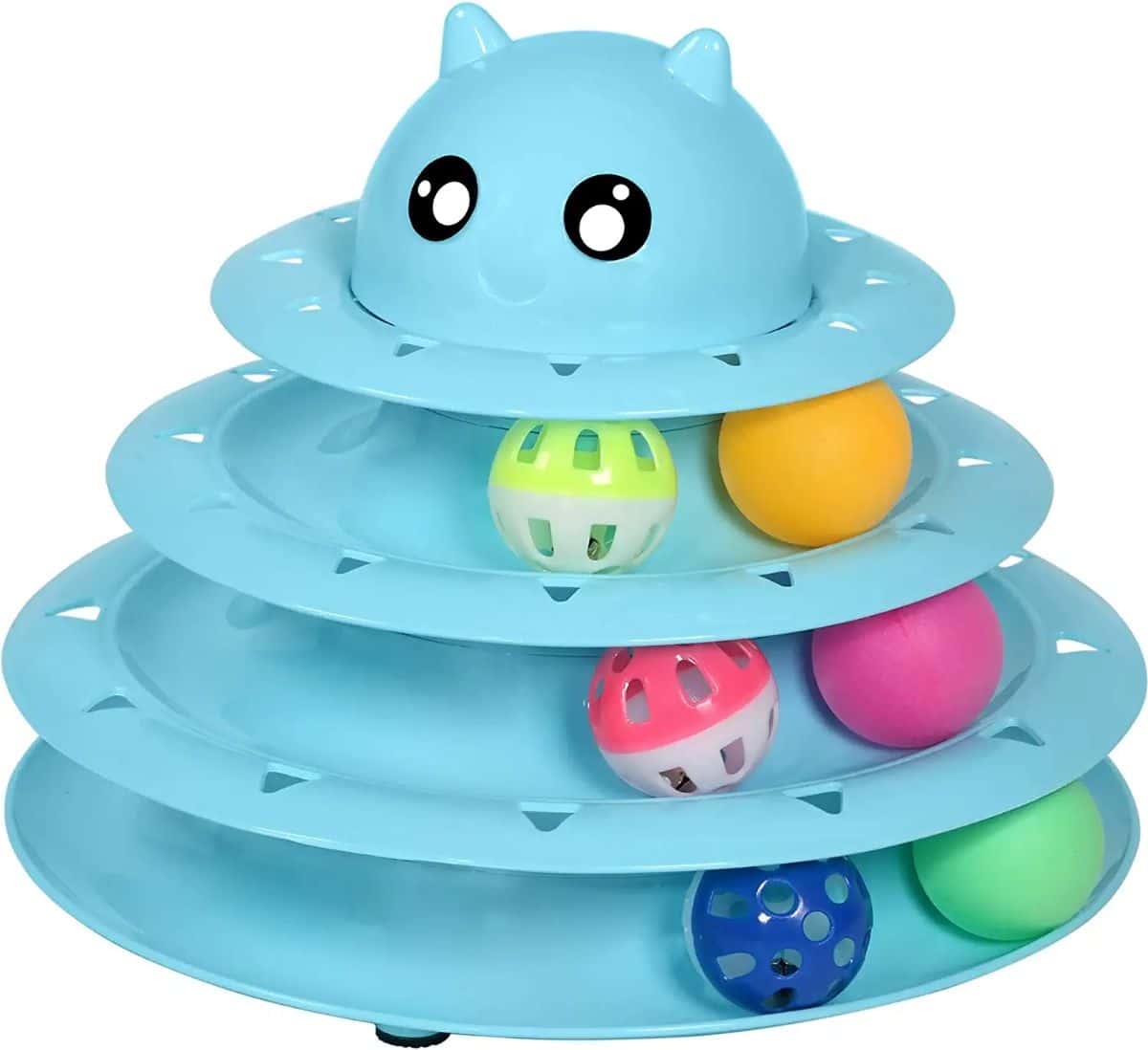 This toy is made from durable polypropylene material to resist tearing. Your cat will have a blast batting the included jingle balls around the tiers. If you can't always be around to play with your furball, UPSKY's toy roller is an excellent option for keeping them occupied when they're by themselves.
Pros:
Fun for cats to play with on their own
Jingling sound is stimulating
Suitable for all ages from kittenhood up
Cons:
Balls could escape, leading to the toy not being fun anymore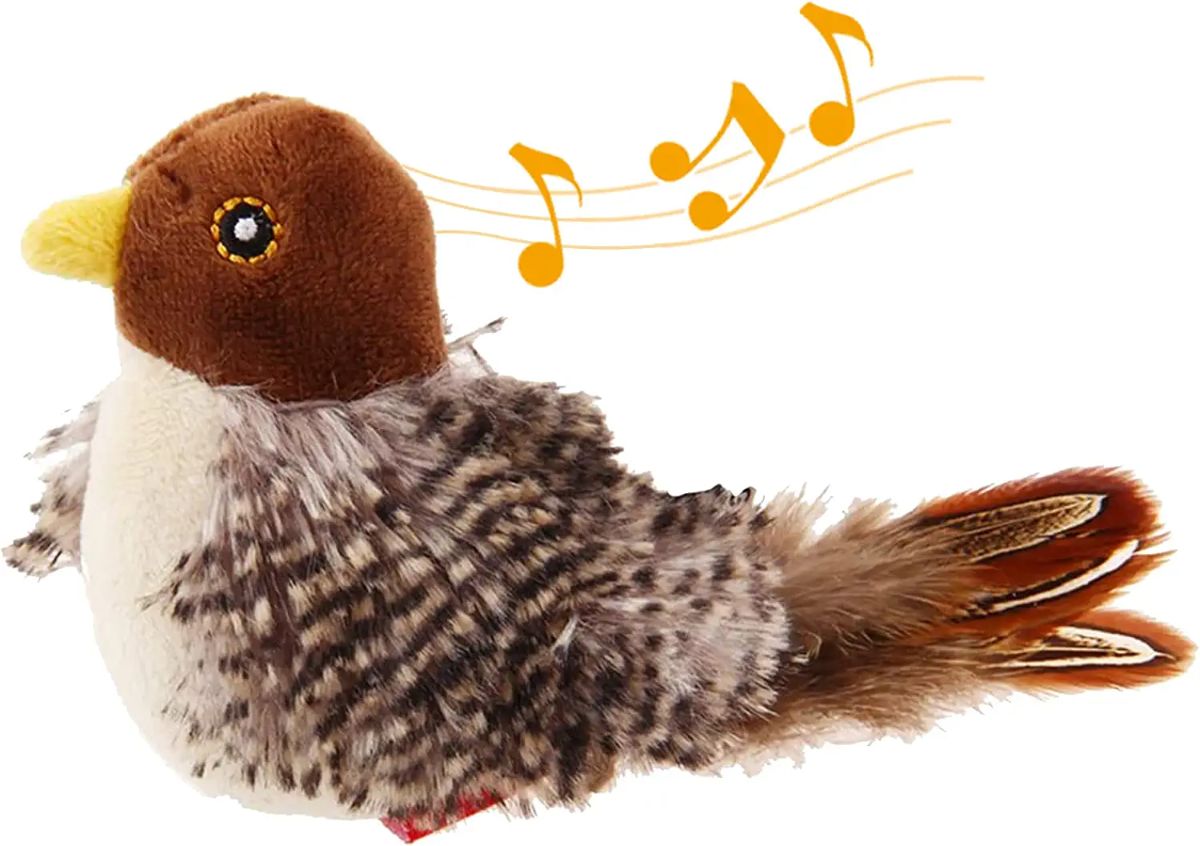 This cute bird toy will allow your indoor hunter to practice their natural instincts. The toy chirps realistically and will tantalize your cat's senses. GiGwi's little bird comes with a feather tail, giving your kitty a new (and irresistible) texture to chew.
Pros:
Fun to throw for your cat to chase
Realistic shape, size, and color will give your indoor cat a taste of the wild
Good for solo play
Cons:
Feathers may not last long with an active cat
Chirping noise could annoy some owners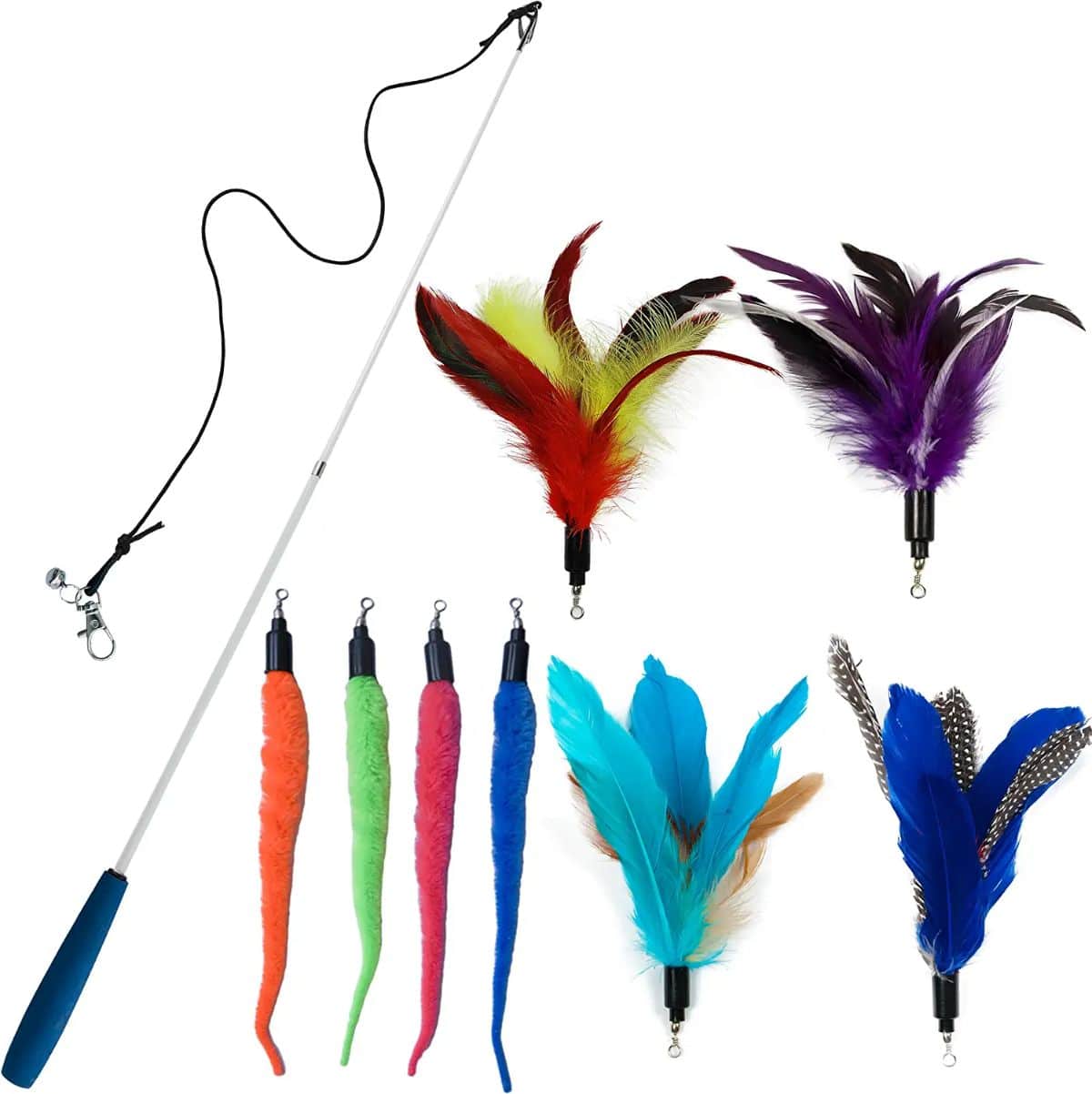 Maine Coon cats love to jump and play. Feather wands build jumping ability and strength and stimulate natural hunting instincts.
If Maine Coon cats could write their own top toys list, feather wands would be near the top.
Get your athletic Maine Coon a feather wand toy, and you'll be amazed at how high your cat can jump and how long your cat can play without getting bored.
Pros:
Toy gives an excellent exercise
Fun for both humans and cats
Comes with multiple replacement feathers
Cons:
Feathers might be quickly gone through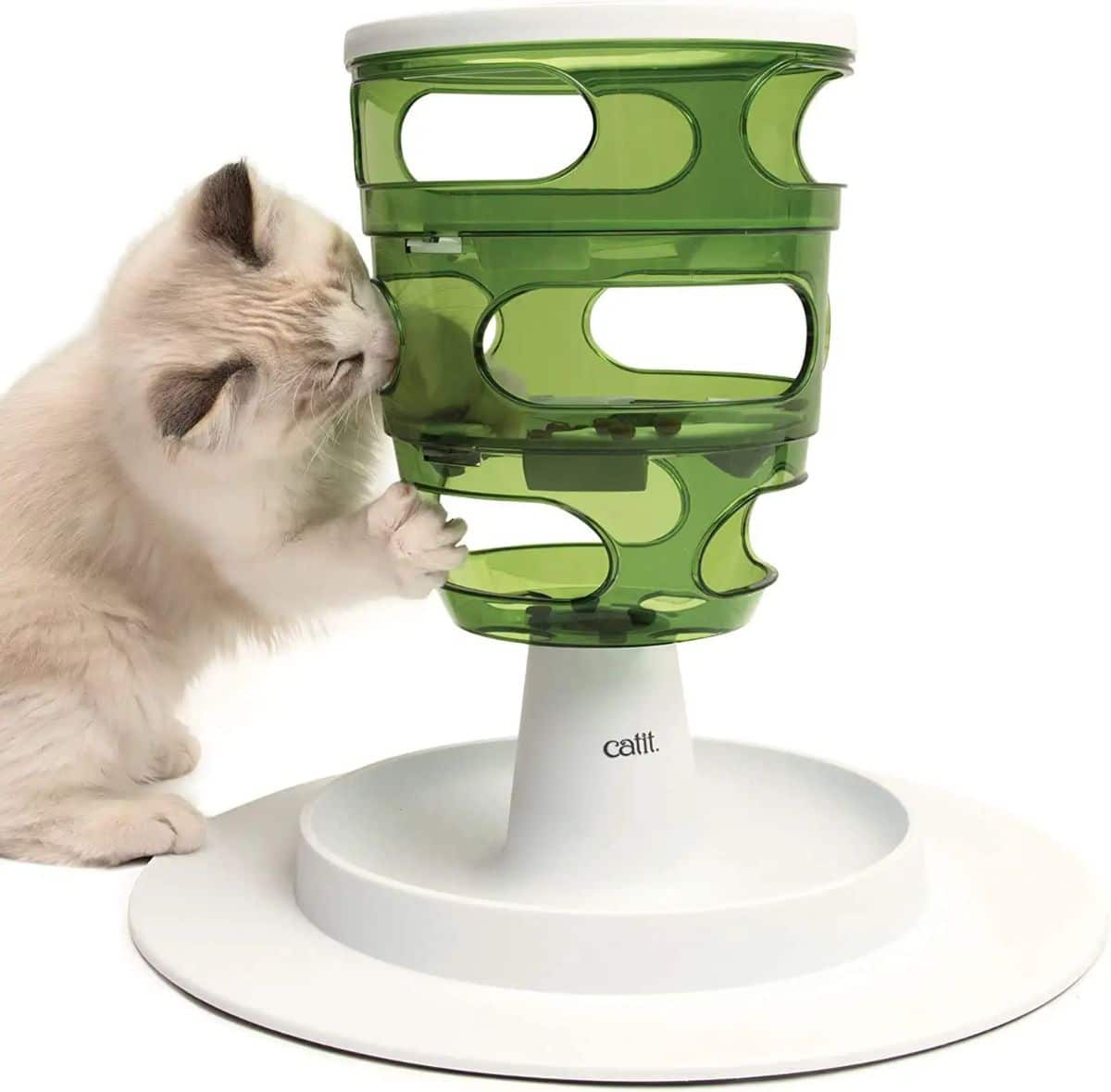 A Maine Coon is notoriously food-motivated. They may beg their owners for treats when bored, lonely, or hungry. If you want your pet to have the dual satisfaction of playing a game and getting a treat, try this food tree. It holds dry food or kibble and comes in three difficulty levels, meaning that your cat can progress to trickier games.
Maine Coons love to figure things out and explore. Satisfy their instinct to problem-solve with this engaging and durable toy.
Pros:
Sure to challenge your pet's mind
Food reward means cats keep coming back for more
Cons:
Once they figure out the game, they may not want to play anymore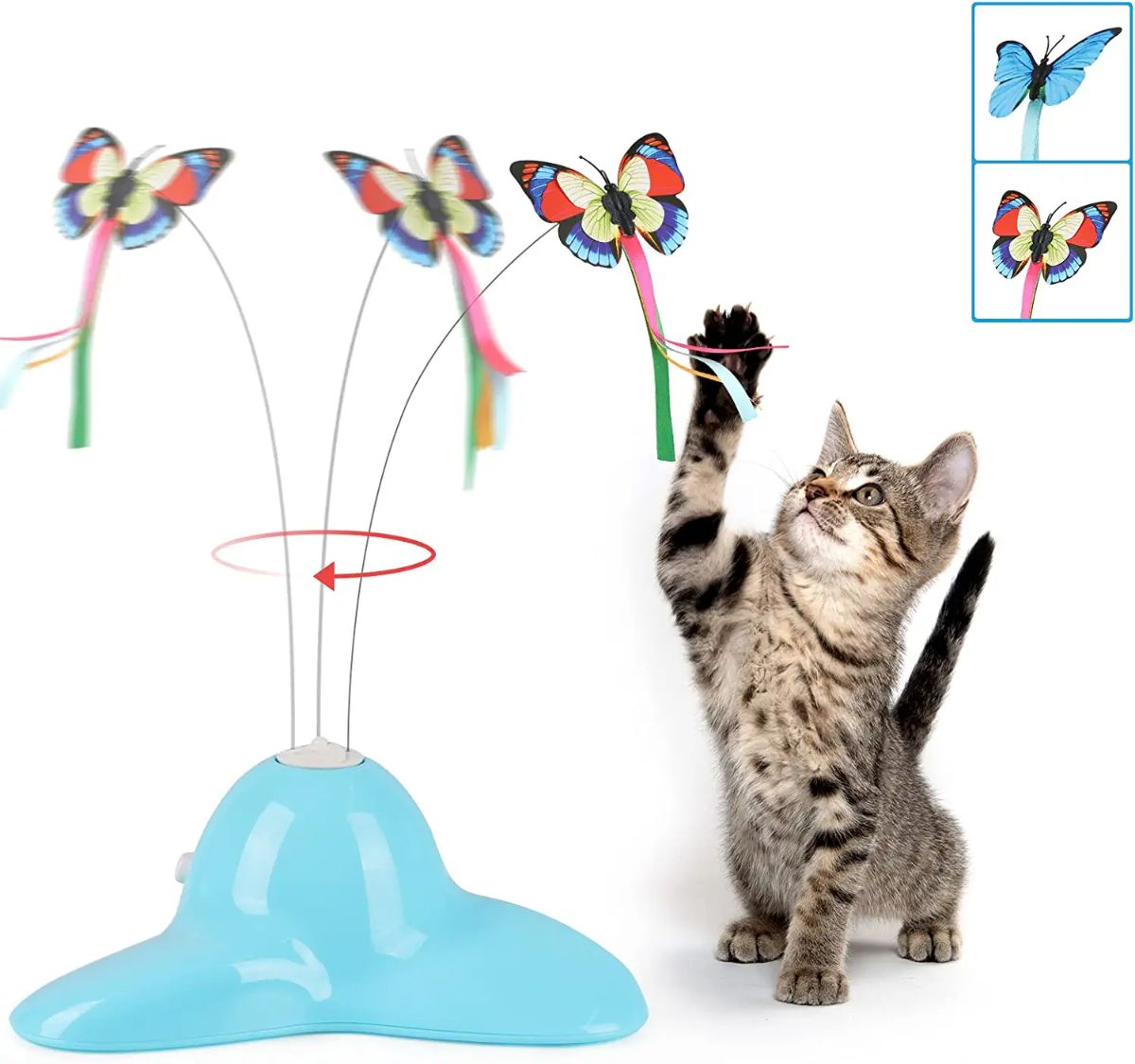 Even indoor Maine Coons love chasing insects. SOKER'S interact butterfly is another toy that your cat can play with while you watch or when they're on their own.
The sturdy base holds a butterfly on a safe stalk that twirls around and drives cats wild.
Pros:
Highly entertaining for humans and pets alike
Satisfies natural hunting instincts
Cons:
Only comes with one replacement butterfly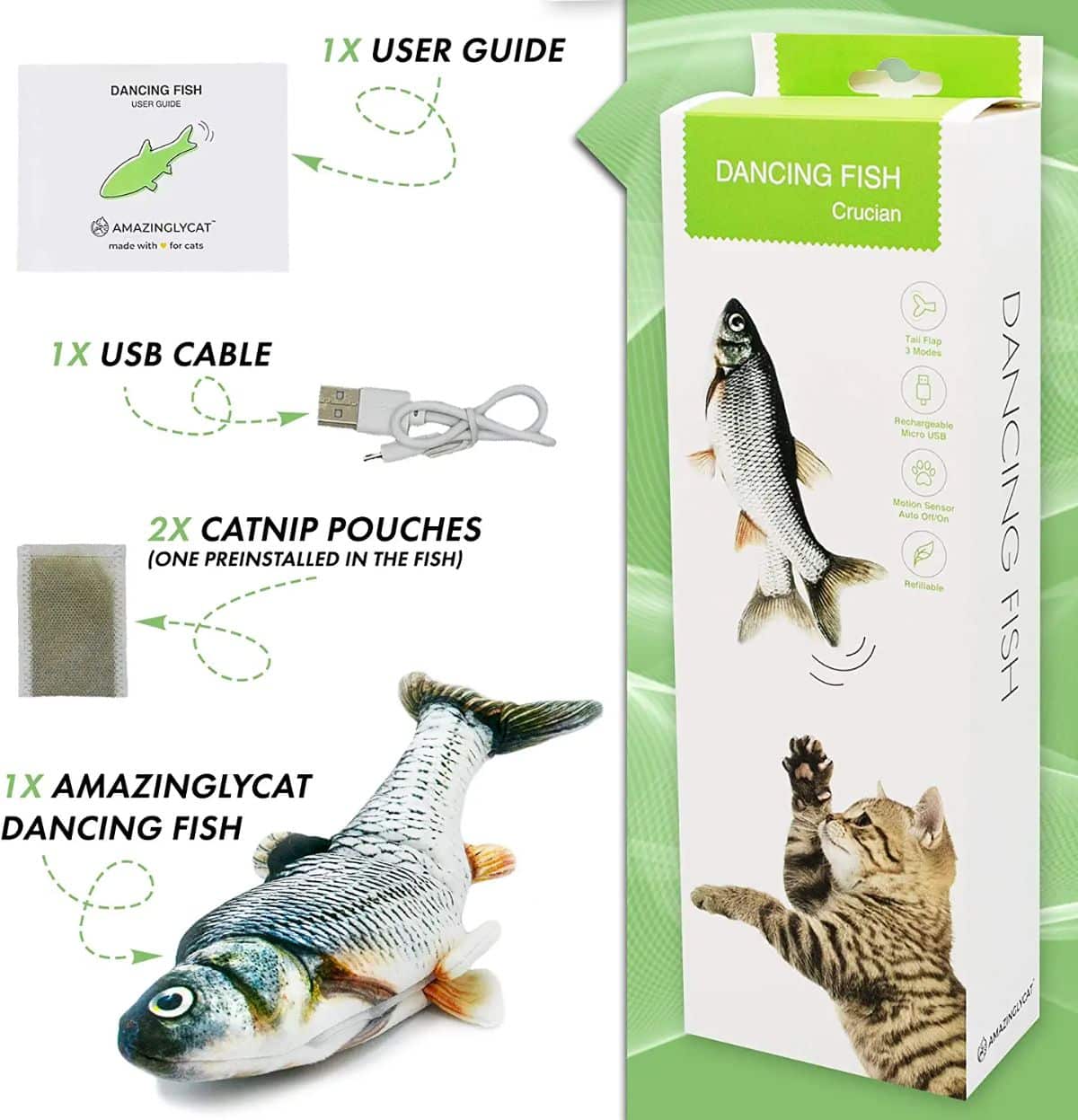 This cute interactive toy doubles as a catnip kicker. The fish flops around when it strikes the floor or when a cat pounces on it. Its motion combined with the irresistible catnip aroma is sure to thrill even the most skeptical Maine Coon.
Pros:
Great fun to watch your cat stalk and pounce on the fish
Charges via USB so there are no batteries to replace
Refillable catnip pouch with a zipper closure
Cons:
Can be loud, so some cats might be frightened
Battery might not last long before recharging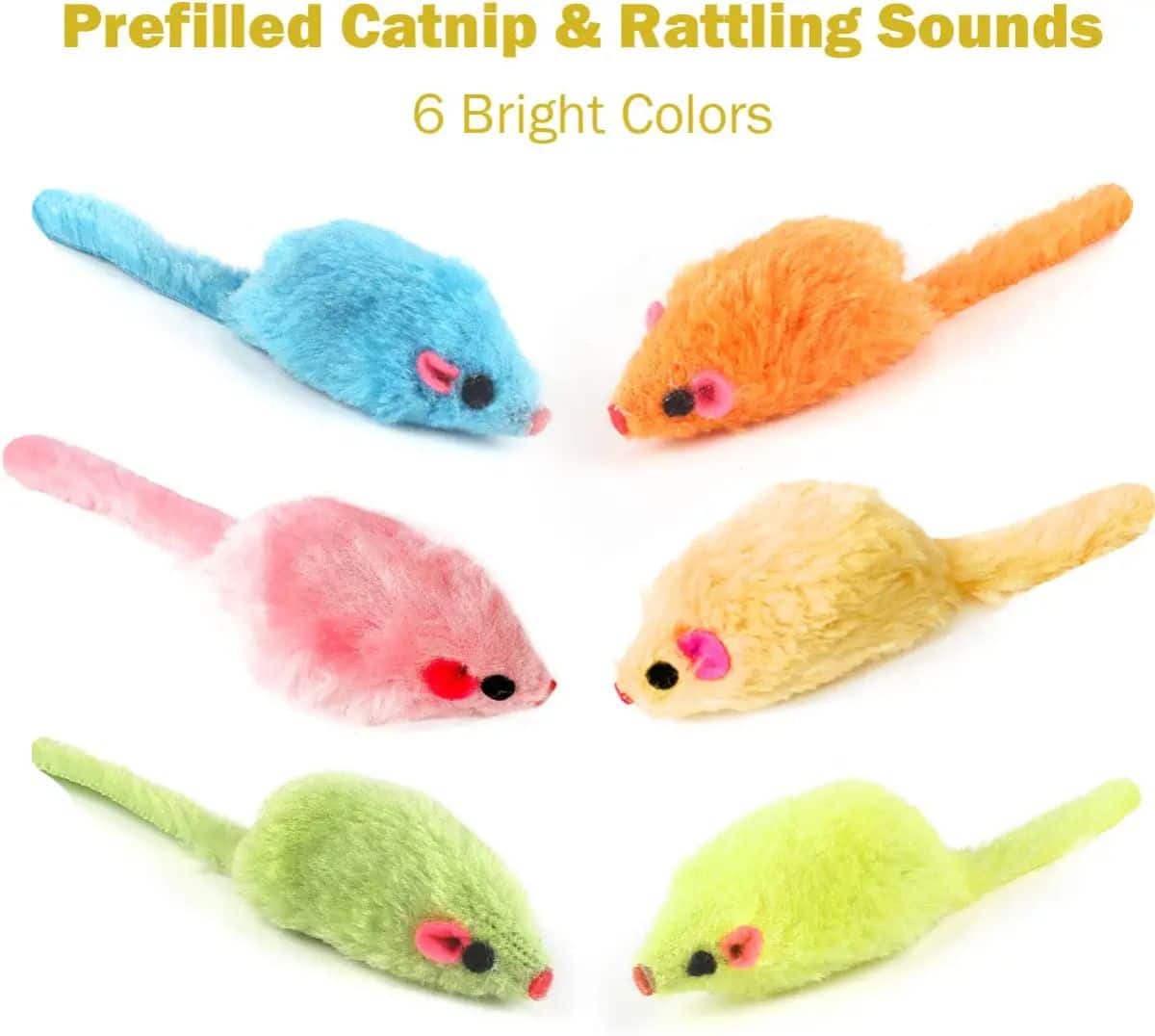 Sometimes, the classics are as much fun as the latest cat toy innovations. This large pack of catnip mice will keep your kitty pouncing and chasing for months. Cats love to bat toy mice around and chew on them. As a bonus, the MeoHui has an irresistible catnip aroma.
Pros:
Fun to play fetch with your cat
Strong catnip smell keeps cats engaged
Cons:
Tails may come off with repeat play
Buyer's Guide
The following is a buyer's guide with specific criteria that you should look out for when purchasing toys for your Maine Coon cat:
Fun Factor
Maine Coons get bored quickly and need a variety of toys for different purposes. These beautiful cats need toys that encourage exercise, promote their hunting and stalking instincts, and keep them enjoying playtime.
Durability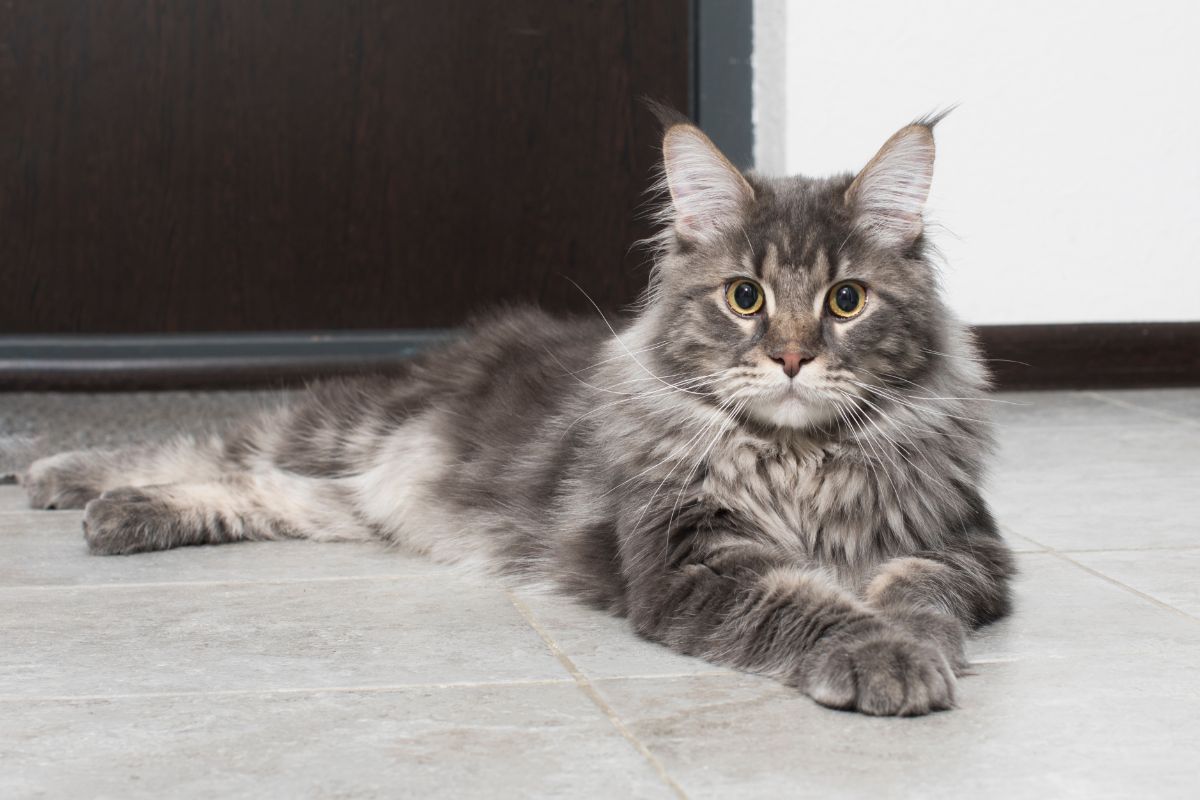 The Maine Coon is a big, strong breed. So, try to get the sturdiest toys you can find. You'll want toys that are ready for rough-and-tumble play. Dainty options might look cute, but they are unlikely to withstand vigorous play and will soon need replacement.
Realism
Maine Coons love to hunt, and the more realistic their toys are, the better. Flopping fish and chirping birds duplicate some of the stimuli that these cats might receive outside, without the risks that come with being outdoors.
Stimulation
Maine Coons are intelligent cats and need stimulation during their playtime. Their toys should satisfy curiosity while still being fun. Treat-dispensing puzzle toys like some of the ones we listed would be a fantastic choice for your curious kitty.
Conclusion
The best Maine Coon toy that we found was the Flopping Fish. Cats of all ages love hunting it, and the realistic flopping action will keep your pet coming back to play with it.
No matter which toys you choose for your Maine Coon, remember to play with them often.
These intelligent and athletic felines need lots of stimulation and attention to be content. Don't forget that the best Maine Coon toys are always accompanied by pet parents' love and interaction.