A Maine Coon cat is an elegant breed with a stunning coat of hair and a penchant for mystery. They enjoy spending time alone and prefer to scour the home for pests like mice, rats, and insects.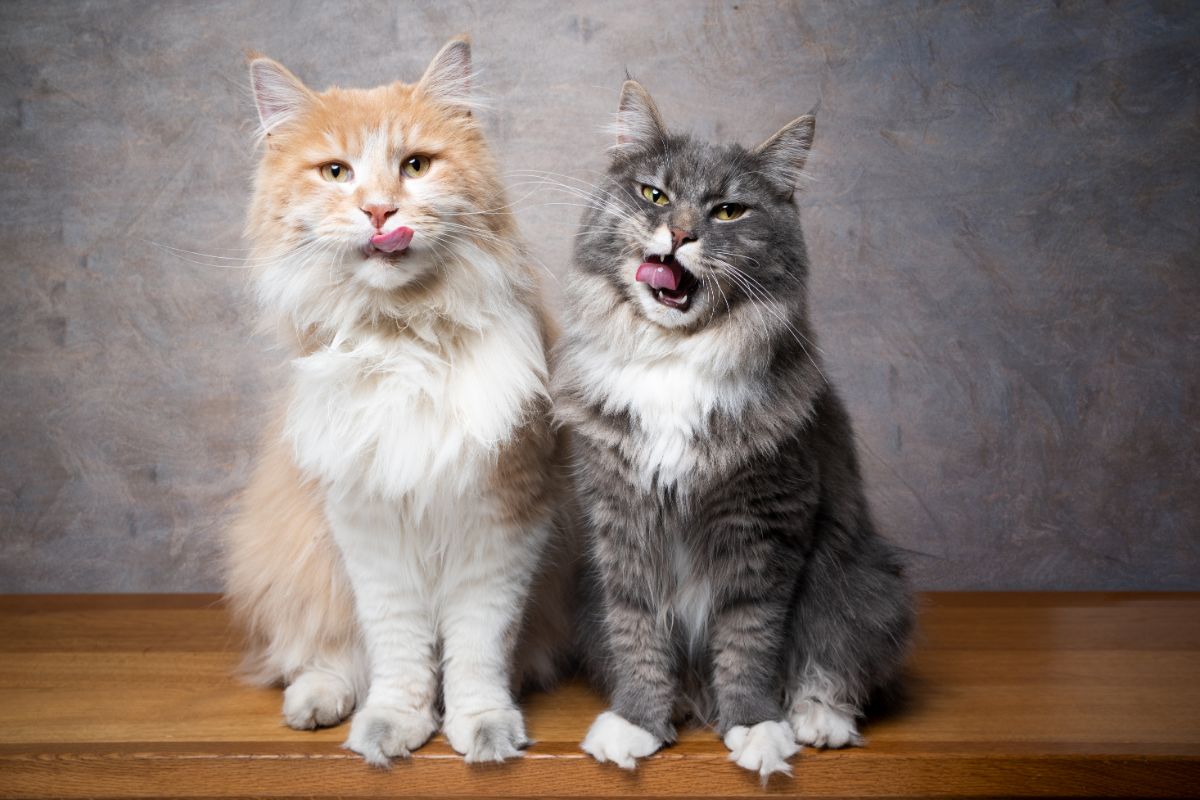 This cat is usually well-behaved and typically doesn't suffer from health disorders, but some may begin to get extra hungry for one reason or another. Figuring out why your Maine Coon has picked up a bigger appetite can be challenging, but there are plenty of reasons to consider.
Jump to:
How Much Should a Maine Coon Cat Eat?
The number of calories a Maine Coon needs will vary depending on the size and weight of your pet. Usually, a cat will need 25 to 35 calories for every pound they weigh. This range means that your Maine Coon may need anywhere from 200 to 900 daily calories.
Your cat may require more calories if they vomit frequently or have hairballs daily.
What Food Should Maine Coon Cats Eat?
Your Maine Coon cat will need high-quality cat food. If your cat is young, it may be able to get all of its calories from dry food and kibbles. Older Maine Coon pets will likely need a combination of dry and wet food. Many canned cat food options are calorically dense and have all the nutritional components that lead to good health.
Focus on food options that don't have by-products, fillers, and artificial dyes or ingredients.
11 Reasons Your Maine Coon Cat Is Always Hungry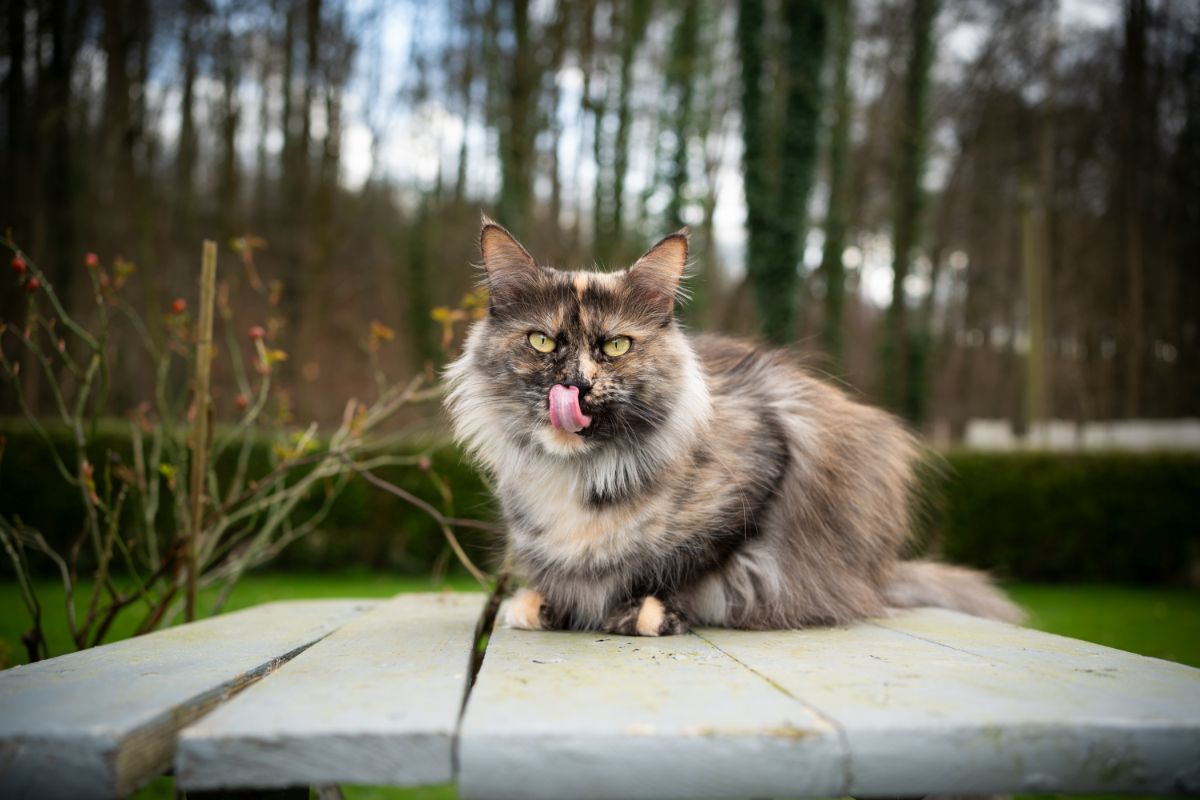 There are plenty of reasons why your Maine Coon cat may be constantly hungry. Although it can be hard to identify, some reasons could indicate a more severe problem. Sometimes, your cat may be extra hungry because they have a health condition, vomit too much, or are not getting enough food.
One way to determine the cause is to observe your cat's behavior and look out for anything that is out of the ordinary for your feline friend. If you're concerned about an underlying health issue, you should consult with your vet to figure out if something more serious is at play.
There Are Not Enough Calories
Your Maine Coon might not be getting enough calories. Sometimes, this can be related to an issue with your current cat food brand. The food may have little nutritional value and have fewer calories than higher-quality options.
Additionally, some cats may require a more calorically dense brand to keep up with the rate at which they burn energy. Consider changing to a different brand with more calories per cup.
They Aren't Eating Enough
If there's nothing wrong with your cat food brand and variety, your cat may simply not be getting enough food. Usually, mature cats eat two meals a day, but some may need a little more food if they are frequently on the go.
Active cats burn more calories and may need to store more energy during the day. So, if your feline tends to be constantly on the move or jumping around, they're likely to benefit from having an additional daily meal.
They Dislike the Food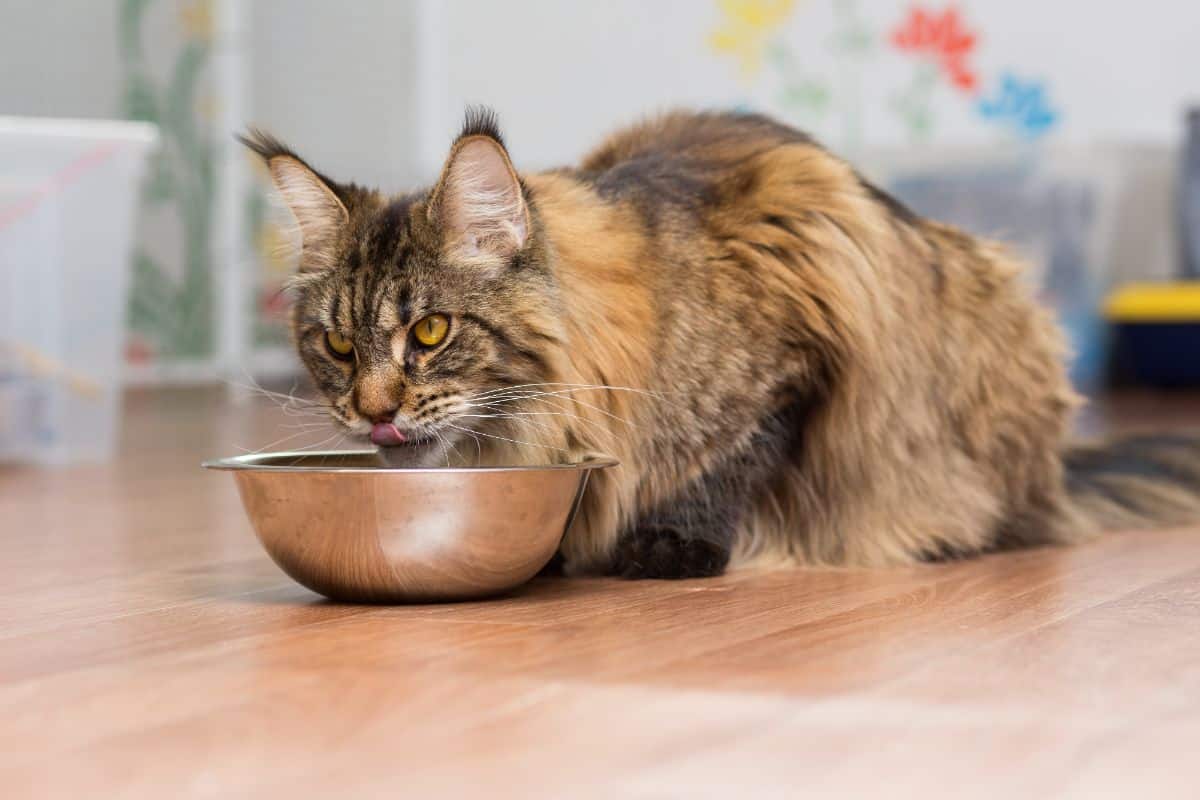 Cats are famous for being particular and picky—especially regarding their food. Your Main Coon might prefer a specific food and even refuse anything they dislike or are not excited about. This pickiness can leave your cat starving but unwilling to eat. If you've noticed your cat has preferences, you still have options without relying on one specific food.
Experimenting with different flavors during mealtimes could help your Maine Coon broaden their horizons when it comes to their diet. It's best to take a gradual approach and to give them their favorites if they refuse anything new.
Loneliness
Cats can feel lonely and may not be interested in eating their food when they feel isolated. While Maine Coons often enjoy their alone time, too much could have them waiting to eat until you are home, causing them to overindulge in your presence.
Busy owners would benefit from checking in with their pets and sitting beside them while eating as your absence could disrupt their routine.
They Prefer a Different Bowl
Cats enjoy mealtime in their way, meaning they may not eat from any old bowl. Your Maine Coon might refuse to eat a meal if they don't feel comfortable with the food vessel. For instance, some bowls could be too tall around the edges and make swallowing unpleasant for your cat.
Frequent Vomiting
If your cat scarfs down their food only to throw it up in a few minutes or within the hour, they will likely not get the calories they need to maintain a healthy weight but will remain constantly hungry.
To stop this behavior, you will need to encourage your cat to slow down when eating. You can buy a food dispenser that has a slow setting or offers them meals in more frequent, but smaller, increments.
Pregnancy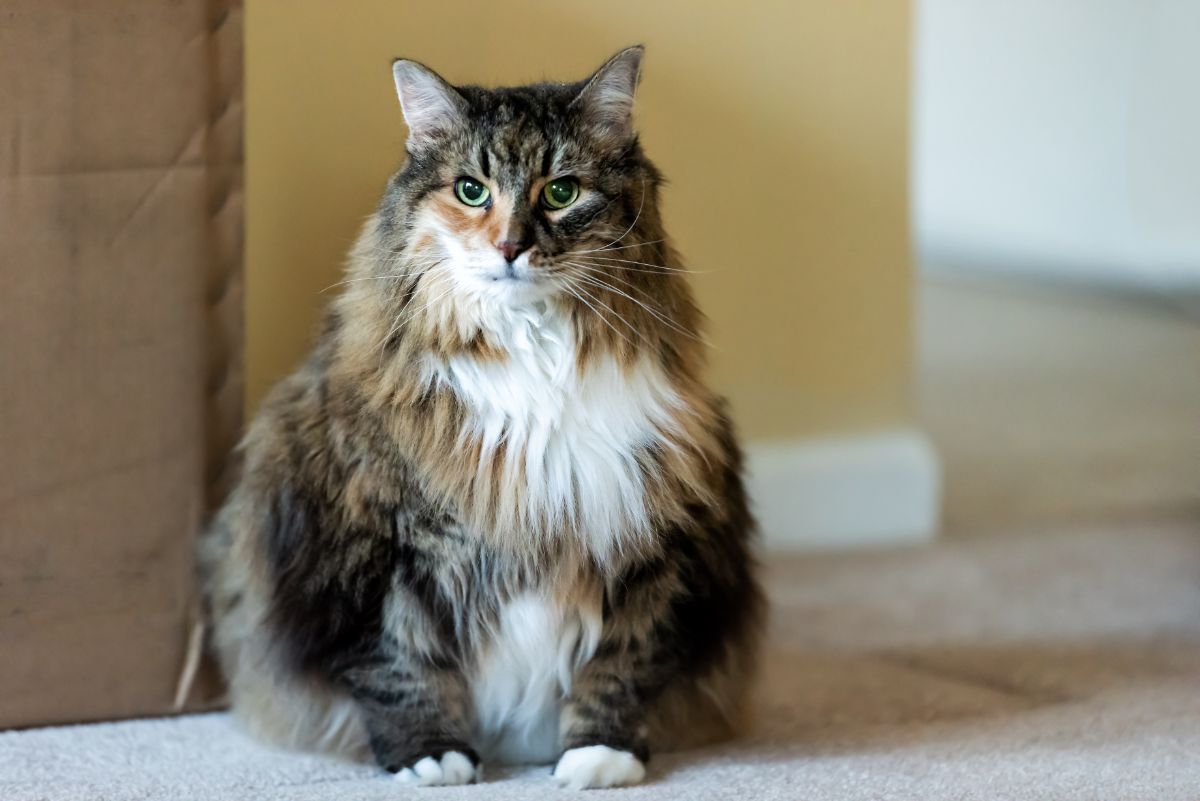 One of the most obvious reasons your cat is constantly hungry is because they're expecting a litter of kittens. Pregnancy in cats will mean they need more calories and energy to help develop their babies.
Boredom
Some cats are prone to getting bored easily, especially if they lack stimulation or constant attention from their owners. When boredom strikes, a Maine Coon might resort to food as a source of entertainment. Consider buying them more toys to assuage this potentially destructive boredom.
Adjustment Issues
A cat who has seen a rapid change in life may have trouble adjusting. Moving from one home to another might cause your Maine Coon to be stressed and lead to overeating as a form of comfort.
High Metabolism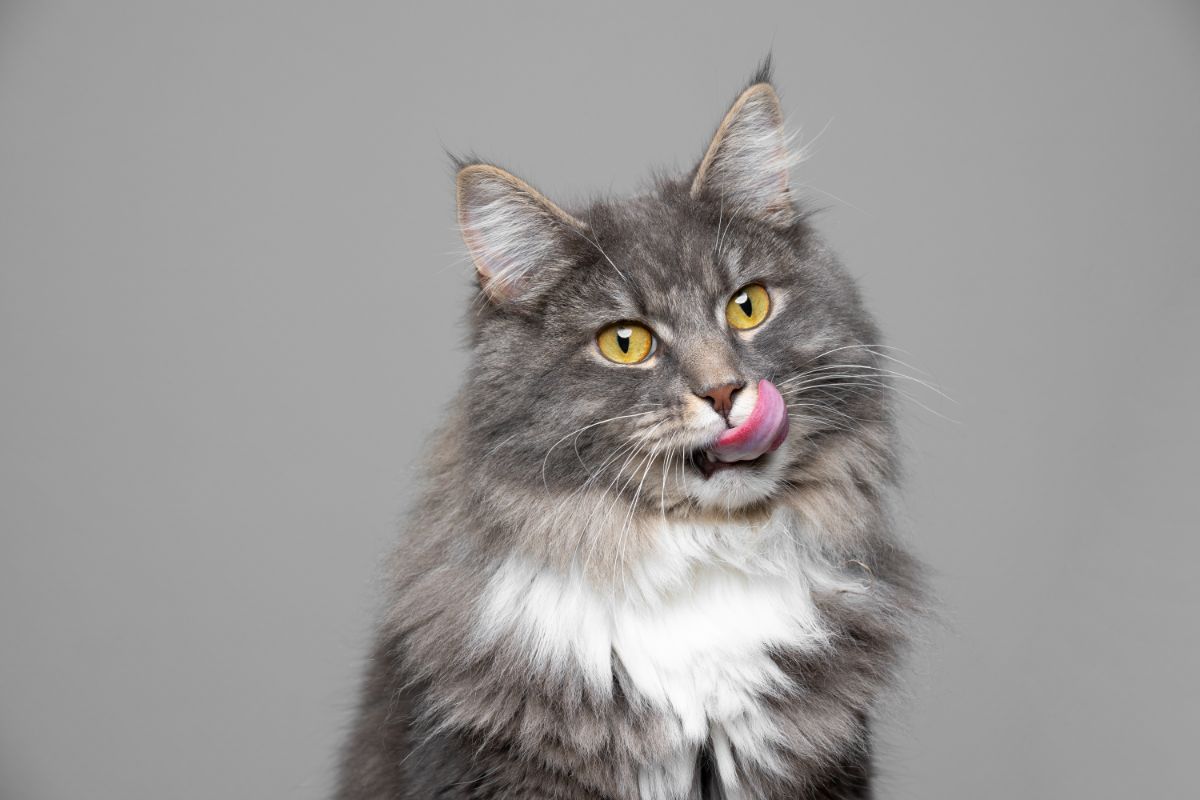 Your Maine Coon may have a fast and high metabolism, meaning they process and eliminate food faster than usual. A faster metabolism is no cause for concern, but you might need to feed your furry friend a little more food, more frequently.
Mental Health Problems
Just like humans, cats can be adversely affected when they feel depressed, anxious, or overall unwell. Usually, depression in cats has a cause, with some reasons being as simple as a recent move or a schedule change.
Other times, a cat may be depressed from a more drastic change in their living conditions. Monitor your cat for mental health issues by noting their behavior. Mental health crises are characterized by a loss of appetite, lethargy, and disinterest.
Final Thoughts
Maine Coons love nothing more than ridding a home of harmful and annoying pests but may burn so many calories on their hunt that they need more food. But there are dozens of other reasons for excessive hunger. For example, your pet might be pregnant, have a health condition, or have a high metabolism. These cats may also need more calories depending on how active they are and may need to eat more than they are being offered.
Keep an eye out for how your Maine Coon behaves and take careful note of any behaviors that could indicate a health condition. Look around the home to ensure there is no vomit on the floor. If your cat vomits a lot, it may be losing calories after they eat due to frequent vomiting or producing hairballs.