Whether you're a new cat owner or an experienced one, you should be aware that the cat bowls you use to feed your furry friend are rather important to their health.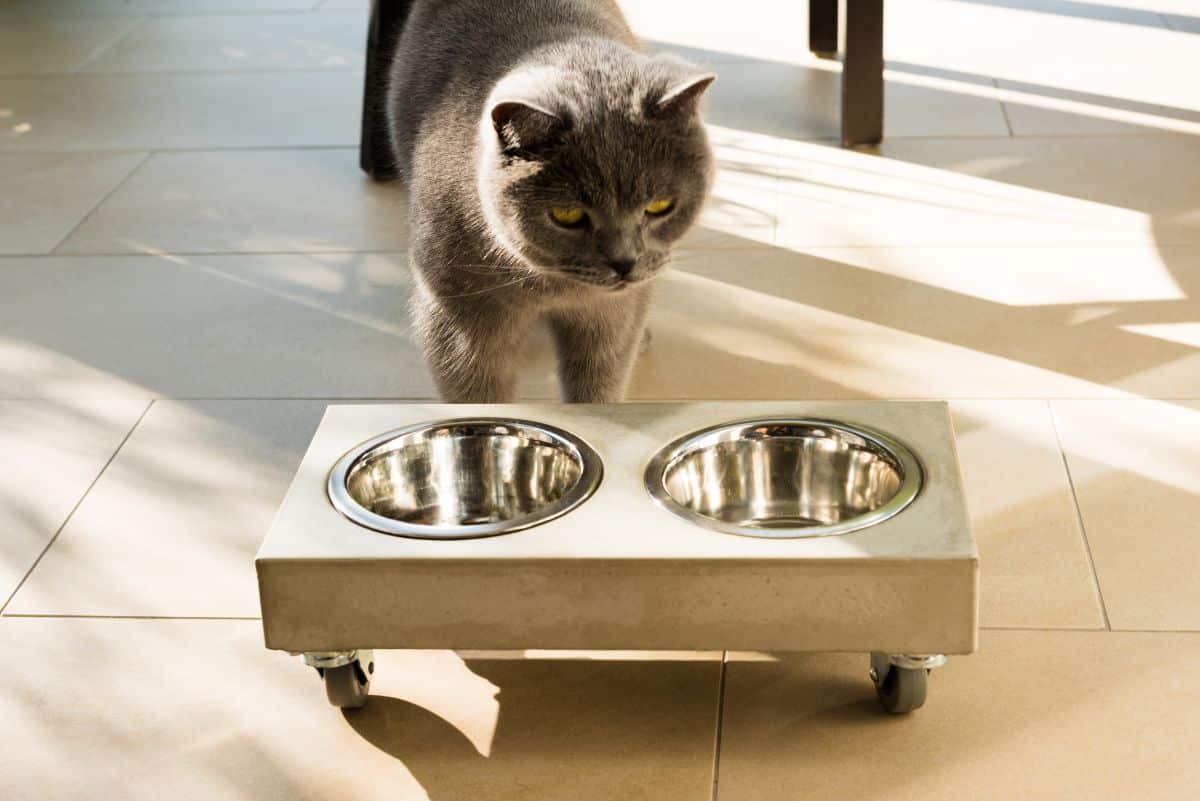 There are multiple ways to feed your cat, including a low cat dish, raised cat bowl, tilted cat bowl, and even a slow feeder cat bowl. Some people even use dishes from their cupboards or wet cat food containers. With this in mind, let's take a look at what cat bowl is best for your feline.
Jump to:
Should Cat Bowls Be Elevated?
As a general rule, it's usually better to have elevated cat bowls for your cat. If you have low cat bowls, your cat can strain their neck, spine, and muscles by crouching down to eat.
If you have an older cat, this can make their arthritis and joint issues worse and put your fur baby in more pain. Using elevated cat bowls also forces your cat to stand up while eating and puts the food closer to their mouths, putting no strain on their bodies.
Elevated Cat Bowls To Prevent Vomiting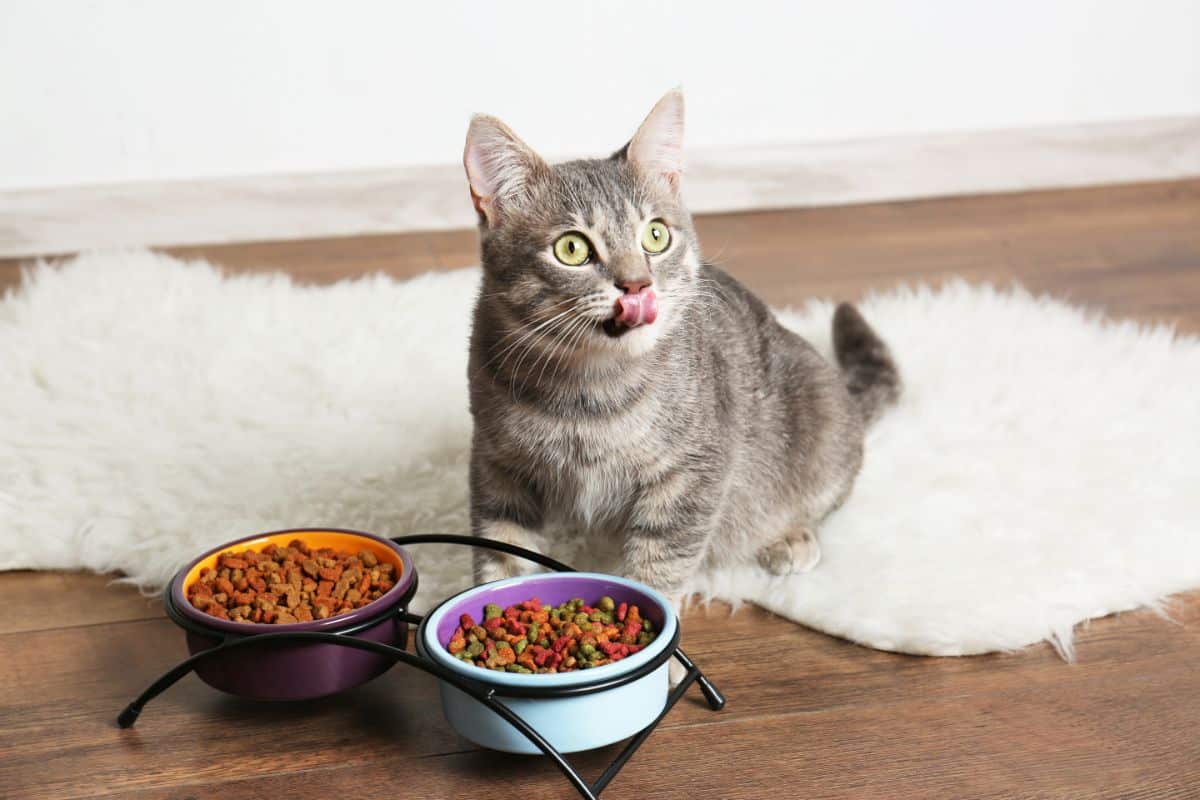 Elevated cat bowls are also a great way to aid in digestion. Your cat's stomach gets squished when they crouch on the ground to eat, causing digestion to slow down. Indigestion like this can cause your cat to have an upset stomach and vomit after eating.
When your cat is standing or sitting, its stomach is in its normal position, which allows its digestive system to work properly with the help of gravity. Sometimes elevated cat bowls get the name anti-vomit feeding bowls because of this, as they help prevent vomiting due to indigestion.
Is a Tilted Cat Bowl Better for Cats?
Tilted cat bowls can make it easier for your cat to eat, as the food gets angled towards its mouth. It will put less strain on their neck, preventing neck issues or further damage. Tilted bowls are also helpful for sensitive whiskers, as your cat's whiskers won't be pressing against the bowl while they eat and drink.
Most elevated cat bowls are also angled, so they should be an easy find.
7 Elevated Cat Bowls To Prevent Vomiting and Promote Comfort
Here are seven elevated cat bowls that help keep your cat healthy and comfortable while they eat.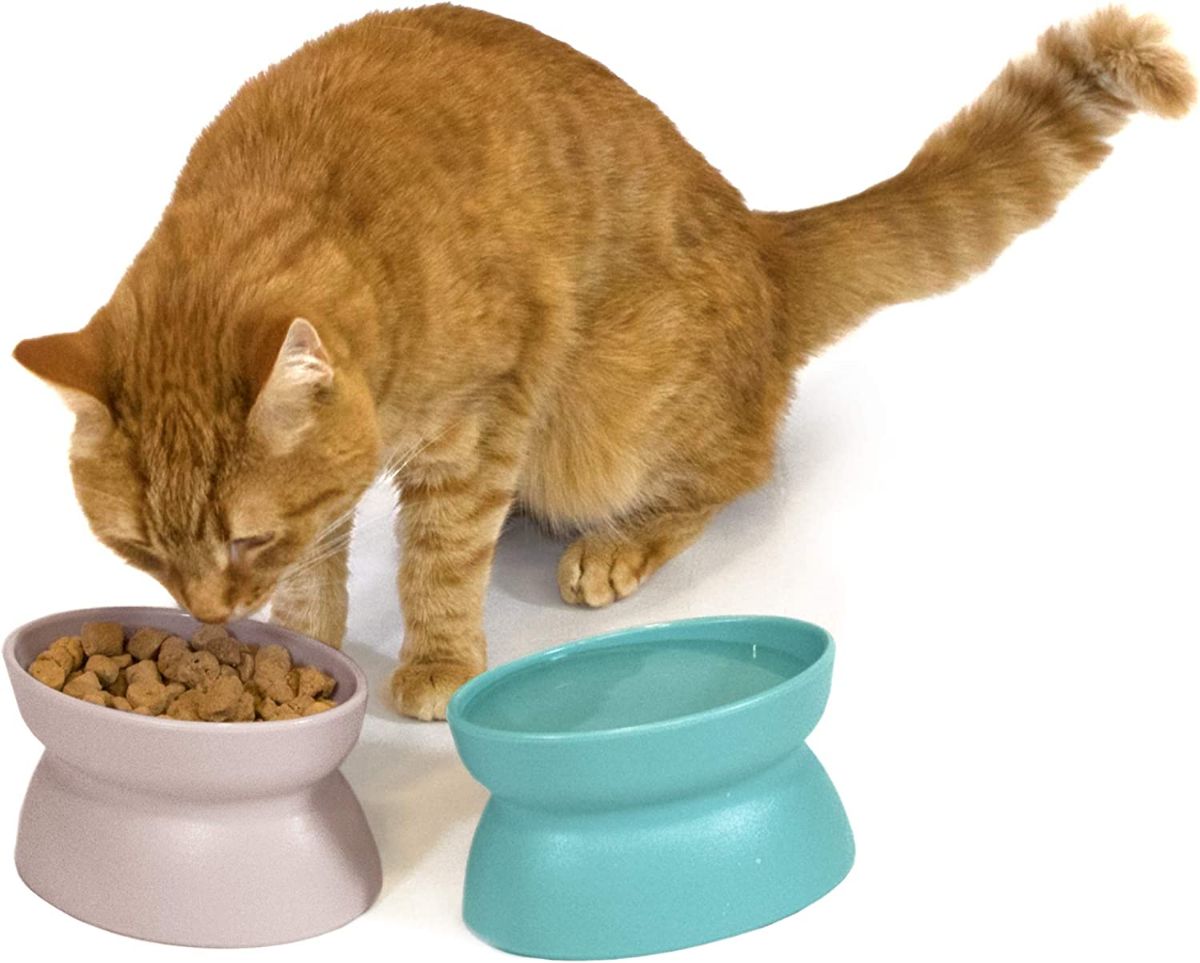 The Kitty City raised cat food bowls are a set of two, come in multiple color and style options, and have a tilt! These bowls are great if you want something simple, as they have a plastic design and come in one piece. They're also dishwasher safe to make cleaning easier.
The dimensions of each bowl are 5.38 inches x 3.25 inches x 4 inches, and they are perfect for cats in all stages of life.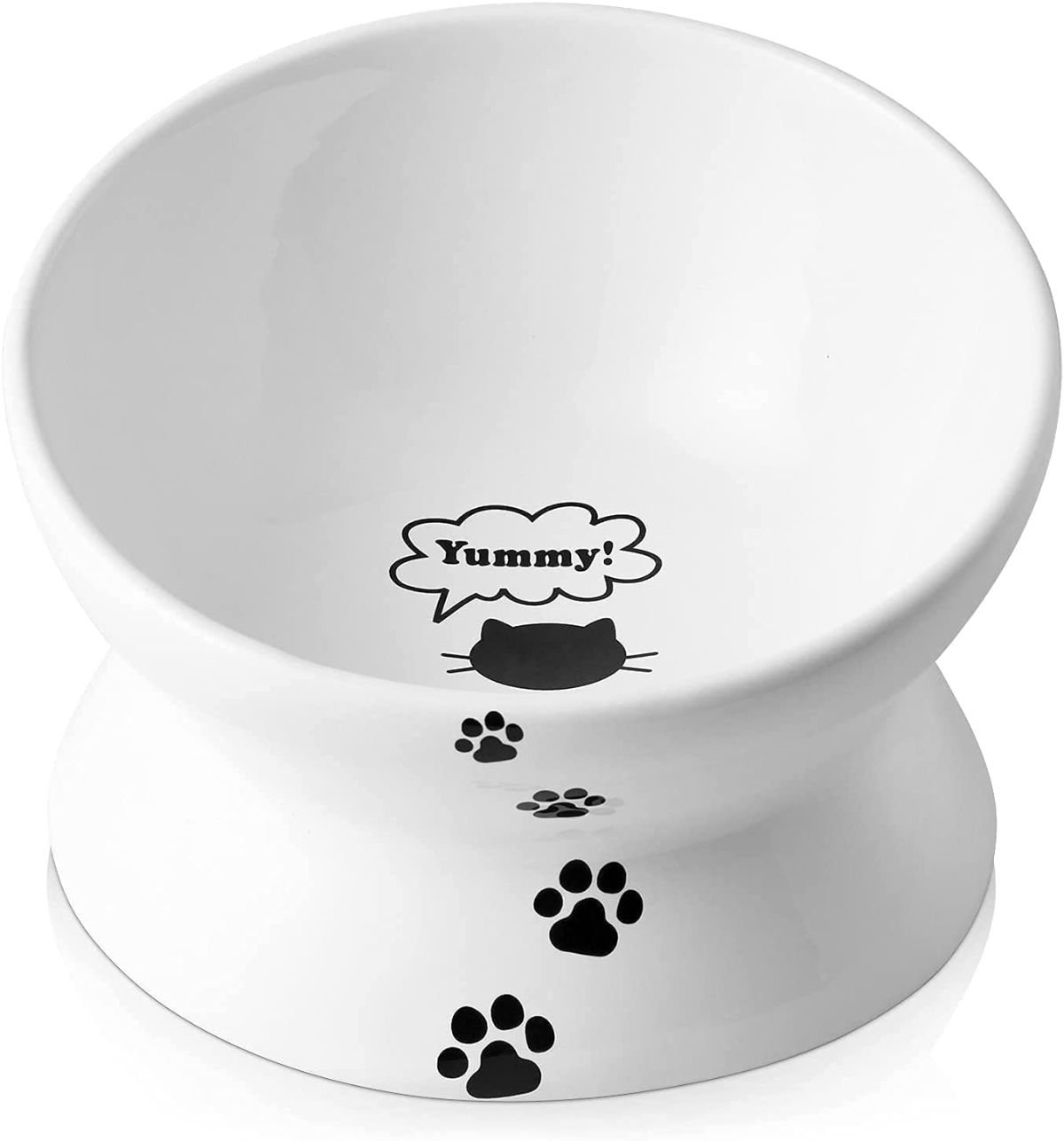 Y YHY Cat Bowl Anti Vomiting, Raised Cat Food Bowls, Tilted Elevated Cat Bowl, Ceramic Pet Food Bowl for Flat Faced Cats, Small Dogs, Protect Pet's Spine, Dishwasher Safe
Ceramic Cat Bowl: The cat food bowl is made of high-quality ceramic material that is non-toxic, odorless, eco-friendly, and durable. Cute stickers are made with high-temperature printing technology, making them not easy to fall off and safer for cats to use
The Y YHY cat bowl has a tilted design to make eating easier for your cat. The tilt ranges from two inches to 3.6 inches, depending on the bowl size you pick. It's a great bowl for cats with flat faces.
These bowls are ceramic and come with a cute painted design on the inside with a cat face saying "yummy" and some paw prints. The hardy ceramic design is dishwasher and microwave-safe to make things easier for you as the owner. You can get a five-inch, six-inch, or 7.5-inch diameter bowl, and you have the following color options: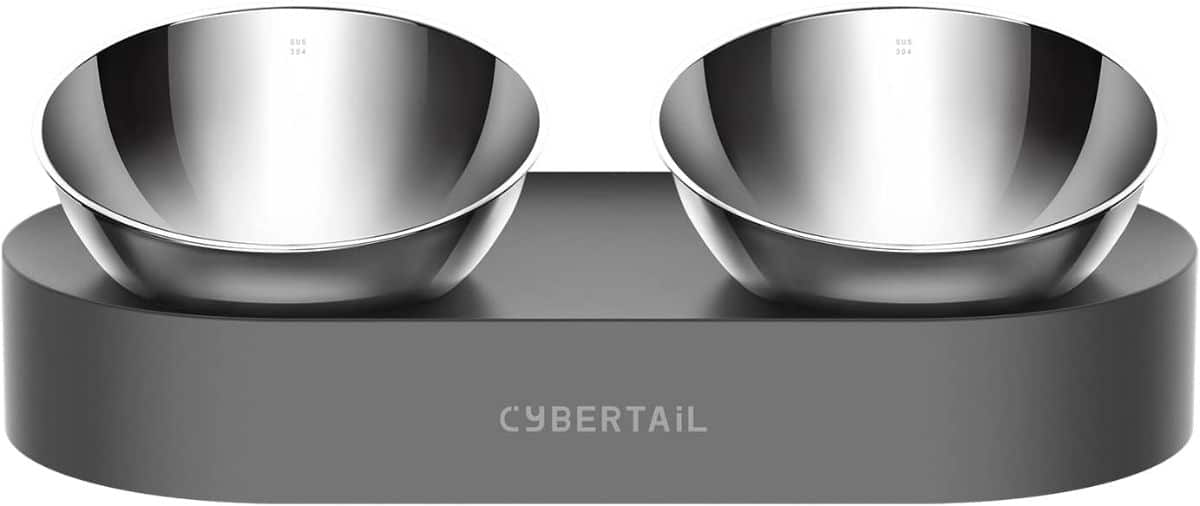 Petkit's Cybertail elevated bowls have a 15-degree tilt and a non-slip bowl holder to keep your cat happy and comfortable while they eat. The bowls themselves are food-grade steel and dishwasher safe. Simply remove the bowls from the stand by turning them counterclockwise and then wash them.
The bowls and stand together are seven inches tall, and the diameter of each bowl is 5.5 inches. The wide diameter and tall height allow your cat to access their food and water with minimal effort, strain, and whisker irritation.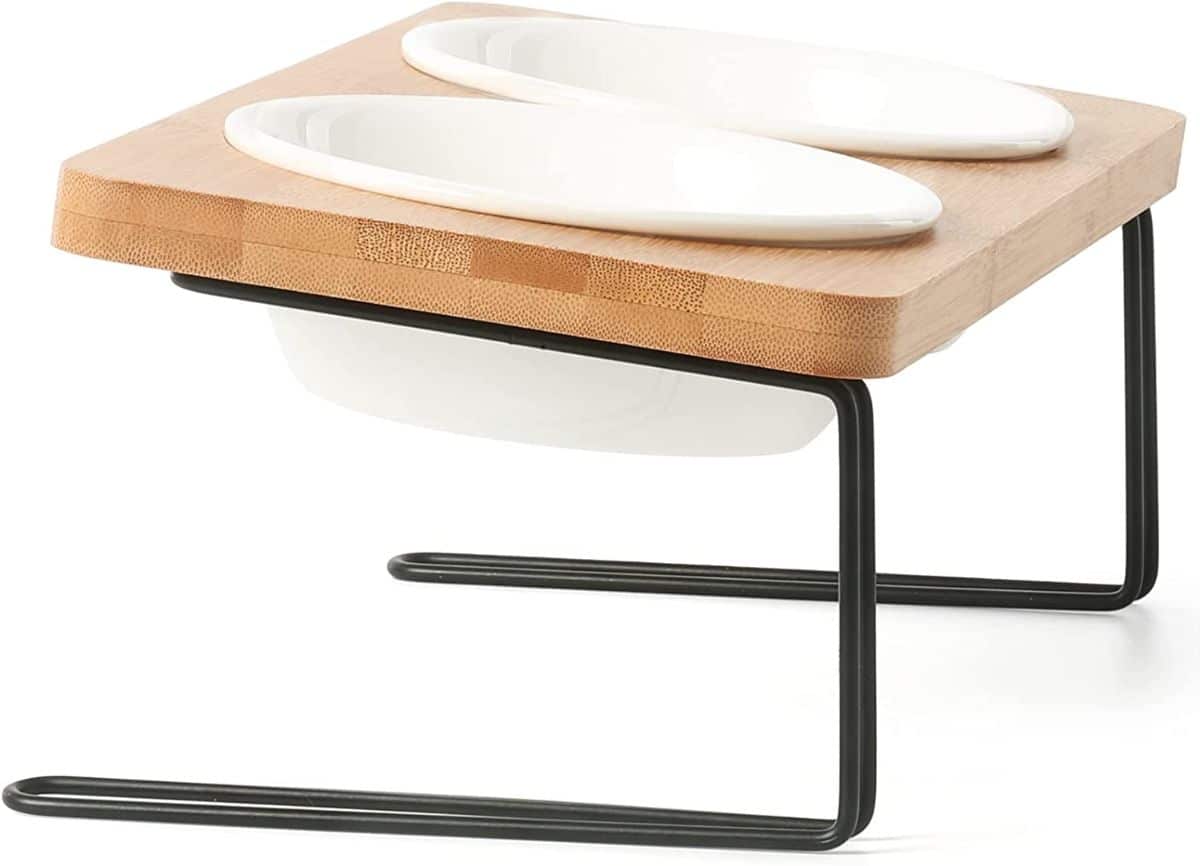 Sale
Fukumaru offers modern elevated bowls with a tilted bowl holder. The bowls themselves are white ceramic and about 5.3 inches in diameter. The holder comes at a 15-degree tilt and height of 4.9 inches, making the bowls easy to reach and protecting your cat's neck. In addition, you can choose from a bamboo or walnut bowl holder.
The bowls are:
Made of food-grade ceramic
Can withstand hot and cold temperatures
Lead-free
Removable, dishwasher-safe, and microwave-safe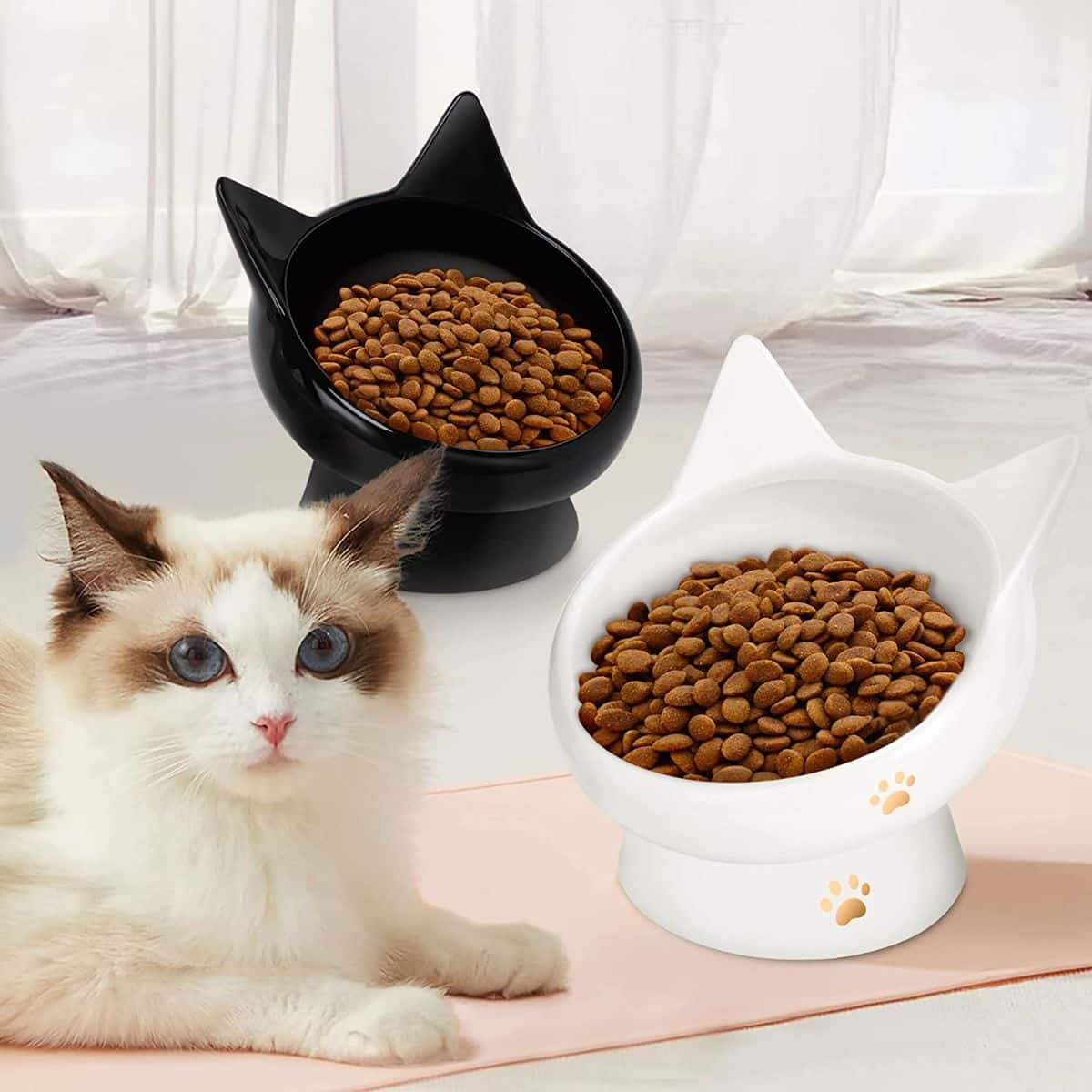 Cat Bowl, Raised Cat Food Bowls Anti Vomiting, Handmade Elevated Cat Bowl, Ceramic Pet Food Bowl for Flat-Faced Cats, Small Dogs, Protect Pet's Spine,Dishwasher Safe, Black and White, 2pcs (Bowl-2)
【TILT ANGLE DESIGN & LESS MESS】The tilted cat food bowl keeps food piled nicely or falls to the center, it helps keep the food from being pushed off the bowl, easy for your cat to eat; Adding an inner lip to cat bowls makes the food or water will not get all over the floor, thus there will be less mess for you to have to clean up.
Lesotc offers a set of raised cat bowls that come in a cute cat head-shaped design. The handmade ceramic designs come in black and white or just white and have little gold paw prints painted on the sides. The bowls are 5.1 inches high, and 4.7 inches in diameter and have a tilted design with inner lips to prevent spills. They are dishwasher and microwave-safe.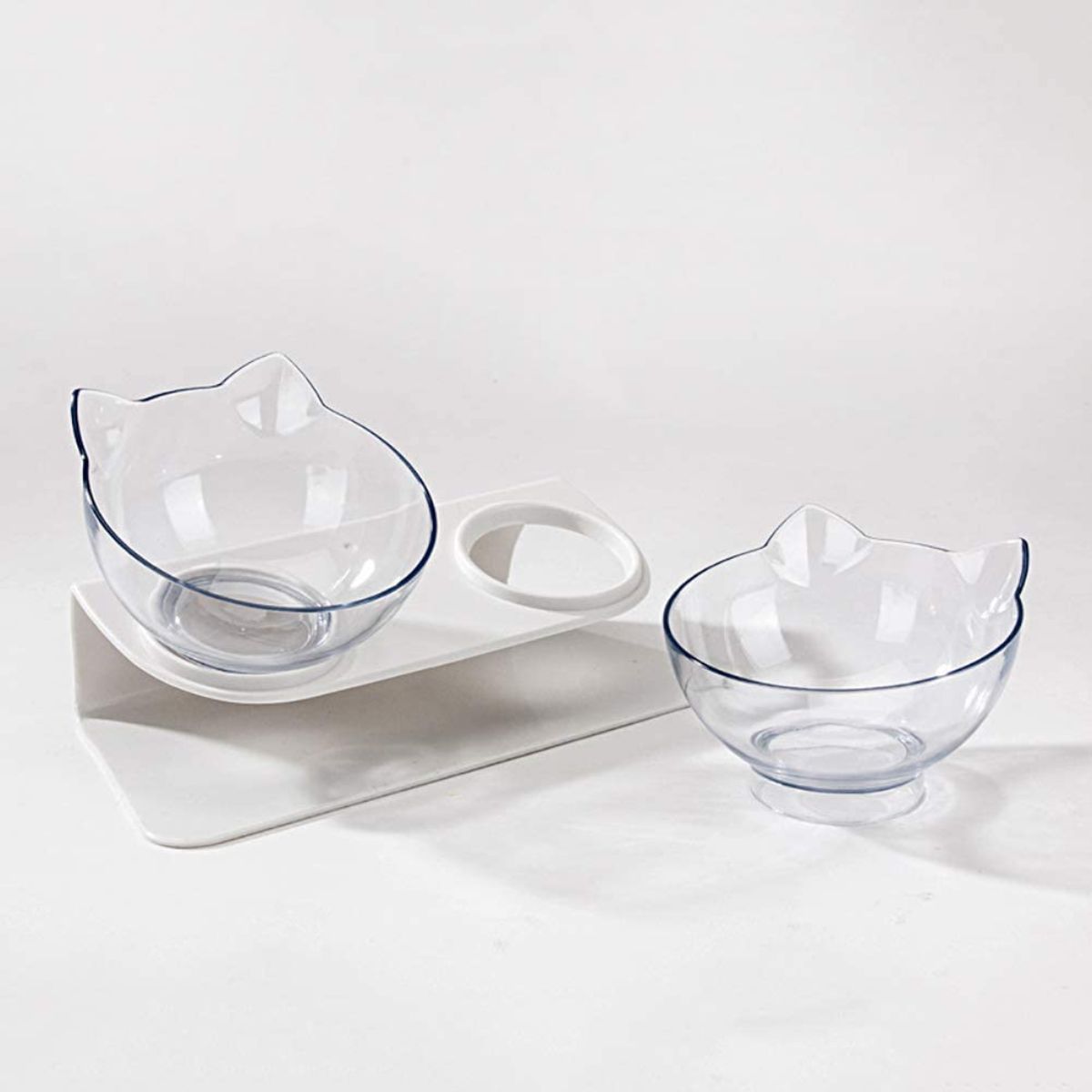 Luck Dawn's double elevated bowls also have a cute cat head-shaped design, but they are eco-friendly and food-grade plastic rather than ceramic. The bowls sit on a 3.1-inch tall stand at a 15-degree tilt, allowing your cat to eat and drink easily. The company offers many color options for both the stand and the bowls.
Remember that these bowls are not dishwasher safe, so you must hand wash them.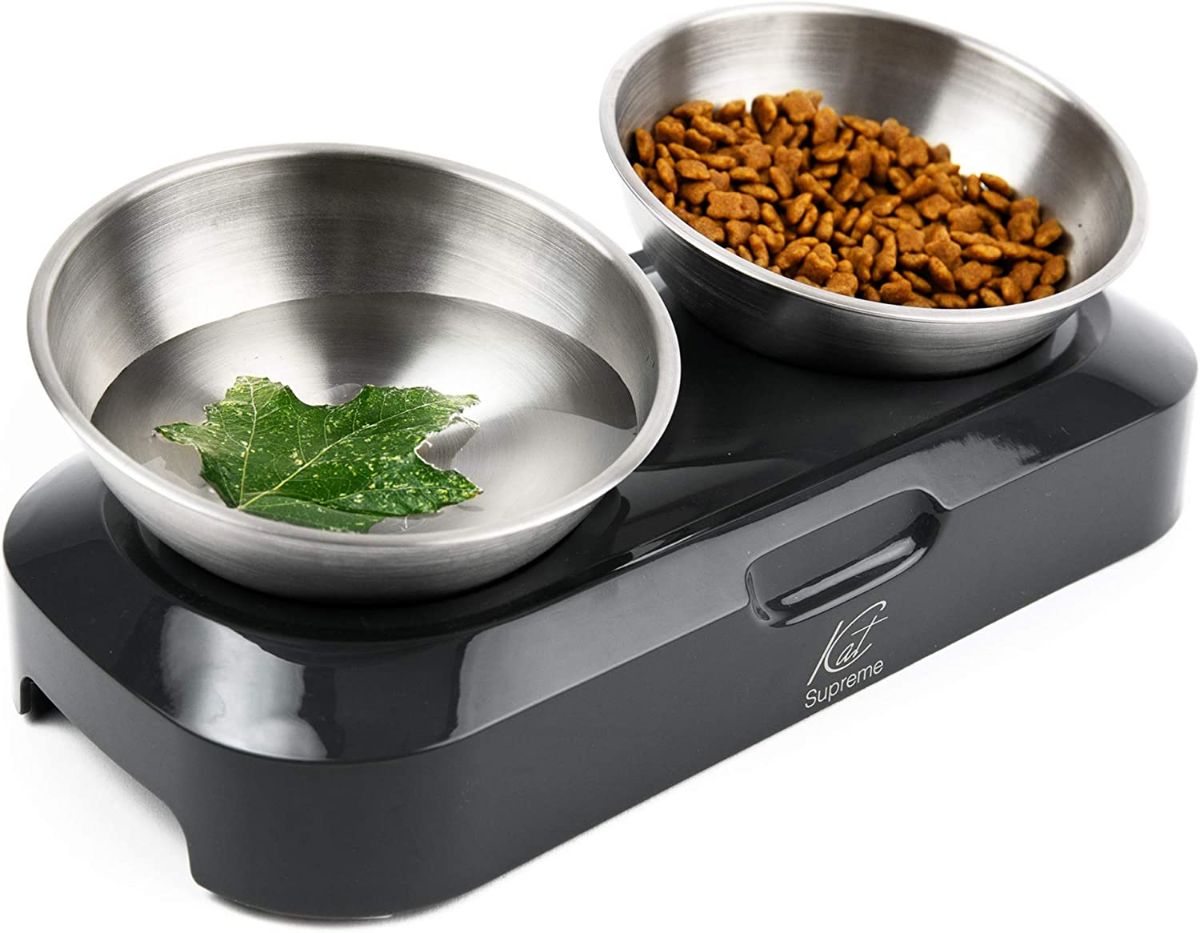 KatSupreme offers a bowl set you can adjust to your and your cat's liking. The food-grade steel bowls are slime and rust-resistant with a 4.8-inch diameter. They sit atop a two-inch high stand, where you can adjust the cat bowls to put them at a 15-degree angle if you'd like.
These raised cat bowls are dishwasher safe and great for cats with sensitive whiskers when in the angled position.
Final Thoughts
As a cat owner, you want to ensure that your cat is living its best and healthiest life. Simple changes can make a huge difference in your cat's health, including the height and tilt of its food and water bowls. If you don't already have a raised cat bowl, take this list and do some shopping to make your feline friend happier and more comfortable while they eat.