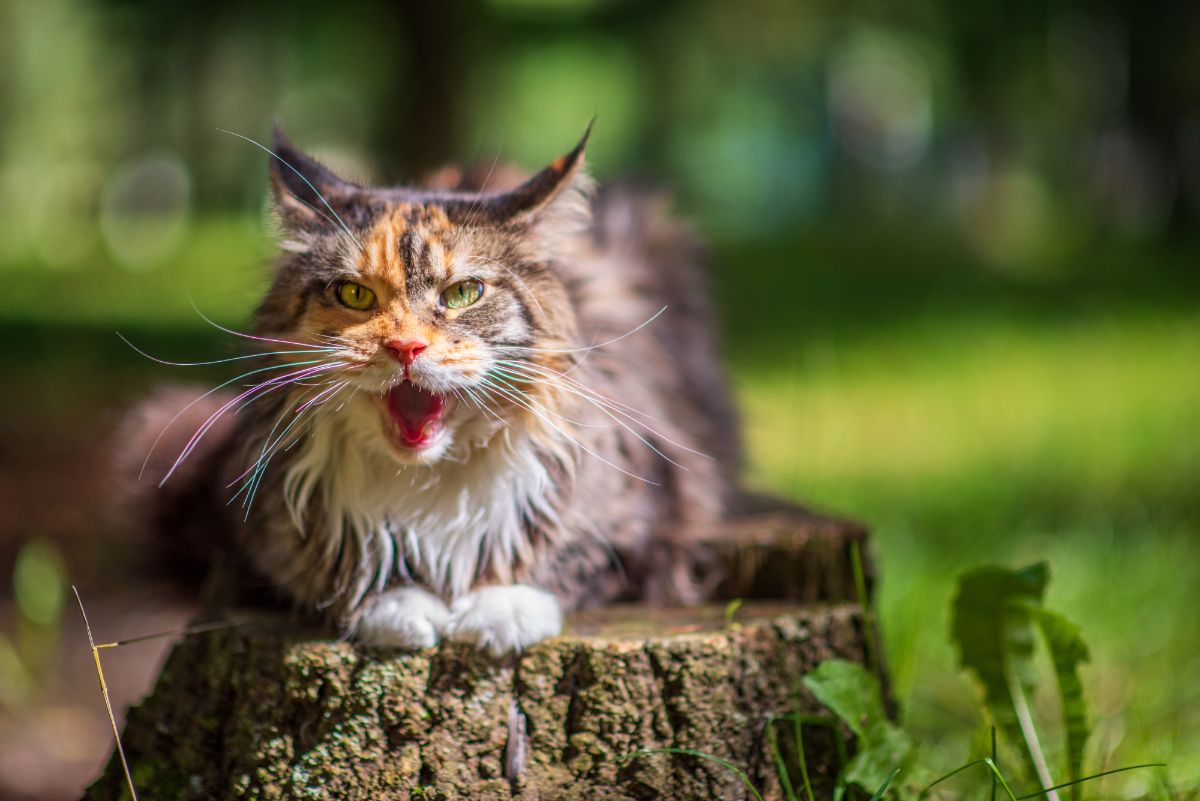 If you're questioning, "why is my Maine Coon cat so mean?" then, it's likely that you're dealing with aggressive behavior from your pet. Aggressive cats will hiss, attack, or claw their caretakers.
Typically, Maine Coons are gentle. Therefore, if your cat exhibits aggressive behavior, it's evident something is amiss.
Understanding the reasons for this behavior is the first step in addressing this concern. Read on to learn more.
Jump to:
1. Territorial Issues
The Maine Coon isn't a territorial cat. However, like any other animal, it will protect its territory if it feels threatened. This response usually happens if you add a new cat or pet to your home.
Your Maine Coon may attempt to show dominance by chasing the new cat or hissing aggressively. In such cases, you either let the situation remain until the two pets get fond of each other, or you can ensure each pet has its own space.
2. Socialization Problems
Socializing your kitten with people and other pets, whether cats or dogs, is essential. These skills help ensure that your cat gets familiar with new smells, sights, and even individuals.
If you fail to socialize your Maine Coon properly while young, it's likely to become aggressive in unfamiliar environments.
3. Playfulness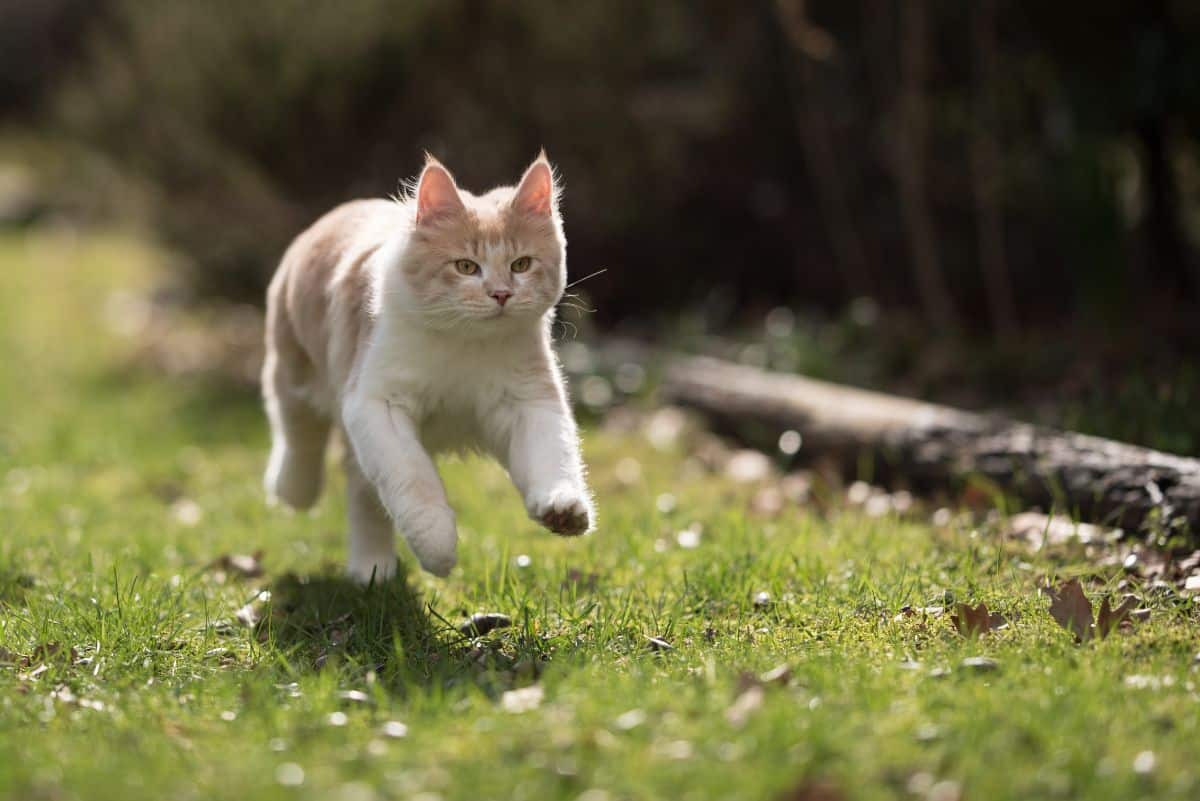 Cats are energetic animals that enjoy playing and wrestling. They love sneaking behind doors and furniture and grabbing their owners' ankles as they pass.
Therefore, it's not uncommon for owners to misread their pet's playful behavior and mistake it for aggression.
4. Overstimulation
Every cat owner loves playing with their pet. Unfortunately, cats get overwhelmed quickly by an abundance of odors, motion, sounds, and sights. And unlike humans, who can control their emotions, your cat might respond through aggression.
5. Genetics
Genetic inheritance isn't simply a concept that applies only to humans but to cats and all other animal species as well. Therefore, your Maine Coon might be simply aggressive because of an inherited trait from its parents, either mother or father.
6. Boredom
Maine Coons are intelligent and active cats who require sufficient stimulation to remain engaged.
If your home lacks adequate room, interactive toys, or areas to climb, it's common for your pet to become bored.
This boredom often results in aggressive and destructive behaviors like scratching on furniture or biting the owner.
7. Attention Seeking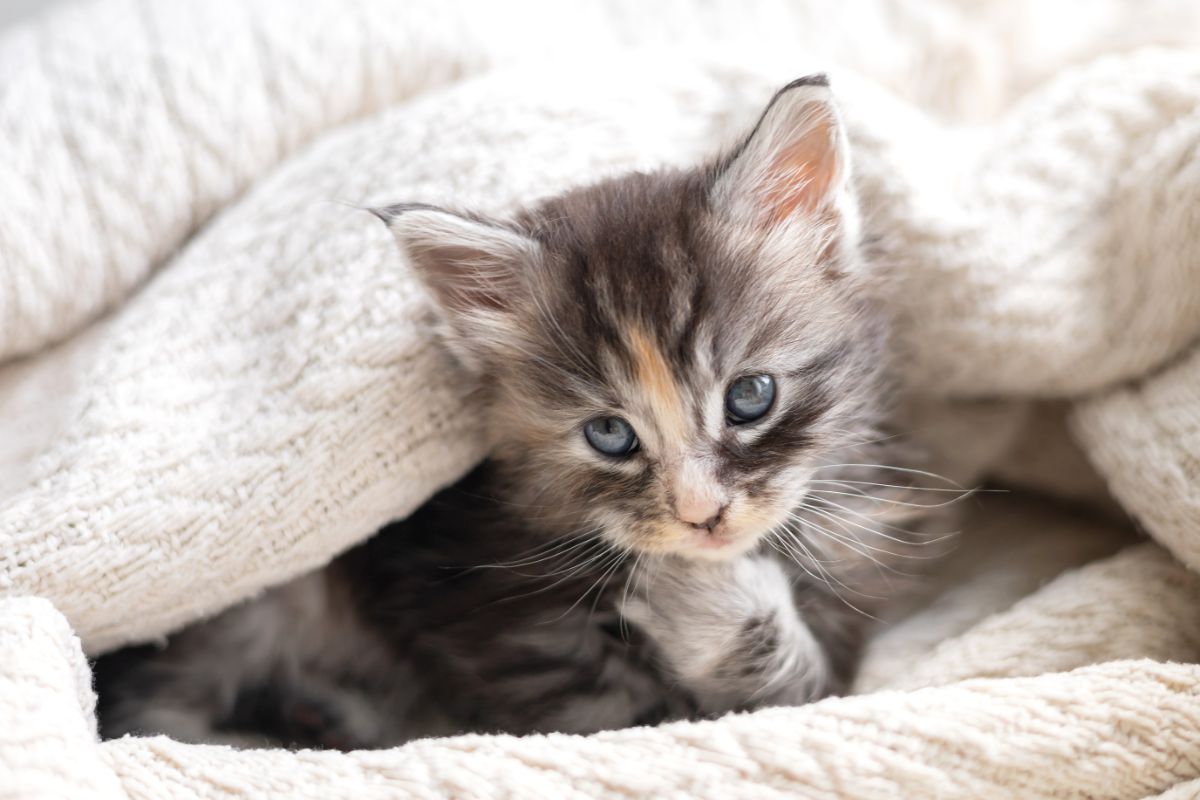 While it seems unreal, these Maine Coons are attention seekers! They are intelligent enough to notice an attention shift, such as a new pet or pastime.
Lack of attention often causes aggressive behaviors as your cat tries to win back your attention.
8. Significant Environment Changes
If humans take time to adjust to new environments, it's no different for cats.
Whether moving out of your current home, adopting a new pet, or having a family member over, these changes can be stressful for your Maine Coon. As a result, you may observe a shift in its behavior until it adapts to the new environment.
9. Learned Behavior
It's all fun and games playing with your kitten. Sadly, this playfulness can result in undesirable, difficult-to-break behavior as your cat matures if you don't train your Maine Coon to behave appropriately.
Don't allow your kitten to bite your hands during playtime, rather buy them toys that you can use to redirect their attention.
10. Hormone Shifts
Like humans, hormonal changes could also cause mood problems in cats. It often happens when your Maine Coon is in its 'teenage' phase or when it wants to mate. In these cases, you'll notice your pet becoming cranky and temperamental.
11. Maternal Instincts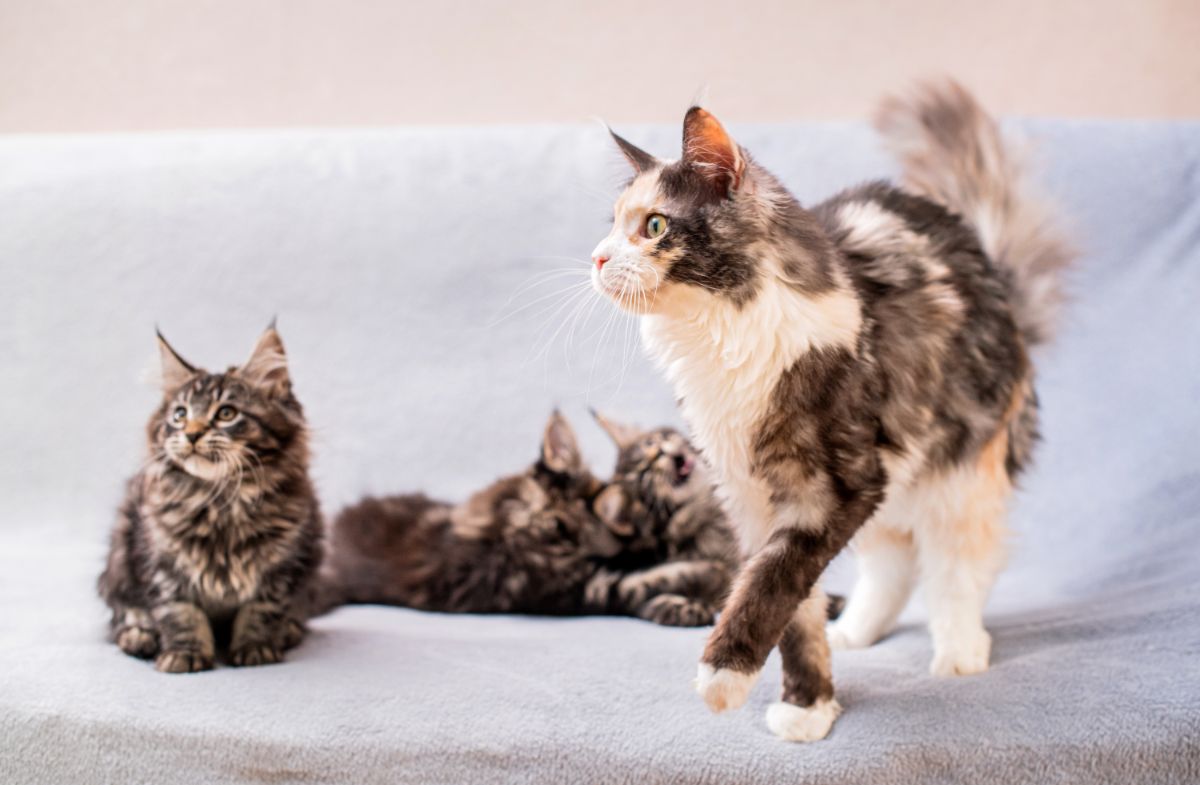 Maine Coons, no matter how gentle, get particularly aggressive once they give birth. This trait is a natural motherly instinct, which means it will attack even its owner if they feel they're a threat to their young ones. Often, this mean behavior fades off three or four weeks after birth.
12. Feeling Threatened
Cats, unlike humans, cannot communicate as effectively.
Therefore, if your Maine Coon feels unsafe or scared, it can only show you by clawing and showing other aggressive behaviors. Often, this meanness emerges if they meet an unfamiliar human or animal or if the cat gets accidentally injured.
13. Pain
While in pain, your Maine Coon doesn't have a way to communicate their feeling. In these situations, your cat might react with meanness to its surroundings, whether other pets, animals, people, or furniture.
Common reasons for pain concerns in cats are usually arthritis or other joint problems. If your cat is in pain, you'll notice its aggressive behavior when touched in specific areas.
14. Existing Medical Issues
Your cat's hostility could also result from an underlying medical condition. Illnesses that generate discomfort or cramping could irritate your cat. Similar to how humans feel when they're ill, sick Maine Coon prefer some "alone time."
15. Shift's In the Cat's Routine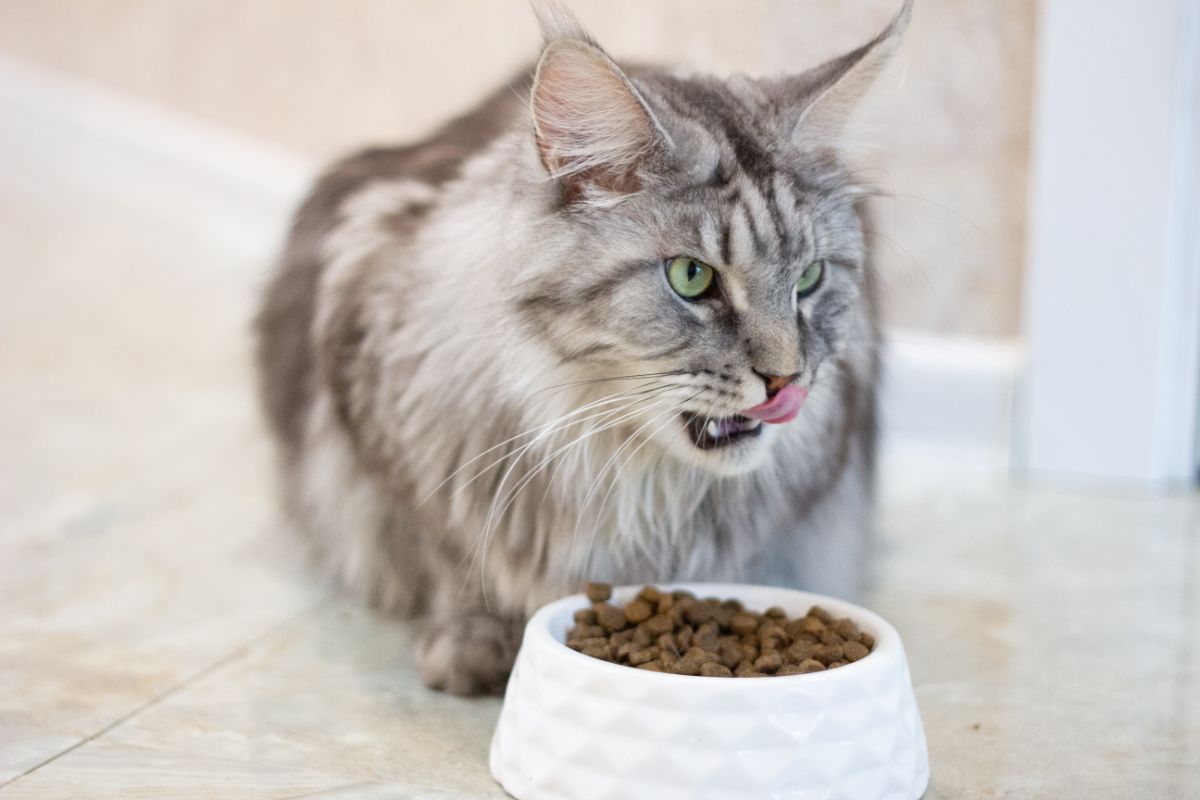 Changes are good, but Maine Coons love following the same routine. Therefore, if you've just altered your cat's schedule, for example, meal times, or cuddling hours, you might experience some mean behavior.
16. Stress
Whether minor or large, shifts in the household could significantly impact your Maine Coon.
For instance, your pet might dislike the idea of you traveling, changing houses, or inviting another person to your home. These circumstances cause anxiety and melancholy, likely to show in your cat's meanness.
17. Loneliness
Maine Coons are among the most social of all cat breeds. They require regular attention and engagement to feel nurtured and nourished. Else, the loneliness they feel will begin manifesting in some aggressive and mean behaviors.
18. Improper Handling
While many people love keeping pet cats, few know how to handle them properly.
For instance, some people like tossing their cats around or scratching their bellies. Although this can be an excellent way of engaging with your Maine Coon, your cat might become mean if these behaviors end up hurting or injuring them.
19. Redirected Aggression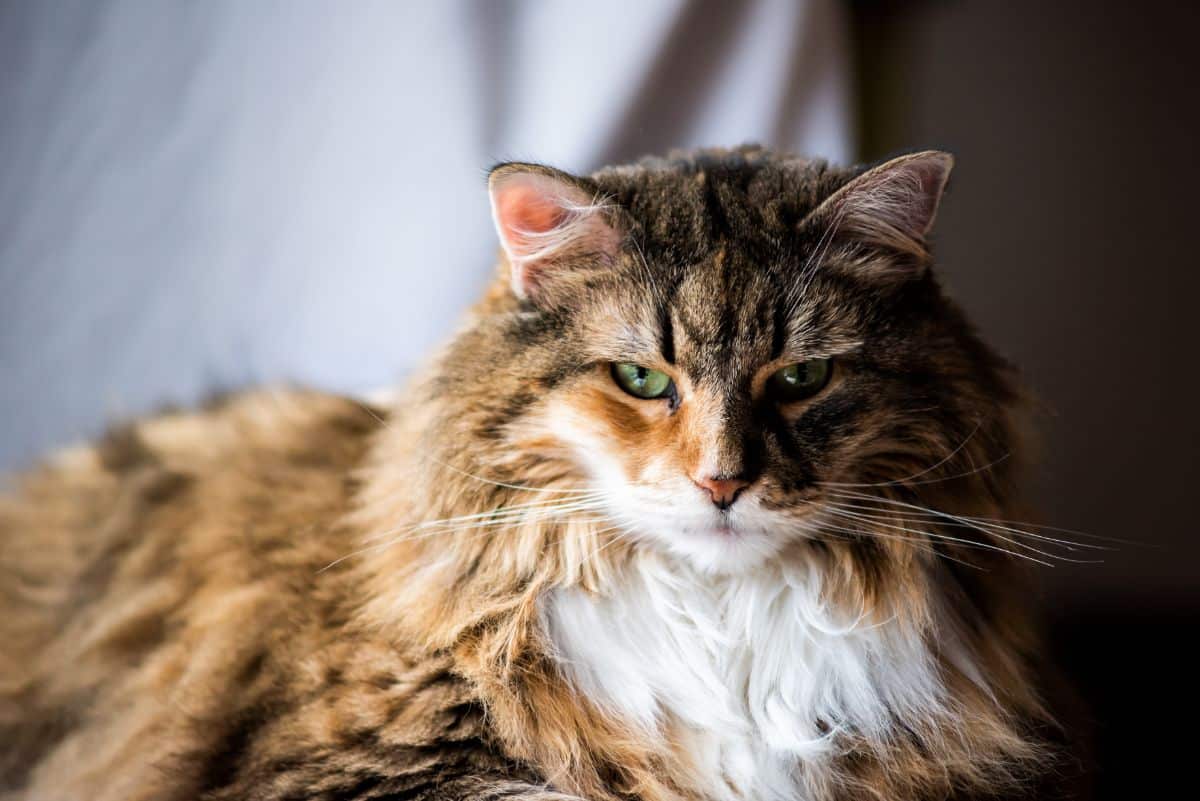 Sometimes, your Maine Coon might become mean without any apparent reason, often referred to as redirected aggression.
This phenomenon happens whenever your cat gets provoked by another cat, action, or person but cannot direct its aggression at the trigger. For instance, your cat observes another animal on its territory behind closed windows.
20. Family Distress
Maine Coons are highly emotional and sympathetic. As a result, they can sense when everything isn't right in the home; for instance when the owner is upset or angry.
In situations where the household is distressed, it's therefore common for your Maine Coon to exhibit meanness.
21. Overlooked Boundaries
Your cat might sometimes not want you to touch it. In such cases, it may hiss or growl to set a boundary. If you or other family members consistently disregard this, your Maine Coon may become mean.
How Do You Calm Down A Maine Coon Cat?
The best way to calm your Maine Coon is to eliminate the cause of their distress. Showing your cat reassurance and affection also helps.
Similarly, provide your cat with toys, discover activities they enjoy, and pay them sufficient attention. Also, look out for any possible health issues.
You should also not tolerate aggressive behavior. If your cat displays any of these issues, you should back off and let them calm down by themselves. Alternatively, you can shut the room's door to segregate them from other pets and people.
If your cat claws or scratches you, don't yell at them. Instead, authoritatively say a specific command so that they redirect their anger somewhere else.
Final Thoughts
There are numerous causes of meanness in Maine Coons. Nonetheless, it's almost always a response to a solvable problem. Once you identify the underlying concern, your once-ferocious cat will become a purring lap cat.