Finding the best slow feeder for your cat can be a challenge, especially when you aren't sure how your cat will respond to the feeder. Transitioning to a slow feeder for your cat can be difficult for both the cat and the owner. However, choosing the best feeder will help your cat be more comfortable with a slow feeder, enabling you both to appreciate the feeder.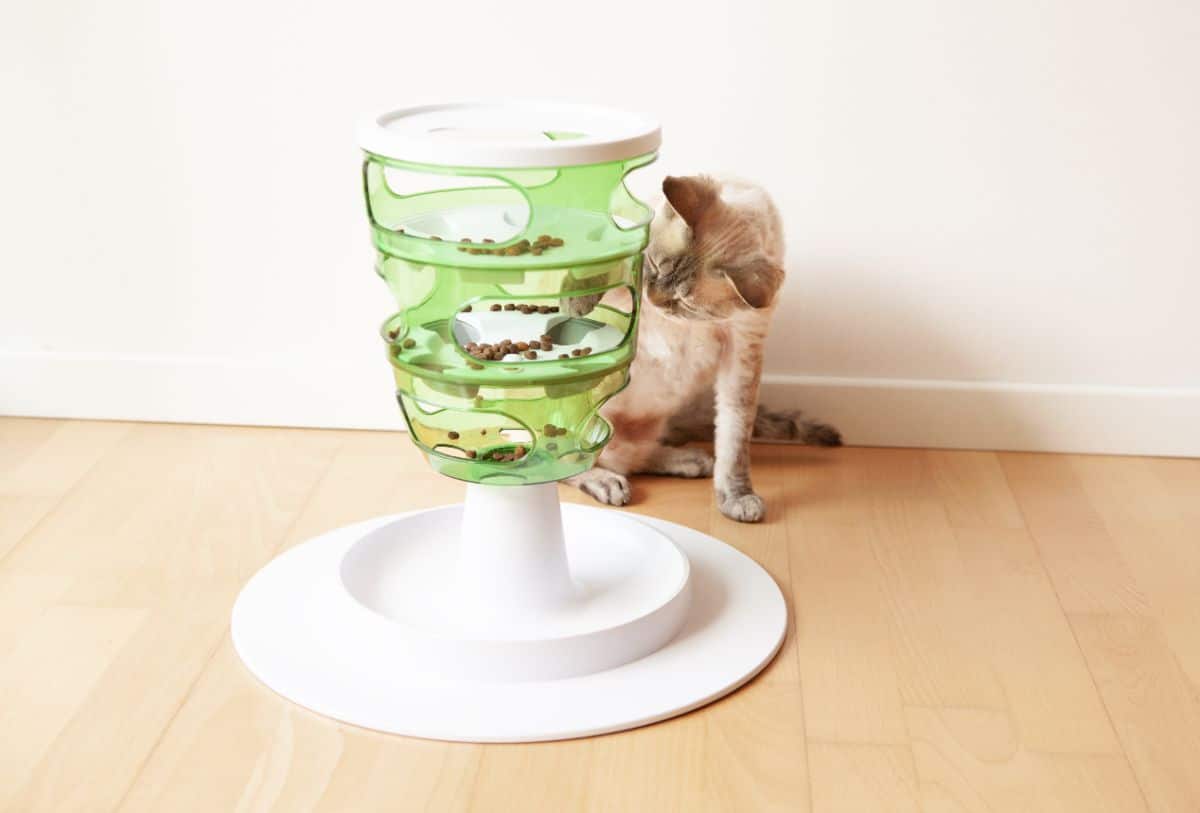 Consider how a slow feeder might be ideal for your cat. If your cat overeats in one sitting or you're too busy to consistently fill your cat's bowl, a slow feeder is the best idea for your home.
Read on to learn more about slow feeders and which slow feeders can be the most ideal for your cat.
Jump to:
Are Slow Feeders Good For Cats?
Slow feeders are ideal for cats for a variety of reasons. Some of the most common reasons are that they can help a cat know the appropriate pace for eating, and they can help free up your time, so you don't have to watch your cat eat.
Additionally, a slow feeder can help your cat slow its eating and eat less to maintain a healthier weight. Slow feeders are perfect tools to help discourage overeating and may allow you to establish a consistent diet for your cat.
What Can I Put In The Cat Bowl To Slow Down Eating?
Slowing your cat's eating habits can be easy. There are a few ways you make your cat slow their eating without disrupting its diet. These ways include the following:
Add a golf ball or other object to the bowl to prevent access.
Dispense small portions at one time.
Encourage playtime with them.
Engaging in other activities with your cat can help them get their mind off food and ensure they aren't eating too quickly.
Will a Slow Feeder Stop My Cat From Throwing Up?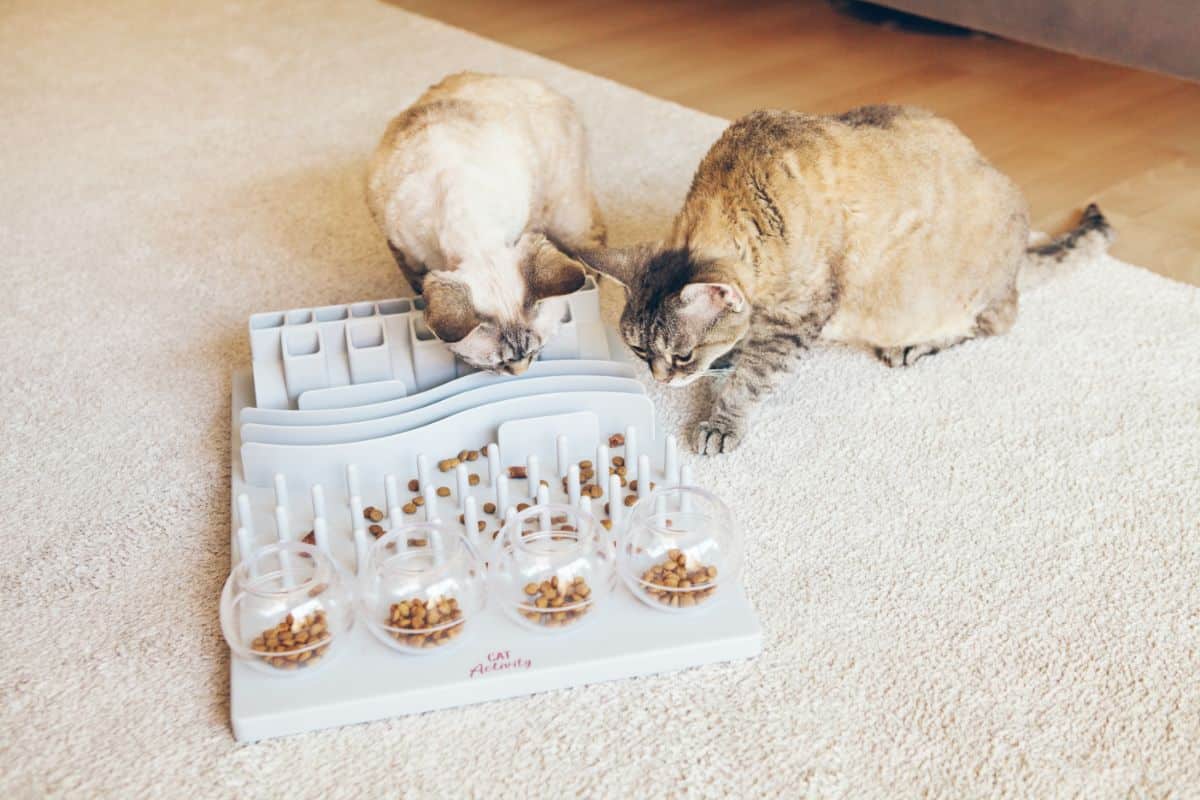 A slow feeder can help prevent throwing up and other health concerns. These feeders may allow your cat more time to digest their food before they eat more. Eating too fast is one of the biggest causes of vomiting in cats.
Slowing your cat down is the best way to prevent frequent vomiting. Consider adding wet food to your cat's diet to prevent your cat from overeating and vomiting. Too much dry food will expand in your cat's belly and may cause vomiting later.
Are Slow Feeders Worth It?
Slow feeders are valuable for households that have cats who overeat, eat too quickly, and vomit often. These feeders can help keep your cat healthy and happy without much worry, especially since they can enable your cat to digest its food at the pace their bodies demand.
Consider purchasing a slow feeder if you have one or more cats who eat too much in one sitting or frequently vomit after eating.
Do Cats Benefit From Slow Feeders?
Cats will benefit from slow feeders, physically and mentally. Vomiting is normal for cats, as are hairballs. However, frequent vomiting can take its toll on your cat in a physical and emotional capacity. Limiting how fast and how often your cat eats will make your cat happier and healthier.
The 7 Best Slow Feeders For Cats
Consider adopting one of these slow feeders to help you and your cat make daily life feel easier. A good slow feeder for your home will add value, free up your time, and appeal to your cat.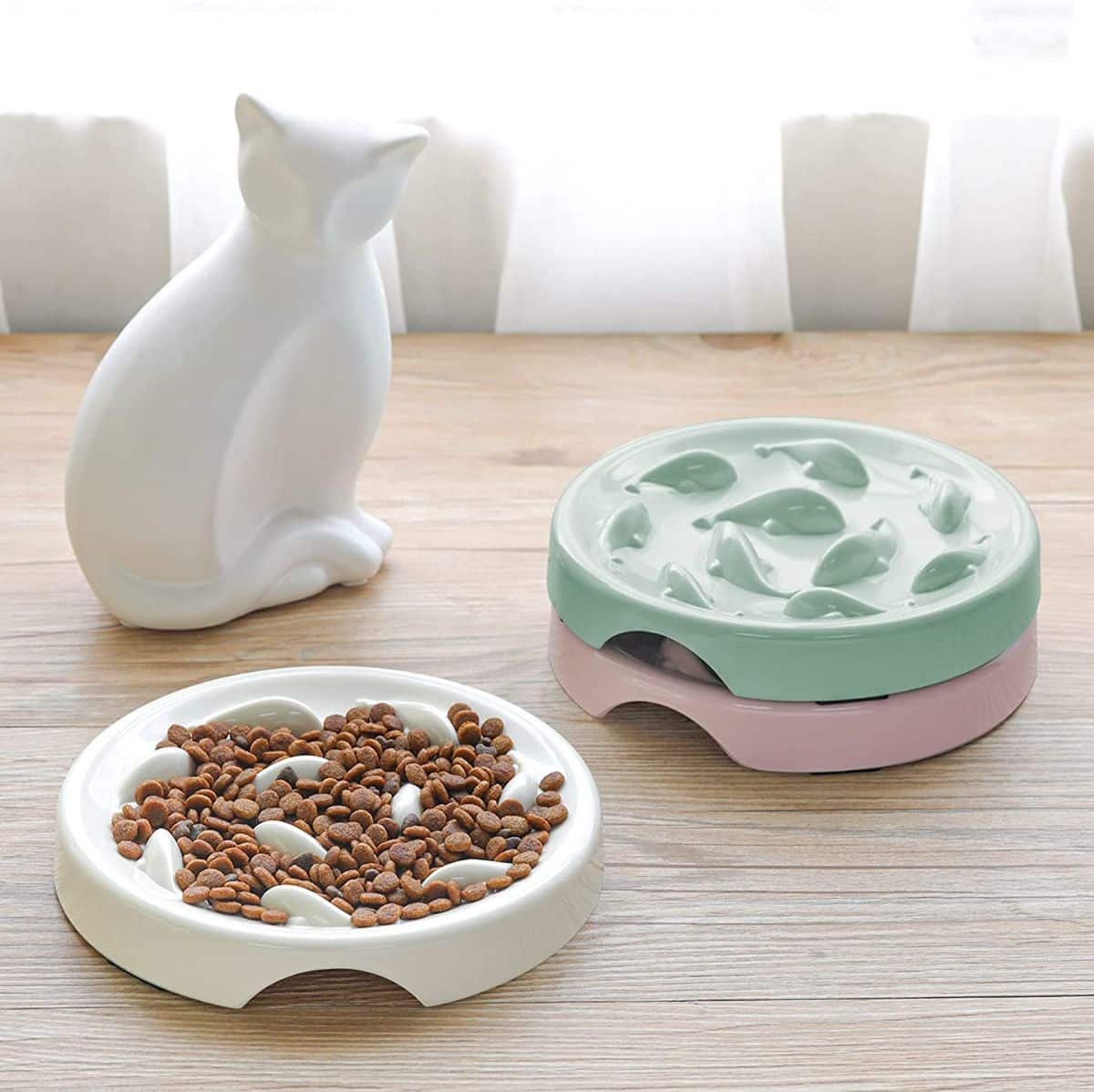 The Slow Feeder Fish Bowl is a perfect tool to help your cat slow down their eating habits and maintain a healthy weight. This bowl has lifted fish designs at the bottom of the bowl to help prevent your cat from scarfing down all its food all at once.
This tool is safe for the dishwasher and can be used with wet and dry foods. Help your cat adopt healthier eating habits by giving them a smaller portion of food in this slow feeder.
The UPSKY Slow Feeder is a small bowl that can help prevent bloating, overeating, or eating too quickly. This tool has little designs on the bottom that will ensure your cat eats slowly and may have to move around the bowl to get enough food.
This bowl is perfect for medium-sized cats who weigh less than 50 pounds. Additionally, this tool is ideal for preventing choking.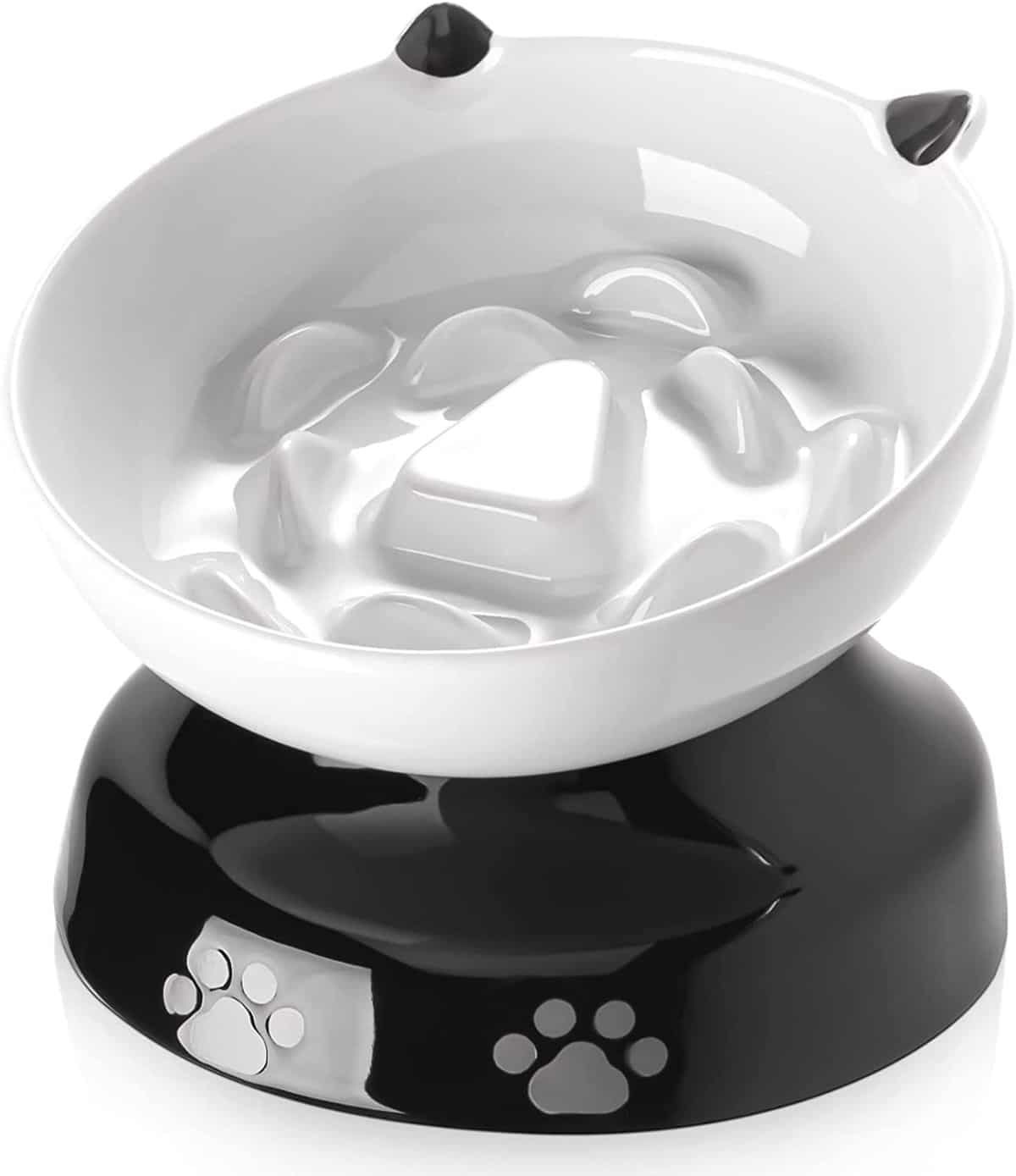 The Y YHY Cat Slow Feeder is elevated to allow the most comfortable eating position for your cat. The elevated position will also help keep any bugs or ants out of your cat's food. The slanted design of this feeder will help prevent vomiting and improve overall digestive health.
The stable base will discourage your cat from batting around the tool, ensuring it stays in one place. Consider this tool for any small or medium-sized cats in your home.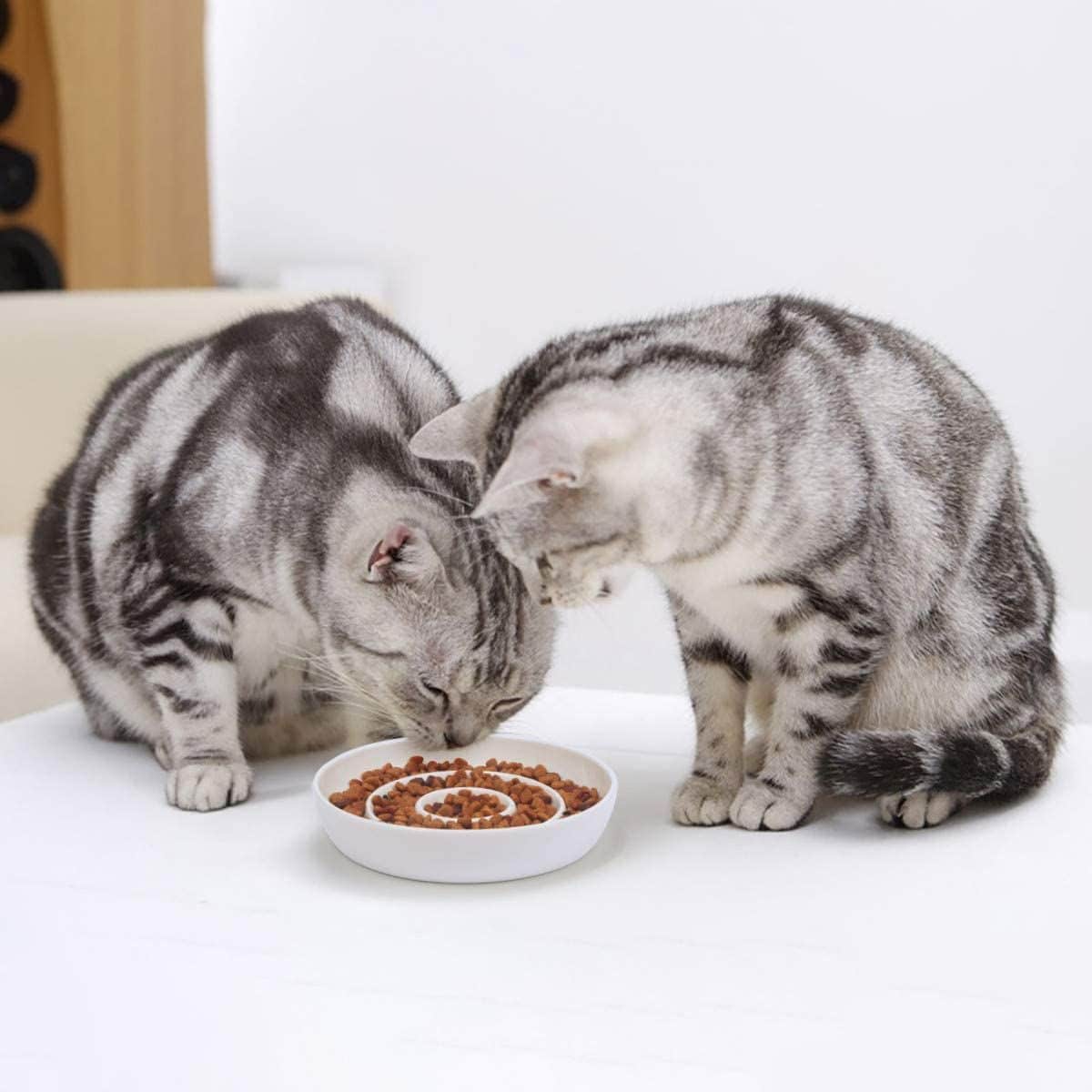 Sale
The SLSON Cat Slow Feeder is a round bowl that will prevent your cat from eating too much due to its three ridges. These ridges will make your cat slow down and eat only small portions at one time. This pet dish is dishwasher safe and can be used for wet and dry foods.
Be mindful of this tool, however. This product is ceramic and may break if your cat pushes it around.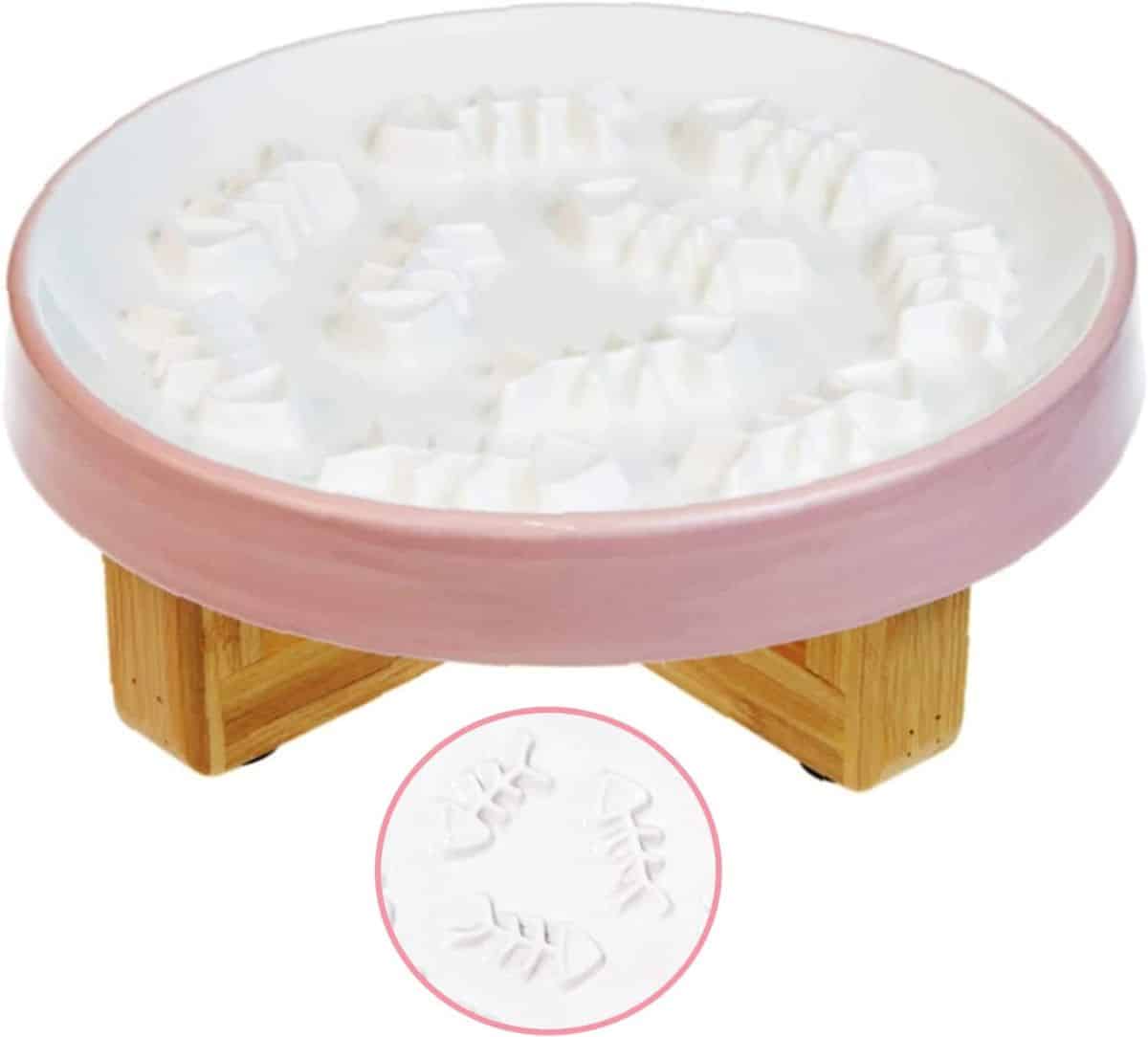 Raised Cat Dog Slow Feeder Bowl with Stand, Cat Bowls for Slow Eating, Ceramic Elevated Slow Feed Cat Bowls, Pet Bowl for Cat and Dog, Cat Puzzle Feeder for Healthy Eating Diet, 3'' High, 8.5'' Wide
Prevent Black Chin: Compared with plastic and stainless steel cat bowls, the premium ceramic cat food bowl are durable, sanitary, rust-free,...
This Raised Cat and Dog Slow Feeder is a perfect companion for any cat who needs its bowl to be a little higher than the floor and requires a slow eating habit. This tool sits on a sturdy base that has rubber stoppers on the bottom to prevent movement.
This bowl has little fishbone designs on the bottom to help prevent overeating or eating too quickly. The Raised Cat and Dog Slow Feeder are easy to clean and can be used in a dishwasher.
The DLDER Cat Slow Feeder is a two-pack of fish-shaped lick mats. These mats are perfect for use as slow feeders. Put your cat's dry and wet food on the mat to enable your cat to eat slowly and maintain its weight. This product is made of silicone and is dishwasher safe.
This tool can make your cat take three times as long to finish their meal.
The Petstages Kitty Slow Feeder has grooves and designs to promote slower eating and makes it harder for your cat to access some of their dry food kibbles, so they don't scarf down all their food.
This product doesn't contain any BPA, PVC, phthalates, or lead, making the product safer and healthier for your cat to use. You can place this dish in the dishwasher without issue and use it daily to promote healthy eating in your cat.
Final Thoughts
Choosing the right slow feeder for your cat may be challenging, but it can be a rewarding experience. Adopting a slow feeder can help your cat understand not to eat too much food at once and help free your time for other things when you don't have to watch your cat and ensure they aren't overeating.
Consider each option to see which slow feeder can help make your life easier and make your cat healthier and happier.