Maine Coons are impossible not to love. They are cuddly, sweet cats nicknamed gentle giants due to their large size.
Between their body size and their majestic coat, these beautiful cats can grow to a weight of over 18 pounds and 40 inches in length from nose to tail. No wonder they are revered as gentle giants.
A cat of this size needs to pay special attention to how and when they eat. So what is the best Maine Coon feeding schedule, according to experts?
Jump to:
How Much Food Should a Maine Coon Cat Eat Every Day?
A Maine Coon cat is affectionate and is a breed adored by thousands of cat lovers worldwide. Part of the attraction of these fur babies is their playfulness, inquisitive personality, and of course, their size.
To keep these cats at their best, Maine Coon cat owners must be careful with how much food the cat eats. How much a Maine Coon cat should eat every day is based on the cat's weight, age, and size.
Just like people, the older the cat is, the longer it takes for the cat to burn calories. Young kitten Maine Coons are much more active and, therefore, can consume and burn more calories.
Experts agree that the average caloric intake for a healthy Maine Coon should be between 300-600 calories a day, which is about thirty calories per pound of weight for the Maine Coon.
So a ten-pound Maine Coon would need around three hundred calories daily, and you can divide this into about one hundred calorie portions per meal for an average adult Maine Coon cat.
What Is the Best Feeding Schedule for a Maine Coon Cat?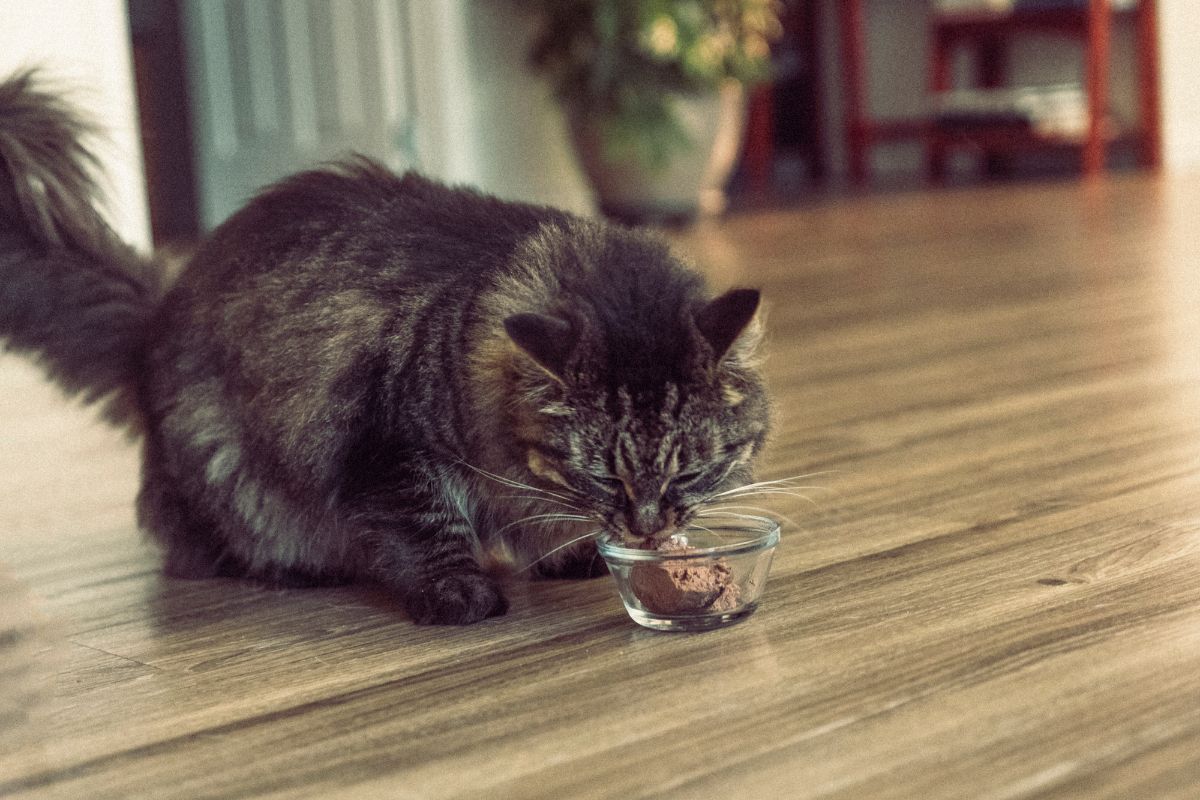 Maine Coon cats like to eat, but a good feeding schedule needs to be in place, so they do not overeat. The feeding schedule for the Maine Coon cat will vary significantly with age.
Kittens (like human babies) need to eat smaller meals more frequently than older Maine Coons. A Maine Coon kitten should be fed a serving of food three to four times a day.
As the kitten grows, the owner should gradually reduce the feeding schedule to two meals daily.
It is crucial that a Maine Coon cat eats at least every twelve hours to avoid the cat getting nauseous and sick.
What Is the Best Food to Feed a Maine Coon Cat?
There are several options for cat foods on the market, so choosing the right one for a Maine Coon cat may feel confusing and overwhelming.
Consulting your veterinarian is always a good place to start when wanting questions answered about the health and welfare of pets, especially regarding the correct diet.
Many veterinarians even sell particular food brands in their offices, but those are not the only choices for good cat food.
Since a Maine Coon cat has a hearty appetite and is full of energy, the food options should be high in protein, like chicken or fish. Maine Coon cat food should also be low in carbohydrates.
Maine Coon cats, like all cats, cannot properly break down and process certain carbohydrates. Protein helps sustain the cat's energy level, so it is a better food choice than quick-energy carbohydrates.
The cat food should also contain the appropriate amount of vitamins to maintain the health of the cat, and of course, a good amount of healthy fats like Omega-3 from fish oil will keep the Maine Coon cat's coat glossy and lustrous.
Is Wet or Dry Food Better for a Maine Coon Cat to Eat?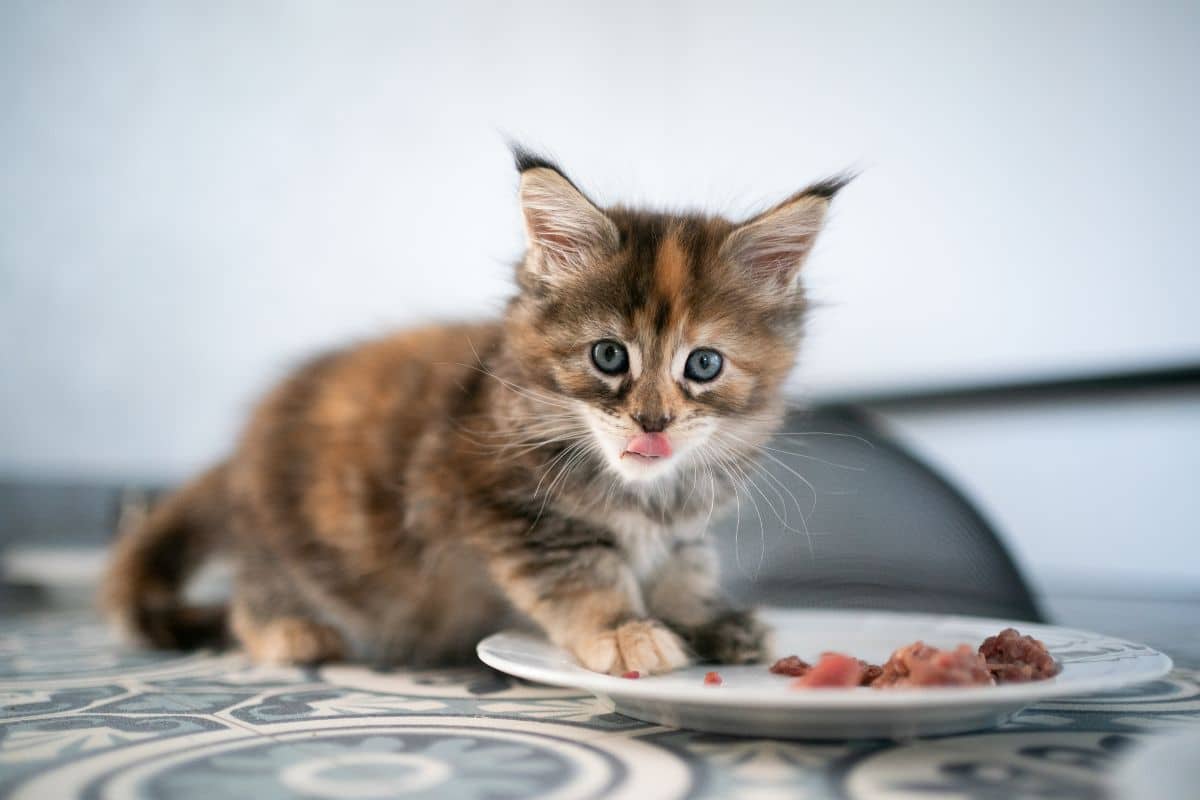 Feeding a Maine Coon cat wet or dry food has several pros and cons.
Pros of Dry Cat Food
The most significant advantage of using dry food as the source of nutrition for a Maine Coon cat is convenience and cost.
Dry food lasts longer and is easy to use with a food dispenser. Some dry cat foods help reduce tartar formation or build-up in a cat's gumline.
Cons of Dry Cat Food
There are some disadvantages to feeding a Maine Coon cat a strictly dry food diet. Dry cat food contains less water and less protein than other wet cat food.
Dry cat food also contains more carbohydrates than wet food and can be hard for Maine Coon cats that are missing teeth to eat.
Pros of Wet Cat Food
Wet cat food for cats has at least a 60% or greater moisture level and is excellent for ensuring that Maine Coon cats get enough water to stay hydrated.
Dehydration is a fairly common health risk factor in Maine Coon cats and can lead to kidney and urinary tract infections.
Adding wet food to the Maine Coon cat's diet help add much-needed water that the cat might not be getting from simply drinking water.
Cons of Wet Cat Food
The most significant disadvantage to using wet cat food for a Maine Coon cat is that the food is more expensive than dry cat food and will go bad once open.
Refrigeration is needed to keep wet cat food safe for eating, which can take up your refrigerator space and makes traveling with your Maine Coon cat more difficult.
Can You Mix Wet and Dry Cat Food for a Maine Coon Cat?
Many experts and veterinarians will encourage Maine Coon cat owners to supply the cat with a mixture of dry and wet foods at meals.
Mixing wet and dry cat food together can help Maine Coon cats manage weight better, stay hydrated, and run their digestive system smoothly.
Remember that no matter what type of food you serve for meals, dry, wet, or a combination of the two, each meal needs to be measured to keep an eye on the amount of food the Maine Coon cat is eating each day.
The Best Maine Coon Feeding Schedule Final Thoughts
Maine Coon cats are different from typical house cats in size and personality. They require more protein to keep their energy high and weight under control.
Closely monitoring a Maine Coon cat's feeding schedule and diet will help to ensure that the gentle giant lives a long, healthy, and happy life.