One of the prevailing misconceptions about cats is that they are low-maintenance pets. However, cats need the same care and affection you would give any other animal.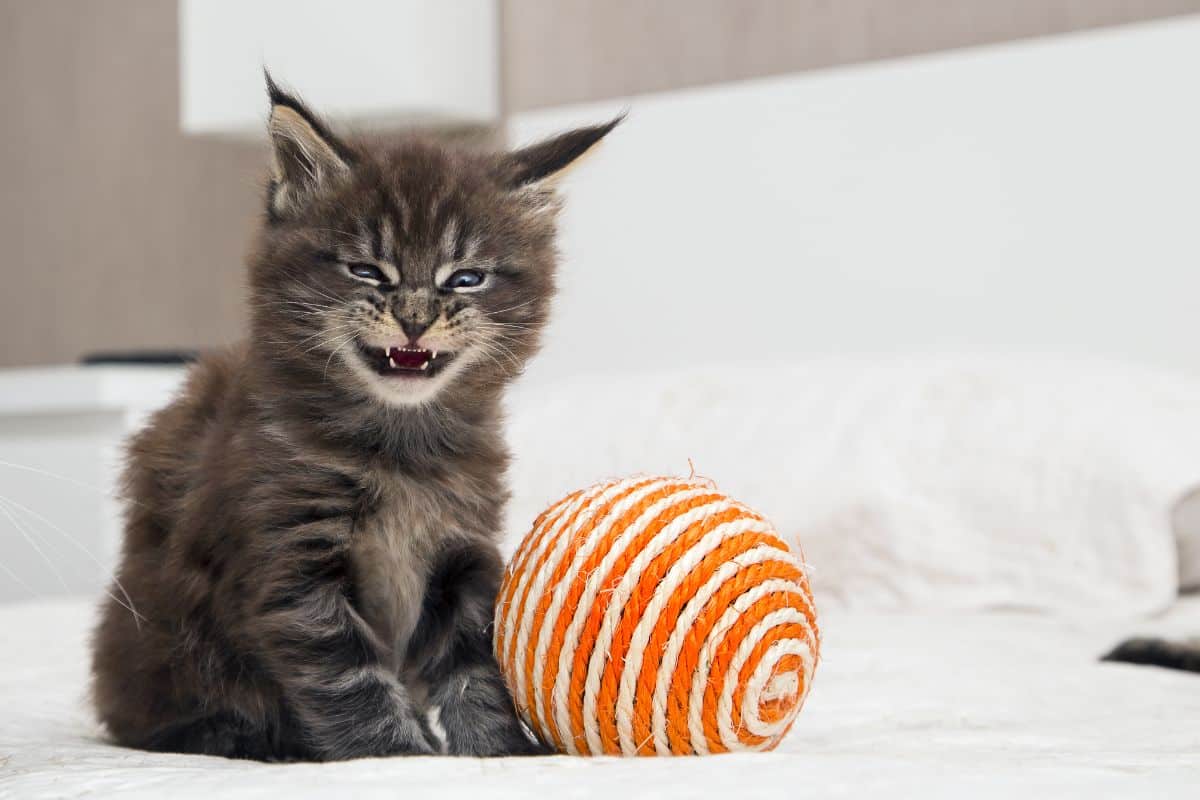 Cats may be more independent, but a bored cat can become anxious, destructive, and aggressive. All of that is avoidable, provided you teach your cat independent play. Here are the best toys to keep your cat occupied while you are out.
Jump to:
7 Best Cat Toys for Cats Alone at Home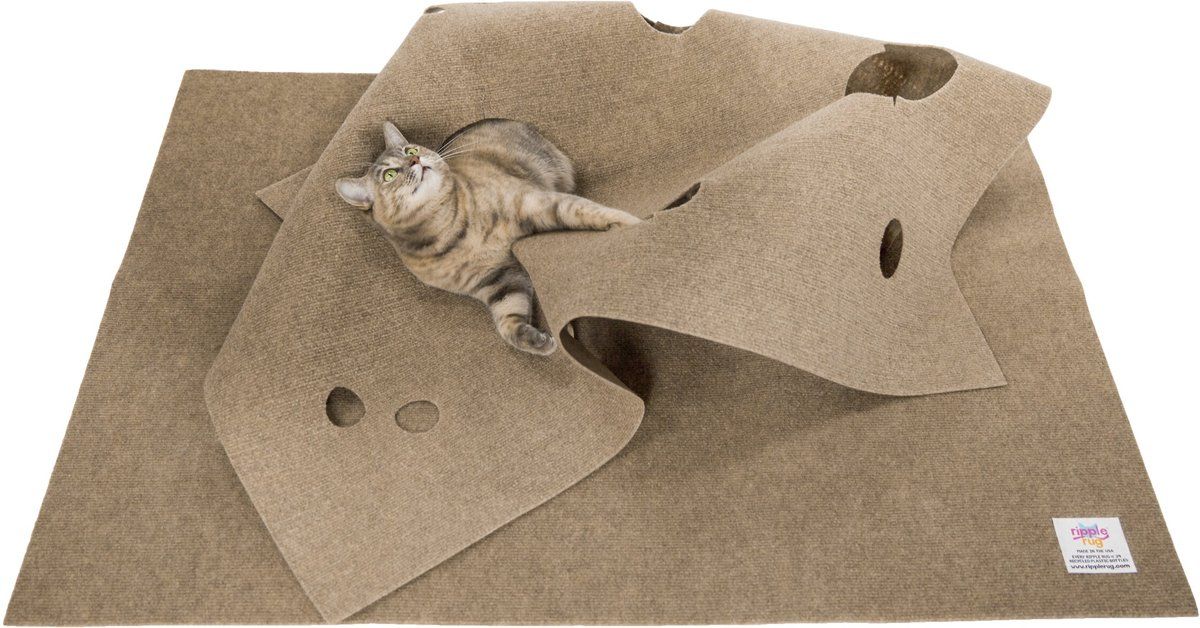 One of the advantages of the SnuggleCat Ripple Rug is that you can adapt it to your cat's tastes.
If your moggie likes hiding, you can build in extra burrows. If they're a scratcher, the Ripple Rug caters to that, too.
Additionally, it's ideal for multi-cat households because it gives cats a creative way to wrestle with each other.
Some owners find the Ripple Rug expensive. However, one of the reasons it ranks as one of the best cat toys for cats at home alone is its durability. It stands up to years of scratching and play and accommodates large cats, like Maine Coons.
Pros:
Accommodates large cats
Encourages exercise
Multi-purpose
Cons:
Expensive
Some assembly required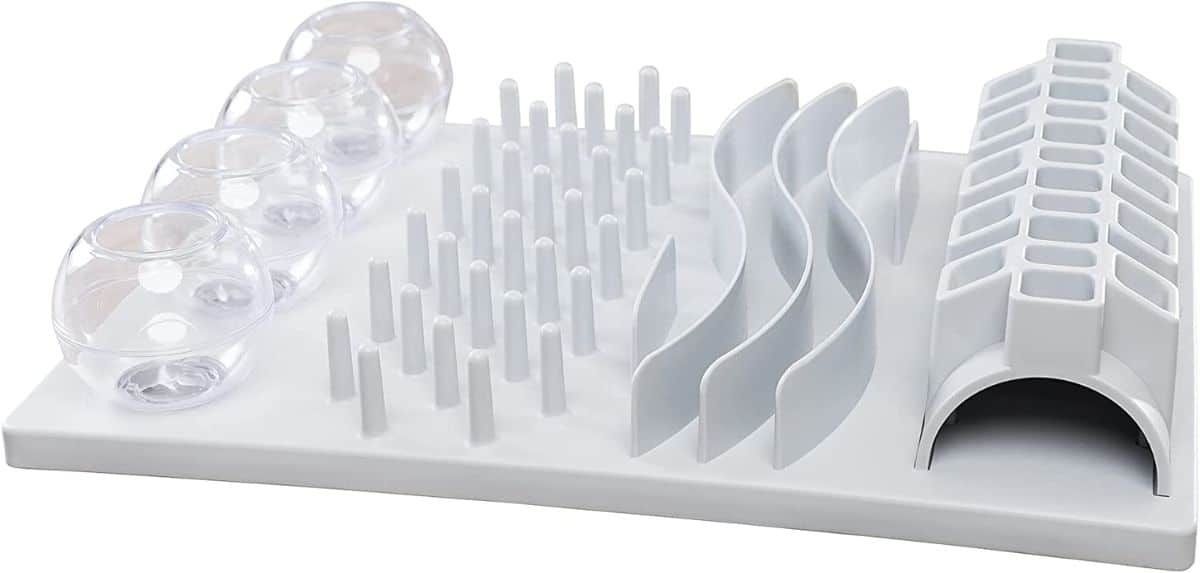 Trixie offers a vast selection of puzzle toys, and they are all wonderful sources of environmental enrichment.
Typically, puzzle toys require your cat to work up to uncover food from a hiding place. But the different stations allow you to make food foraging as challenging or straightforward as necessary.
That ensures your cat stays engaged with the toy while also tapping into their prey drive. That's an excellent way to entertain an indoor cat.
Pros:
Caters to different abilities
Fosters hunting instinct
Long-lasting
Cons:
Must remember to place food in a toy before leaving home
Some assembly required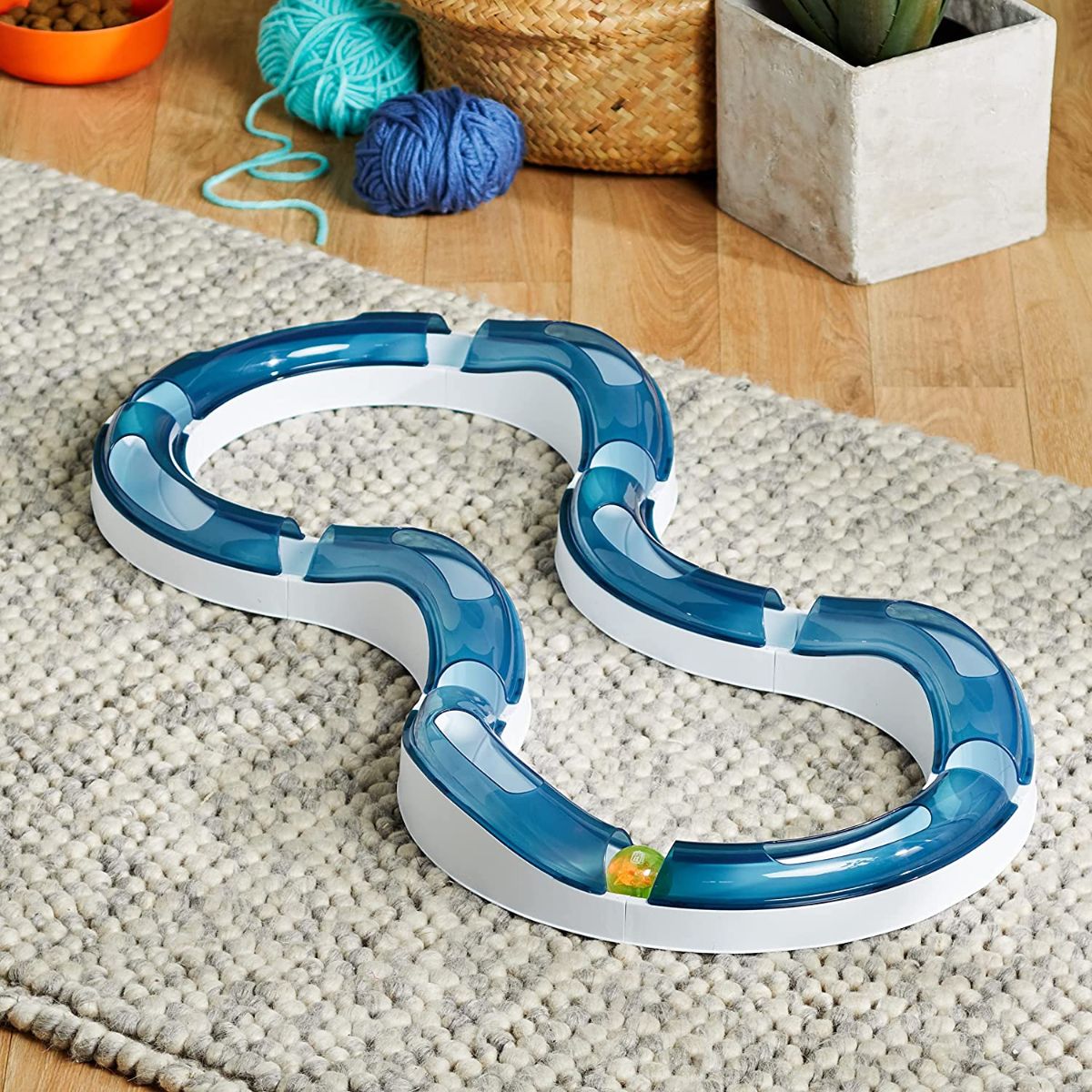 Catit is another brand that produces some of the best cat toys for independent feline play.
Their circuit toy is an excellent example. It's affordable and can be expanded or contracted depending on your floor space. The pieces are easy to assemble and allow you to construct many different designs to keep your cat engaged.
While playing with the Catit Circuit Toy is intuitive, you may need to encourage your cat to engage with it at first. That's particularly true of cats unused to independent play. Since the ball doesn't roll voluntarily, your cat needs to prod it into action.
Removing the blue, tunnel-type cover can help get your cat engaged. You can reattach it as your cat becomes more confident and curious about this toy.
But once it's moving, it generates hours of fun, hunting-based activity.
Pros:
Affordable
Easy to assemble
Adapts to floor space available
Intuitive design
Cons:
Ball doesn't roll independently
Need to 'train' cat to interact with the toy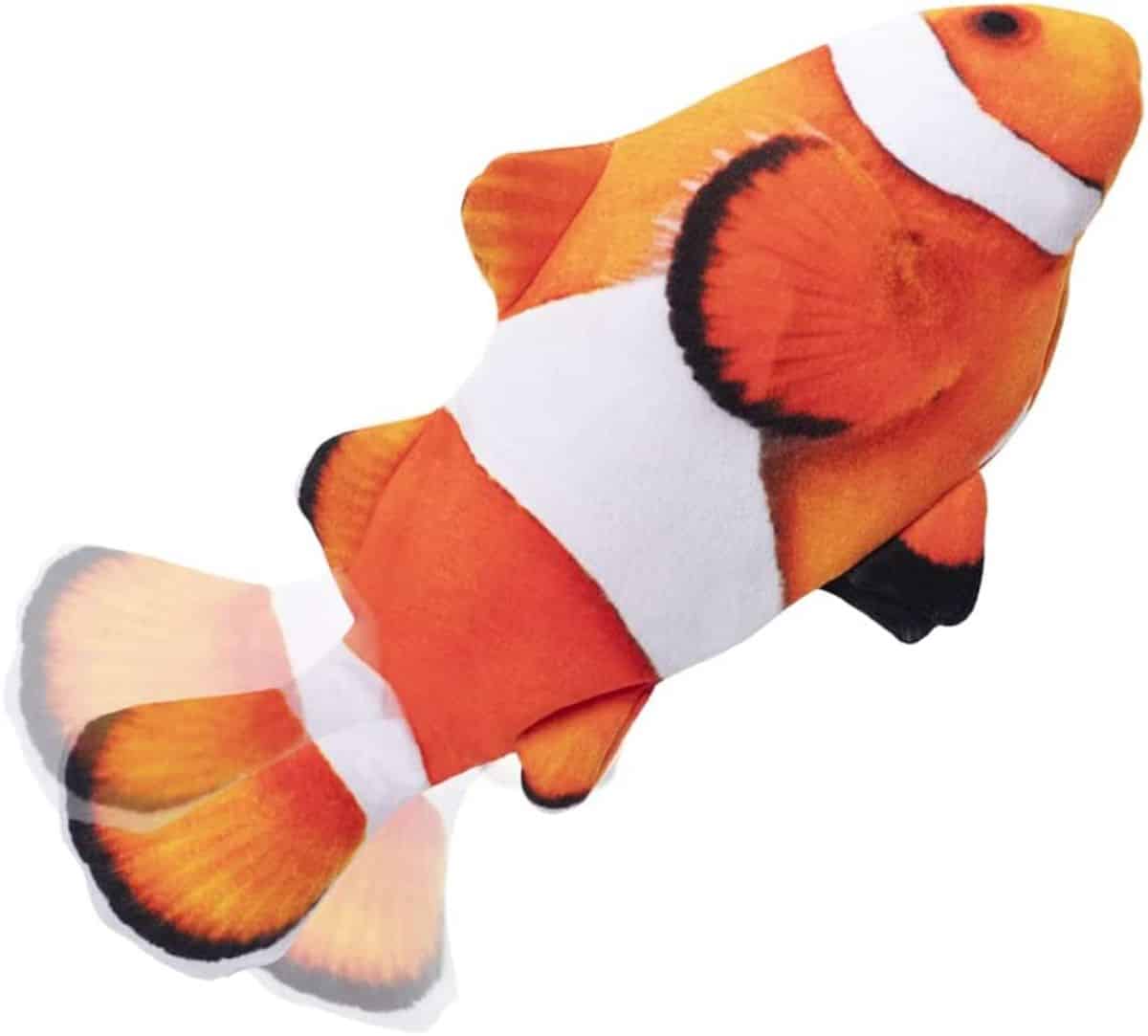 Sale
It only takes a bit of digging to find that this flopping fish isn't just one of the best cat toys for indoor cats; it's an internet sensation.
The great thing about this cat toy is that it's automated. Provided the fish is charged, your cat only needs to tap the tail to set it flopping.
Better yet, no interaction is the same. The fish slows down, speeds up, and varies its range of motion the longer the cat plays with it.
However, you do need to charge the fish for it to be effective. It's also advisable to supervise more aggressive cats. It's unlikely they could or would chew through to the electronic mechanism, but a determined cat is a force to be reckoned with.
The other thing to remember is that not all cats respond positively to this fish toy. Many find the robotic flopping motion frightening, especially on uncarpeted floors. That makes it unsuitable for nervous cats.
Pros:
Affordable
Automated play
Responds differently to each interaction
Cons:
Requires charging
Frightens some cats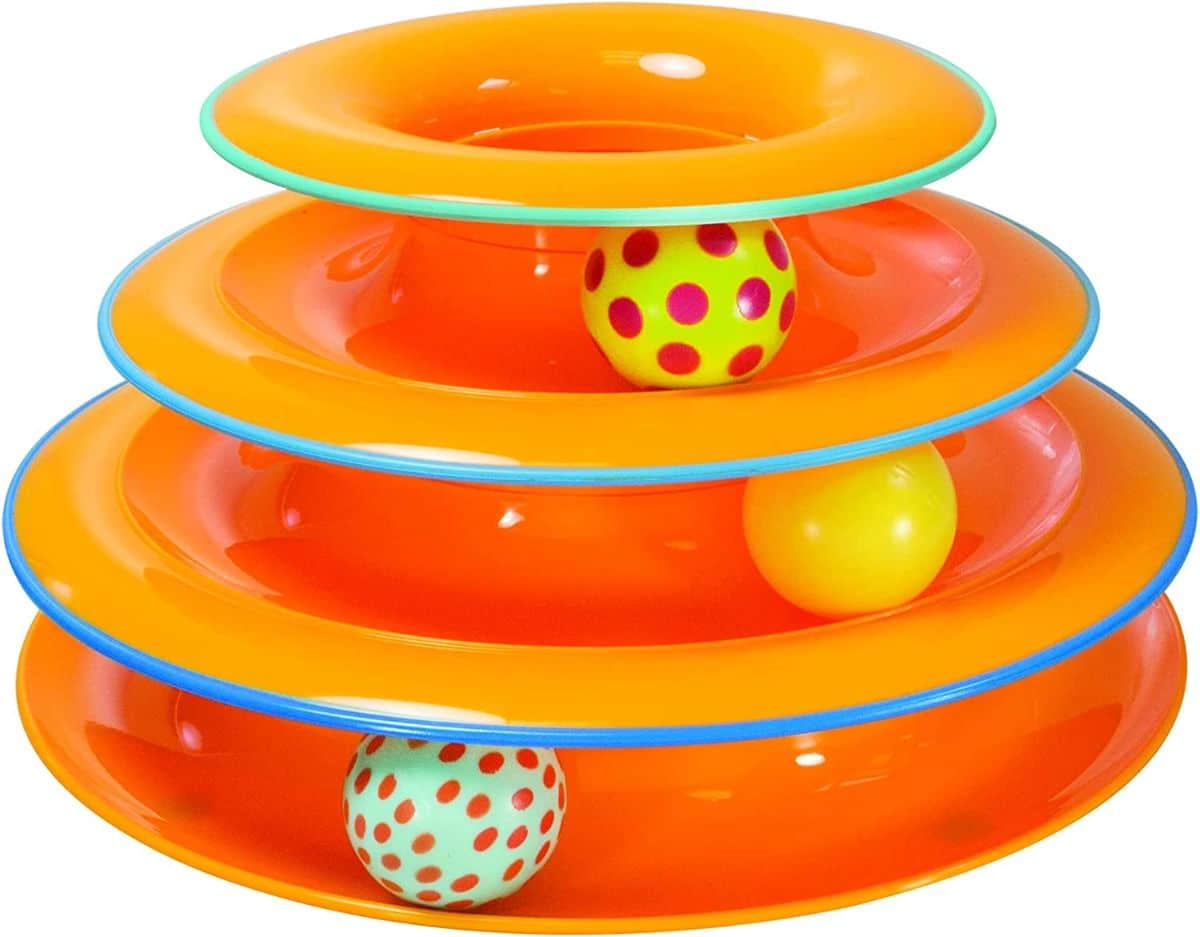 Colorful balls have a long tradition of appealing to cats, and the Tower of Tracks capitalizes on that.
It's a simple design intended to send several balls around in circles. Cats that enjoy batting and swatting at prey will get hours of fun from the Tower of Tracks.
One feature we particularly appreciate is the safety bar across the top. Anticipating cats' need to fit themselves into any small space, the bar stops your cat from trapping themselves inside the toy.
Pros:
Affordable
Long-lasting
Can be used by several cats at once
Safety bar
Cons:
Nothing autonomous like a wand at the top to stimulate play
Balls may be too noisy for some cats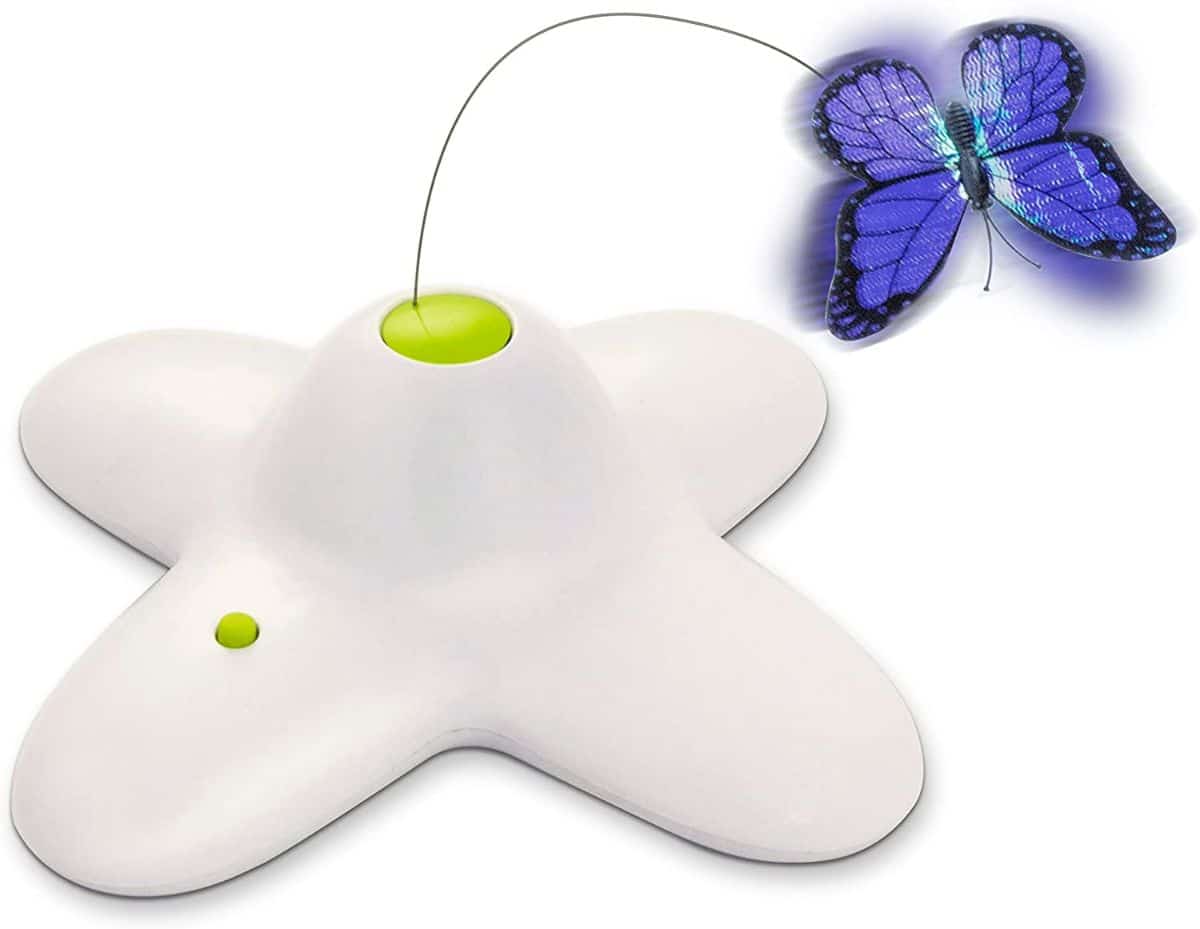 If you want one of the best cat toys for an independent play featuring a wand attachment, the Flutter Bug may be the answer.
The butterfly-style wand rotates 360 degrees when switched on, encouraging your cat to play and pounce on it. It's a fantastic way to encourage exercise while cultivating your cat's hunting instincts.
Originally, the Flutter Bug was battery-powered, and while that model still exists, you can also select a newer version that relies on a USB charger.
The charging-based model also includes a ball tower for additional play.
However, some customers found the butterfly spun too fast, causing cats to lose interest.
Pros:
Automated, interactive play
Encourages exercise
Battery or USB-charger based
Cons:
USB model expensive
Cats may lose interest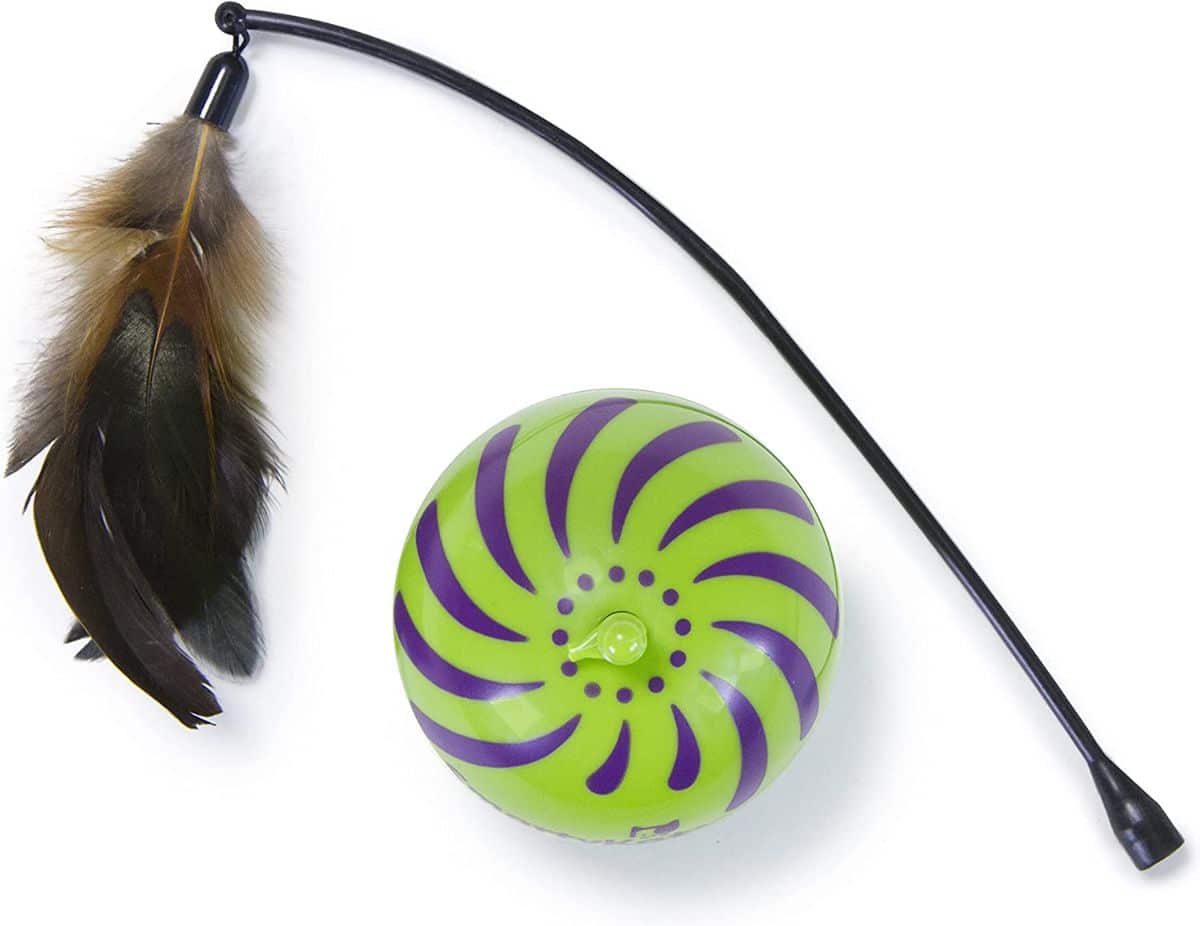 Finally, the SmartyKat Feather Whirl is another cat toy that can move independently and encourage your cat to play.
The feather operates like any fishing rod toy but doesn't require human engagement. And, like the flopping fish, the ball varies its speed and direction, keeping play unpredictable.
There are some drawbacks. Cat fur could build up in the mechanism and cause it to break down. However, it's easy to clean the Feather Whirl out with a pair of tweezers and a bit of patience.
Pros:
Varies play
Doesn't require human involvement
Stimulates prey drive
Cons:
Battery operated
Cat fur needs regular cleaning
FAQs
So, those are the best cat toys for cats that spend their days at home alone. But what else should you consider before buying toys to entertain your cat?
What toys can I leave my cat alone with?
You can improvise cat toys out of almost anything. And if you are buying from Etsy, you'll find hand-sewn cat toys to prove this maxim.
Avoid toys with string, yarn, or glue-on eyes. If it looks like it might be a choking hazard, assume it is one.
How do I keep my cat entertained by itself?
Cats benefit from ten to twenty minutes of play a day.
Keeping them entertained involves a combination of environmental enrichment and understanding your cat's tastes. Some cats enjoy tunnels, while others prefer rod toys. Look for toys your cat can interact with, ideally without your involvement, that appeal to their taste in toys.
Should cats be left alone with toys?
This depends on the toy. Some toys specifically target cats left alone at home. These are almost always safe and include things like:
Catnip kongs
Tunnels
Robotic toys
Is it OK for cats to play alone?
That said, it's okay for cats to play alone, provided the toys you leave them with aren't dangerous.
Avoid anything that could pose a choking hazard or cause an intestinal blockage, and your cat will be fine.
What are the best toys for cats with separation anxiety?
The best toys for cats with separation anxiety are toys that distract them from their unhappiness.
Look for toys that activate your cat's prey drive and offer an outlet for destructive behavior like scratching.
But you may also need to find other ways of addressing the cat's separation anxiety since their emotional health is as important as their physical health.
Wrap Up
Cats who are spending time alone need to engage in independent play for their health and well-being. Hopefully, in this list of toys for cats alone at home, you've found something perfect for your feline friend.