Despite the common misconception that cats are purr-fectly content to laze around all day, their curious minds desire stimulation and exercise. Unfortunately, the luxuries of being a pet tend to negate the need for problem-solving, which adversely affects their mental and physical health.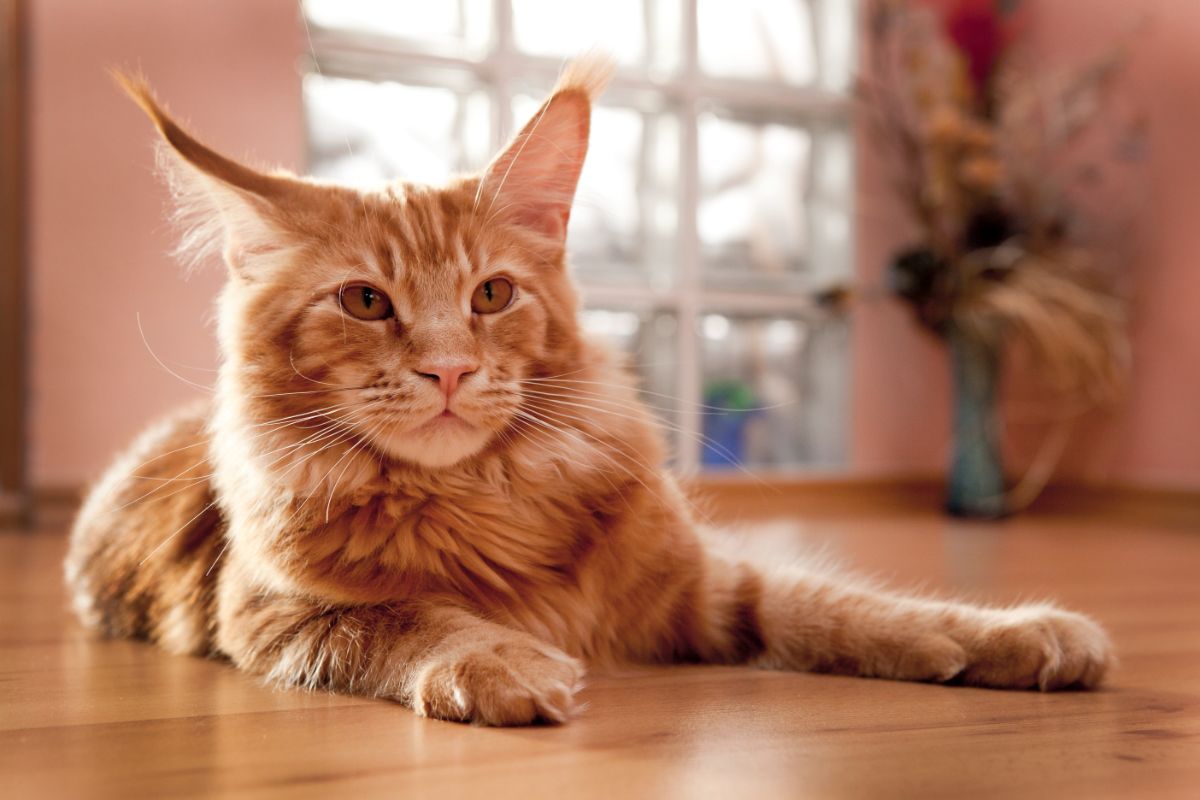 One of the most straightforward solutions is providing treat games for cats. Not only do they kindle your kitty's natural hunting instinct, but they put their brains to work solving puzzles, keeping their minds sharp as they age.
You want only the best for your feline friend, so we've rounded up 11 treat games for cats that make mealtimes a little more fun.
Jump to: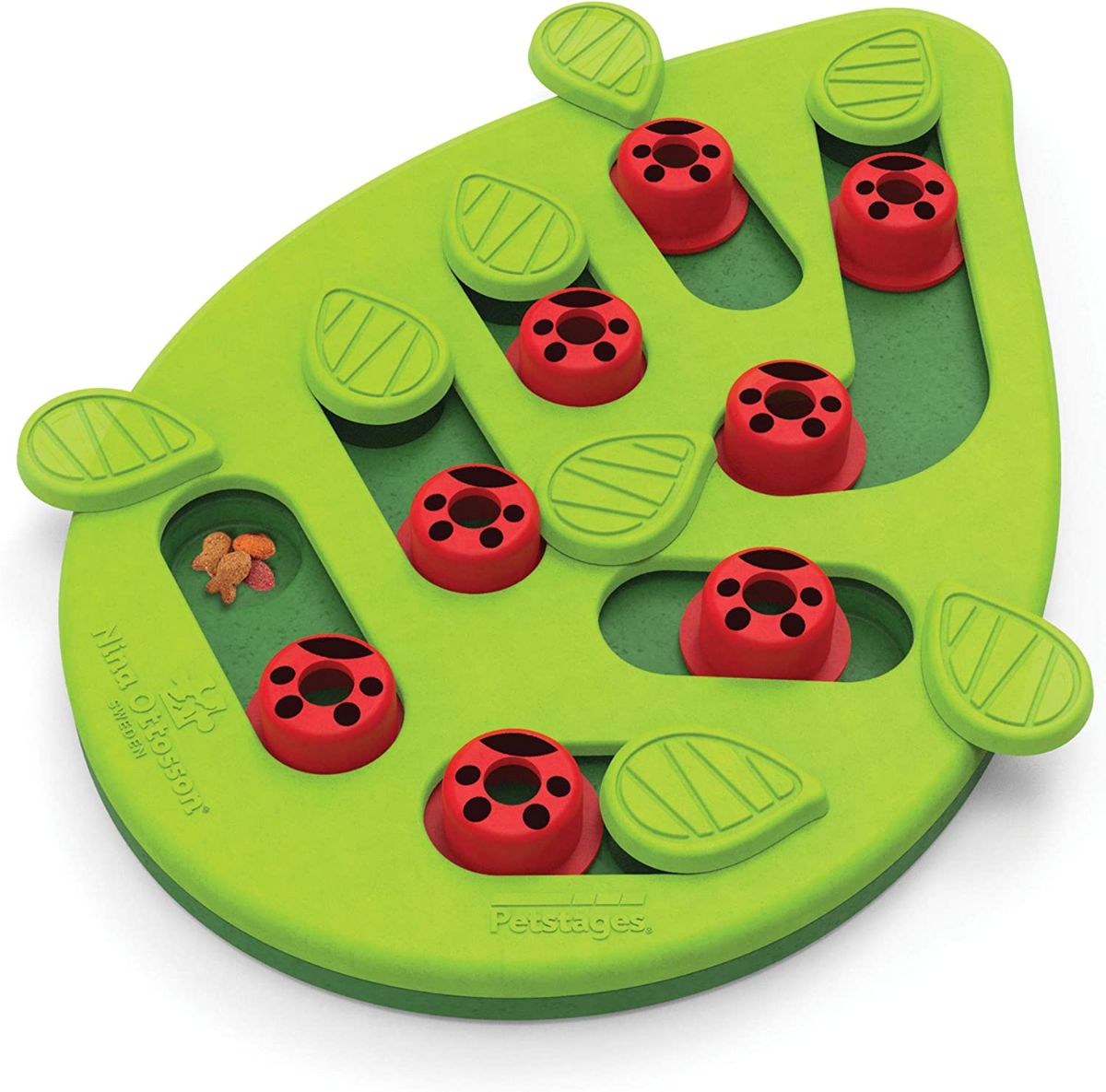 Sale
This charming wooden and plastic puzzle board includes 16 treat compartments hidden under a cadre of ladybugs and leaves. There are zero removable parts, so you won't have to worry about choking and can enjoy watching your cat practice their foraging skills.
Buggin' Out Puzzle & Play holds up to ¼ cup (32 grams) of cat food, making it a valuable tool to help tame an overenthusiastic eater's appetite.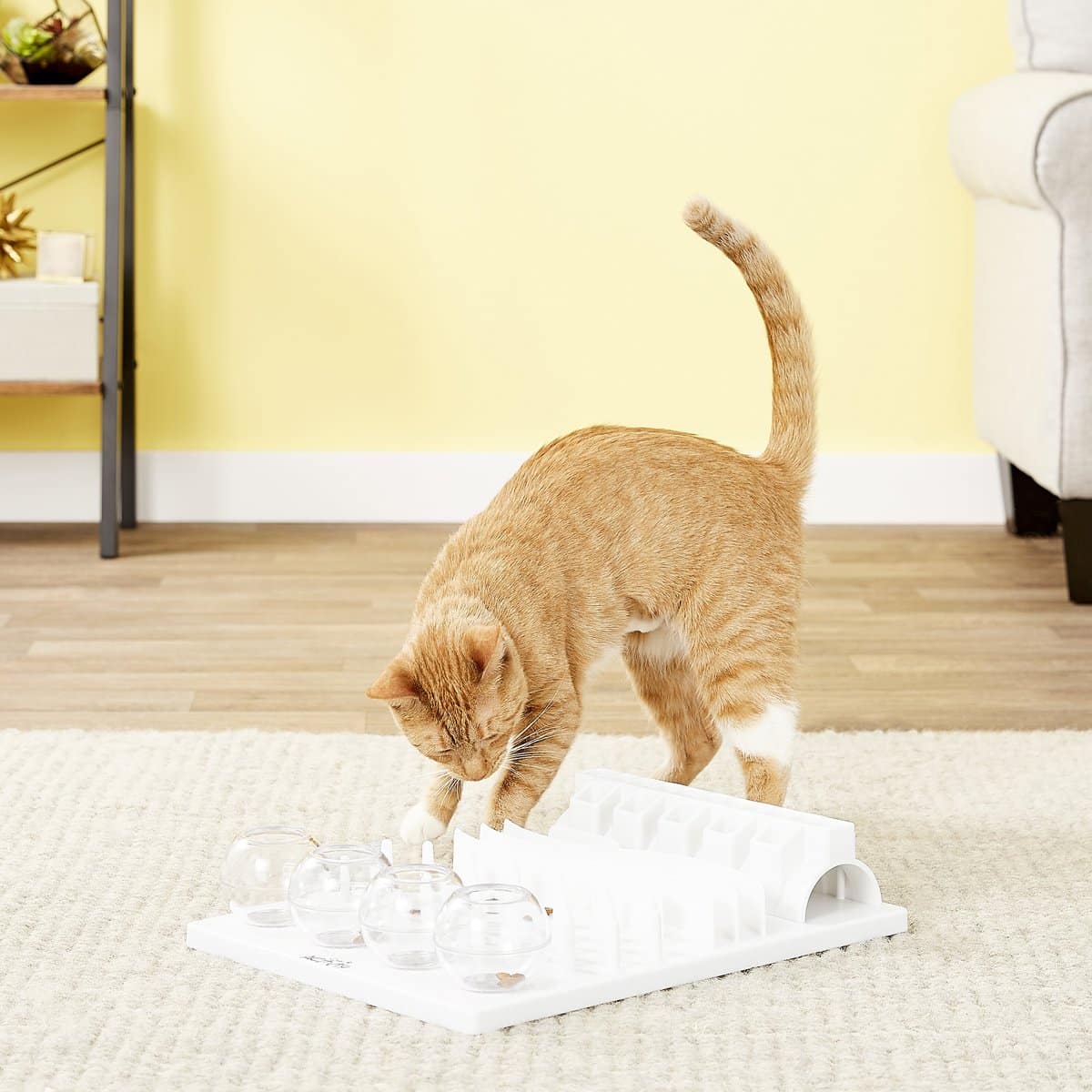 Your frisky feline will never get bored with the Trixie Activity Fun Board! It includes five challenges: fish bowl globes, pegs, allies, tongues, and tunnels for your cat to master before getting their tasty treat prize.
The plastic board has non-slip rubber grip feet to prevent spillage, even when your kitty tackles the task on hardwood floors.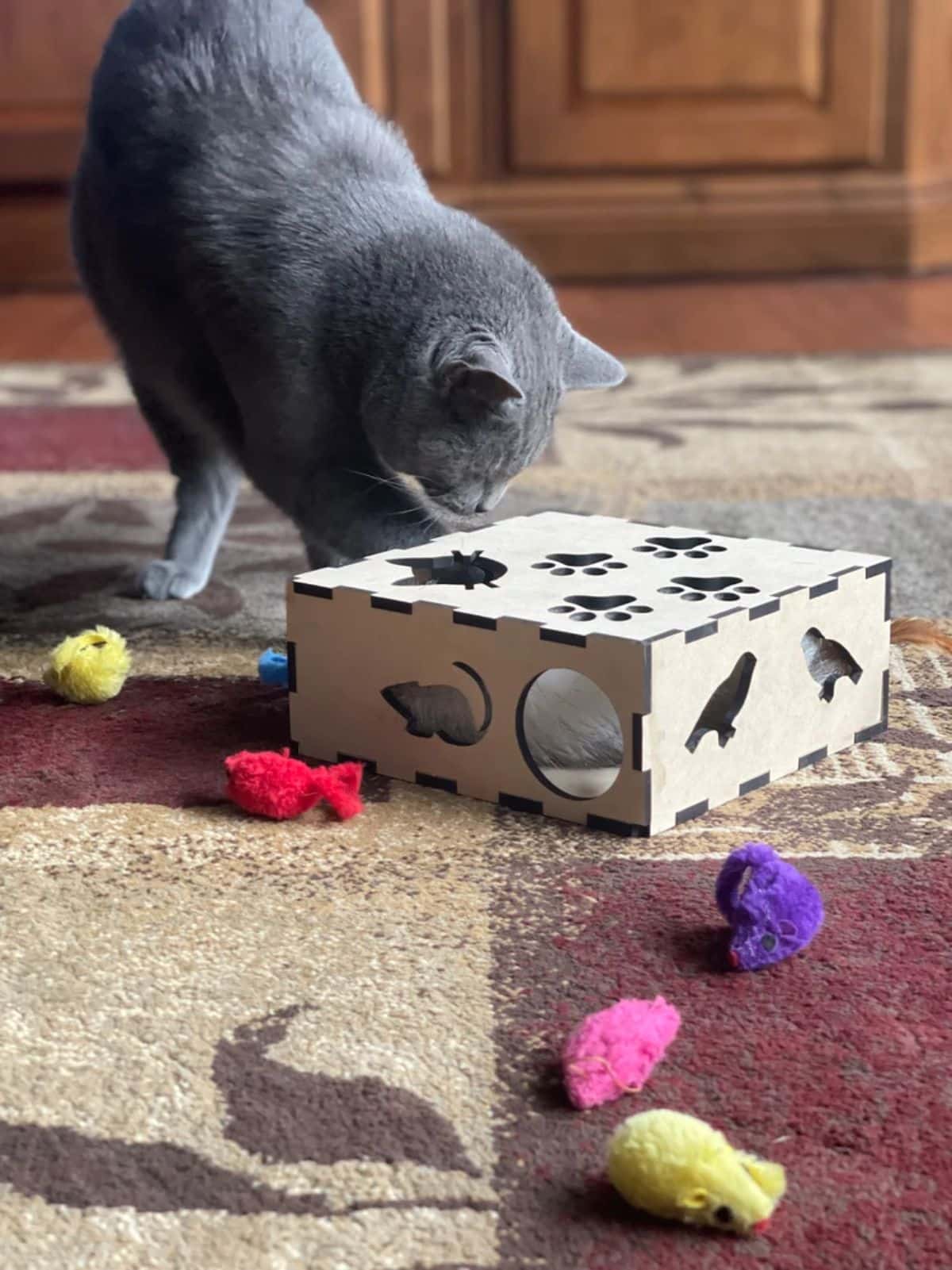 The TwoRivers Ohio Cat Puzzle Toy provides hours of entertainment as your pet attempts to fish out its favorite treats and toys. It has an MDF construction with three holes large enough to get their paws through and many smaller viewing holes in thematic shapes.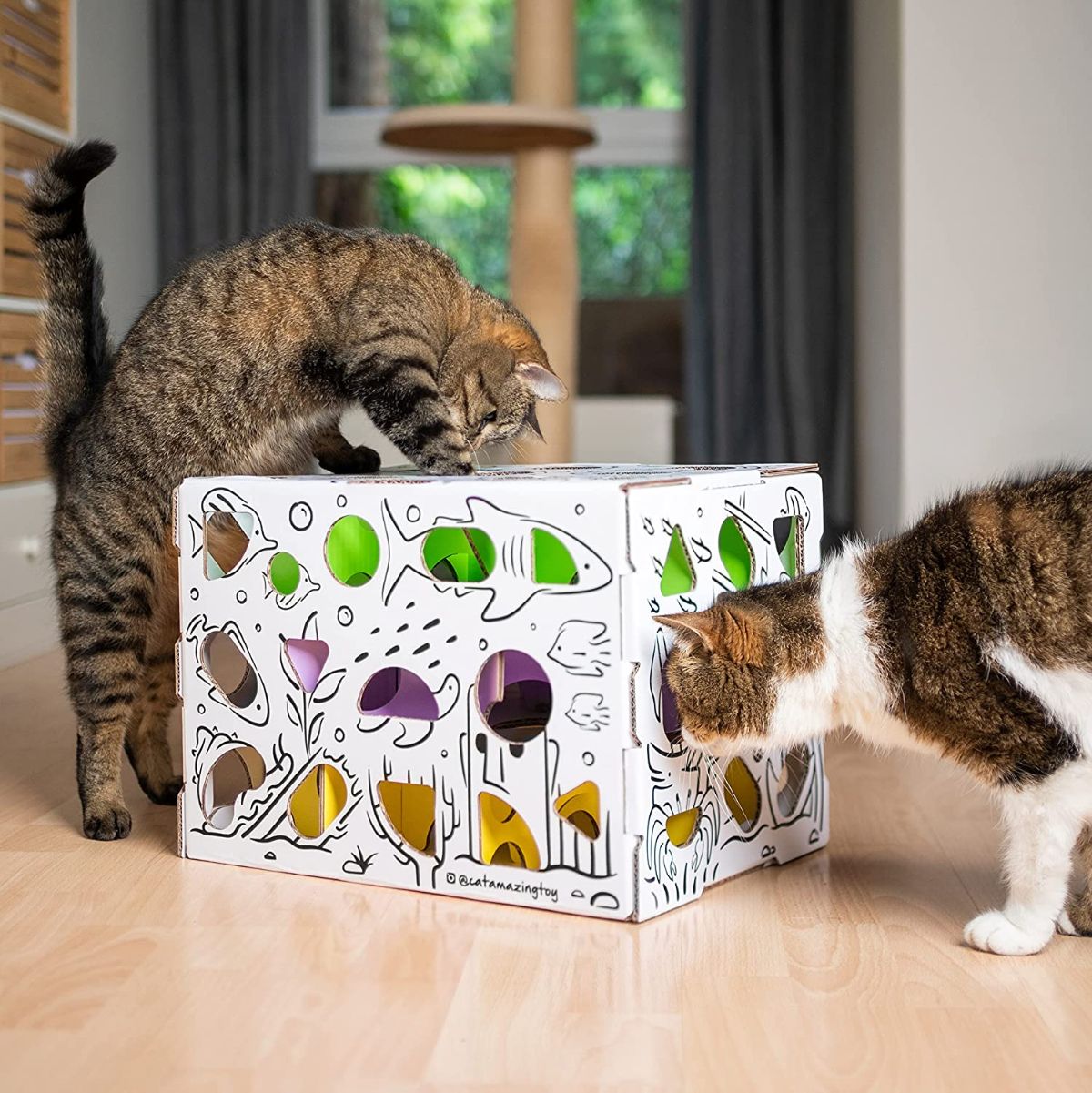 For the ultimate brain buster, it doesn't get much better than the Cat Mazing Mega Puzzle Box. It consists of three levels divided into 27 chambers within a double-corrugated cardboard shell for maximum durability.
Your kitty has to sniff out a solution by pawing through a maze of cutouts that force them to move around the box as they access the various entrances.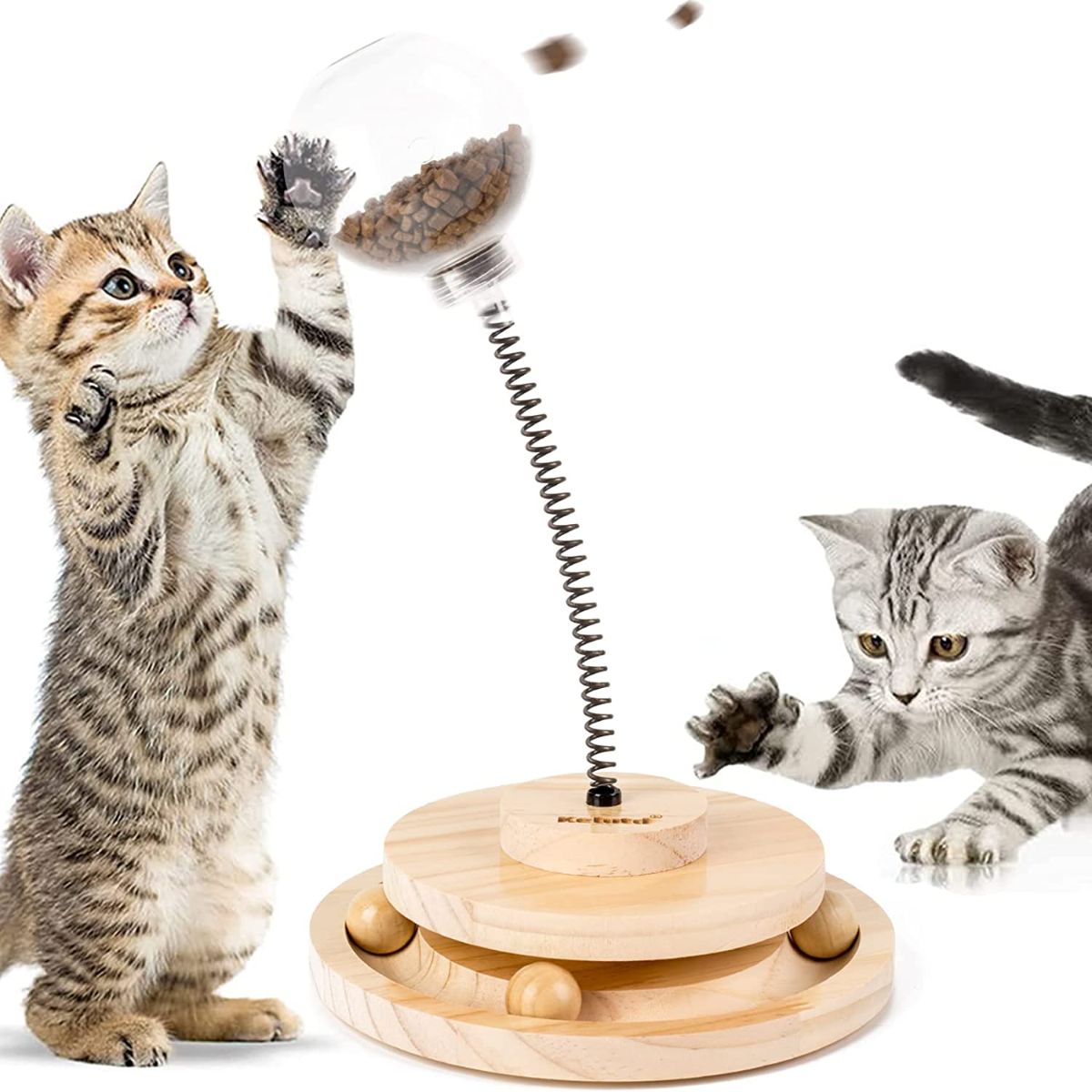 If you've ever left your cat alone with the toilet paper holder, you know how much they love to bat things around with their paws. Channel their chaotic energy into something more productive with Kelutd's Interactive Feeder Toy.
The multilevel puzzle includes a ball track on the bottom, and a treat ball held up on springs. As your cat bats at the sphere, it'll be rewarded with a steady supply of crunchy goodness.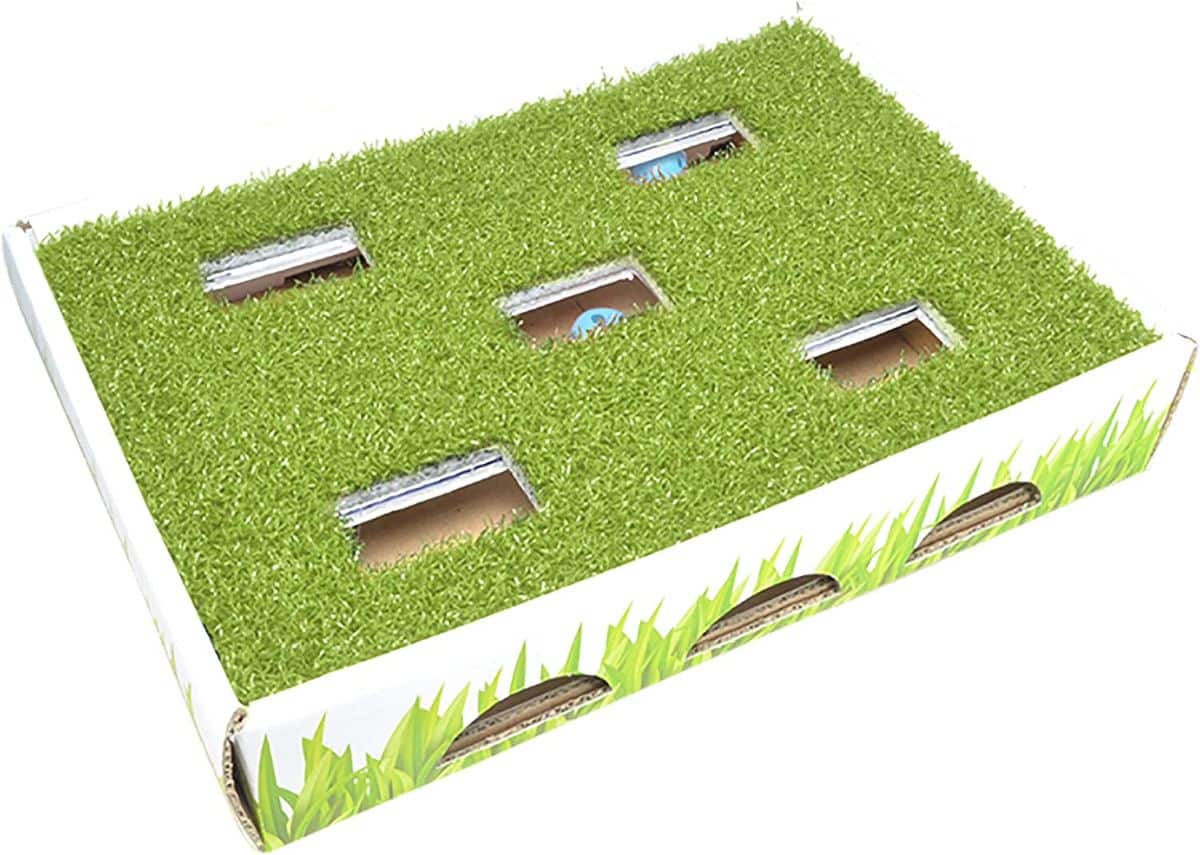 Sale
Petstages Grass Patch Hunting Box Cat Toy
NATURE-INSPIRED HUNTING FUN: Made from lightweight cardboard and faux grass, this cat toy is designed to stimulate your kitty's natural instincts to hunt and play!
Even indoor cats can enjoy the fruits of nature with a Petstages Hunting Box. The sturdy cardboard toy combines a jingle ball-filled maze with a luxury grass turf topper. Drop a few treats through the holes, and your kitty will have a ball batting around the bell toys as they solve the puzzle.
The soft topper provides a nice place to take a cat nap once they've hunted down every last goody.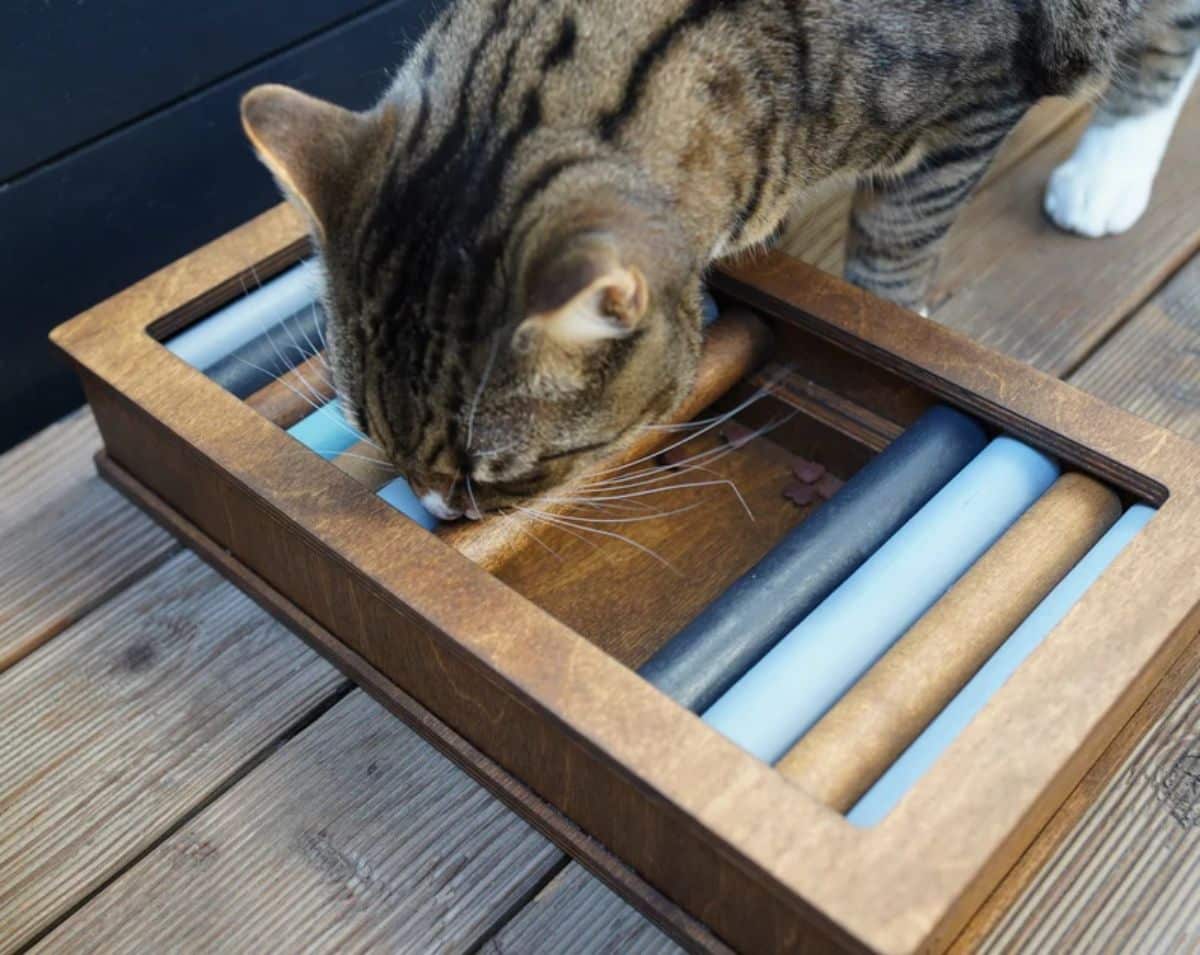 The KarpoWoodcraftPets Slow Feeder Stick Toy is an excellent place to start for owners who are new to treat games for cats. As your pet rolls the sticks side-to-side, they'll uncover hidden treasure troves of treats.
The birch plywood box is handcrafted, and you can choose from a light oak, chestnut, walnut, or gray barrel finish.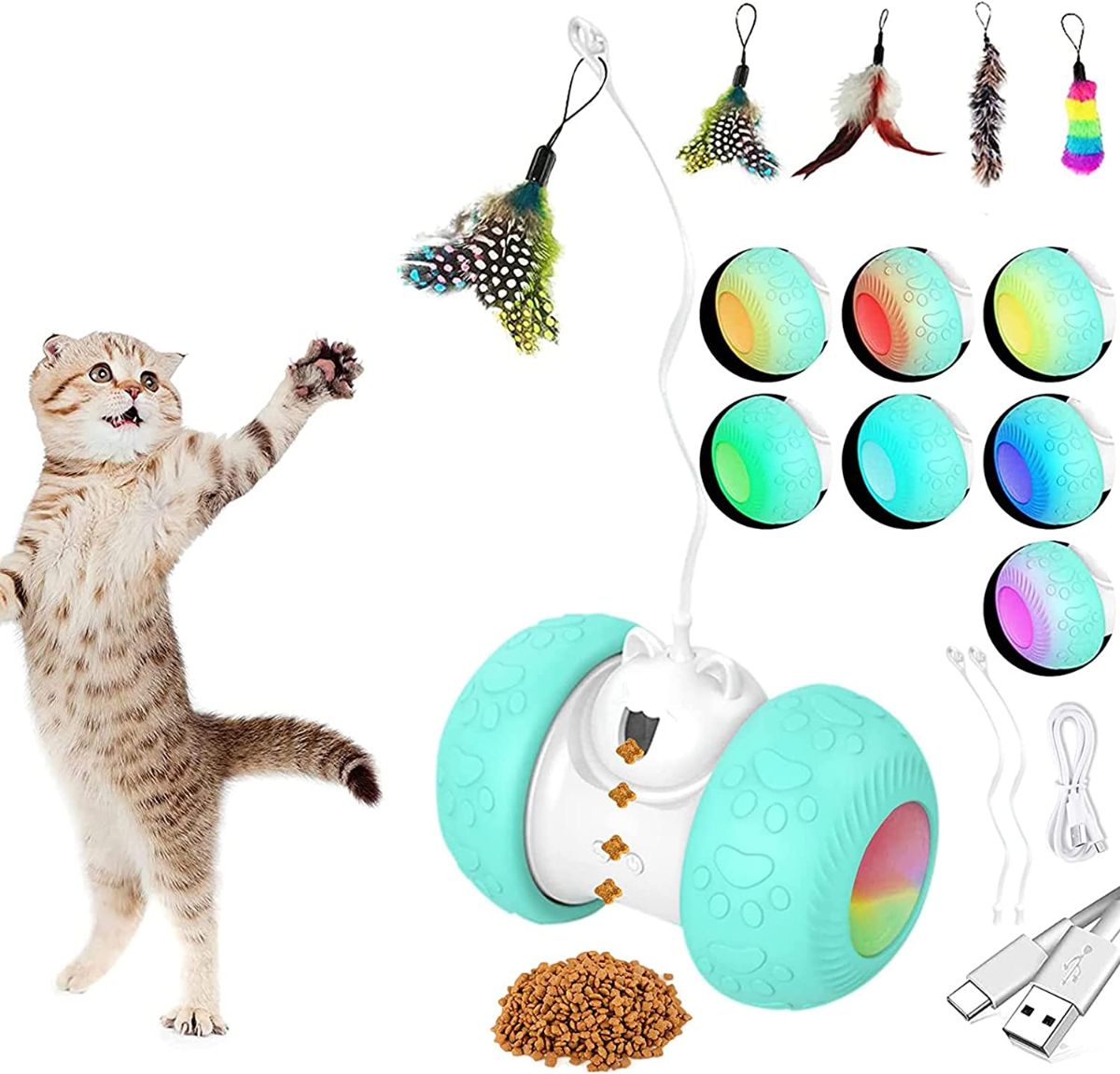 Sale
Cat Toys, Interactive Cat Toy, Cat Toys for Indoor Cats, Automatic Cat Toy, Cat Feeding Toy, 4-in-1 Cat Feather Toys, Kitten Toys, Auto Kitten Toys Moving Cat Toys for Cat Exercise, USB Rechargeable
🐱Automatic Cat Toys: Interactive Cat Toy works as robotic, it can smart play with your indoor cat when you are out. This cat toys with feeding function & colorful LED changing lights and feathers will interact with your cat through 360° rotation, forward, backward, shaking, and automatic sound. When bumping an obstacle, it can react in the other direction. Attracted by its irregular movements, your cat will chase, jump, catch, hunt, and swoop for a happy movement.
Bring your treat game for cats into the 21st century with the HahaGo 4-in-1 Interactive Cat Toy. This delightful robot rotates, shakes, and zooms across the floor, automatically dispensing treats to activate your cat's inner predator.
The feather toy topper adds even more enrichment opportunities, and you can choose from four interchangeable accessories to keep your cat interested.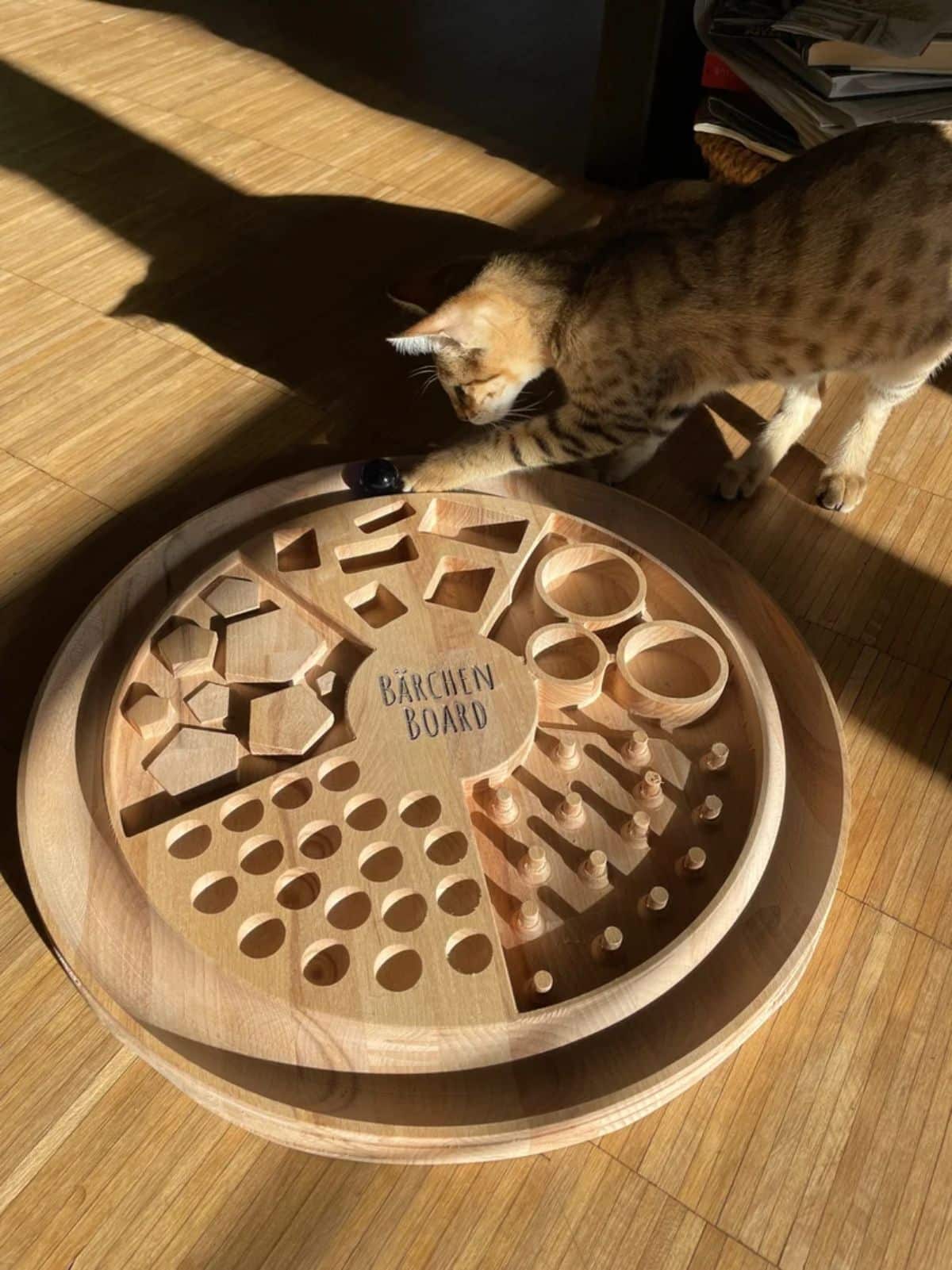 The Waldreif Wooden Activity Board offers six sections of puzzle-solving excitement. Your cat will have to put on their thinking caps as they navigate a ball track, rectangle cups, circular cups, rounded divots, pentagonal obstacles, and pegs.
The handmade activity board has a minimalistic design that fits in with any room decor, and you can add personalized text in the center for an extra special touch.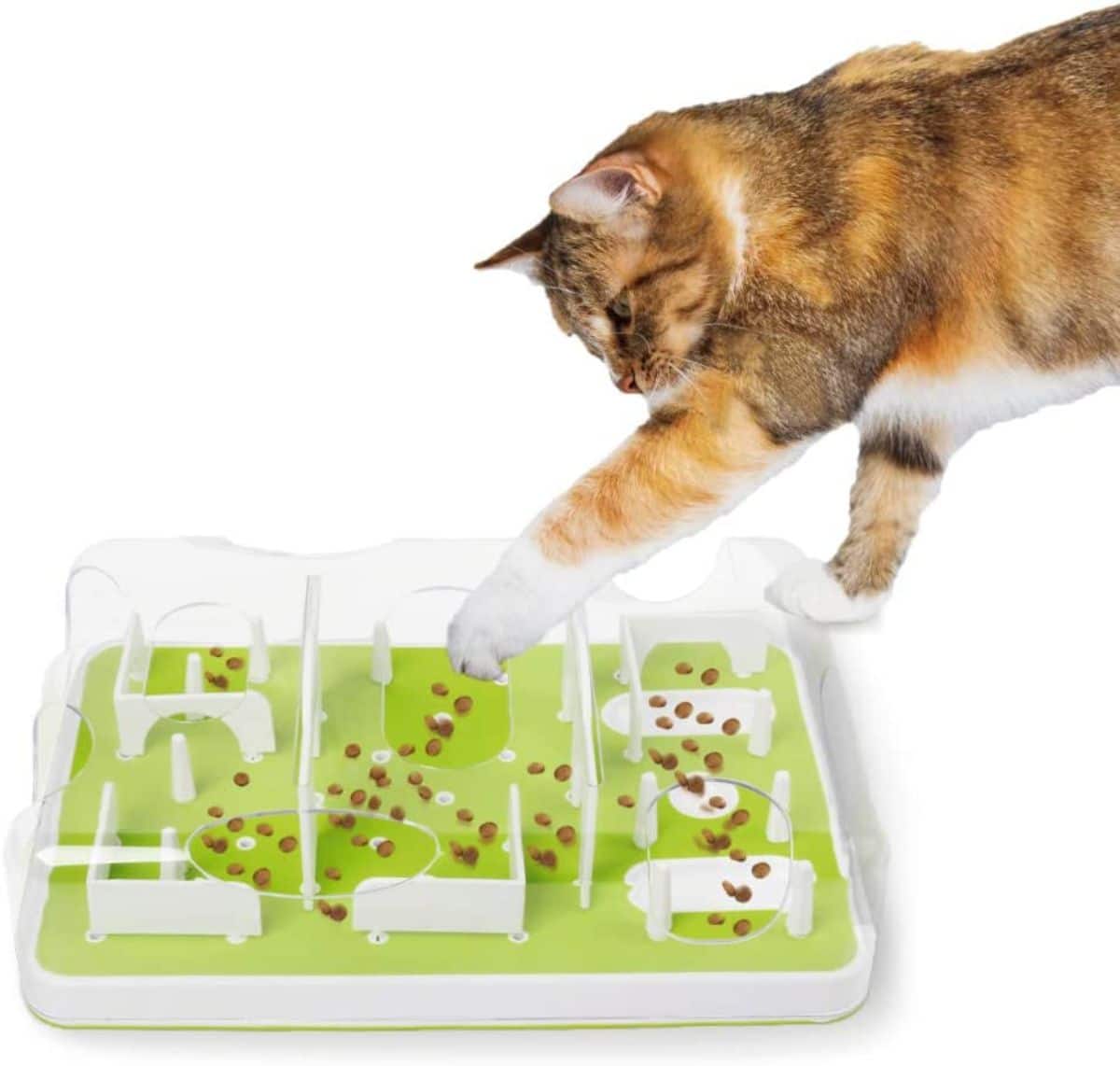 All For Paws Interactive Treat Game Maze lets you customize the difficulty level, ensuring your kitty never gets bored. Once they're up for a new challenge, pop in a few more of the maze walls and watch them work to get their snacks through the labyrinth.
The top comes off to make cleanup easy, and the non-slip rubber grips ensure the toy stays in place for even the most rambunctious hunter.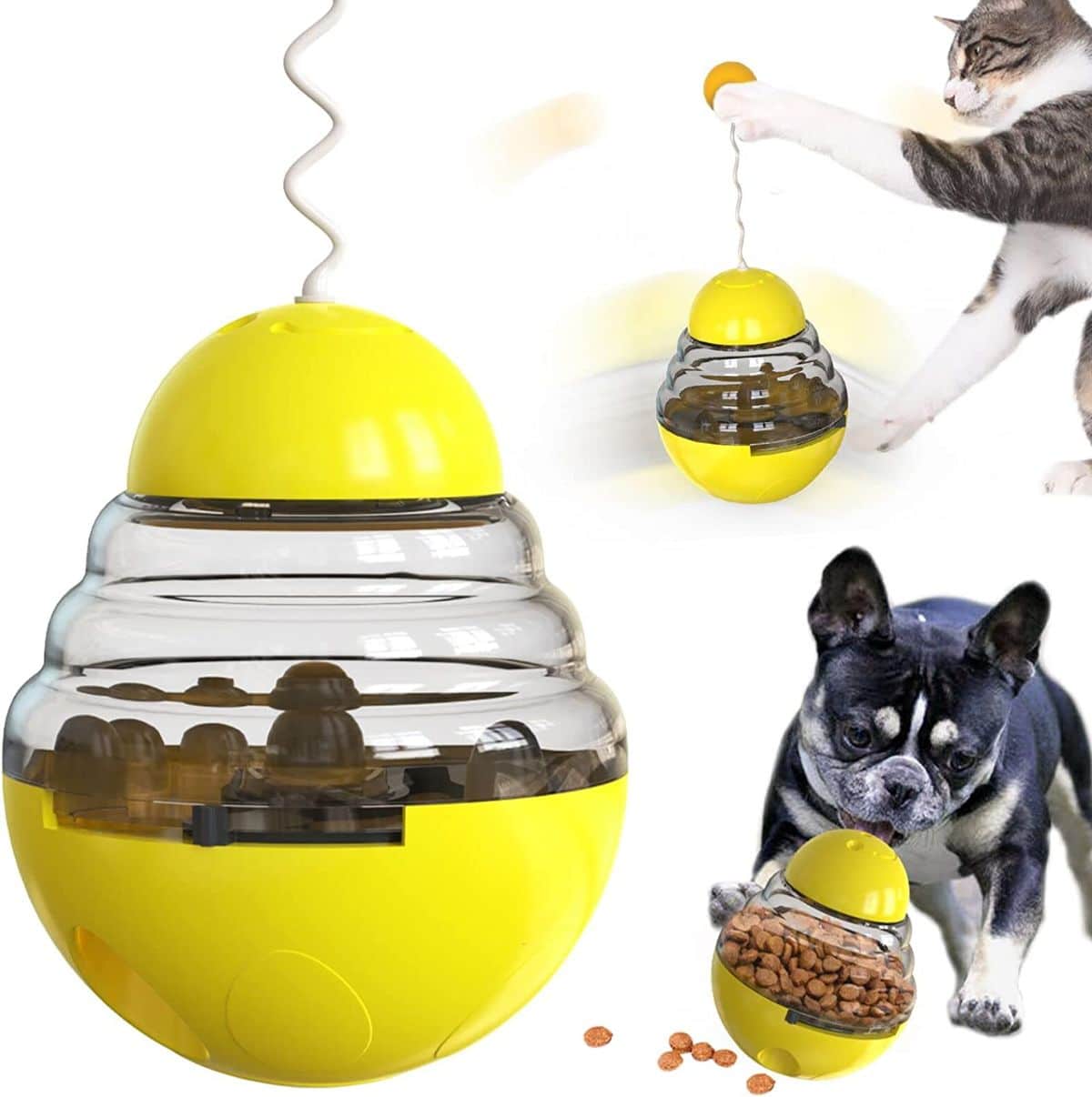 Stimulate your cat's senses with a wibbly-wobbly tumbling ball. The weighted bottom ensures it stays upright against even the most vigorous pouncing, batting, and swatting. A teaser toy topper gives your cat even more motivation to play, tempting your kitty to take a swipe that sends the treat dispenser spinning.
The best feature, though, is the dual dispensing rate control. The treat container has built-in barrier posts to keep treats from reaching the exits too quickly, and it also features sliding "doors" over both holes to keep the kitty occupied for even longer.
Frequently Asked Questions
If your kitty is a pint-sized genius, keeping their brains busy can be challenging. We've covered some top questions for curious cat owners looking for a solution:
How can I stimulate my cat's brain?
The best way to stimulate your cat's brain is by engaging it in active playtime with games, toys, climbable cat trees, and hiding spots. These activities appeal to their natural instincts for hunting, foraging, and pouncing on prey.
How do you entertain an intelligent cat?
You can entertain an intelligent cat by giving them puzzles to solve, which works best with food-motivated felines. Once they smell a treat nearby, they'll put their brains to work accessing the cache of kibble. 
Do cats play mind games?
While it's difficult to determine whether our cats are purposefully being manipulative, there is some evidence that cats know the easiest way to get our attention: vocalizing. Cats typically don't "meow" when communicating with others of their species, instead reserving it exclusively for their favorite humans.
How do you play with a smart cat?
Intelligent cats can be challenging for impatient owners, as they will find ways to occupy their minds if you're unwilling to provide entertainment. You can play with an intelligent cat by using toys, setting up a bird feeder near their favorite window, and giving plenty of cat-friendly furniture for them to practice their climbing skills.
Wrapping Up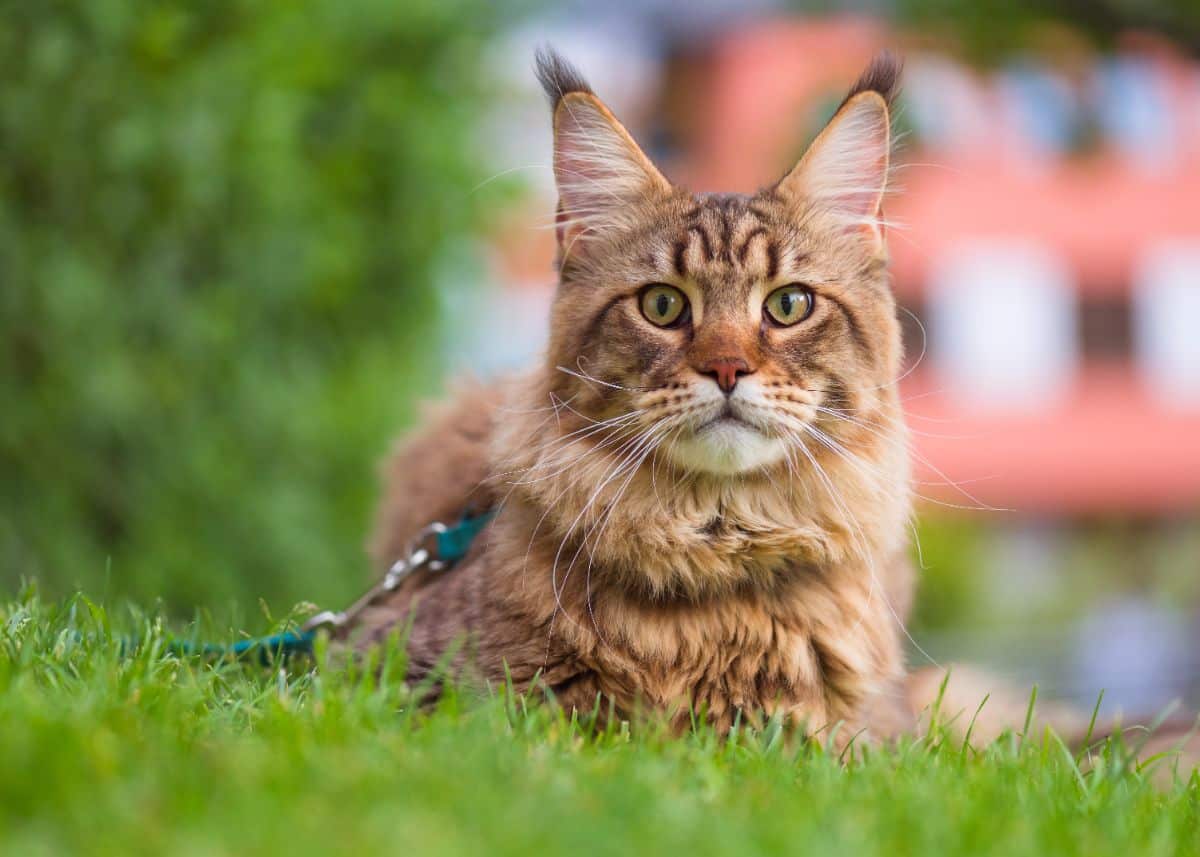 To keep your cat healthy and active, they need pet-friendly playthings that put their minds to work. Treat games for cats sharpen their mental acuity, provide an excellent workout, and help slow down eager eaters in one simple package.
It might take a few tries to find the perfect fit for your picky kitty, so don't be afraid to try another option if they seem disinterested. It'll be worth the investment in helping your beloved friend live a long, happy life.