Maine Coon cats are big, beautiful cats with a wonderful nature and a curiosity that makes them fun to be around. They are intelligent and make excellent pets for families with small children and single people who would like a companion who won't mind being picked up or played with. In this article, you will learn about the origin, characteristics, and cost of Tuxedo Maine Coon cats.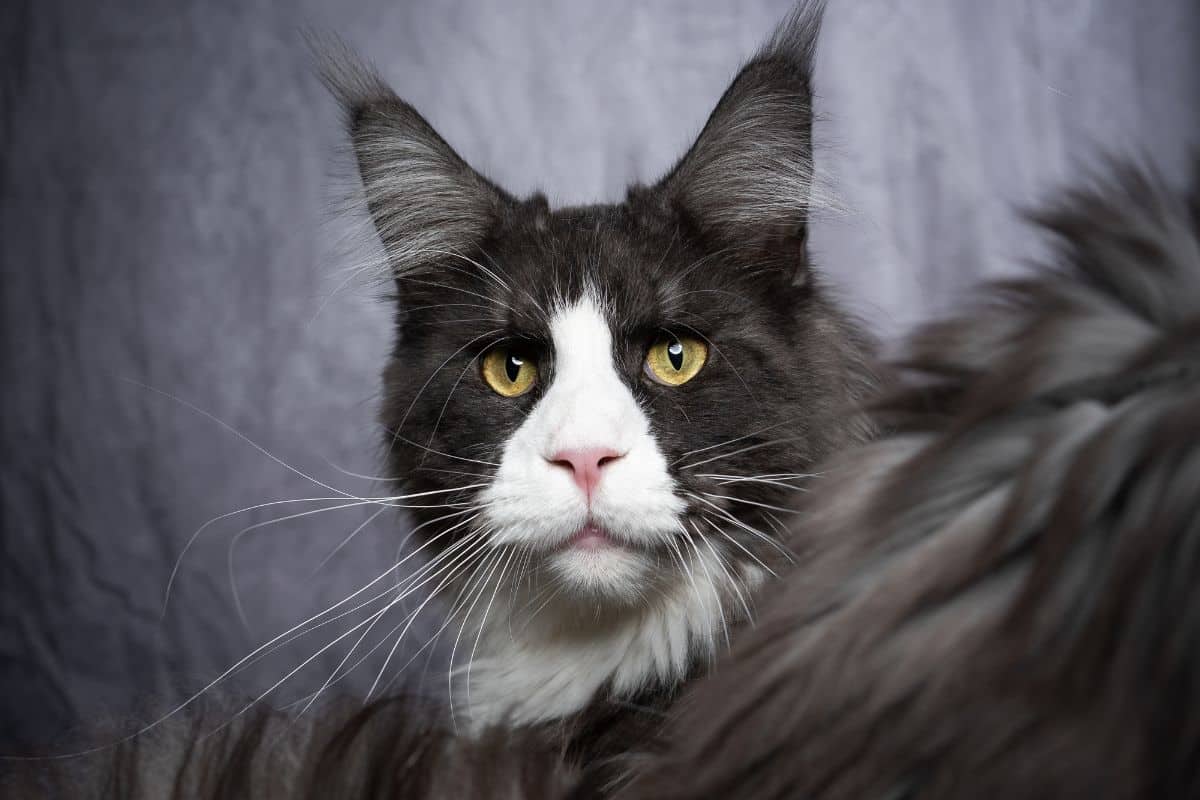 Jump to:
Where Do Maine Coon Tuxedo Cats Come From?
It should be no surprise that Maine Coon cats were originally from Maine. But theories persist as to their origins.
Raccoon Origins
One standard (though unfounded) theory about the breed's ancestry is that it developed from a cross between domesticated cats and raccoons, accounting for the cats' brown fur and bushy tails.
French Origins
It has also been said that modern-day Maine Coons can trace their ancestry back to the six cats Queen Marie Antoinette sent to the town of Wiscasset in Maine as she plotted her escape from France at the start of the French Revolution.
Viking Origins
Less interesting, but more likely, is the theory that the fluffy kittens descended from the offspring of short-haired domestic cats and long-haired cats brought to America by European mariners or Vikings in the 1700s.
Tests on DNA suggest that Maine Coons are descended from the Norwegian Forest Cat and an unidentified domestic species that went extinct long ago, meaning that the Norse were responsible for creating this hybrid.
How Big Do Tuxedo Maine Coons Get?
There is no size difference between a tuxedo Maine Coon and any other Maine Coon, as the color of a cat's coat has no bearing on the cat's overall body mass.
The male Maine Coon is often larger than the female. The typical adult tuxedo Maine Coon weighs between 8 and 25 pounds. Male Maine Coons usually weigh between 15 and 25 pounds, while females range between 8 and 12 pounds.
They will typically range in height from 8 to 16 inches and in length from 19 to 40 inches. The average height of a female Maine Coon is 8 to 14 inches, while a male averages 10 to 16 inches. Maine Coons, both male and female, are almost the same size.
Maine Coons take considerably longer to mature in size than the ordinary housecat, despite their bigger size. Cats of this size mature at a reasonably leisurely pace, taking anywhere from three to five years to reach adulthood.
Are Tuxedo Maine Coons Only Black And White?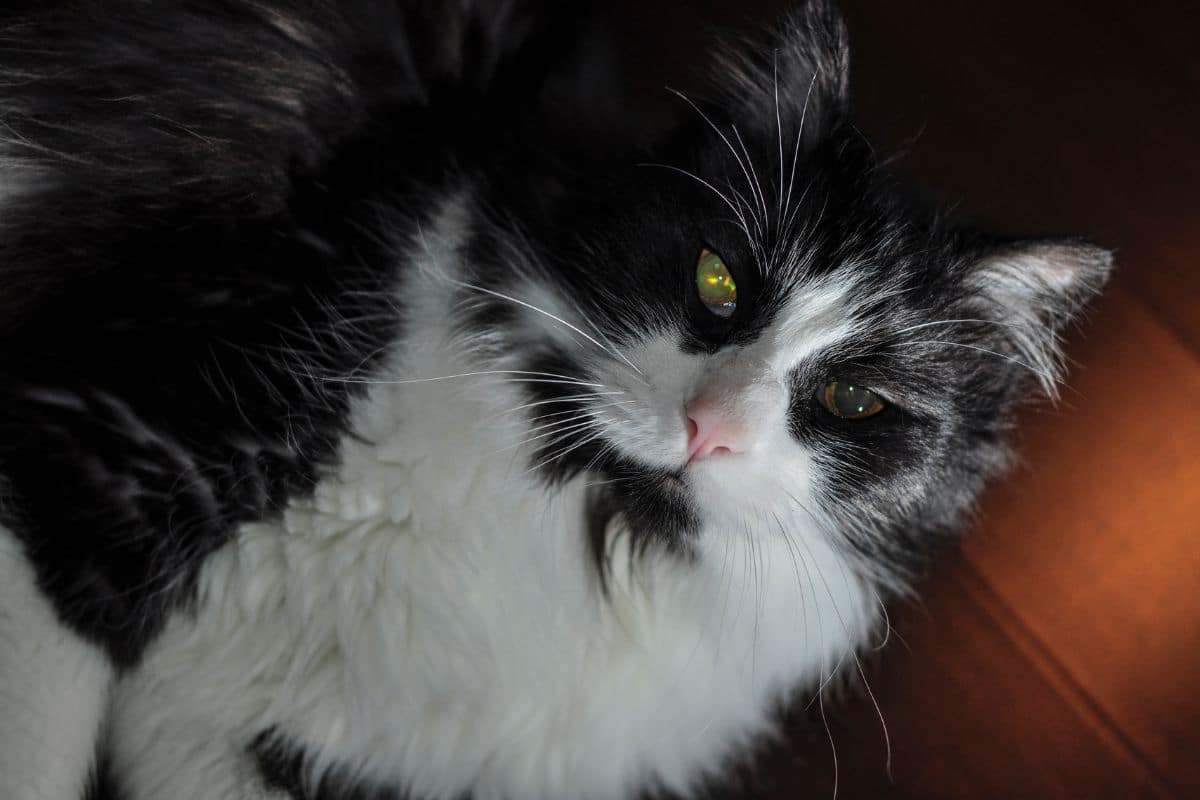 Cats with a tuxedo pattern are bicolored or piebald. The most common color combination for Tuxedo Maine Coons is black with white markings, although other colors and patterns are possible.
Tuxedo cats get their name from the white markings on their coat are limited to the face, chest, and paws, giving the impression that the cat is donning a formal suit. Even though the most common Maine Coon is a black and white tuxedo, it may come in a broad range of various colors.
There are five possible varieties of tuxedo Maine Coons:
1. Black Tuxedo Maine Coon
The tuxedo Maine Coon cat, sometimes known as a black tuxedo cat, is an all-black cat with white face, chest, and paws. The tuxedo Maine Coon is the most typical variety.
2. Blue Tuxedo Maine Coon
A blue tuxedo Maine Coon, often named gray tuxedo, is a muted variation of the black tuxedo, sharing similar white patterns.
Due to a recessive gene, diluted cats have to inherit the gene from both parents to be diluted cats, making them far less common than regular red or black cats.
3. Cream Tuxedo Maine Coon
Tuxedo Maine Coons usually have one dominant color and some white markings.
However, Maine Coons with a tortoiseshell tuxedo pattern start with a black and cream brindle or a blue and cream brindle.
4. White Tie with Cream Coon
Compared to their red counterparts, Maine Coons in cream tuxedos are a watered-down variety.
Cream tuxedo Maine Coons are even more unusual than blue tuxedo ones since the cat has to inherit the diluted red gene from both parents.
5. Red Tuxedo Maine Coon
Many call red cats "ginger" or "orange"; however, the tuxedo Maine Coon also appears with red coloring.
Are Tuxedo Maine Coons Rare?
Stylish tuxedo Maine Coons are one of the most frequent coat patterns for Maine Coon cats. Silver, smoke, and chinchilla hues, among others, are more challenging to breed because of their rarity.
What Is The Personality Of A Maine Coon?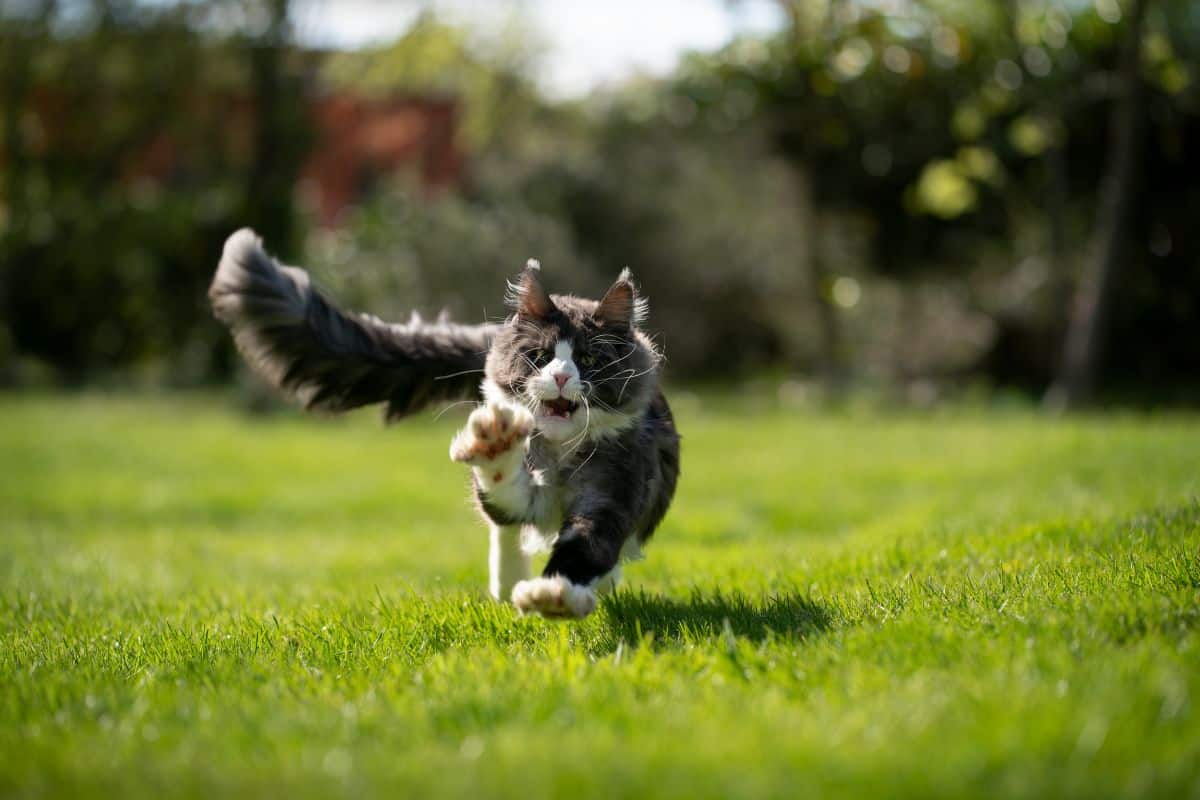 The wide variety of coat patterns and colors in cats has led some individuals to incorrectly assume that the pattern and color of a cat indicate its breed.
Color and pattern are often misunderstood indicators of a cat's breed and personality. Though some breeds of cats, such Himalayans and Russian Blues, are defined by their distinct coat patterns and colors, a cat's coat color has no bearing on its personality.
Tuxedo Maine Coons share the same temperamental characteristics as other cats within this breed, even if they have different colors.
Personality features that are indicative of a Maine Coon cat are as follows:
1. Social
The large Maine Coon cat is friendly and wants to meet new people. Yet, they are fiercely devoted and loving to their owners. Maine Coons aren't possessive, but they enjoy being close to their owners and sometimes even follow their humans to stay close.
2. Gentle
The Maine Coon is also a very patient and kind animal. Because of their docile nature, these cats are sometimes called "gentle giants" among feline species. And, unlike other breeds, Maine Coons are incredibly tolerant and kind to everyone they meet, including children and other animals.
3. Playful
Maine Coons are surprisingly lively for their size. They keep their kitten antics well into maturity. These felines maintain a childlike sense of wonder and delight even in old age. Maine Coons thrive with daily interaction from their owners and a sizable toy collection to keep themselves entertained.
4. Intelligent
Intelligence is a highly regarded trait among Maine Coons. They are keenly aware of their owners' moods and often anticipate when they are about to be sad or pleased. Being so smart and curious may get them into trouble, though. So it's a good idea to play with them regularly.
5. Active
The Maine Coon is a very active cat breed. They're born with an innate drive to hunt and like the thrill of a good climb. These felines require a large play area with high places to perch and several durable toys that endure rigorous play.
How Much Does a Tuxedo Maine Coon Cost?
A tuxedo Maine Coon's price may leave you wondering if indulging your newfound passion for tuxedo cats is worth it.
Maine Coons, to begin with, are not inexpensive, usually costing between $400 and $2,000. There are less expensive options for Maine Coons if the asking price is too high.
Tuxedo cats shouldn't cost as much as other Maine Coon patterns and colors because their black and white color is not as unusual.
Adult
An adult Maine Coon tuxedo cat from a responsible breeder might cost anywhere from $600 to $1,200.
Kitten
When purchasing a black and white kitten, look for a licensed breeder. You should expect to pay more than you would for an adult. The average cost of a kitten ranges from $800 to $2,000.
Senior Cat
Once Maine Coons age out of competition in cat shows, or are too old to breed, they are retired. Many breeders decide to sell them to give retired Maine Coons a happy, permanent home. Prices for a retired Maine Coon range from $400 to $1,200.
Shelter Cats
Shelters often have difficulty keeping Maine Coons because they are so popular among breed enthusiasts. If you're lucky, you may pick up a tuxedo Maine Coon from a rescue group for around $100-$250. That additional research is well worth the savings you'll get here.
Should I Adopt Or Buy A Tuxedo Maine Coon?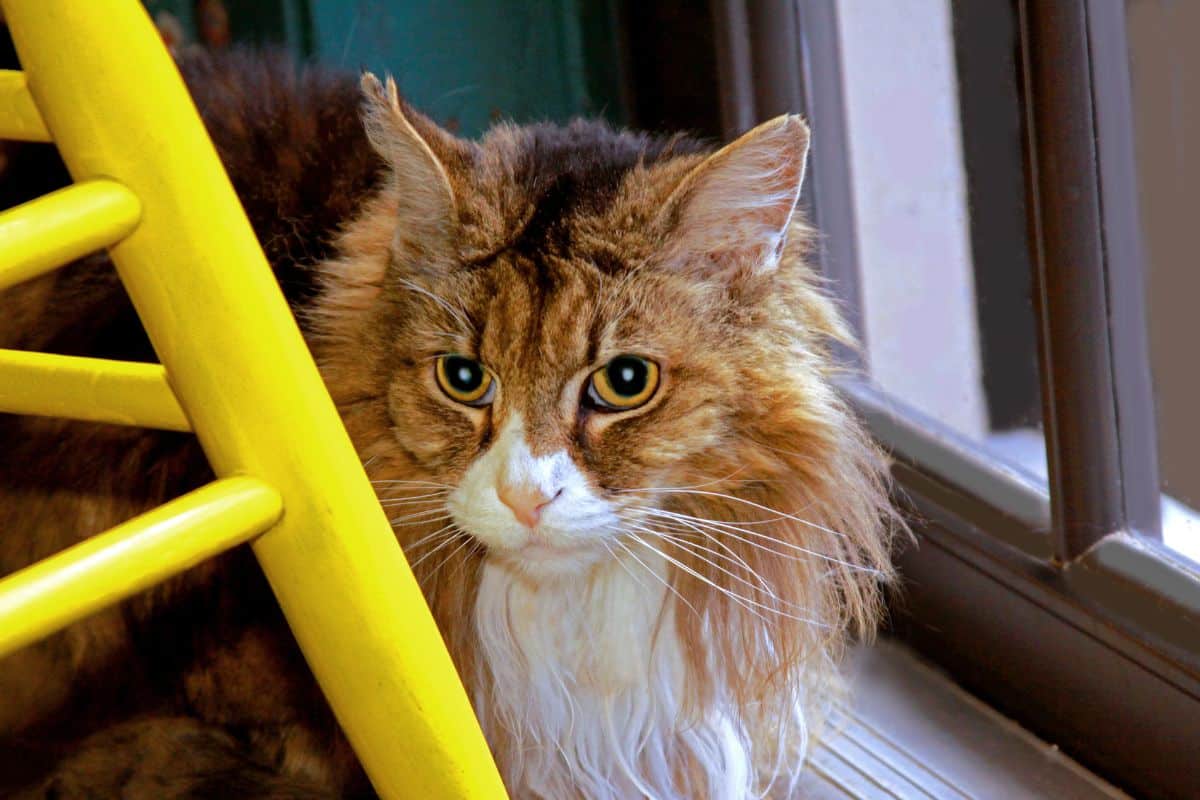 Research is necessary if you want to buy a tuxedo Maine Coon kitten from a breeder to guarantee breeders raise the cat humanely.
Look for TICA and CFA-recognized breeders when shopping for a tuxedo Maine Coon; both organizations guarantee that their members only produce healthy, happy cats.
It's also a good idea to locate breeders in your area and visit their facilities and see the living conditions and the cats themselves.
Regularly check your local shelters for a Maine Coon if you can't afford to buy a purebred, or look into getting a Maine Coon mix if you can't afford either.
In Review
We hope you've enjoyed learning about the beautiful Maine Coon cats and their amazing personalities. Tuxedo Maine Coons are one of the most popular cat breeds because they have beautiful fur coats and are intelligent and easy to train. These kitties are so popular with pet owners because they're so easy to love and care for. They have a sweet nature and huge size that make them great pets.