In recent years, cat water fountains have become a prevalent accessory for cat parents. From simple water jets to elaborate fountains with fun shapes, there are a lot of options out there.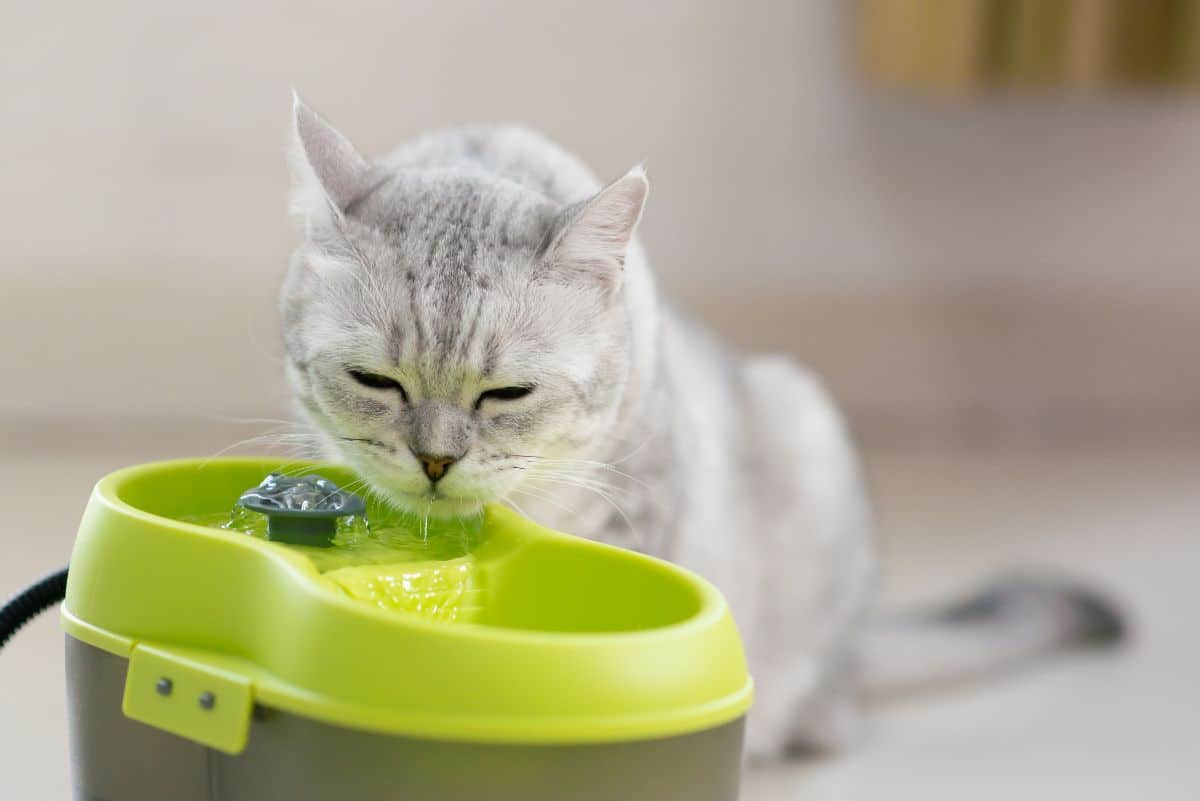 We've picked out eight of the best water fountains for cats to help you choose. Whether you prefer simple and sleek or bright and fun, we've got a fountain that'll fit your needs perfectly. We'll also cover frequently asked questions, including what vets say about this new cat trend.
Jump to:
Our Top Picks
Here is a quick overview of our selection of the best water fountains for cats.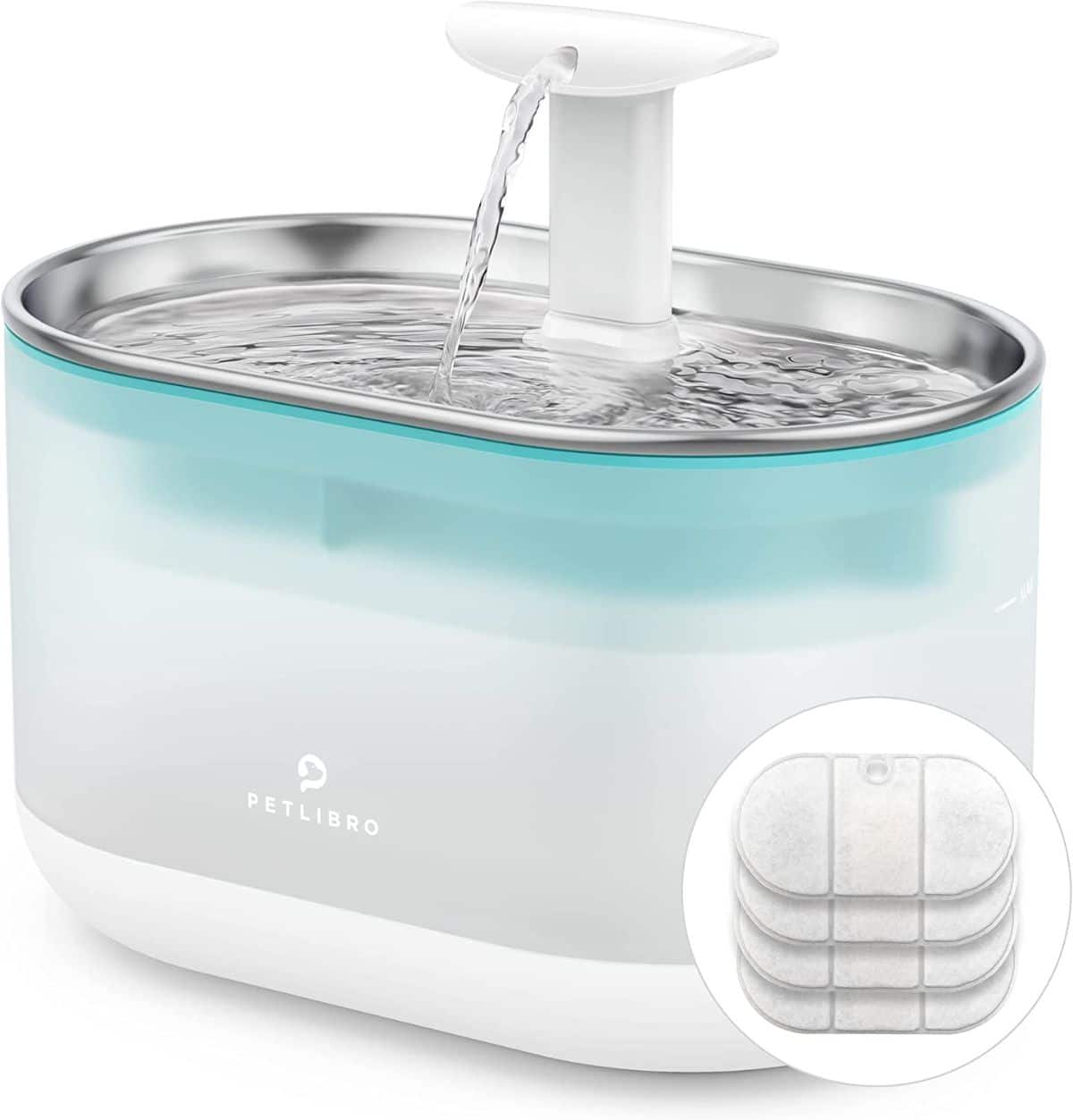 With easy-to-clean stainless steel well, a decent price, and excellent reviews, PETLIBRO Upgraded is the number one fountain on our list.
The PETLIBRO Upgraded fountain combines many of the aspects we found the most important while researching: easy to clean, decent capacity, relatively inexpensive, quiet, and a great filter. In addition, this fountain has variable options, so you can choose a bubbler or stream depending on your cat's preference.
The design is also quite sleek, so you won't have to suffer from a fountain that interferes with your design preference.
2. Best on a Budget: Chomiest
Chomiest offers a quality water fountain with a great filter system at a much lower price than other options.
Whether you're on a budget or don't want to spend a bunch of money in case your cat isn't a fan, the Chomiest fountain is the best option we found. The price is very low, but reviews and ratings put this fountain on par with some of the more expensive options.
This fountain is smaller than other options, with a water capacity of 54 ounces (1.6 liters).
3. Best Non-Electric: CZPET
If you don't want to worry about wires and noise, the CZPET non-electric cat water fountain is the perfect option.
Cat water fountains are an excellent way to ensure your cat drinks enough water, but not everyone wants an electric water fountain. Whether sound or wires are your concern, the CZPET fountain is your solution.
This gravity-based fountain has a water capacity of 101 ounces (3 liters).
4. Best for a Modern Aesthetic: DRINKWELL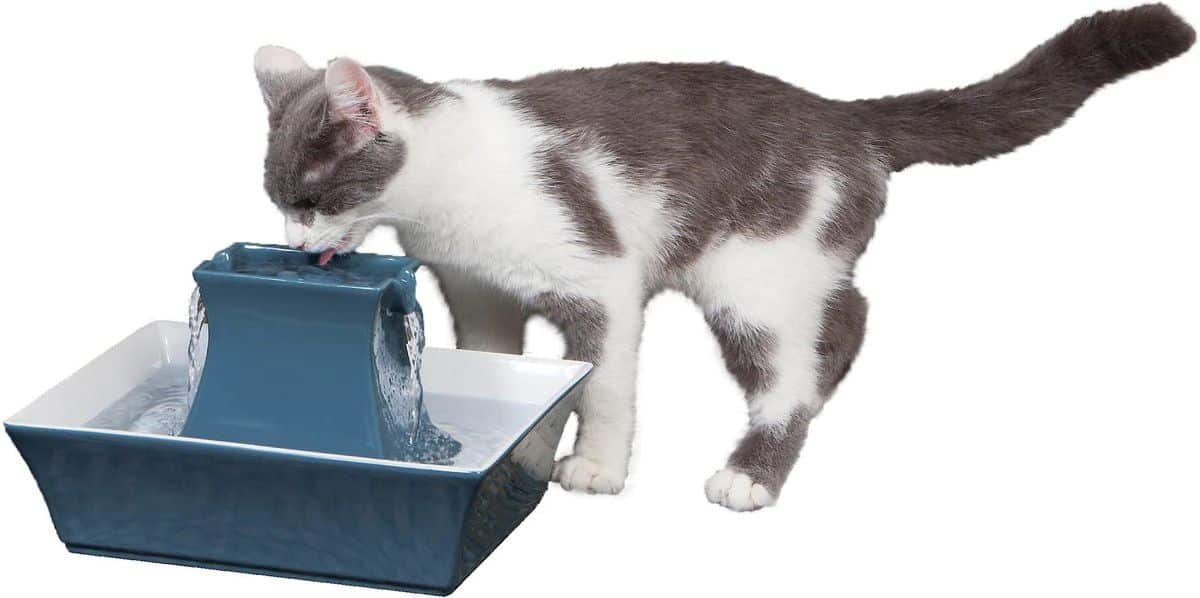 The DRINKWELL ceramic fountain won't seem out of place if you prefer a modern aesthetic in your home.
If your taste trends toward sharp lines and sleek design, the DRINKWELL fountain will fit right into your modern aesthetic. The fountain features a raised well that has a vertical waterfall into the lower well.
The fountain has a 70 ounces (2 liters) water capacity. In addition, the large size means the water fountain can work for cats and dogs, which is perfect if all your animals share water bowls.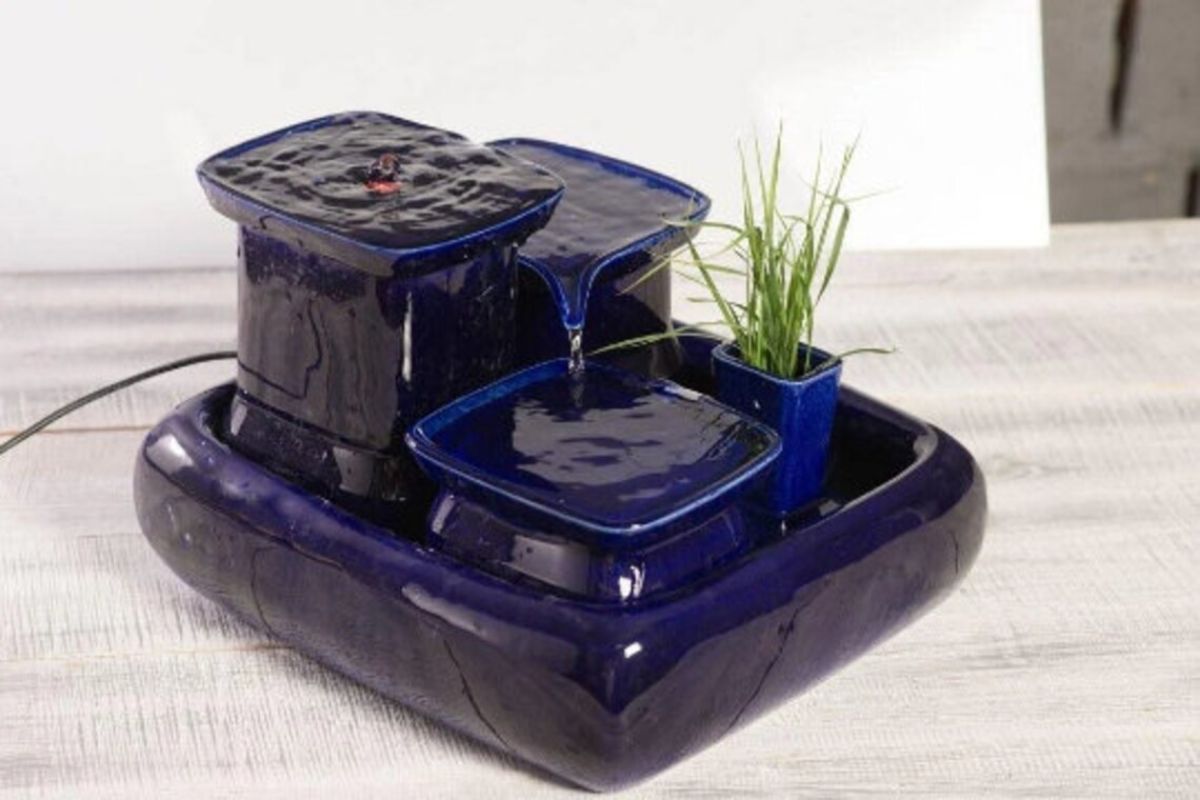 For those who aren't on a budget, the Miaustore ceramic fountain is a great option that almost looks like an art piece.
The Miaustore ceramic water fountain, available on Etsy, looks like it might fit better in a museum garden than in your living room. The fountain has four wells to drink from, three mini waterfalls, and a bubbler at the lowest well.
The fountain is ceramic, making it easy to clean, and it comes in a range of colors to fit your personal preference. The fountain has a water capacity of 115 ounces (3.4 liters).
6. Best Quiet Fountain: Cheerble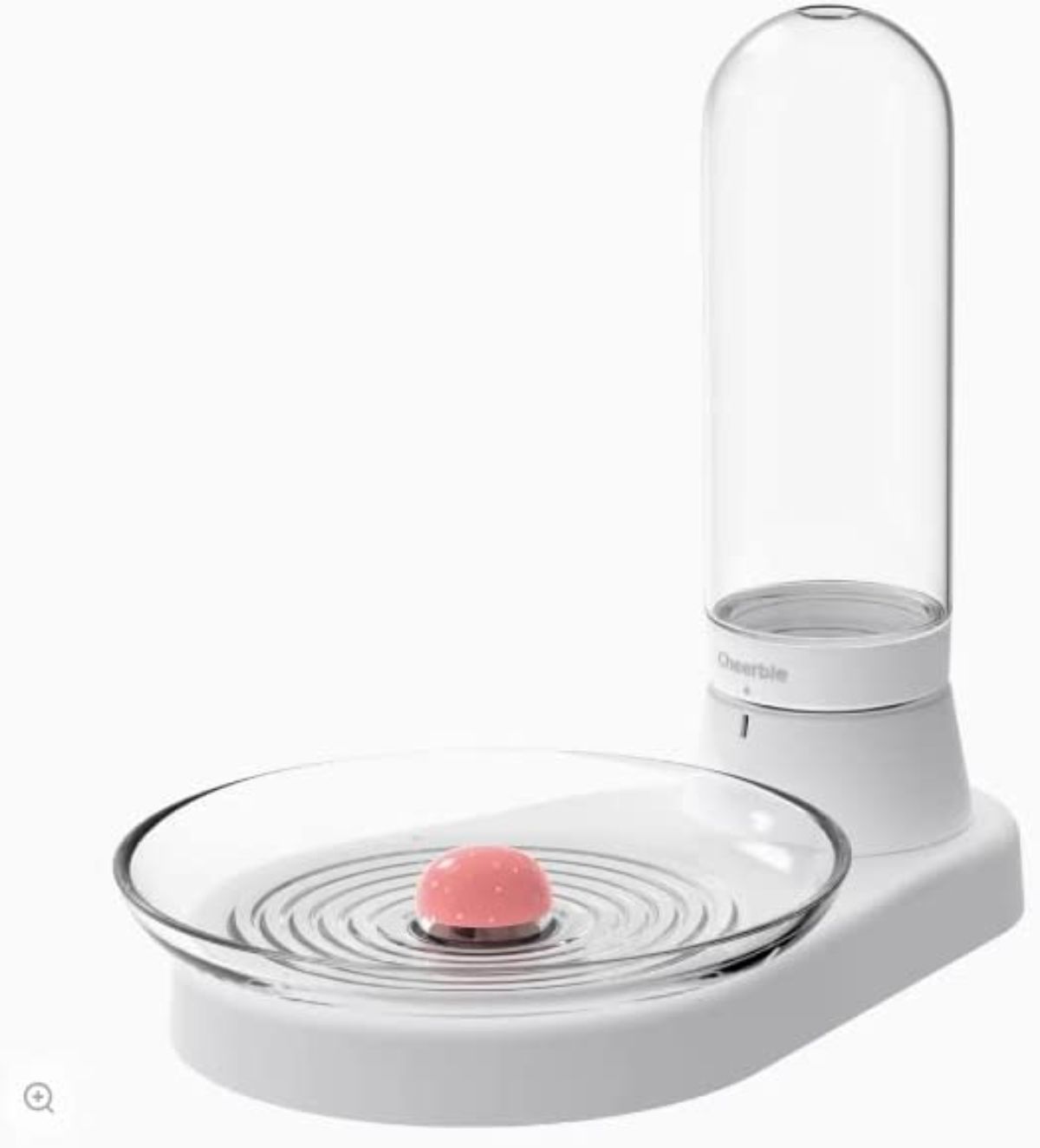 The Cheerble water dispenser is non-electric and gravity-powered, making it the quietest option by far.
Unlike the majority of the fountains on our list, the Cheerble water fountain has no pump and uses no electricity. This fountain uses a simple gravity-based holder that regularly releases water as your cat drinks from the well, with a water capacity of 54 ounces (1.48 liters).
Because there is no pump, you don't have to worry about sound at all with this fountain.
7. Best Wireless Pump Fountain: PETLIBRO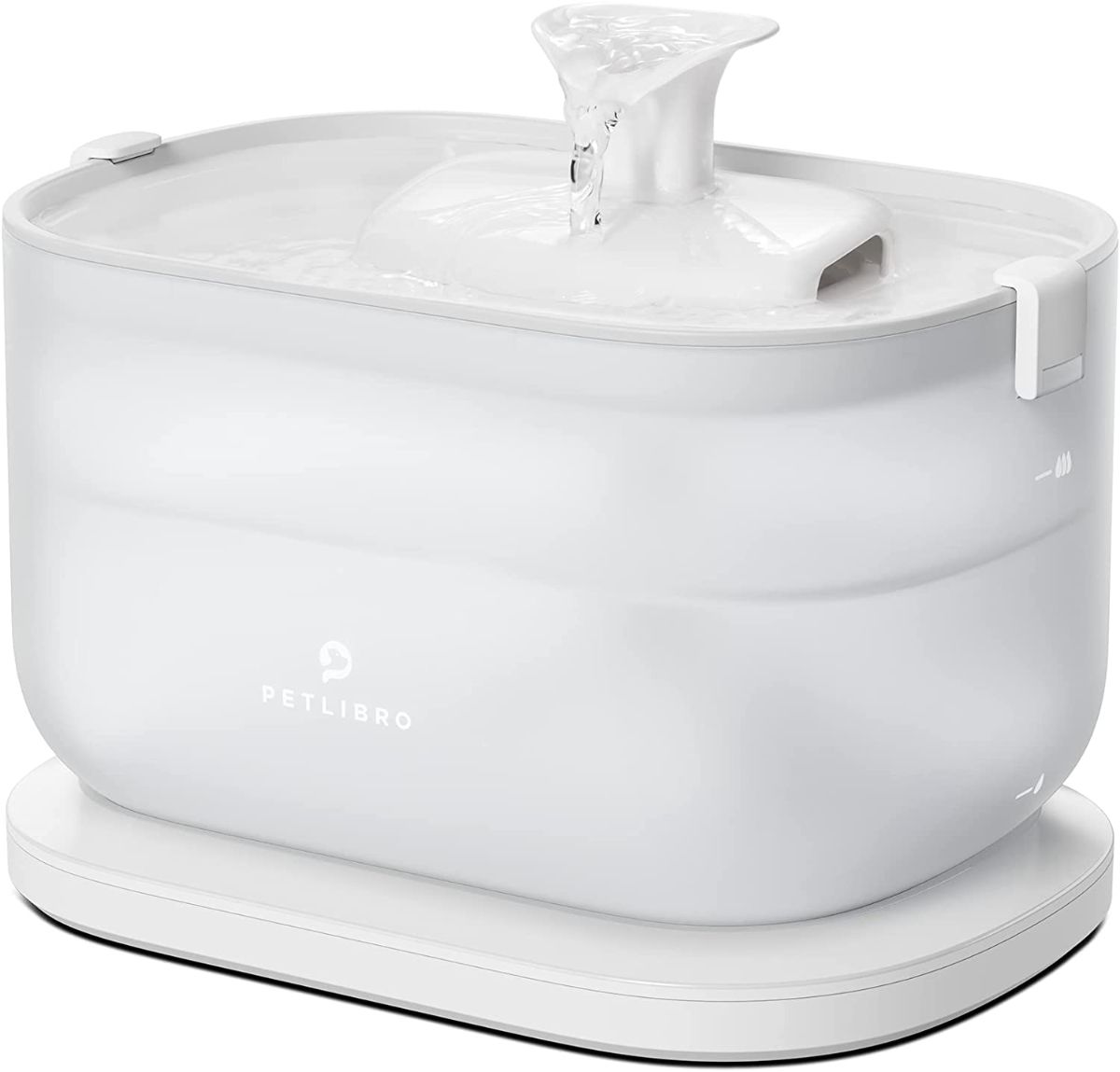 Sale
The PETLIBRO original (as opposed to the upgraded version at the top of our list) features a sleek design and a wireless pump.
Most electric cat water fountains feature a pump wired throughout the fountain's body. Understandably, many people worry about the combination of wires and water, so the PETLIBRO original cat water fountain features a wireless pump. The base of the fountain still has a wire, but there's no worry of a wire in any areas flooded with water.
This fountain has a large capacity of 85 ounces (2.5 liters).
8. Best for Easy Cleaning: Tomxcute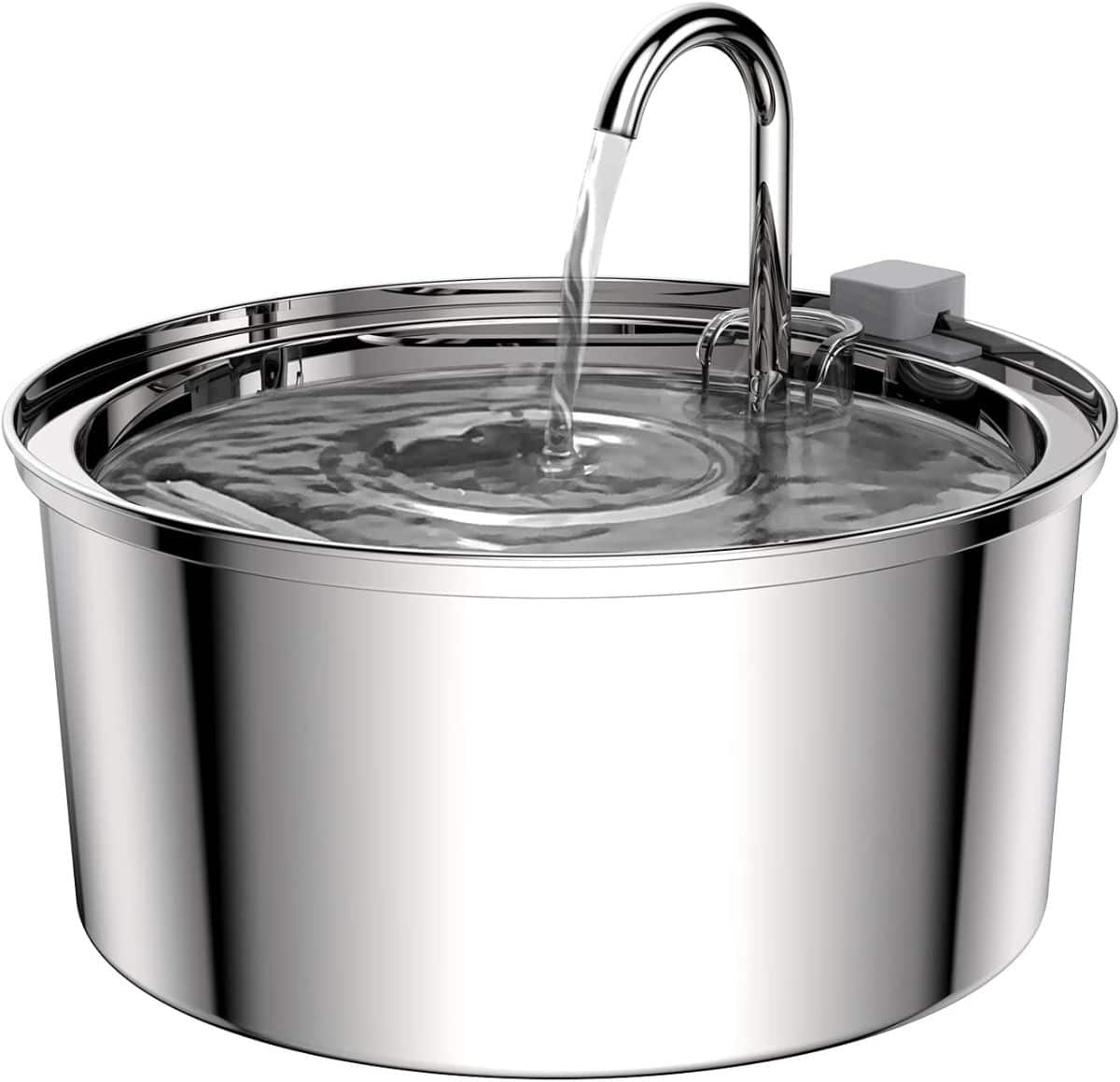 Sale
The Tomxcute fountain is made entirely of stainless steel, meaning you don't have to worry about constant cleaning.
The Tomxcute fountain is made of stainless steel, not just in the water well but on the body of the fountain as well. This makes it easy to clean, rust-proof, and stain-resistant. The body and well (including the fountain faucet) can go directly into your dishwasher, making cleaning easy.
The fountain features a faucet stream with a water capacity of 108 ounces (3.2 liters).
Frequently Asked Questions
Here are some frequently asked questions regarding cat water fountains.
What kind of water fountain is best for cats?
The type of water fountain you should get depends on your cat's preference. Does your cat always want to take a sip from the sink faucet? You should get a water fountain that features an active stream of water.
Does your cat try to drink directly from your water glass? A bubbler or current-based water fountain is your best bet. Pay attention to your cat when they show interest so you can figure out the perfect fountain for them.
Why does my cat's water fountain get slimy?
A cat water fountain gets slimy because the bowl is dirty. Although cat water fountains don't build up the organic matter as much as regular water bowls, it still happens over time. Try cleaning out the bowl, and the sliminess should be gone.
If the fountain is still slimy after cleaning, it is likely an issue with its pump.
Final Thoughts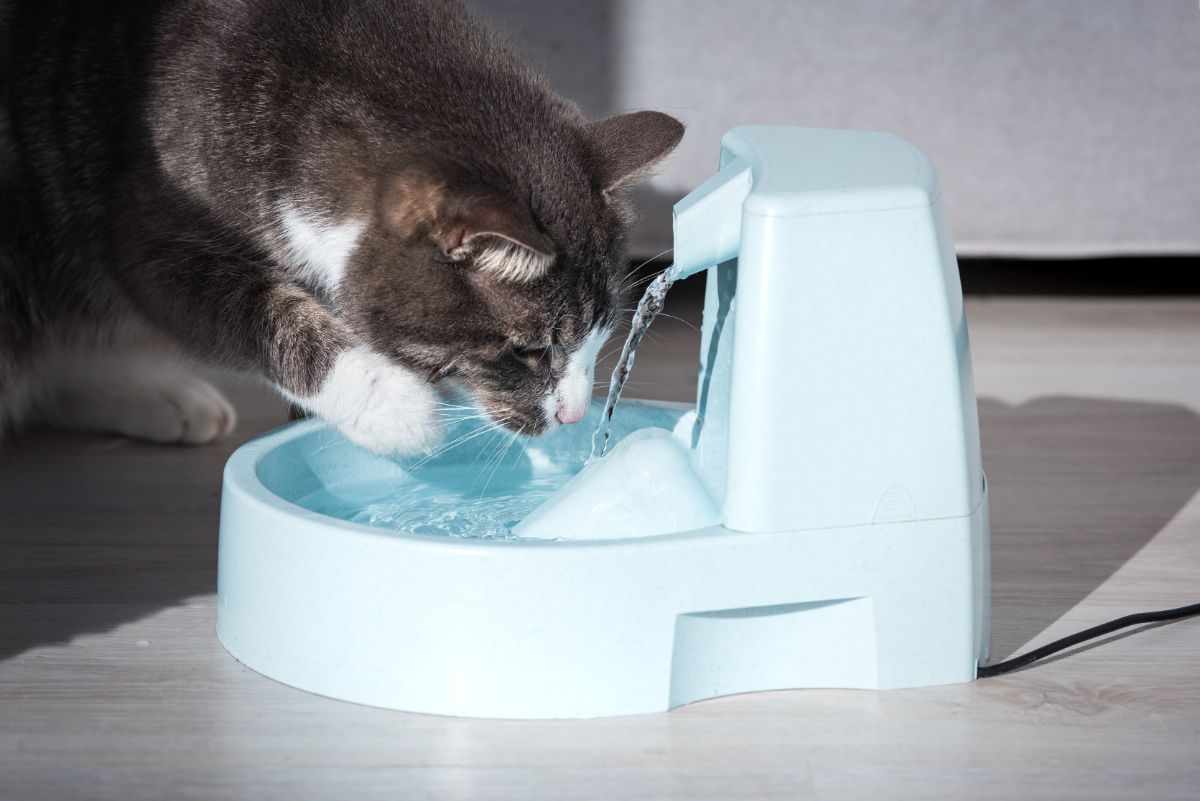 Water is one of the critical elements of life, and for cats, who often struggle to get their daily recommended amount of water, water fountains are an excellent way to ensure your cat gets all the water they need.
Veterinarians recognize and recommend water fountains because they help keep your cat hydrated with filtered, moving water. We hope our list helped you find the ideal fountain for you!