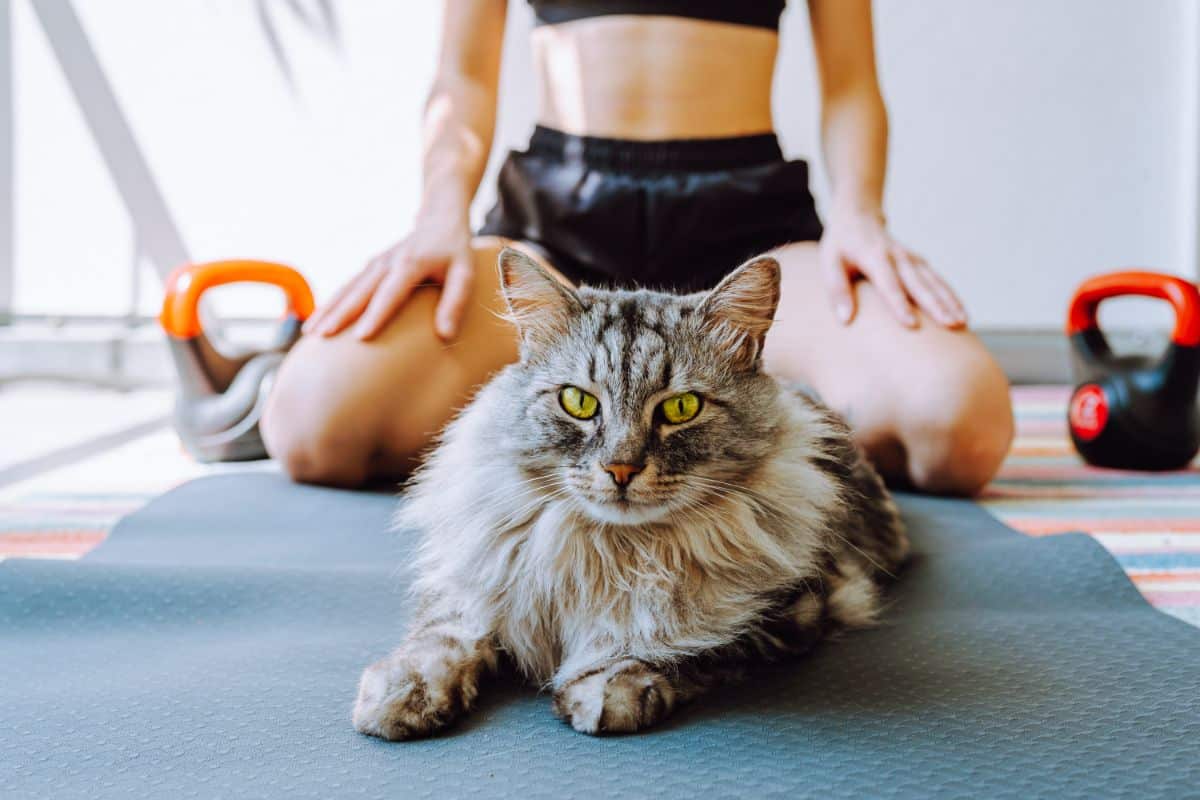 Training your cat can seem unusual but teaching your pet to perform a few tricks and respond to some basic commands has several advantages. Training sessions will bring you closer to your furry companion and strengthen the bond you have. Training your Maine Coon can also help address behavioral issues like destructive behavior or aggression.
Read on to learn more about how to train a Maine Coon.
Jump to:
1. Use Positive Reinforcement
Positive reinforcement is the key to teaching your Maine Coon to respond to your commands. This reinforcement is a popular method for training animals since it helps motivate the animal and establishes a positive bond with the trainer.
You can use positive reinforcement by offering a reward when your pet gets something right. You can, for instance, offer a treat.
If weight gain is a concern, cat trainer Samantha Martin recommends using clicker training. A clicker is a small device that makes a clicking noise. You can introduce this object and offer a treat or provide affection when you click it.
Before long, your cat will associate the noise of the clicker with positive feelings, and clicking is enough to let your pet know they're doing a good job.
2. Make Training an Enriching Experience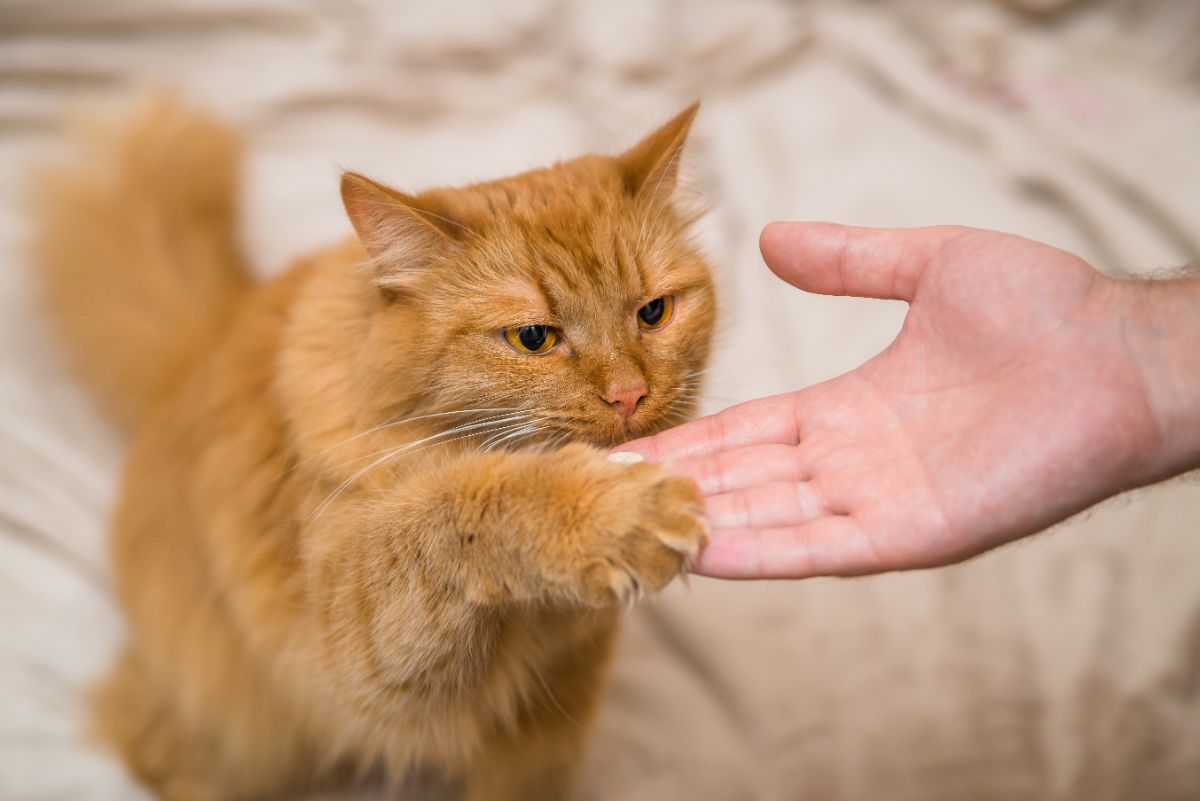 Maine Coons are intelligent animals. They're playful and typically enjoy spending time with humans. If you're wondering how to train a Maine Coon, the best way to get started is to find games and activities that are enriching for your pet.
Cat trainer Samantha Bell advocates for prioritizing enrichment over any other goals when training your cat.
You can turn training into an enriching experience by introducing new commands and new challenges with each training session. Using toys to get your pet's attention and get them to perform a trick is another excellent way of making training fun.
3. Avoid Frustration and Boredom
Cats can be challenging to train compared to dogs. They tend to be more independent and might not have the same drive to please their owner.
Maine Coons are one of the most social and outgoing cat breeds. It makes them good candidates for training. However, you should pay attention to your cat's body language so you can take a break from training if your cat becomes bored or frustrated.
Upright ears and tails indicate that your cat finds the current training activity engaging. Head titles are another good sign.
A stressed and anxious cat will typically keep its ears down and might crouch to stay close to the ground. An unfamiliar object or person can cause this reaction. A cat that arches its back is becoming stressed and angry.
Unlike dogs, cats will wag their tails if they feel irritated or unhappy. Take a break from training.
Be mindful of how you feel. Cats are sensitive animals who can pick up on your feelings based on your tone and body language. If you're getting frustrated with the training session, take a break to avoid turning training into a negative experience for everyone involved.
4. Start With Easy Commands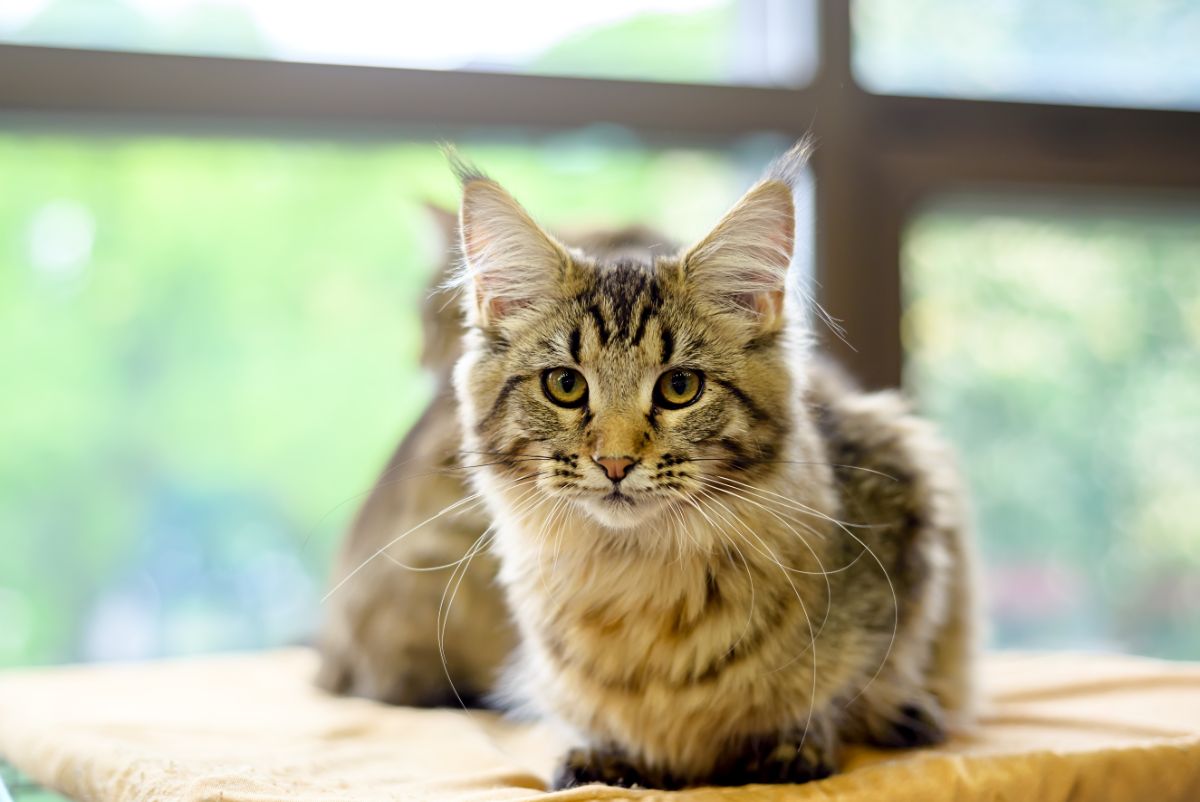 Teaching your pet to answer to their name is a great way to start training. It's something your Maine Coon might already know.
You can teach your cat to respond to their name by using their name as much as possible throughout the day. If your cat responds by looking in your direction, say 'yes' in a friendly voice and offer a reward.
You can gradually introduce the 'come' command by saying your cat's name followed by 'come.' Show your cat that you're holding a treat, and they will come to you.
Once your cat understands that the 'come' command means they get a reward, you can start hiding the food and eventually replace it with a few words of praise.
5. Get Your Cat To Follow You Around and Introduce Jumps
Now that your Maine Coon responds to their name and knows the 'come' command, you can build on their training to introduce a few tricks:
You can use 'come' to get your cat to follow you around. Make things more complicated by walking backward or taking sharp turns.
Place an obstacle between you and your cat before using the 'come' command. Climbing over unfamiliar objects, finding their way through a maze, or navigating an obstacle course can be fun challenges to enrich your cat's life.
'Come' is also a useful command to make leash training easier if you want to take your Maine Coon on outdoor adventures, which is something celebrity cat trainer Jackson Galaxy recommends doing.
Use 'come' followed by 'jump' to get your Maine Coon to join you on the couch. If you use a gesture like pointing to the couch with your index finger, you can use the same gesture followed by the 'jump' command to get your cat to jump on any surface or over obstacles.
6. Teach the 'Gentle' Command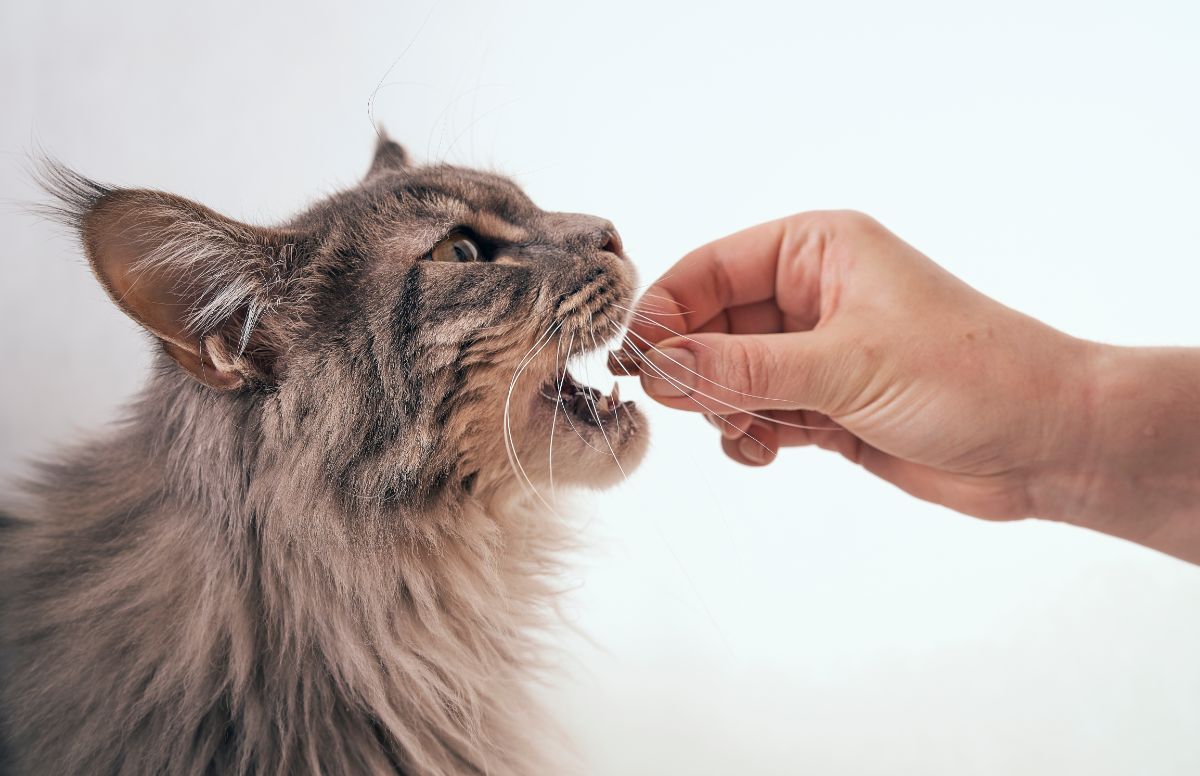 The 'gentle' command helps teach control and curb unwanted behaviors that are common in kittens, such as nipping and play biting. Galaxy also recommends addressing these issues early if you have a kitten who bites.
Teaching the 'gentle' command is easy:
Offer a treat to your cat.
Don't let go of the treat when your cat bites.
Say 'gentle' in a calming voice and take the treat away if your cat bites too hard.
After a few tries, your pet will understand they must bite gently to get the treat.
7. Teach Some Advanced Tricks
Once you've turned training sessions into a daily ritual and your cat responds well to the clicker or another type of reward, you can introduce more challenging tricks.
Sitting is a good start. You can teach this trick by gently pushing your pet's lower back until they sit down.
You can use a similar approach to teach the 'lay down' command. Once your cat knows 'lay down' you can use a gentle push to get them to roll over and teach a new command. You can also pick up your pet's paw to teach the 'shake' command.
8. Play Fetch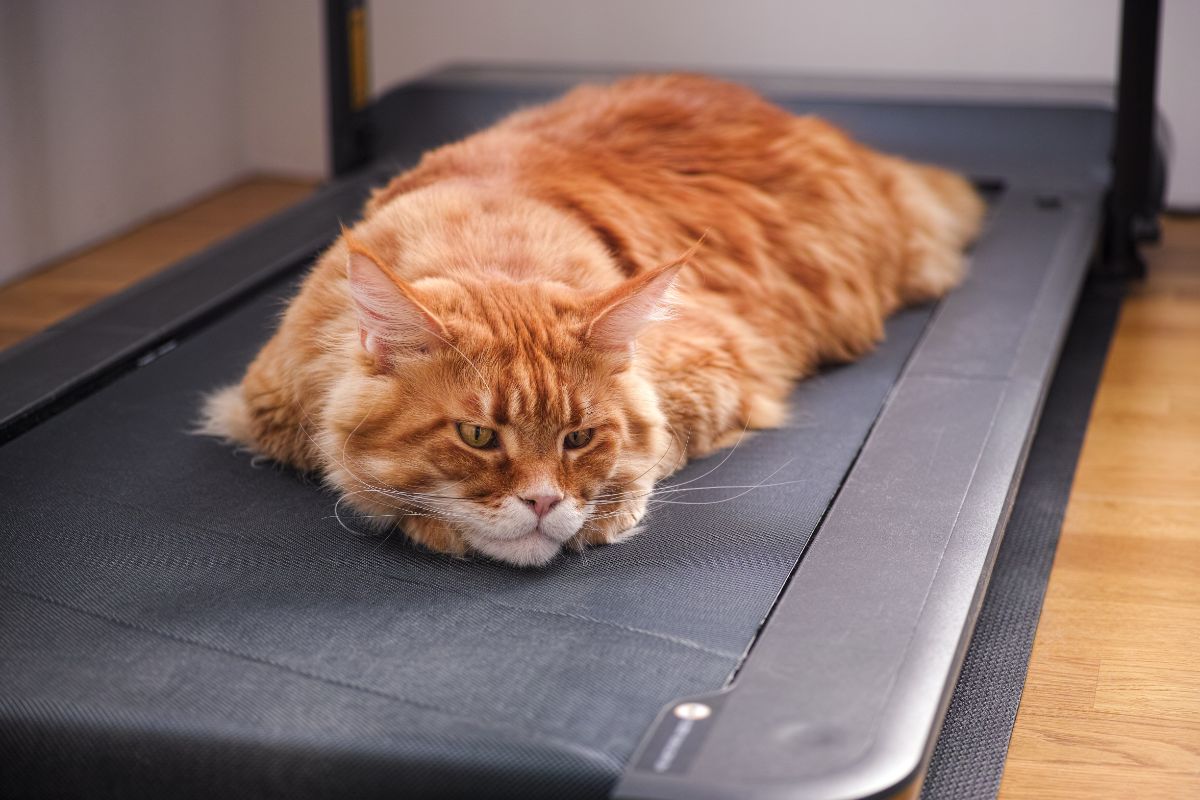 Fitness coach Tara Brown found that her cat always showed interest during her workouts. She found a way to incorporate her pet into her fitness routines and the two of them are now staying active together.
Exercising with your cat is a great way to prevent issues like feline obesity. It also makes training more fun!
You can start by teaching your cat to play fetch. Teaching this game is easier if your cat responds to clicker training.
You can use peanut butter or another treat to encourage your cat to place its mouth on the toy. Click to reward this behavior and place the toy farther away from you as your cat gets used to this new game.
Once your cat consistently goes after the toy and picks it up, call your pet's name and use 'come' to get them to bring the toy back.
If your cat doesn't seem to enjoy this game, Dr. Marci Koski encourages using laser pointers instead.
9. Teach 'Find It'
'Find it' is a fun command because you can use it to get your cat to look for a toy or treat. The best way to introduce this command is to use foods with a strong scent, such as small pieces of tuna.
After hiding a few pieces of food, use the 'find it' command and let your cat looks for the food. Make the treats or toys harder to find to stimulate your cat.
10. Use Target Training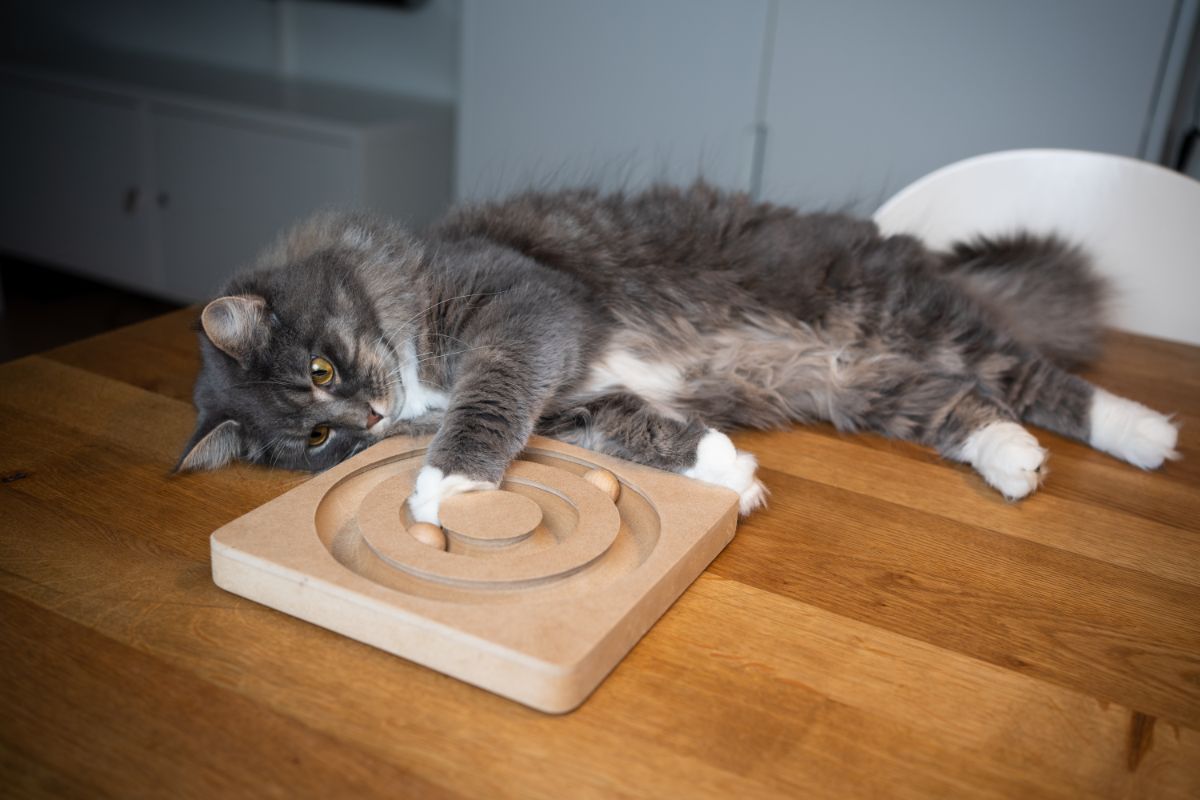 Mellissa Millet trains cats for movies for a living. Target training is one of her favorite methods because of its versatility.
Target training teaches an animal to touch an object with a body part, usually the nose or paw.
Start by introducing the object. You can use a toy or a simple stick. Touch the desired body part with it and offer a reward. Your cat will quickly understand and start touching the stick or toy to get a reward.
You can use target training to direct your cat's attention, guide them in a specific direction, and even get them to climb an object.
11. Encourage Calm Behavior With the 'Place' Command
'Place' is a command you can use to get your cat to go to a predetermined spot. It can be a pet bed, a cardboard box, or any other spot where your cat feels comfortable.
Point to this spot while saying 'place.' Use a treat to draw your cat to the spot, and use the 'sit' command to get your pet to stay. Keep offering treats or using your clicker regularly as long as your cat stays in the same spot.
Teaching the 'place' command is a great way to get your cat to calm down or simply settle down in a quiet spot if things like guests or other pets are a source of stress.
Conclusion
Training your Maine Coon is possible if you use positive reinforcement and stay consistent with your efforts. Start with something easy like teaching your cat to respond to their name, and introduce more challenging commands while making training sessions fun and engaging for your feline companion.