Maine Coons are a unique breed that has much of a dog-like personality. Some Maine Coons, like belly rubs, while others play tricks to see if you'll fall for their bait. Maine Coons are mischievous, cunning, and witty, and if you have one, you may be wondering why Maine Coons lay on their back.
Jump to:
They're Happy
Most times, Maine Coons will lay on their back because they're happy and content. Since Maine coons lay on their back for many other reasons, pay attention to their body language. If their ears are relaxed, their pupils are vertical, and their tails are still, they're happy.
Feel Extra Playful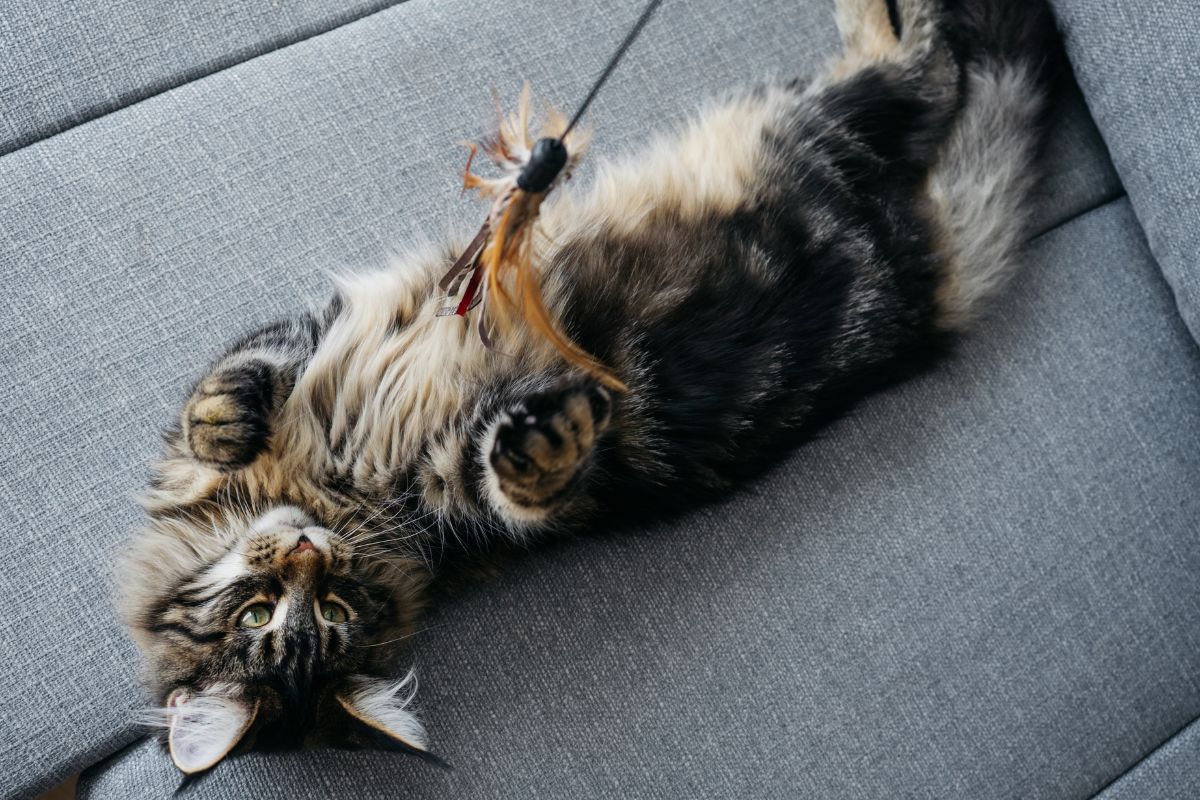 Since Maine Coons are one of the most vocal socializers, so you can tell if they're in a playful mood based on their sounds. If your Maine Coon is lying on its back, exposing its belly and making chirping or even trill sounds, they are in a playful mood.
Take a toy and see if they swat at it or play with you. Playful attitudes usually mean a buildup of boredom, so they turn to you for release.
Absolute Trust
If your Main Coon is slowly blinking their eyes towards you while showing off its soft underside, it's an established sign of trust. Your Maine Coon says, "I love you, I trust you, and you mean everything to me."
To test this theory, it's okay to rub their belly softly for a few seconds and then let them drift off to sleep. In doing so, you're responding to them with I love you back and thank you.
Being Submissive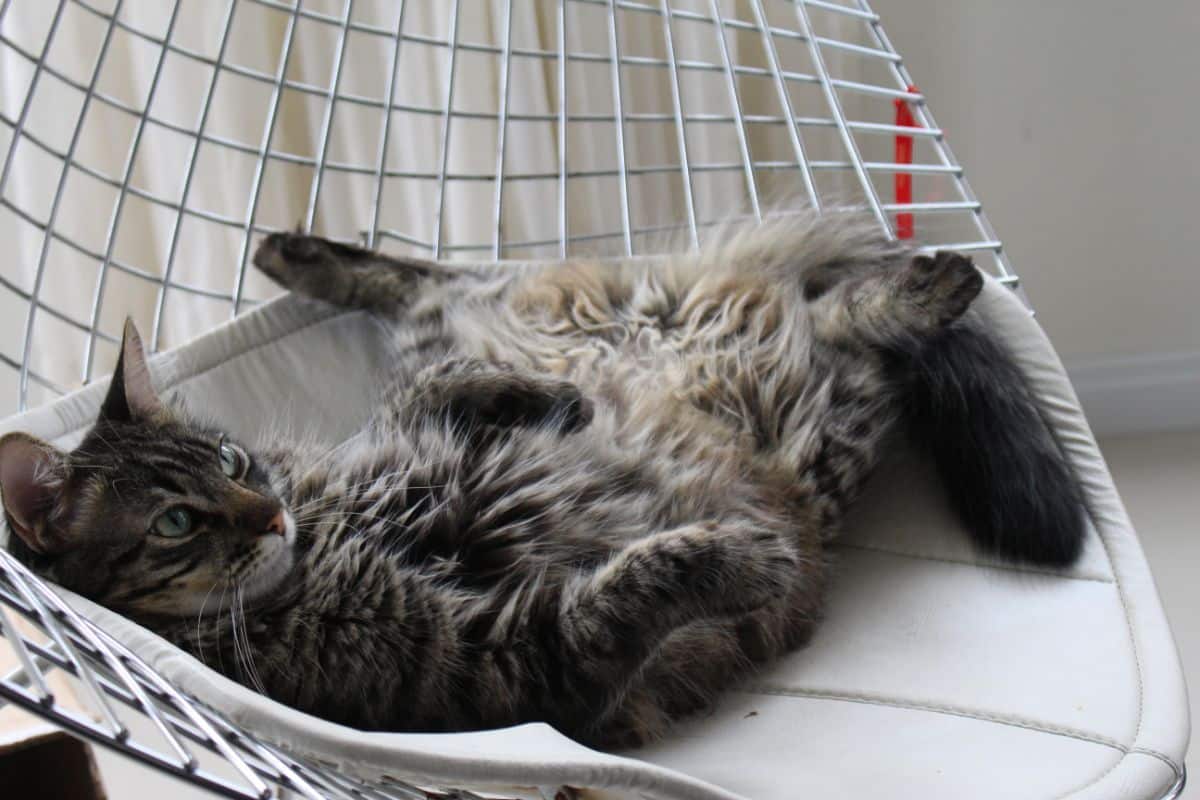 Cats roll on their backs in the wild to show submission to their opposing offender. If you have more than one cat or you're playing with your Maine Coon, and they roll on their backs, lifting one paw up in the air, they're saying, "I'm not a threat. I submit to you."
Super Comfortable
It's rare that a Maine Coon will sleep on its back. However, their enormous size is sometimes the only way they can feel comfortable. When a Maine Coon falls asleep on their back, it takes the weight of gravity off its joints, so you might notice your older Maine Coon sleep this way often.
Being Territorial
All cats have scent glands that they'll rub, pee, and scratch as a way to say, "hey, this is mine. I claim this." If your Maine Coon is lying on its back with dilated pupils and rubbing its neck or body on a particular object, he's being territorial.
They Have an Itch
Due to the Maine Coons large size, it can be challenging to itch a specific spot. If you notice Your Maine Coon rubbing the floor on its back, slithering like a snake, she may just have an itch to scratch, and this is the only way she can do it independently.
Conclusion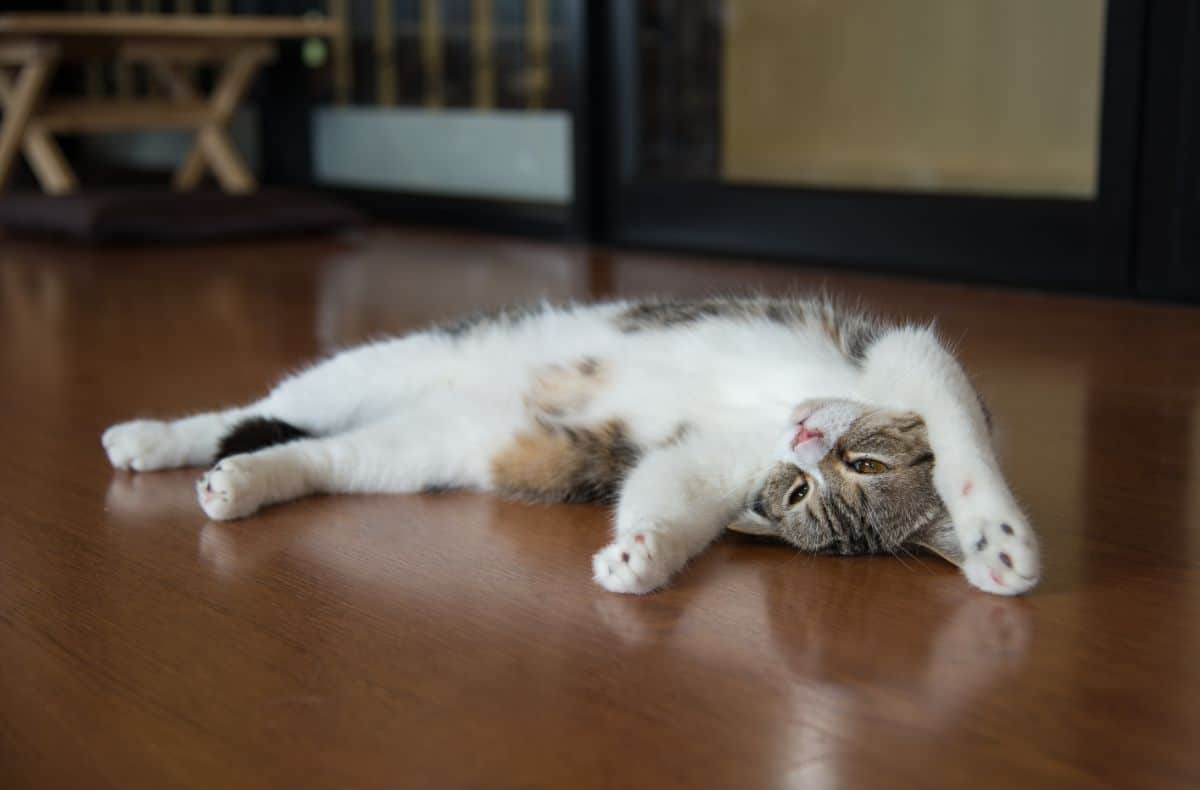 Since Maine Coons have many reasons for laying on their backs, the only thing you can do to determine why is by paying close attention to your Maine Coons body language. If their ears are relaxed, their legs are spread out, and their eyes are soft and non-dilated, they're fully content, trusting, and submissive.
On the other hand, if your Maine Coon has dilated pupils, front-facing whiskers, or a tail that pounds like a beaver or wags, chances are they're in a mood.