A cat's normal breathing ought to be calm and unobtrusive. But what happens when your Maine Coon starts experiencing heavy breathing? Abnormally rapid breathing points out various issues. So, if you've been wondering, "Why is my Maine Coon breathing heavy?" here are the possible answers.
Jump to:
7 Causes Why Your Maine Coon May Be Breathing Heavy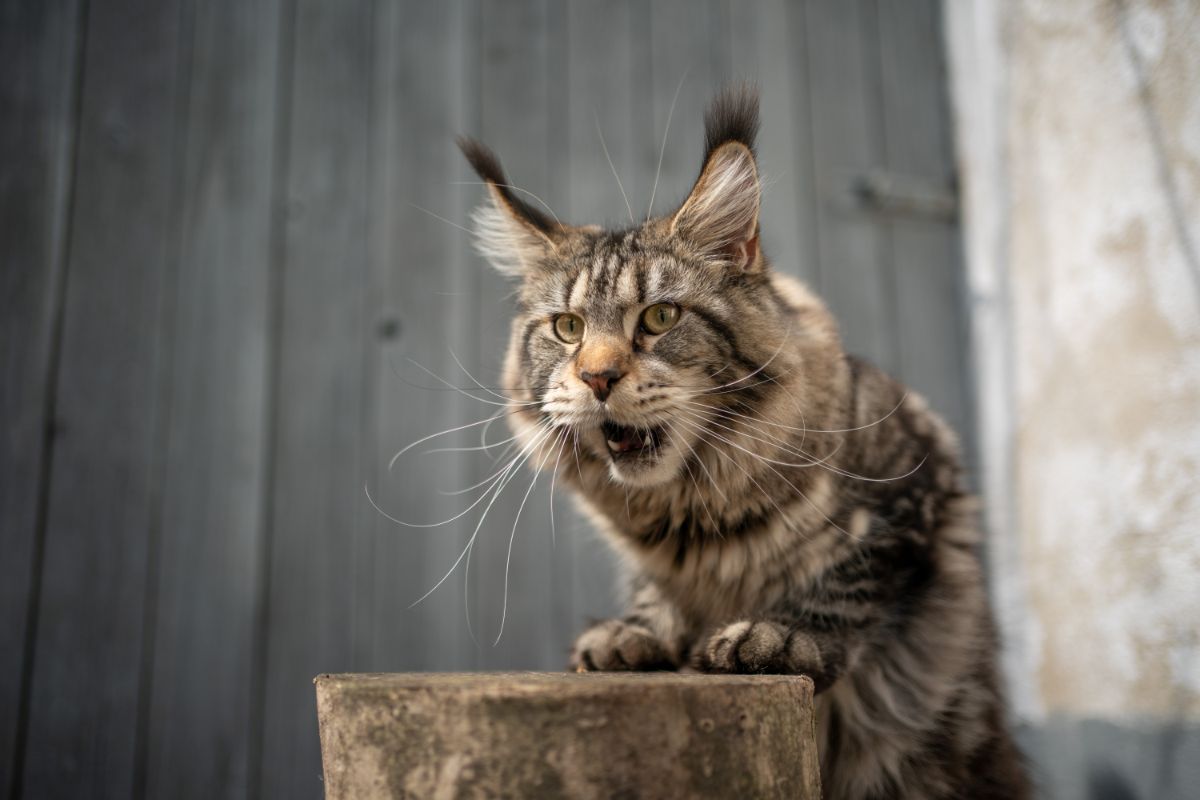 Below are some of the common reasons why your Maine Coon is breathing heavily.
1. Stress and Anxiety
The most common cause of heavy breathing in Maine Coon cats is stress and anxiety. Stress can result from various factors, including changes in the environment, new people, or pets in the household.
If you suspect that your Maine Coon has been experiencing heavy breathing because of an emotional problem such as stress or anxiety, consult with your veterinarian immediately so they can determine what course of action will solve this problem.
2. Obesity
Obesity can cause breathing difficulties in Maine Coons and other health problems. The first step to helping your Maine Coon lose weight is to talk with your vet about whether she's at risk for obesity. Once you know if your cat is overweight, there are several ways you can help her shed pounds, including regular exercises.
Your cat doesn't need a lot of exercise, but the sessions must be consistent and long enough to work. You should set aside time every day or every week when you walk around the house or go outside together.
If that isn't feasible for whatever reason, try taking walks around the block instead. You might also consider buying an item like an indoor or outdoor cat treadmill.
3. Upper Airway Disease
Upper airway disease is when the upper part of your cat's lungs, or respiratory system, becomes inflamed and swollen. That can cause your cat to breathe heavily and more frequently than usual.
Upper airway disease affects cats of all ages and breeds. However, it's most common in older Maine Coon cats with chronic respiratory disorders such as asthma or bronchitis. Cats with upper airway disease may also experience:
Sneezing or coughing when they're active
A runny nose
Difficulty breathing
4. Respiratory Infection
Your Maine Coon might also have a feline upper respiratory infection (URI), which may be the reason for its excessive panting and difficulties in breathing. Sneezing, conjunctivitis, and nasal congestion are the most frequent symptoms of this condition that results from microbial pathogens.
Furthermore, Maine Coons are exceptionally clean creatures as they love grooming themselves continuously, rendering their fur smooth and shiny. Consequently, they have an inherently weaker immune system than other cat breeds, making them more prone to respiratory illnesses, particularly in colder areas.
5. Pain
Pain causes breathing difficulties. It can result from things like dental problems or orthopedic diseases. Cancer may also cause pain in the chest area and lead to heavy breathing. Pain in the chest cavity may restrict the lungs from working properly, leading to rapid breathing. Check for reduced appetite and lethargy to tell if your Maine Coon is in pain.
6. Asthma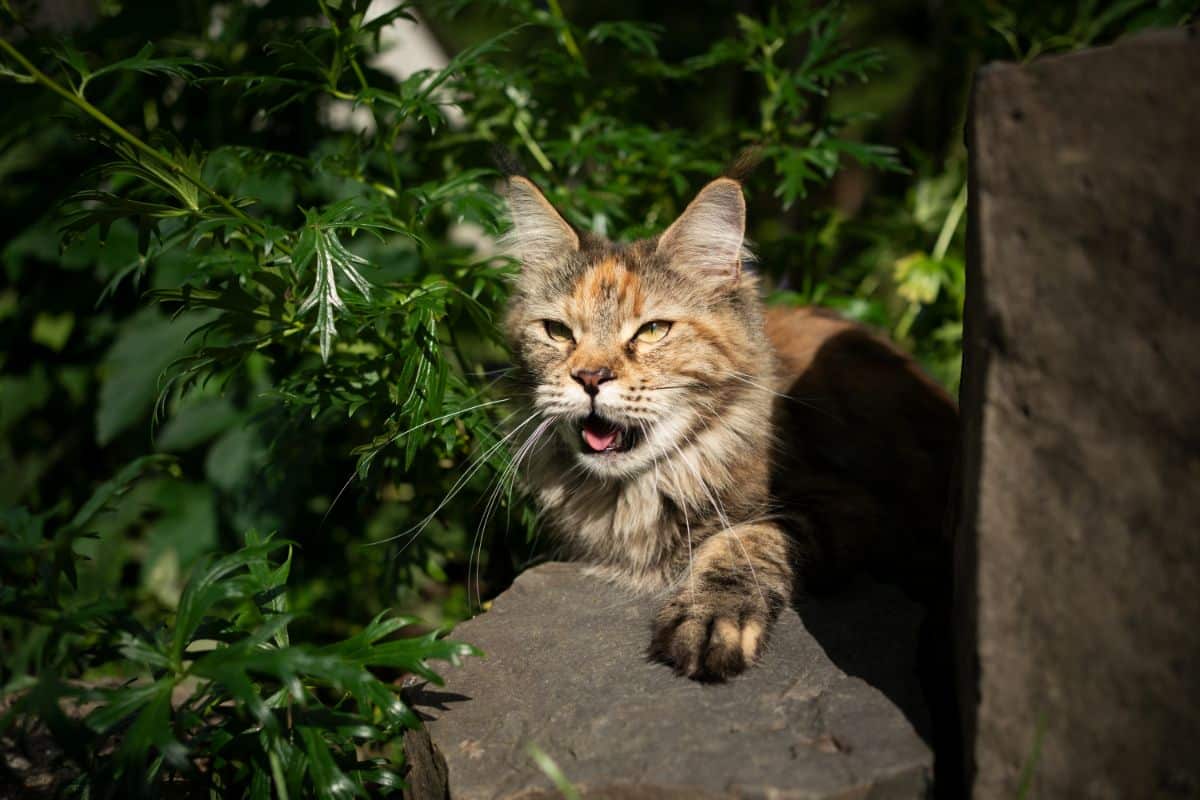 Asthma is a respiratory disease that affects the lower airways. It causes inflammation of these airways and makes it difficult to breathe easily. Asthma is most common in youngsters but can affect cats of all ages.
Maine Coons are more likely than other breeds to have asthma because they have a genetic predisposition to this condition. The most prominent asthma signs in Maine Coons include wheezing, hacking, and weakness.
7. Singular Events
Your Maine Coon's heavy breathing might result from a single occurrence, such as a tumble, a blow to the head, or overheating.
Even in anxious states, it's significantly less common for Maine Coons to experience heavy breathing. That implies that as soon as your feline companion starts to breathe heavily, you should instantly think about what they went through.
In addition, heavy breathing will cease to occur after your cat has the opportunity to relax and take a break for a few minutes.
Are Maine Coons Supposed To Breathe Heavy?
Maine Coons may breathe heavily when tired or stressed. The assertion that Maine Coons are known for excessive breathing is untrue. A cat's excessive breathing signifies heat exhaustion, anxiety, or extreme enthusiasm. It's essential to consider your pet's breathing as part of a larger picture.
If you notice that your Maine Coon breathes heavily while sleeping or resting, it could signify that he is ill or stressed. If that's the case, you should ensure that your feline friend is comfortable. Heavy breathing is often considered natural but might indicate other medical issues like allergies in the lower airways.
Why Does It Sound Like My Cat Is Struggling To Breathe?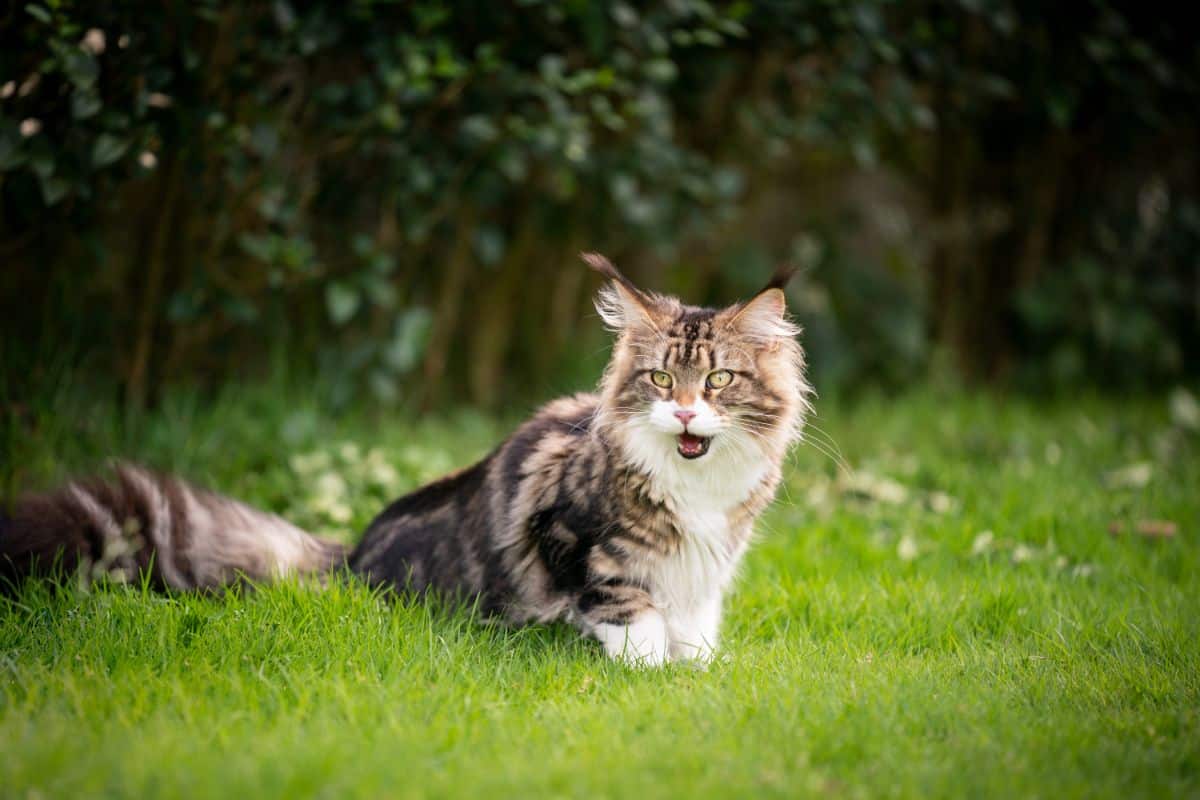 A rapid breathing pattern is often a sign of discomfort or stress in Maine Coons. If you notice this behavior, try to calm your feline friend so that he can rest comfortably and regain his strength before taking further action.
A Maine Coon that struggles to breathe even when resting shows low oxygen levels in the blood. Your cat's lungs might also have fluids if it breathes with an open mouth.
If your veterinarian confirms pulmonary edema, they might administer certain fluids to aid your cat in normal breathing. For instance, some vets prefer draining the fluids and making the heart beat normally. However, the treatment depends on the severity of the condition.
If there's something wrong with your pet's heart pumping blood around his body, it can affect his ability to breathe normally and cause respiratory distress. To help your cat breathe better, your veterinarian may prescribe antibiotics and corticosteroids. You can also use humidifiers to make breathing easier.
Final Thoughts
If you have been asking, "Why is my Maine Coon breathing heavy?" that can be an early sign of severe illnesses such as asthma and pneumonia. Thus, you need to seek immediate medical attention, and the sooner you notice your pet's breathing becoming laborious, the better.
If you pay great attention to your feline companion, you can determine the type of assistance they need. We hope our article has sufficiently answered the question, "Why is my Maine Coon breathing heavy?"