Cats are curious creatures who love their playtime. But after they have tuckered themselves out, cats are always up for a good nap. Window hammocks make an ideal solution for your pampered pets. They provide comfort and are great for small spaces.
We have discovered the best seven window hammocks for your curious cat that offer several benefits, including saving space, being affordable, and providing comfortable sleeping quarters for your cat.
Jump to:
Do Cats Like Window Hammocks?
Yes, most cats adore window hammocks for several reasons, such as:
They are comfortable and allow your cat to stretch out in its natural body position.
Hammocks provide a candid view of the outdoors that cats love to see, such as birds and squirrels in action.
Window hammocks are out of the way, and cats feel protected and safe from other animals while they snooze, such as pet dogs.
How Do I Get My Cat To Keep a Hammock On the Window?
Window hammocks for cats come in various styles, such as suction cups that adhere to the window, wall-mounted window hammocks that screw to the wall, or window stands.
Choose the hammock that is right for your cat. For example, larger cats may benefit from a window hammock that mounts to the wall to ensure it stays in place. Smaller cats or kittens can get away with suction cup-mounted hammocks or stands.
To ensure the suction cups stay in place, clean and dry the window surfaces before applying them.
Do Cat Hammocks Work?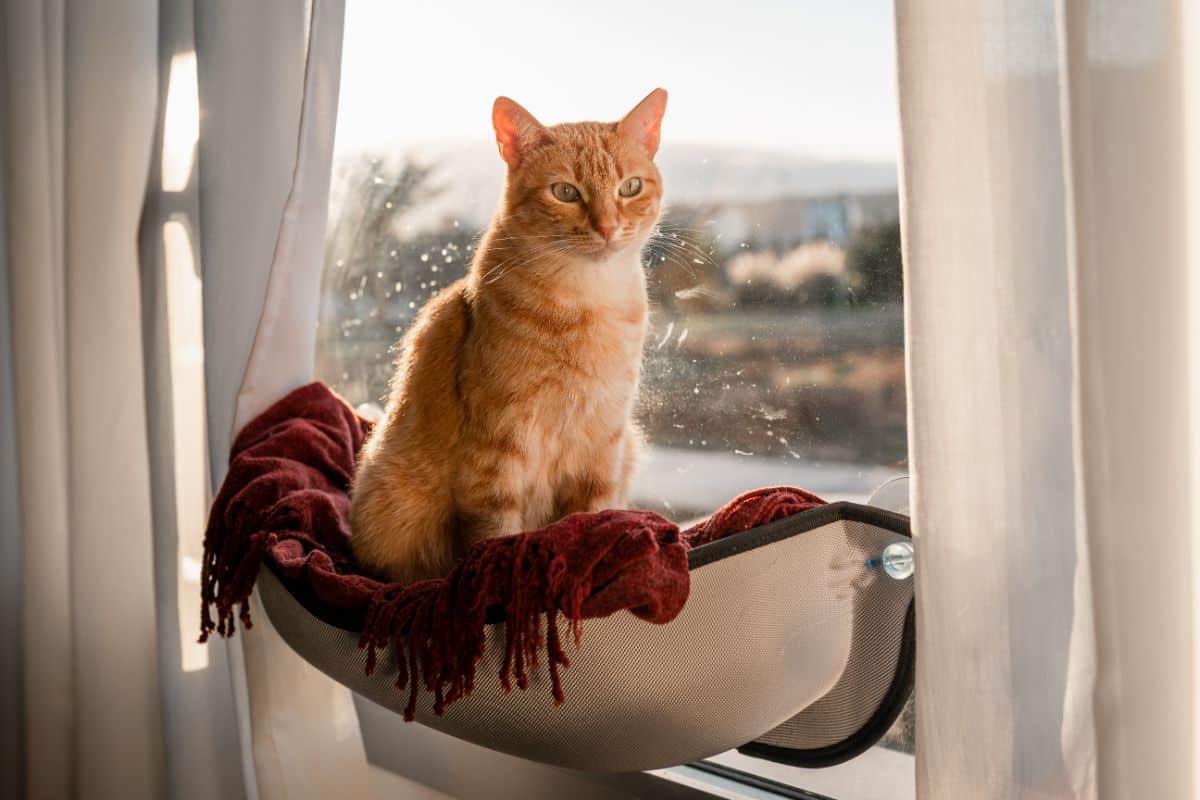 Something that is most important to pet owners is keeping their fur babies safe. When considering buying window hammocks for cats, we often ask ourselves, do they work, and will they keep our cats safe?
The last thing a pet owner wants is to put their cat in danger with a faulty hammock. To help put your mind at ease, always buy a hammock that is the right size for your feline friend. A proper fitting hammock will work effectively and provide comfort and safety to your feline friends.
Can Cats Sleep in a Hammock?
Of course, cats can sleep in a hammock. Manufacturers design window hammocks for a comfortable, secure place that's out of the way for cats to have a nap any time of the day.
Cats love to snooze in places where they feel safe, such as window ledges, under beds, and nestled into enclosed spaces. This makes a window hammock the perfect resting ground for our felines because it is up high and hidden from other room traffic.
Hammocks also allow cats to relax in comfort and admire the outside world from a safe place indoors.
Our Top 7 Choices of Window Hammocks for Curious Cats
Here is our list of the top seven choices of window hammocks that are perfect for curious cats to cuddle up in: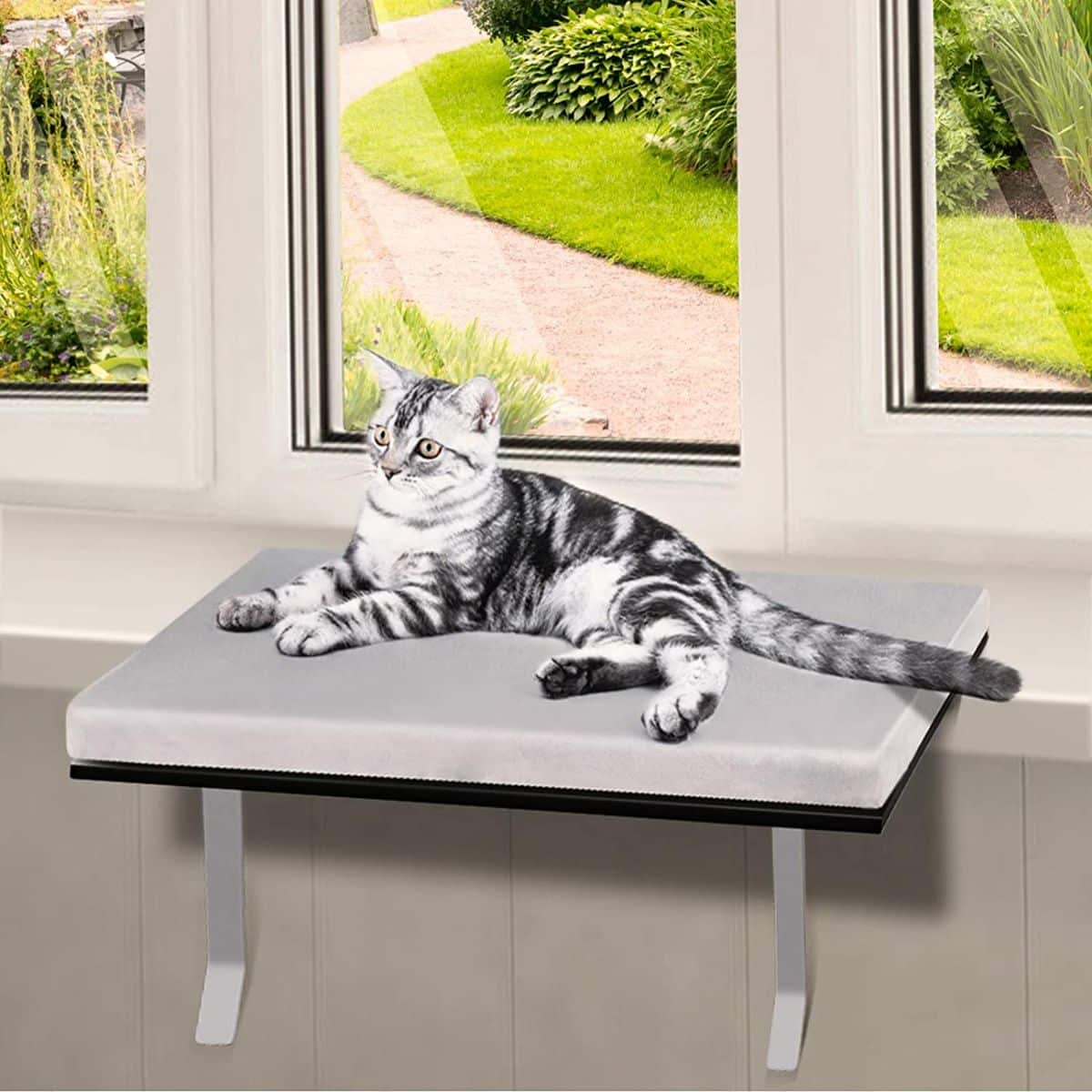 An affordable solution in cat beds, the Topmart Cat Hammock mounts to your window surfaces with suction cups and has arms that hug the wall for extra security for your pampered pets.
Your cat will enjoy lounging in the sunshine on this sturdy hammock while you can enjoy a break from vacuuming pet hair off your couch.
Sale
Our next choice in cat hammocks is the CLKWOWL Window Hammock. This comfortable hanging bed easily mounts to your glass window surfaces with suction cups.
Your cats will feel pampered in their new hammock. Other benefits of this pet bed include the following:
Extra-large sized that can hold up to two cats
Machine washable material
Easy installation
Economically priced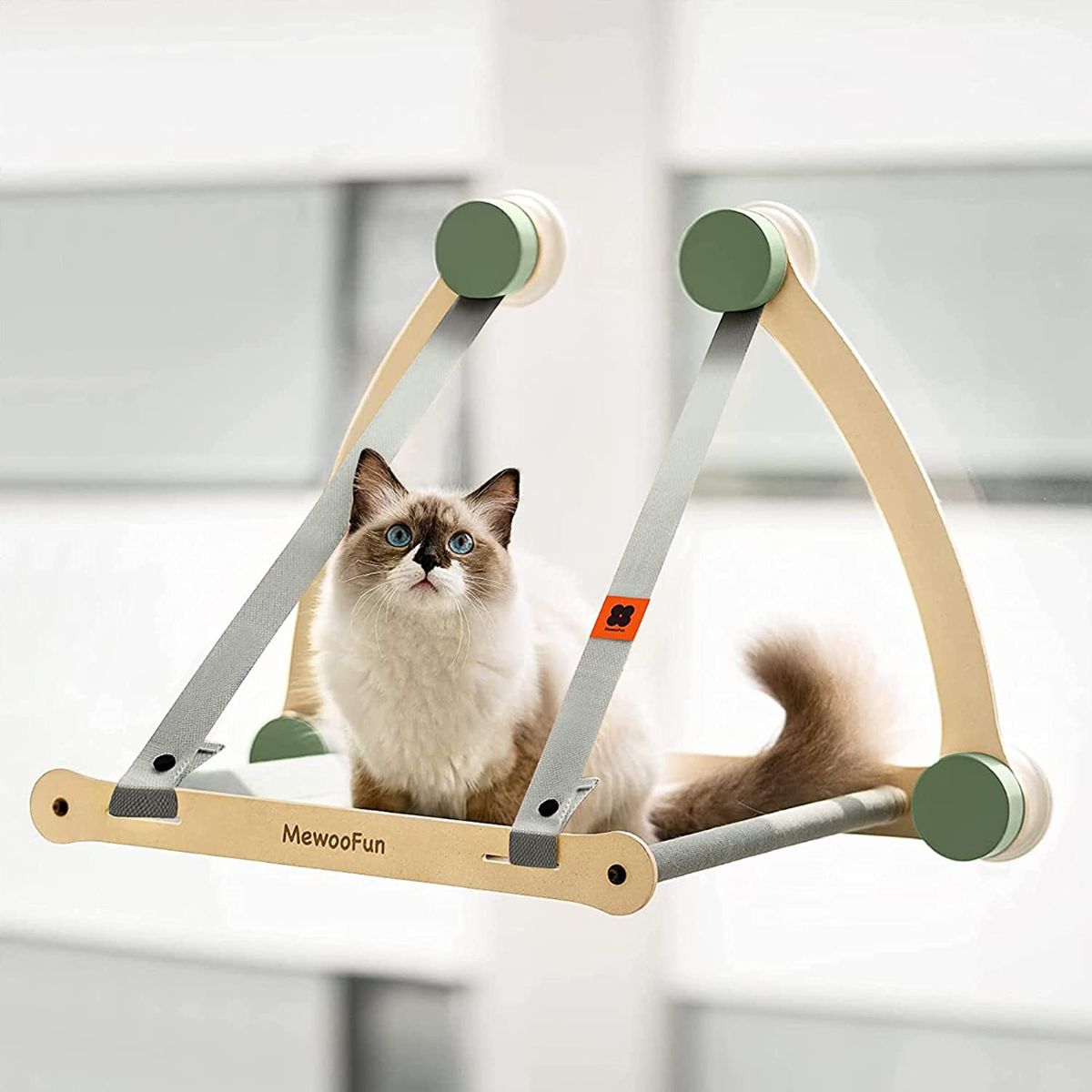 Happy customers can easily install this comfortable pet bed on window sills with felt spacers. The Mewoofun Window Hammock is compact but can hold the weight of large or multiple cats.
The canvas material is easy to remove and washable by soaking in warm water and hanging to dry. We think your cats will thank you when they discover this comfy cat hammock.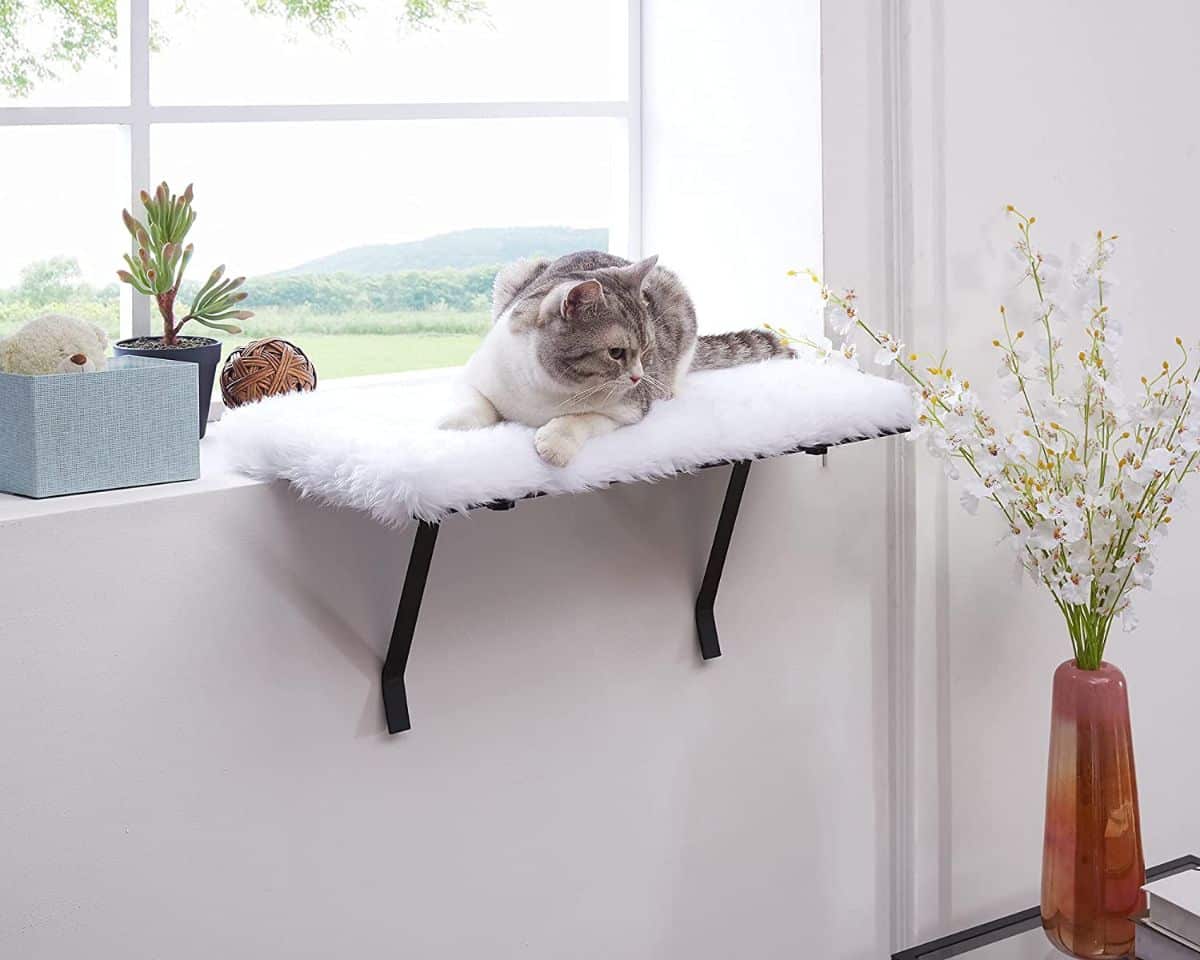 Sale
This window hammock for cats is another one of our favorite choices. The Sweetgo Window Perch features a soft bed that can hold adult cats in comfort.
This comfortable window bed is easy to install and comes with two support arms, a bed, and a cushion of white plush. The Sweetego Perch features a removable cover that is machine washable and is sure to have your cats purring with delight.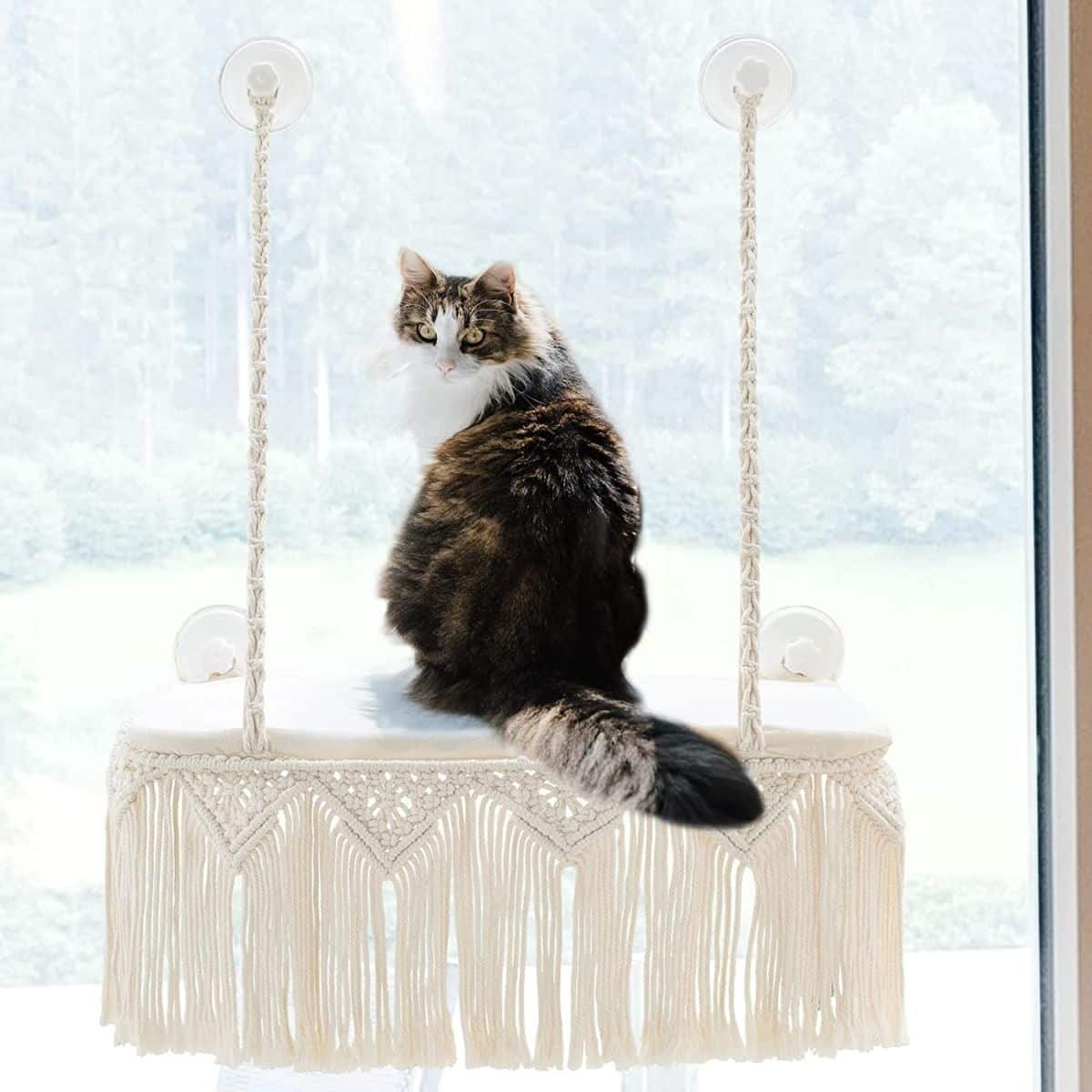 This boho-style decorative hanging cat bed makes the perfect addition to any room decor. Your cats will feel secure and comfortable in their Dahey Macrame Cat Bed, and visitors will marvel at its beauty.
Manufacturers wove this beautifully designed braided cat hammock from durable fabric that is not only cozy. But it also helps to keep the cat cool during summer and warm in the winter. This cat hammock is also strong enough to hold large cats while keeping them safe and comfortable.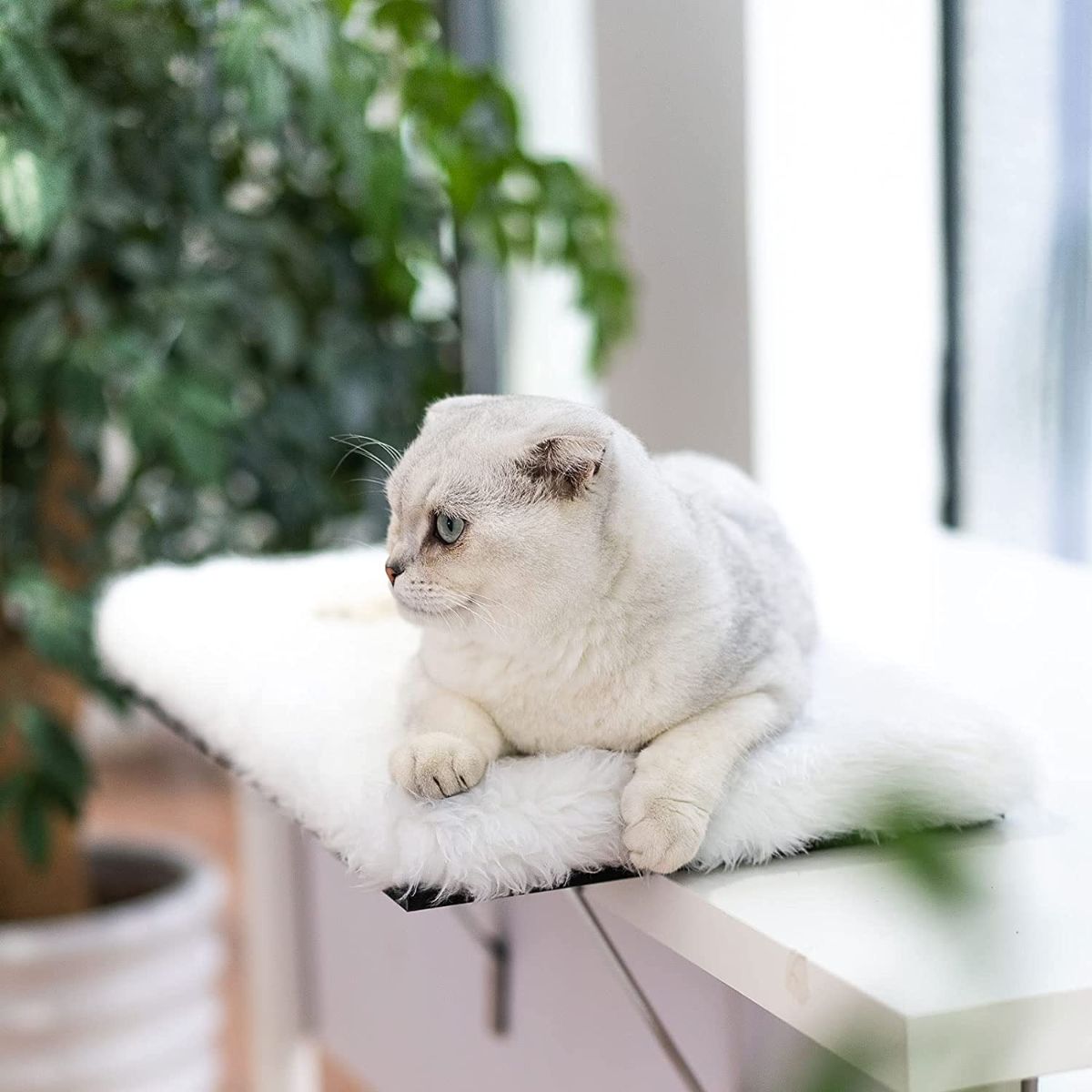 The Topmart Cat Perch features metal bottom supports to ensure the weight of adult cats and prevent injury to your pet. This cozy window hammock offers two installation methods:
A strip-and-peel that sticks to the window ledge
A bracket and screw method for extra security
The Topmart Cat Perch offers stability and comfort and comes with a thick foam cushion that any cat would love to snuggle on. In addition, the removable cover is machine washable.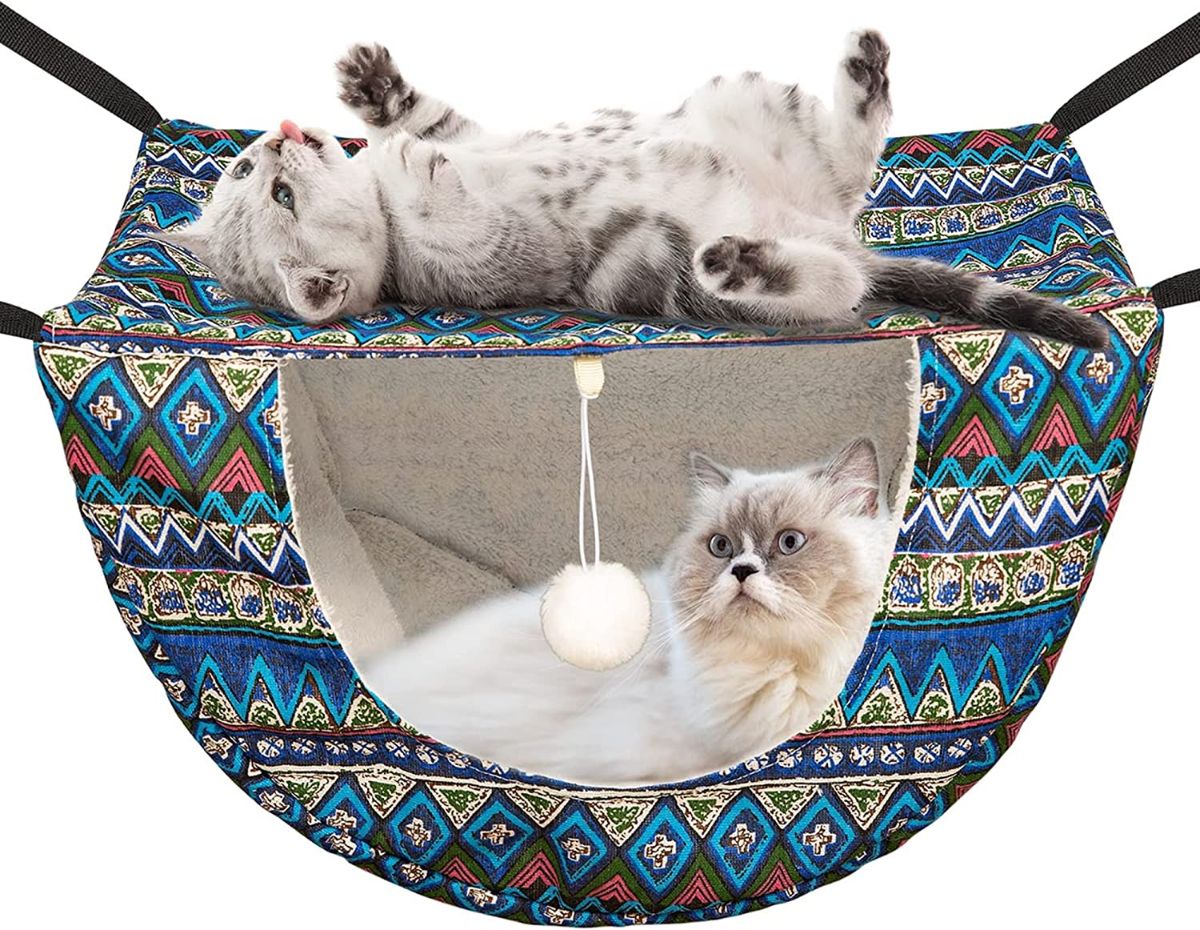 This cat hammock is perfect for small cats and playful kittens. The JSPYFITS Hammock features a comfortable enclosed hammock with a hanging ball for playtime.
This comfy hammock also provides the ideal spot for a snooze in the sunshine after your playful kitty has tuckered out.
Final Thoughts
In conclusion to our review of the best seven window hammocks for your curious cat, we hope we have given you some great choices when shopping for a window hammock for your pampered pet.