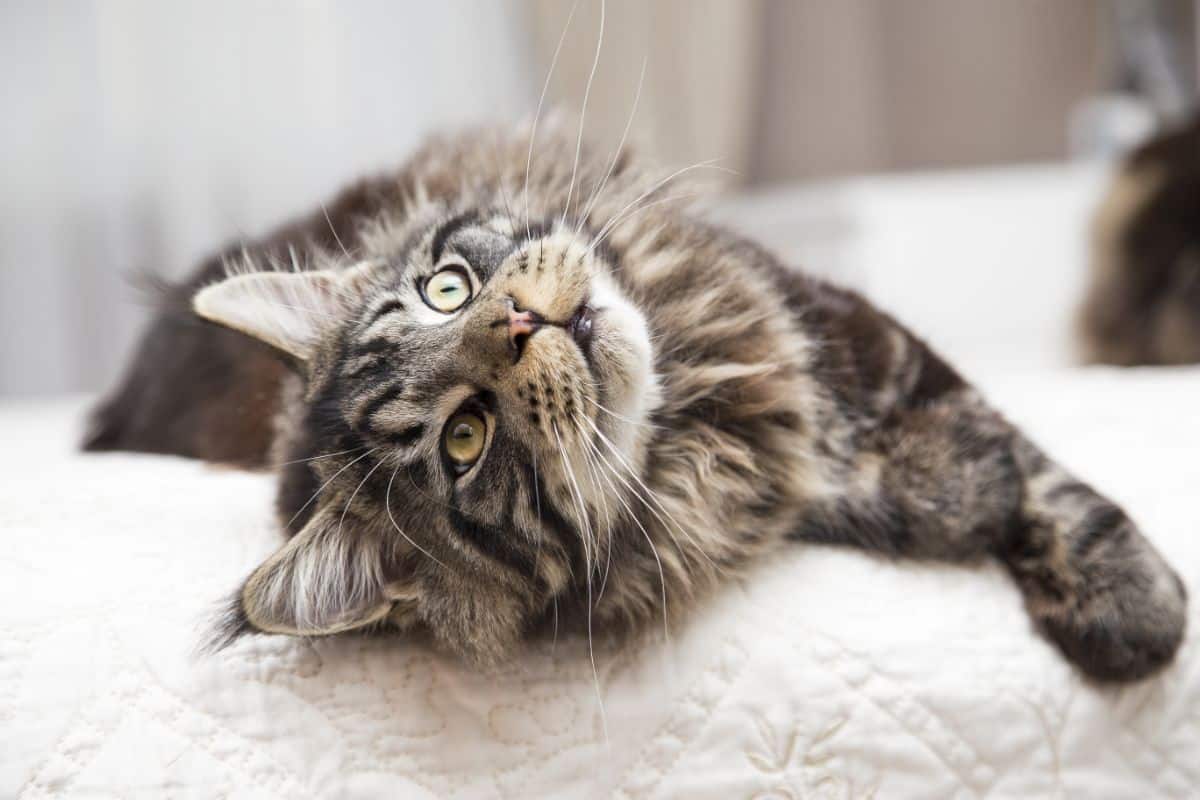 There's no doubt about it: the Maine Coon cat inspires fascination in feline fans and cat-skeptics alike. This cat breed's enormous size has made it famous worldwide.
But it's not just this cat's size that makes it stand out. It also has a great personality that is just as attractive to prospective cat owners.
Jump to:
So, Are Maine Coons Friendly Cats?
Yes, Maine Coons are friendly. This is especially true when you compare them to most other cats.
Of course, these cats are most friendly and loving to their owners. But provided you introduce them correctly, your friends and visitors will probably also get an exuberant welcome from your Maine Coon cat.
Let's take a deep dive into 17 interesting facts about the Maine Coon personality and how friendly and loving they are.
17 Facts About the Maine Coon's Friendly Personality
Below are fascinating facts about this universally appealing feline friend.
1. The Maine Coon Cat is Known for Having a Dog-Like Personality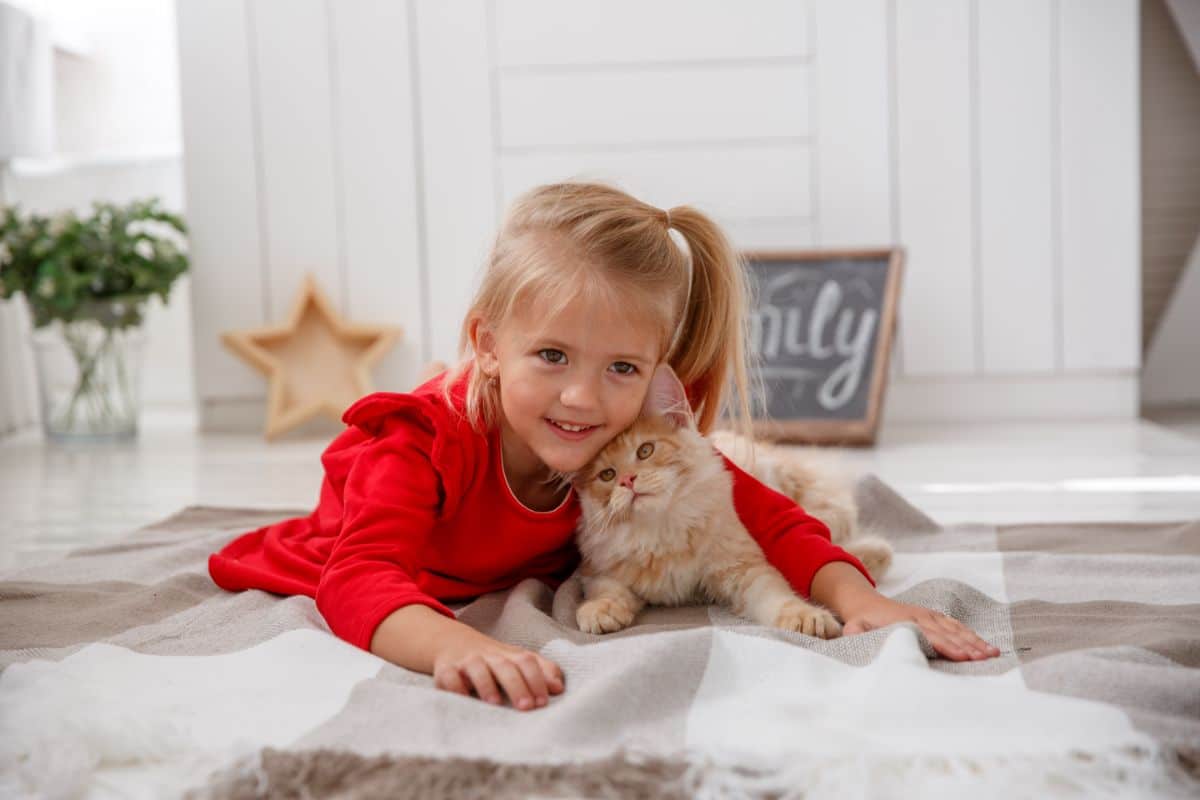 Looking for a cat that might play fetch? Think about getting a Maine Coon. Even if your individual Maine Coon doesn't play fetch, this cat's personality has other dog-like features.
One of them is this cat's friendly nature. A Maine Coon is more likely than most other cats to approach guests in your home (instead of running away and hiding under furniture). Like dogs, Maine Coons also enjoy spending more time around their humans.
2. Maine Coons Have Sweet and Gentle Personalities
The Maine Coon's sweet personality also contributes to its friendliness. Some people are somewhat hesitant about this cat because of its large size, but as many say, this breed is a "gentle giant."
If you don't know anything about the breed, the Maine Coon's personality is exactly the opposite of what you might expect from such a large cat. It is much sweeter and friendlier than most smaller cats.
3. Your Maine Coon May Like Walking on a Leash
Maine Coons are so friendly and tolerant of humans that many of them will walk on a leash if you train them. If you're interested in having your Maine Coon walk on a leash, you will need a harness in an appropriate size.
Cats have delicate necks, so you shouldn't attach a leash to your feline's collar. A harness is the only appropriate solution.
4. Playtime is Your Maine Coon's Favorite Time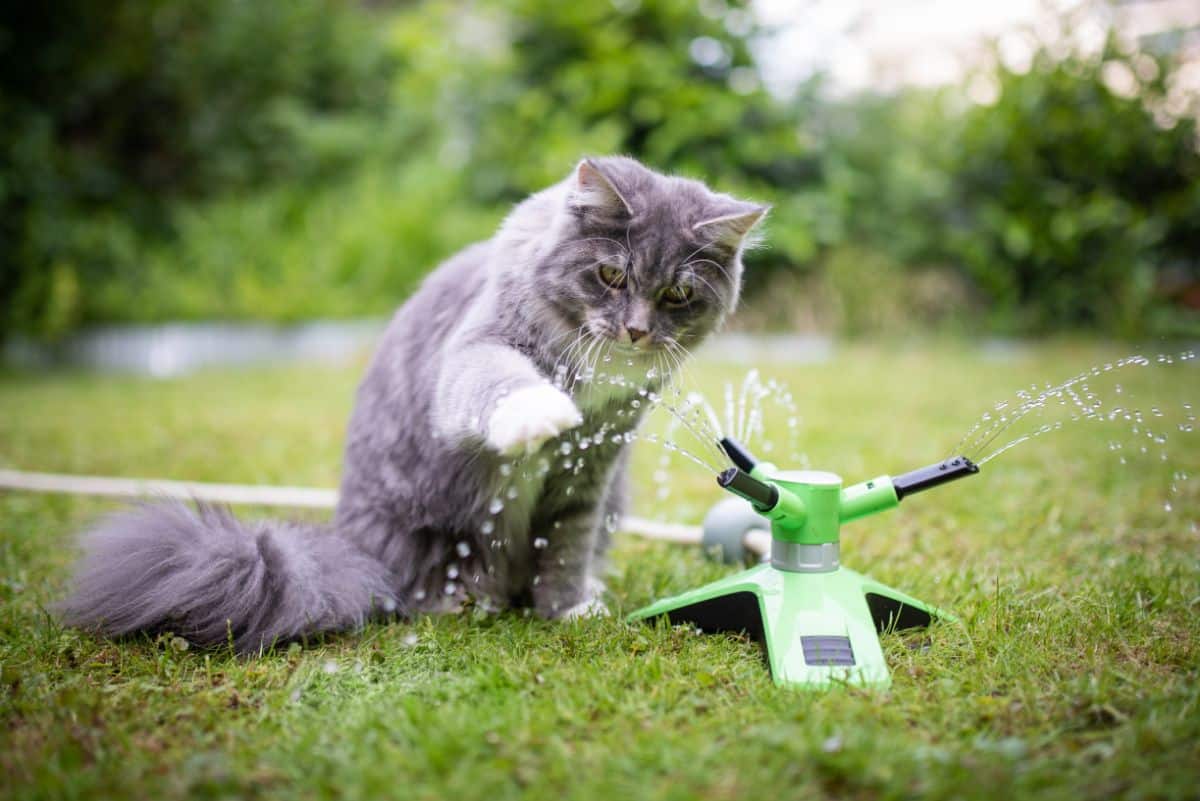 Yes, most cats love to play, but Maine Coons take it to a whole other level! This breed's intelligence is one reason for the need for regular play.
Their size is another vital component. As a larger cat, this feline needs more physical exercise and mental stimulation.
They also love playtime because of their friendly and affectionate dispositions. Playtime with their human companion is also an opportunity to bond.
5. Do Maine Coons Like to be Held? Usually, Yes!
Most Maine Coons are affectionate and enjoy being petted and stroked. And yes, as long as you're respectful in how you do it, they also like to be held.
Like other cats, though, a Maine Coon will usually prefer to be held on your lap when you're sitting down (rather than when you're standing up). Always respect your cat's feelings. If you get the impression it doesn't feel like being held, be patient and wait for a better time.
6. These Cats Love Being Around People
If you get a Maine Coon, you'll notice that it enjoys being around you. This is a big surprise for cat owners used to more aloof breeds.
Maine Coons enjoy not only being around you but also seeing what you're doing. They're curious and want to understand things that you do.
7. A Maine Coon Will Comfort You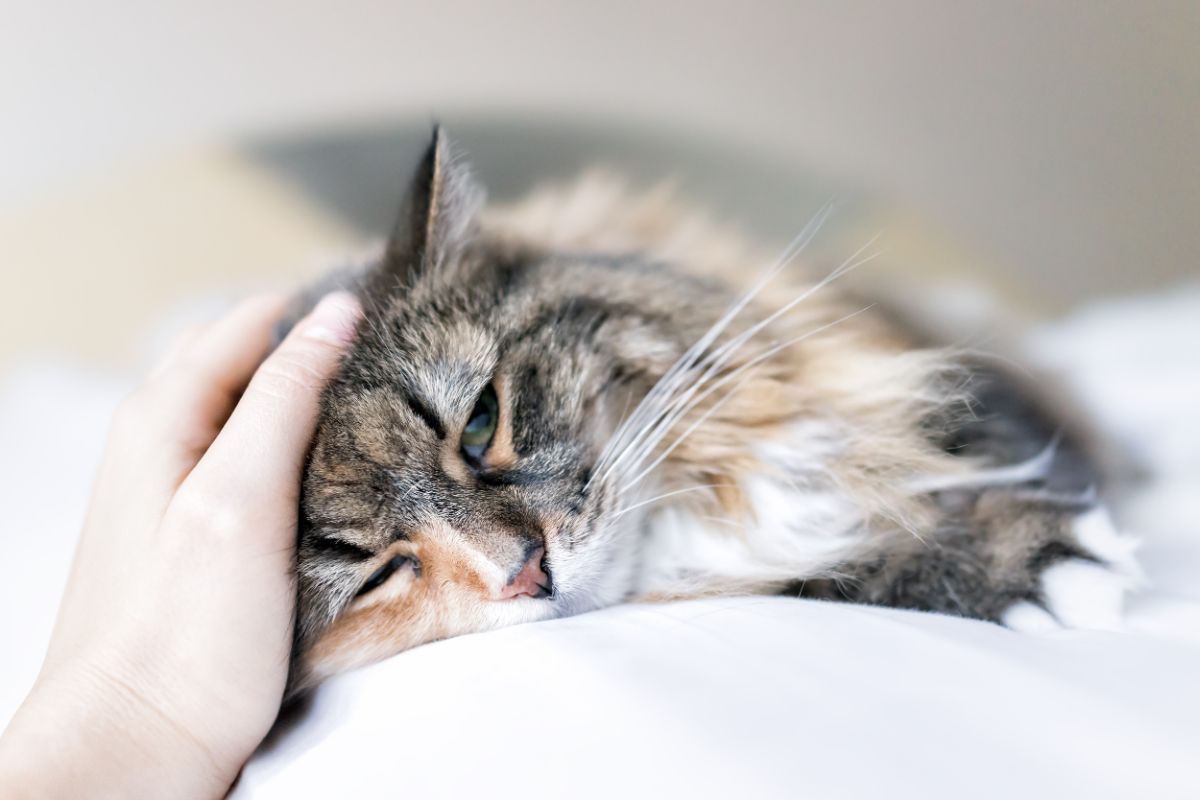 Maine Coons go way beyond just friendly. They'll even comfort you when they sense you're upset or don't feel well.
This breed has a protective instinct and wants to take care of you. Of course, the main reason for this is affection. Another is the fact that your cat has a territorial instinct. You belong to them, and they want to take care of you.
8. Bathing a Maine Coon Isn't Stressful
Another reason you'll find Maine Coons friendlier than the average cat is how easy it is to bathe them. Compared to most other feline friends, Maine Coons are pretty easy to wash.
Of course, this will vary from cat to cat, but chances are you'll be pleasantly surprised by how much your Maine Coon enjoys their bath when the time comes.
If you bring your cat to a professional for grooming, the groomer will probably find your cat much friendlier than other breeds.
9. This Breed Likes to Bring Your "Offerings"
If your Maine Coon ever goes outside or gets access to small animals like mice and birds, you just might find a "present" on the doormat.
Sometimes your cat will even come right up to you with the "offering." While this certainly isn't pleasant, it's a sign of how friendly and affectionate this breed truly is.
10. Maine Coons Like Following Around Their Humans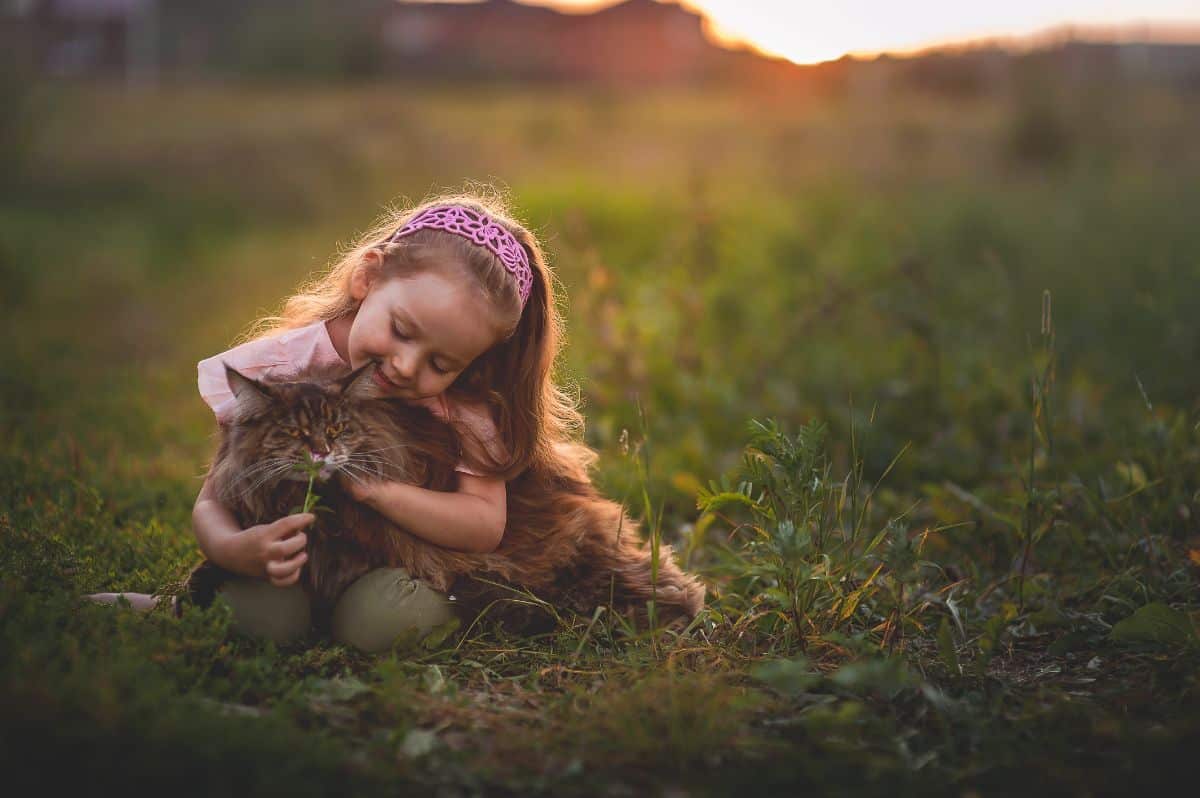 Your Maine Coon might follow you from room to room. This behavior is somewhat because they're so loving and also because they're inquisitive.
This cat's curiosity and love of seeing what you're doing make them great at learning. If you want a cat that might be able to learn a little trick or two, the Maine Coon may be right for you.
11. This Feline Enjoys Talking
The Maine Coon is a big talker! This is yet another aspect of its friendly nature. Maine Coons make adorable trilling noises as well as meows. They constantly communicate with their humans, which is a charming feature of their personality and shows their friendly disposition.
12. Maine Coons are Laidback and Relaxed
If you've only ever seen skittish kitties, you'll be impressed by how chill the Maine Coon generally is. And it's this tendency to be relaxed that makes being friendly easier for this cat.
After all, as they don't get anxious as much as other cats, they're more likely to be open to new people and experiences.
13. This Breed is Good with Kids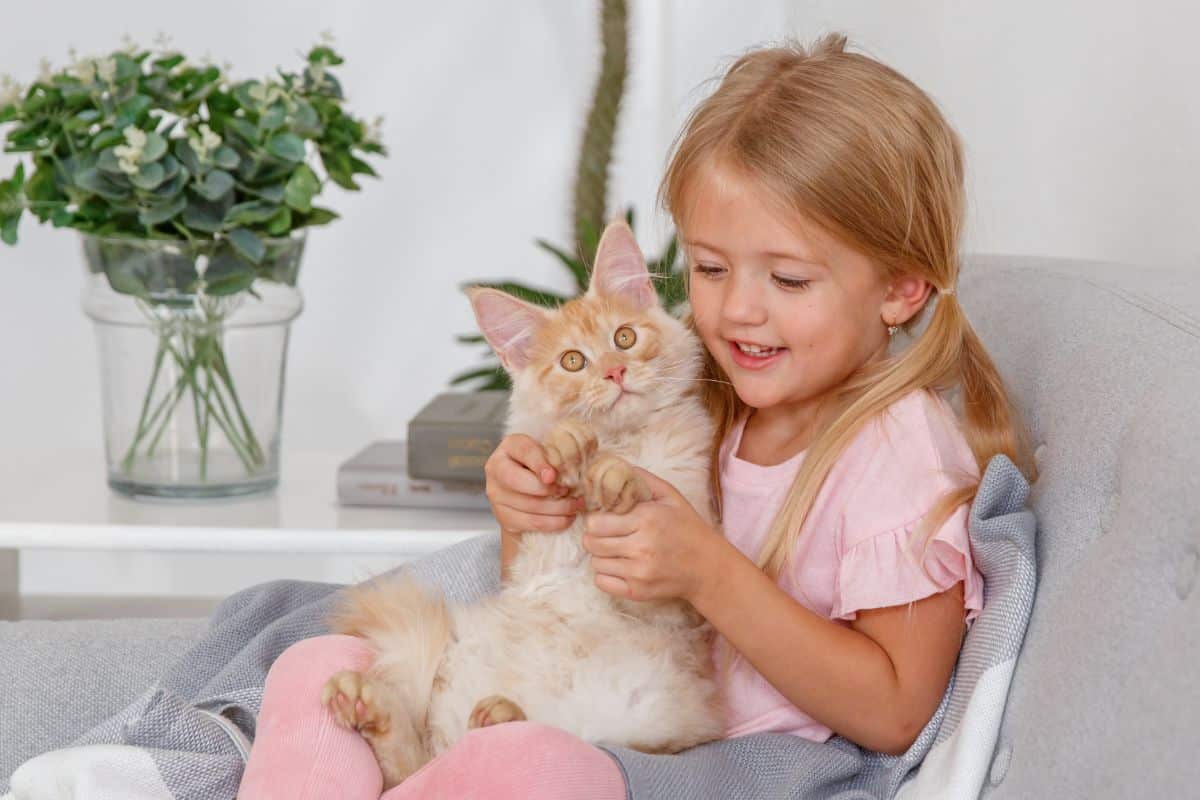 It's the Maine Coon's calm and friendly personality that makes it a great choice for families with kids.
If you have a toddler, you should stay away from getting any kind of kitten. That is because kids that young don't know how to be gentle enough with such a tiny animal.
As with any other kind of cat, you should supervise your child with your new cat until you see how they get along. Teach your children to be gentle and respectful with your new Maine Coon.
14. This Cat is Likely to Get Along with Dogs
As such a dog-like cat, perhaps it's no surprise that the Maine Coon often gets along with canine companions. Of course, be cautious when you introduce a dog and a cat. Always supervise their interactions.
Once you've successfully introduced a Maine Coon to a dog, the two animals are likely to be great friends. Make sure you have a dog that isn't aggressive to smaller animals.
15. Your Maine Coon Will Be Happy When You Get Home
Maine Coons get more excited than other cats about seeing their human companions. They may even come to the door when you get home at the end of a long day.
As the Maine Coon is so sociable, you should try not to leave it alone for too long. It's a cat and so still quite independent, but it's more likely to get separation anxiety than other felines.
16. This Feline Loves Affection and Pets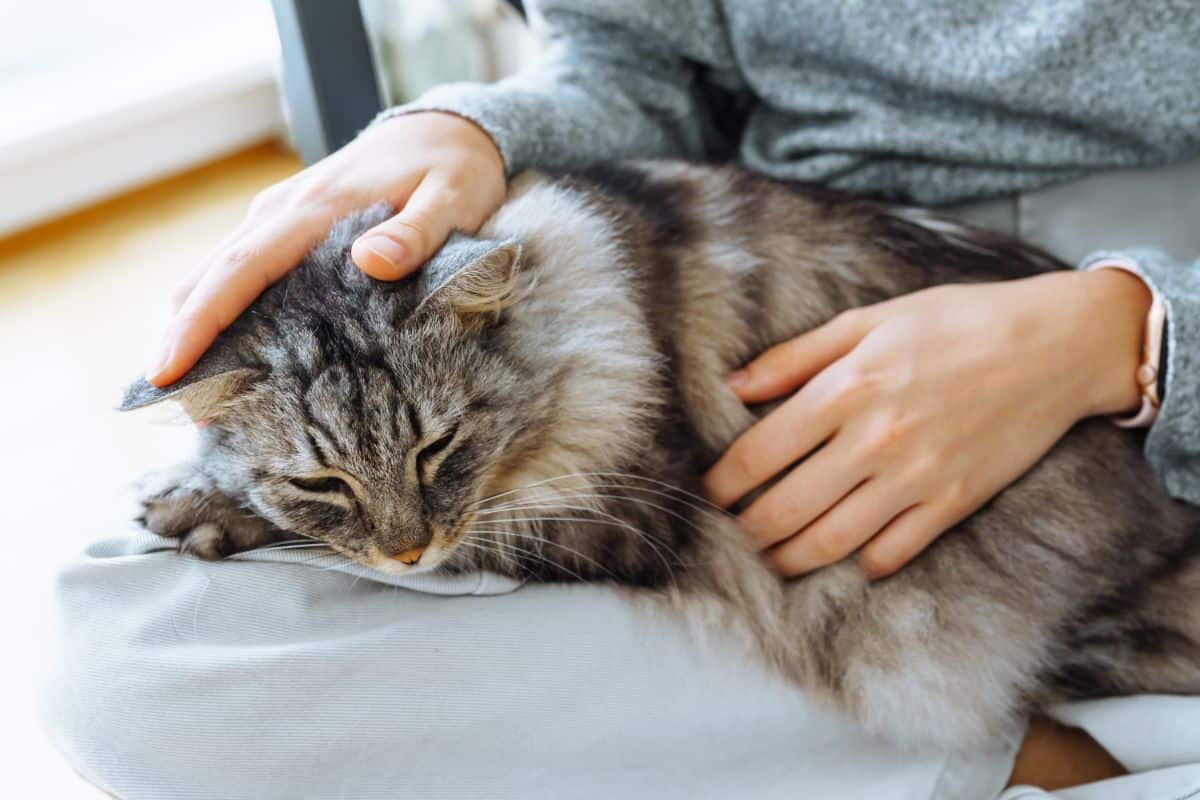 If you get a Maine Coon, you'll discover that this feline is crazy for petting. As a friendly and loving creature, this cat breed needs a lot of affection.
Set aside lots of time every day for spending time with your feline friend.
17. Maine Coons are Fascinated by What You Do
These intelligent felines like to watch you and keep track of what you're doing. Trying to read a book? Your Maine Coon will probably want to sit on it. Or maybe on your chest, so you pay attention to your furry friend, not your reading material!
Final Thoughts
So, there you have it! Maine Coons are seriously friendly felines. If you're looking for a friendly cat breed, you can't go wrong with the Maine Coon.