Maine Coons have pointy, well-tufted ears that are adorable, but unfortunately, they have trouble cleaning them. Due to this, you need to pay close attention to your cat's ears and clean them frequently.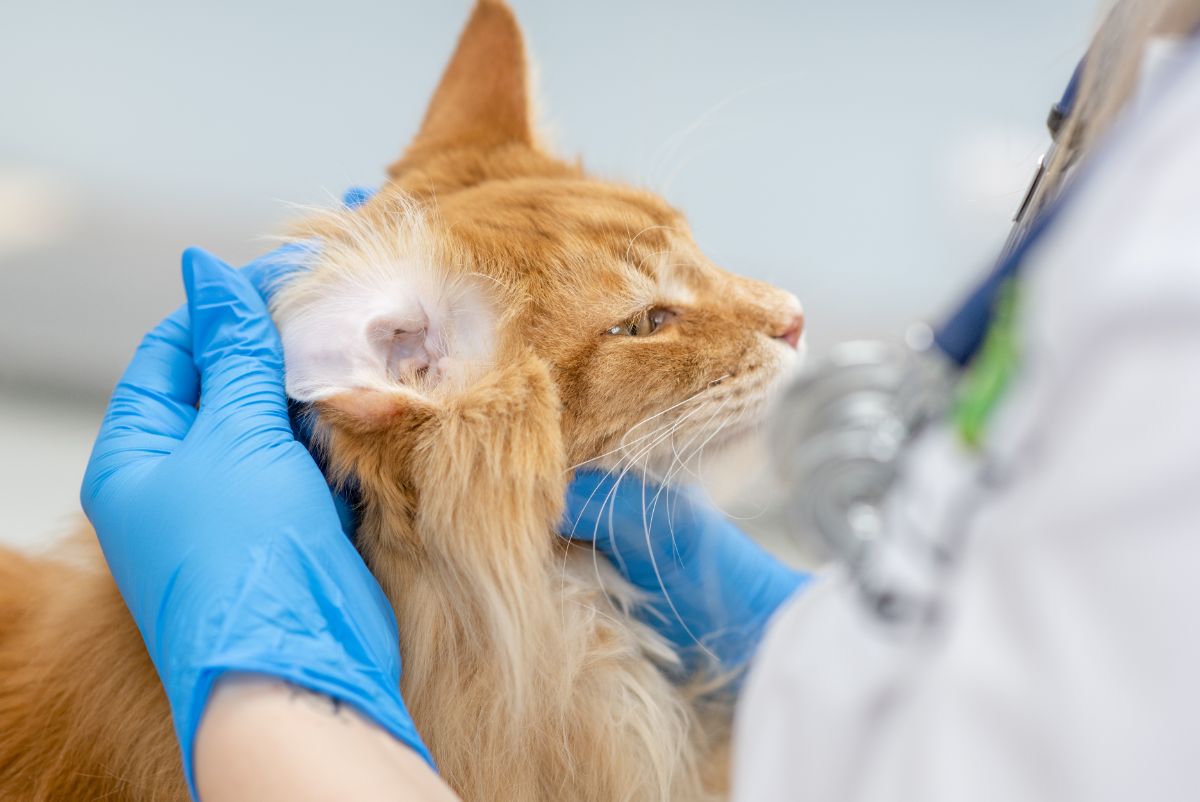 Here's everything you'll need to know about some of the most common Maine Coon ear problems that owners encounter and how to deal with them.
Jump to:
How Do You Clean Maine Coons' Ears?
A cat's ears are tiny and enclosed, which makes cleaning them a bit of a struggle. Since cats' ears are so sensitive to touch, it's best to clean them when your feline friend is happy and calm, like when playing, to avoid stressing out your cat.
Your cat's outer ear will have a pinkish hue and be free of dirt and debris if they are healthy.
You should clean your cat's ears weekly with a warm, slightly moist towel or cotton ball. If you have to clean your cat's ears, be careful not to get the inside of its ears wet.
Even though you shouldn't get your cat's inner ears wet, you still need to keep the area clean by ensuring there isn't any buildup of grime or ear wax inside their ears.
Do not risk damaging your cat's ears by inserting a Q-tip into their inner ear. Take your cat in for a check-up if their inner ears seem unclean or have a foul odor because that could be a sign that they're experiencing an issue that requires a vet.
The Most Common Maine Coon Ear Problems
Several issues can affect your cats' ears. Here are some of the most common issues your cat may face and how to handle them.
Ear Mites
The most common cause of Maine Coon ear problems and infections is ear mites.
However, because infected cats, including Maine Coons, sometimes try to hide their symptoms, ear mites may be hard to spot. Another reason it may be hard to know if your cat is suffering from ear mites is that ear mites are almost impossible to spot with your naked eye.
Ear mites are tiny parasites that may infest a cat's ear canal and cause irritation and discomfort.
They are the cause of over half of all feline ear infections. Ear mite infections are not fatal, but they can cause your cat much discomfort.
When mites are in your cat's ear canal, they feed on ear wax and oils secreted by the skin. The average lifespan of an adult mite is just a few months, although they may reproduce quite rapidly, which means that you need to deal with them as quickly as possible. It takes just four days for a mite egg to hatch and another three weeks for it to mature into a reproducing adult.
Ear mites are also highly contagious, so you'll need to keep your cat away from other cats to prevent them from spreading.
How Do I Tell if My Cat Has Ear Mites?
Maine Coon owners can quickly and easily check their pets' ears for signs of ear mites.
All you have to do is use your thumb and fingers to massage the region behind the Maine Coon's ears and then watch the cat's response. As soon as you begin rubbing the ear of a cat infected with ear mites, the cat may hiss or even attempt to run away.
You may also keep an eye out for these other symptoms if you suspect your cat has an ear infection:
Bald spots in your cat's fur
Your cat's skin becomes red and taut
The color of your cat's ear canal color becoming black or red
A strange dry black discharge that may smell bad coming from their ears
If you check your cat's ears and spot ear mites, or if you don't spot any mites but your cat is still showing signs of irritation, you need to take them to the vet. The vet has an otoscope device that allows them to easily see mites in your cat's ears.
How To Treat Ear Mites
After you've brought your cat to the vet, here are the two most popular ways for them to treat your cat's mite infection: A spot treatment or ears drop. Spot treatments are the most common method, and they're also the more convenient solution.
Even if you were prescribed a spot treatment, you may also be prescribed ear drops to handle any inflammation that the mites may cause. Regardless of the type of medicine you're prescribed, you must carefully follow your vet's instructions to ensure your cat gets properly treated.
Maine Coon Yeast Infections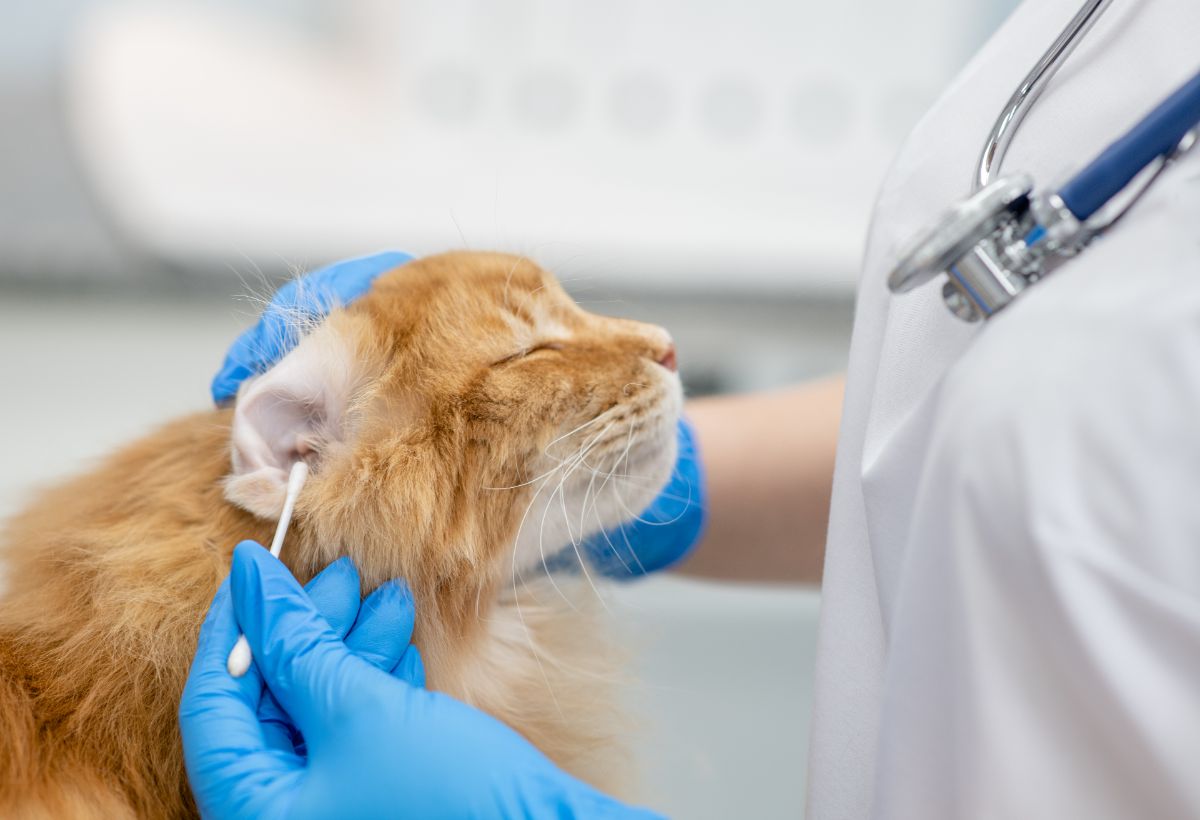 Many owners of Maine Coons worry about their pets getting yeast infections because they can seriously impact your cat's health.
Usually, a preexisting medical condition, such as allergies, acts as a catalyst for your cat to develop a yeast infestation in its ears.
Your Maine Coon likely has a yeast called Malassezia that lives on its skin like any other cat.
Maine Coons with healthy skin often have just trace amounts of this yeast in their ear canals; thus, they seldom cause any issues.
However, this is a kind of yeast prevalent in felines that are known to cause yeast infections in Maine Coons, particularly those whose immune systems are compromised due to allergies or other conditions.
The ears of your Maine Coon are especially prone to yeast overgrowth when allergies or other medical concerns compromise their skin health, so if your cat has preexisting health conditions, you need to be extra careful with them.
If your cat develops a yeast infestation, it'll experience irritation and discomfort, and then it will eventually lead to them developing an ear infection.
How To Tell Tell If Your Cat Has An Ear Infection From Yeast
You may think your Maine Coon has a yeast infection or another medical issue, but only a professional diagnosis can tell for sure.
Here are some common symptoms of yeast infections in cats that you should look out for
Discharge (normally thick and brown)
Redness in their ears
A weird smell coming from their ears
Frequent head shaking
Scratching their ears
How Are Cat Yeast Infections Treated?
Antifungal medicine is the standard course of therapy if your veterinarian determines that your cat is suffering from a yeast infection. The medicine can be in the form of ear drops or ointment.
Your veterinarian will do a series of diagnostic tests to determine the cause of the yeast infections and then prescribe the appropriate treatment.
Although yeast infections are a major problem for Maine Coons, with timely diagnosis and treatment, the condition may be managed, and the dog's symptoms can be reduced or removed altogether.
Wounds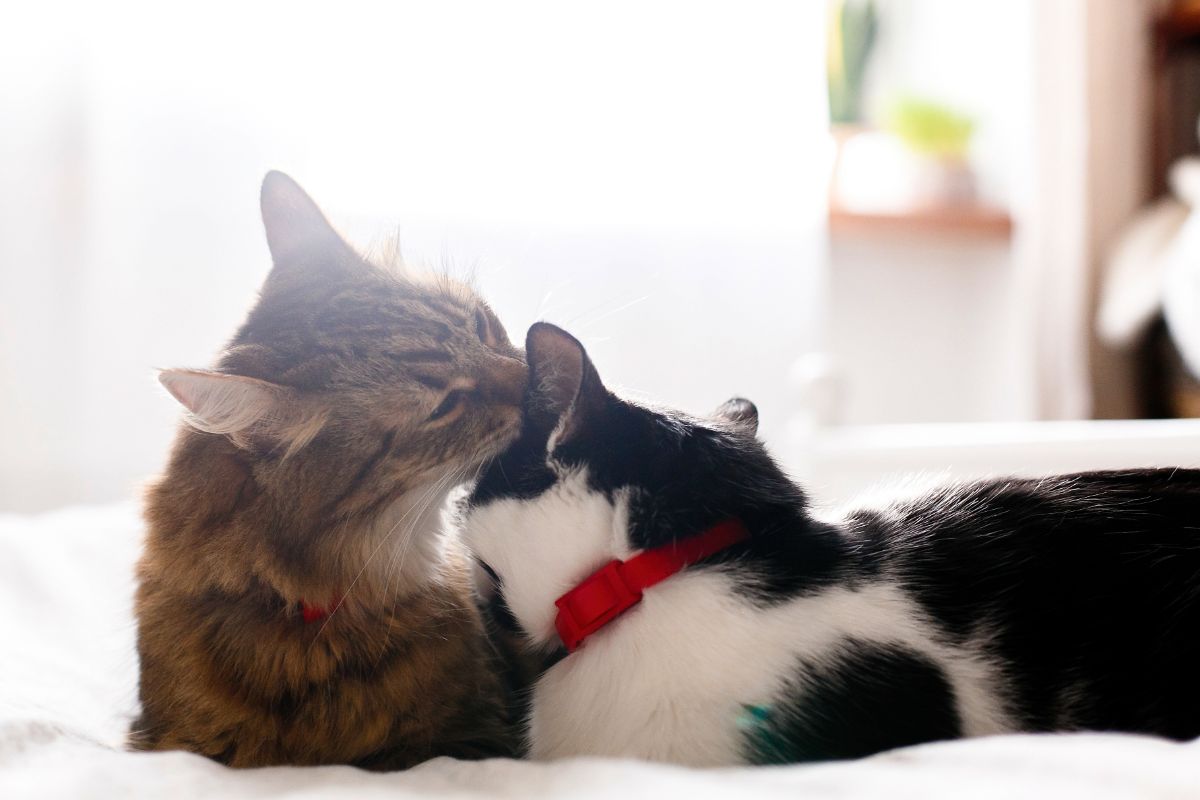 The ears of Maine Coons are very prone to injury.
You don't need to be super worried about your cat's ears being damaged because injuries usually. Usually, heal on their own. Regardless, you should keep a close check on your cat as it recovers from any wounds it may incur, whether from an accident or a bite from another animal, to ensure that the wounds don't become infected.
You should also make sure to disinfect any wounds your cats get. Do not use rubbing alcohol or hydrogen peroxide in your cat because it can cause make the problems you're having worse or cause new problems entirely. You should only use medication that is vet-approved to treat any wounds your cat may obtain.
Even if Maine Coons are overly fluffy, ear wounds on your cat will still be noticeable. If your Maine Coon suffers a severe injury, blood may leak from its ears.
Final Thoughts
Dealing with your cat getting sick or injured is a part of being a pet owner. If you own a Maine Coon, ear problems should be expected. If they arise, you need to pay very close attention to their symptoms and take them to the vet before things become serious.