The Maine Coon cat is a breed of domestic cat known for its intelligence and dog-like playful nature. This species is well-known for its docile and friendliness and for the fact that it is also a pretty playful cat breed.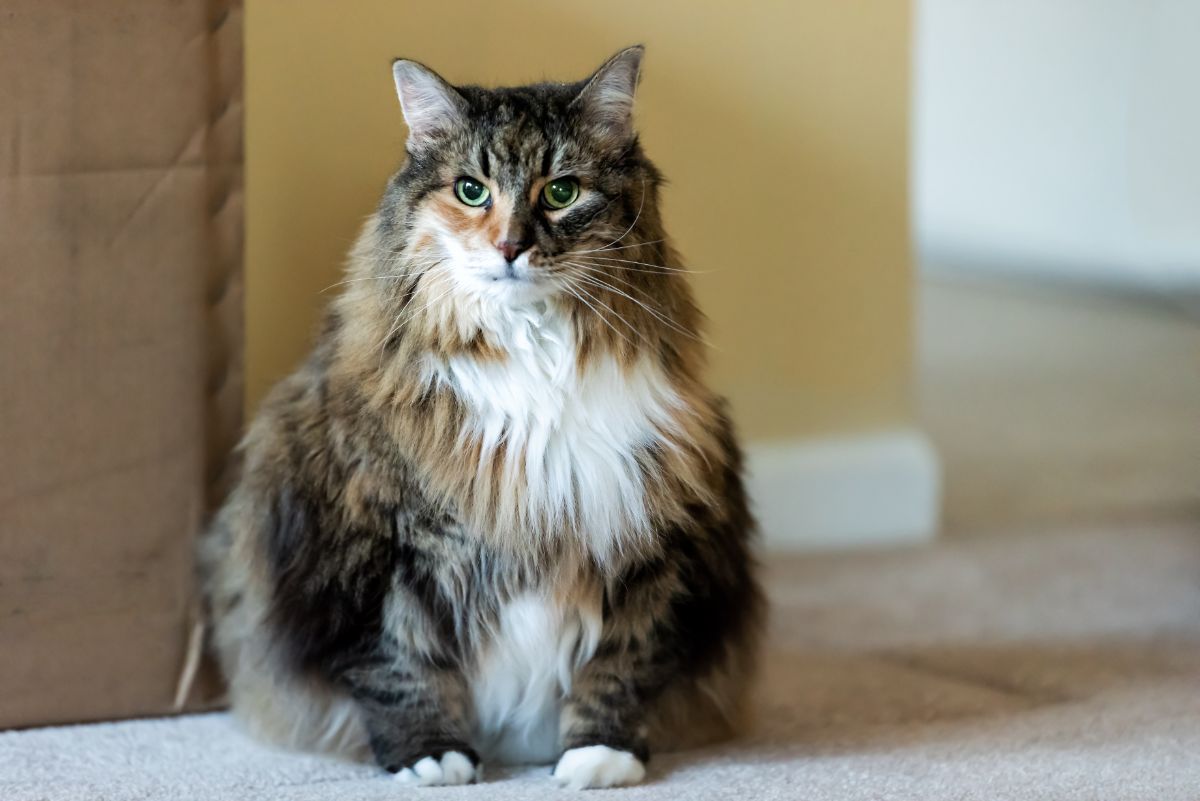 Many owners like that they are wonderful companions and want to breed them to make money or to have more of these gorgeous cats. Though beautiful, their lengthier gestation periods than other cats can cause unneeded stress.
This article aims to provide you with a comprehensive resource for planning a successful pregnancy in a Maine Coon. Let's get right in.
Jump to:
Speak With Your Vet
Talk to your vet before leaving your stud and your queen to watch "I Love Lucy" or any other love movie. This is due to two major things:
Many genetic disorders have been identified in Maine Coons. This is why it is crucial to do pre-breeding genetic testing on both parents.
Your Maine Coons should be checked for other potentially harmful disorders before you breed them. If you want to breed your queen and stud, you should have your vet check them out beforehand.
A Maine Coon's Symptoms in Heat
First, they are menstruating. Maine Coons are reproductively competent when they experience a heat cycle.
Cat owners should be aware of the telltale signs that their feline friend is experiencing heat to avoid being confused by the animal's unusual behavior.
Here are a few of the signs to keep an eye out for:
Spreading Scent: It's possible that your cat may start urinating on random things and rubbing up against people and furniture.
Attention Seeking: Female cats in heat are more likely to rub up against you and want to snuggle for attention.
Begs To Go Out: Some cats may yowl to be let outside and scratch to meet with potential mates.
Your Maine Coon could only be in heat for one week, and you can miss the signals listed above, which might delay the reproduction process in your pet.
Can Maine Coons Breed With Regular Cats?
Maine Coons can easily have kittens with other kinds of cats. If the offspring exhibits more characteristics of the Maine Coon, we refer to it as a "Maine Coon mix."
Maine Coon Pregnancy Symptoms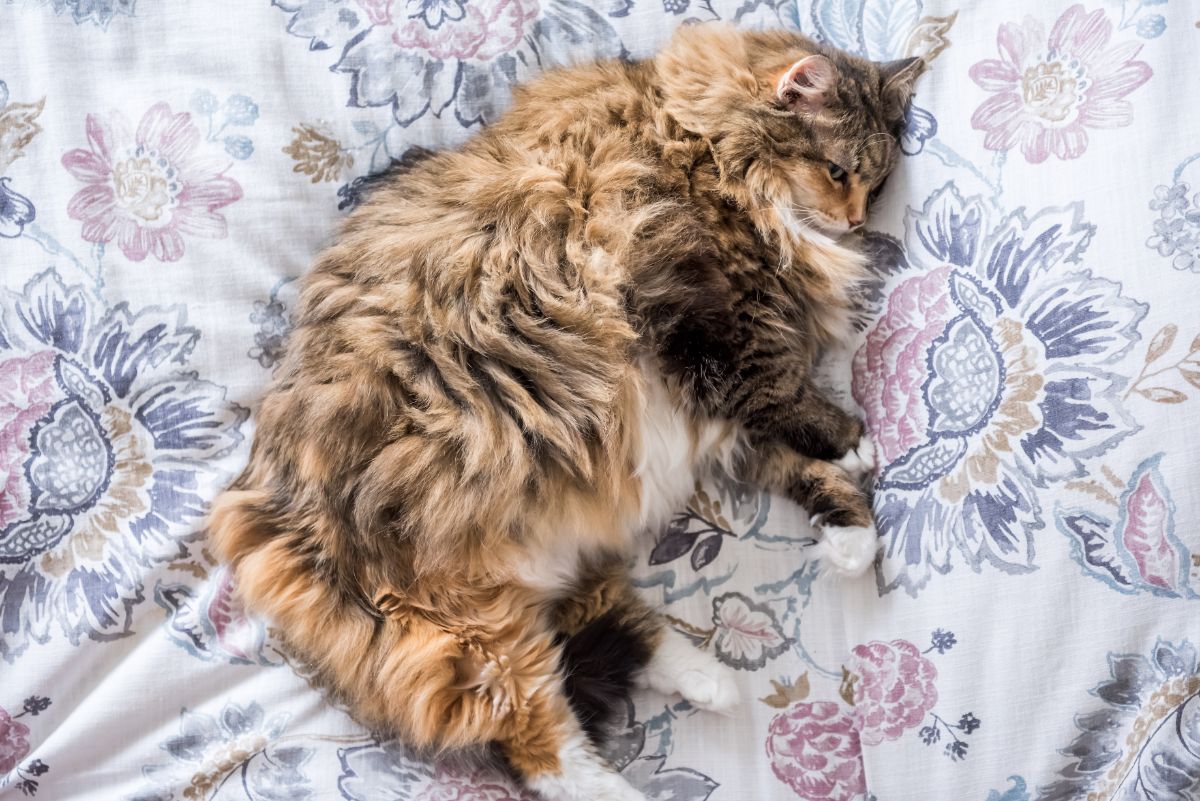 You probably won't be able to find out whether a Maine Coon is pregnant too early on.
But, after 3 or 4 weeks, you will be able to tell whether your cat is pregnant by looking for these telltale indicators:
Pink and/or swollen nipples
A swollen stomach
Noticeable Weight Gain In A Few Weeks
Morning Sickness
Increased Appetite
However, you can also look at these two behavioral changes in your Maine coon to learn about her pregnancy and even to determine how far along they're:
Increase In Affection
Increase in sleep
A veterinarian usually confirms the pregnant women's gentle palpation of the uterus. You shouldn't do this by yourself, as doing this on your own puts your cat at risk of miscarriage.
If you think your cat is pregnant and the veterinarian doesn't feel any embryos, you may have an ultrasound done for a cost. While this is useful for detecting fetal heartbeats, it is not precise enough to count individual kittens.
After 45 days, you may ask your vet for an X-ray – this should reveal the developing bones of the kittens and provide a more accurate count of the expected litter size.
There may be some inaccuracy since the kittens will overlap.
How Long Are Maine Coon Cats Pregnant?
It is possible to estimate a Maine Coon's due date as 9 or 10 weeks from the time of mating, given the average gestation length of 63 to 70 days for cats.
In the first six weeks, ensure your pregnant feline friend enjoys a diet consisting of high -quality ingredients that caters to her growing appetite.
A Maine Coon's appetite will increase dramatically during her pregnancy, beginning around week 7. As the kittens begin to develop more quickly at this stage, your cat will need the nutrients. You may give her kitten chow, which is more caloric, to make sure she gets enough to eat.
Unless your vet says it's okay, you shouldn't give your pregnant Maine Coon any medicine or worming treatments.
If your Maine Coon enjoys spending most of its time outside, you should ensure that she stays in for the final two weeks. This will keep her from giving birth outside and potentially losing the kittens. To help her adjust, create a cozy nesting box and place it in a quiet, warm area.
If she isn't interested in using it, don't make her. Provide a litter box, bowls, and food and drink close by.
Labor
Your pregnant Maine Coon will roam your home, seeking a comfortable place to give birth. If there are any rooms or closets where you'd like her not to give birth, close the doors to them.
Once she picks a site, you should never try and attempt to relocate your pregnant cat anywhere you want. She risks her and the kitten's lives if she experiences stress during birth and the process is interrupted.
When your Maine Coon is in labor, you should remain around if there are emergencies but allow her room to give birth. The process could take upwards of an hour for the first kitten to be delivered, and then every 30-60 minutes after that; another one would be born.
Your cat or kitten should be taken to the clinic immediately if they have been trying to give birth for longer than 60 minutes without success or if they have been partly out for that long.
Mother and Kitten Care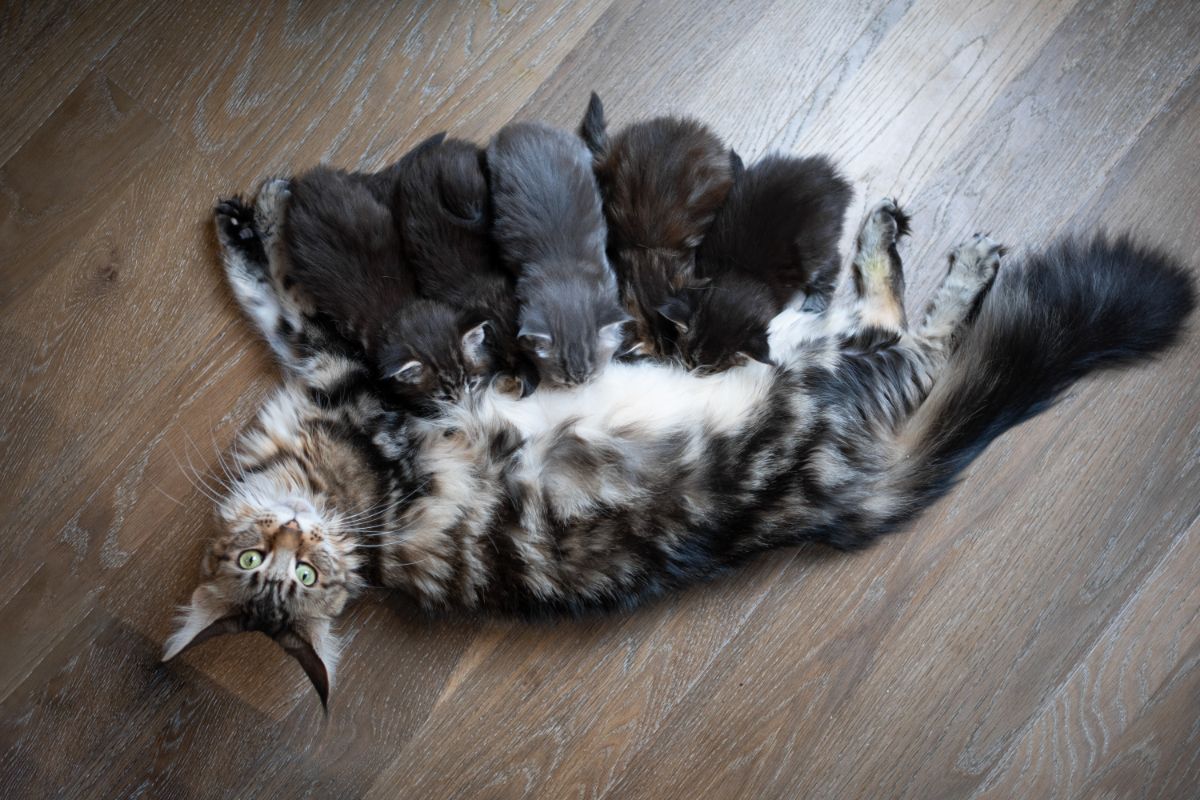 Your Maine Coon will require a healthy diet even when she is nursing her young.
There's always one little kitten in every litter that ends up being the runt of the litter. The kitten in the middle of the Y-shaped uterus of a cat gets the least nourishment and is thus born at a low weight.
The runt of the litter usually grows up to be as big as the others by 6 to 8 weeks old. Extra attention may be needed, and your vet may advise you on how to provide it.
As a general rule, you shouldn't mess with the kittens too much until you're sure your mother cat is okay with it. Gentle daily strokes should begin when the kittens are ten days old.
When your kittens are four weeks old, it's time to start picking them up and introducing them to the world. Please encourage them to interact positively with adults and kids – this will help them develop into self-assured, outgoing cats.
If this isn't done from 4 weeks to 14 weeks, the kitty can grow into a nervous, insecure cat. Also, make sure they have enough toys to play with.
The kittens need to go to the vet to be checked out and get their shots when they're old enough.
What Should You Do if Your Main Coon Is Pregnant
It is a real challenge to successfully breed Maine Coons.
To guarantee a successful pregnancy and delivery, pregnant Maine Coons need extensive special care. When your beloved cat becomes pregnant, follow these steps to ensure the health of both the cat and the unborn cat.
Allow Excess Food
Your pregnant cat's appetite will grow by roughly 50%, so be sure to feed it more. Make sure she has enough to eat to keep her safe and healthy. During pregnancy, a cat's nutritional needs change, so it's essential to provide her with a high-quality diet that meets her changing requirements.
A Safe Space
Provide her with a secure, secluded, and comfortable environment to live in. This may be done pretty much anyplace, but it's crucial that your cat feels safe.
Contact Your Vet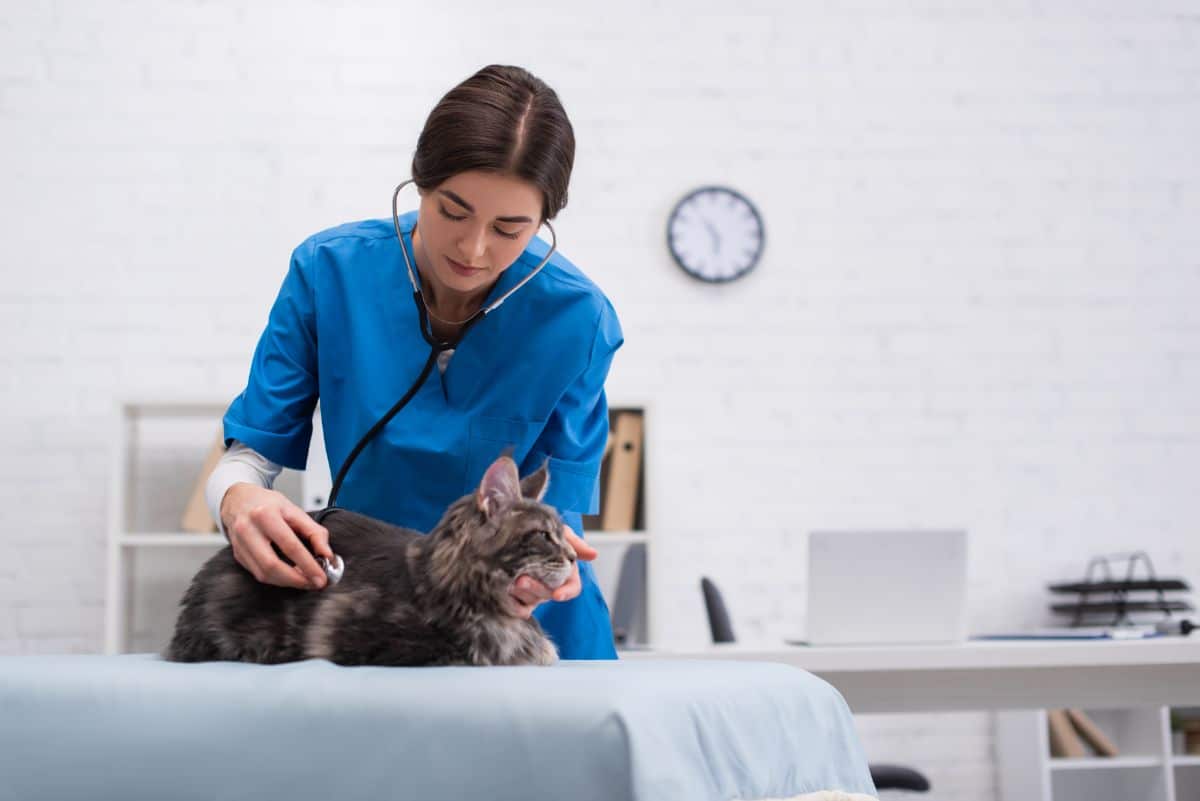 For the first-time breeder, working with a pregnant Maine Coon might be stressful and scary. But no matter how experienced you are in breeding cats, you should still take your soon-to-be-mother cat in for monthly checkups. This will aid in making sure the pregnancy is developing normally.
It takes a lot of money and effort to breed Maine Coons. Be sure you can commit to it full-time before you start, particularly if your cat decides to have kittens.
How Many Kittens Are Usually in a Maine Coon Litter?
In general, a litter of Maine Coons will have four kittens; however, the number might range from one to twelve. However, litter size of seven or more kittens is quite exceptional for a pregnant Maine Coon.
Given the complexity of the elements at play, it is impossible to make an exact prediction of the litter size of a Maine Coon. Here are four factors that may explain this
A Young Cat Having Its First Litter
As expected, a Maine Coon's age may impact the size of her litter. Breeding guidelines recommend waiting at least 12 months, preferably 18 months, before breeding a female Maine Coon. This is because she and her kittens' health may be jeopardized if she becomes pregnant too soon. A typical number for a young cat's first litter is only two or three kittens.
An Older Cat having Their First Litter
When a Maine Coon that is 3 to 4 years old and has her first litter will also usually have 2 to 3 kittens.
Subsequent Pregnancies
In subsequent litters, the number of kittens born might climb to as many as six; however, this number can decrease if your queen is not bred often enough, as she may find it harder to have a large litter.
Aging Cats
The average number of puppies a female Maine Coon has decreases as she gets older.
However, the only way to know how many kittens your Maine Coon will have is to wait until they are born. A veterinarian may use imaging technology like a CT scan or X-ray, although they aren't foolproof, as we explained earlier.
Conclusion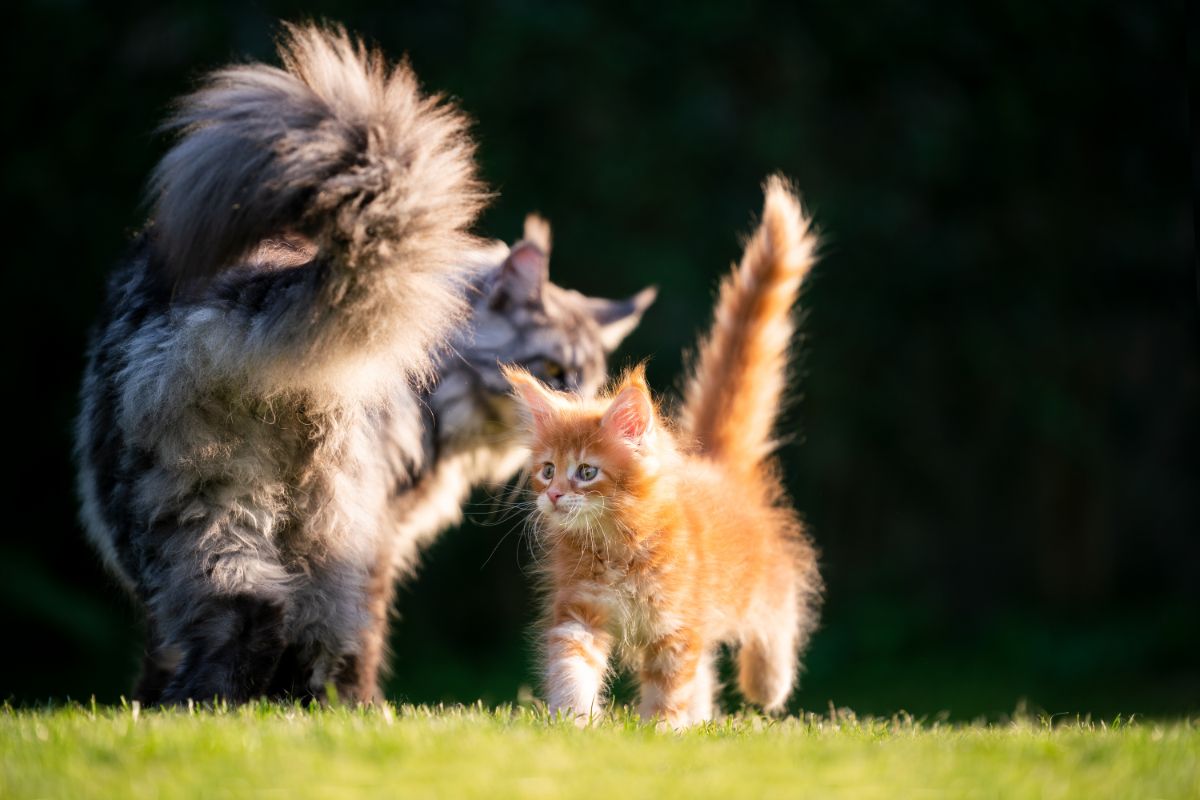 While there are many benefits to breeding Maine Coon cats, the actual pregnancy may be somewhat stressful.
We hope that your questions regarding breeding Maine Coon kittens have been answered in this comprehensive blog.