Maine Coon are beautiful cats to look at due to their stunning long and fluffy hair. So, it might be a little concerning when you see more shedding than usual and hair thinning on your beloved Maine Coon's tail.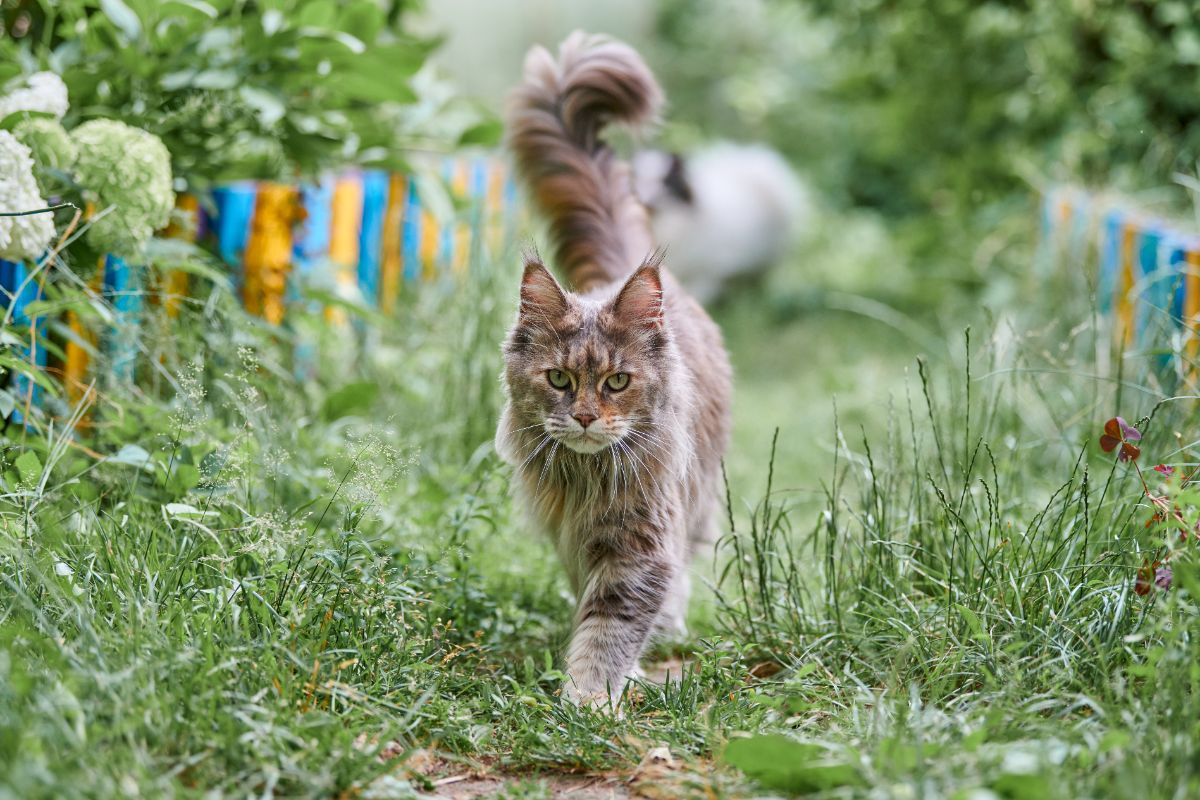 Let's take a look at some reasons your Maine Coon's tail might be thinning.
Jump to:
Why Is My Maine Coon Losing Tail Hair?
If your Maine Coon is losing tail hair, it is most likely due to external factors. While internal medical issues can cause hair loss and thinning, the culprit usually tends to be something like an infection, parasite, or even stress. There is no one-size-fits-all cause or solution.
Here are seven possible reasons your Maine Coon is losing tail hair.
1. Injury
Injuries most often happen to cats that spend a lot of their time outdoors, as there are more things they can snag their tails on and other animals to get into fights with. Maine Coons are goofy and clumsy, so they can also hurt themselves inside.
If you notice your cat is missing some hair on its tail, search for a possible injury. Cuts, burns, scratches, and other open sores can easily cause hair loss. Usually, the injury itself and the surrounding area is hairless.
If you find a significant injury, you should take your cat to the vet to help prevent infection.
2. Ringworm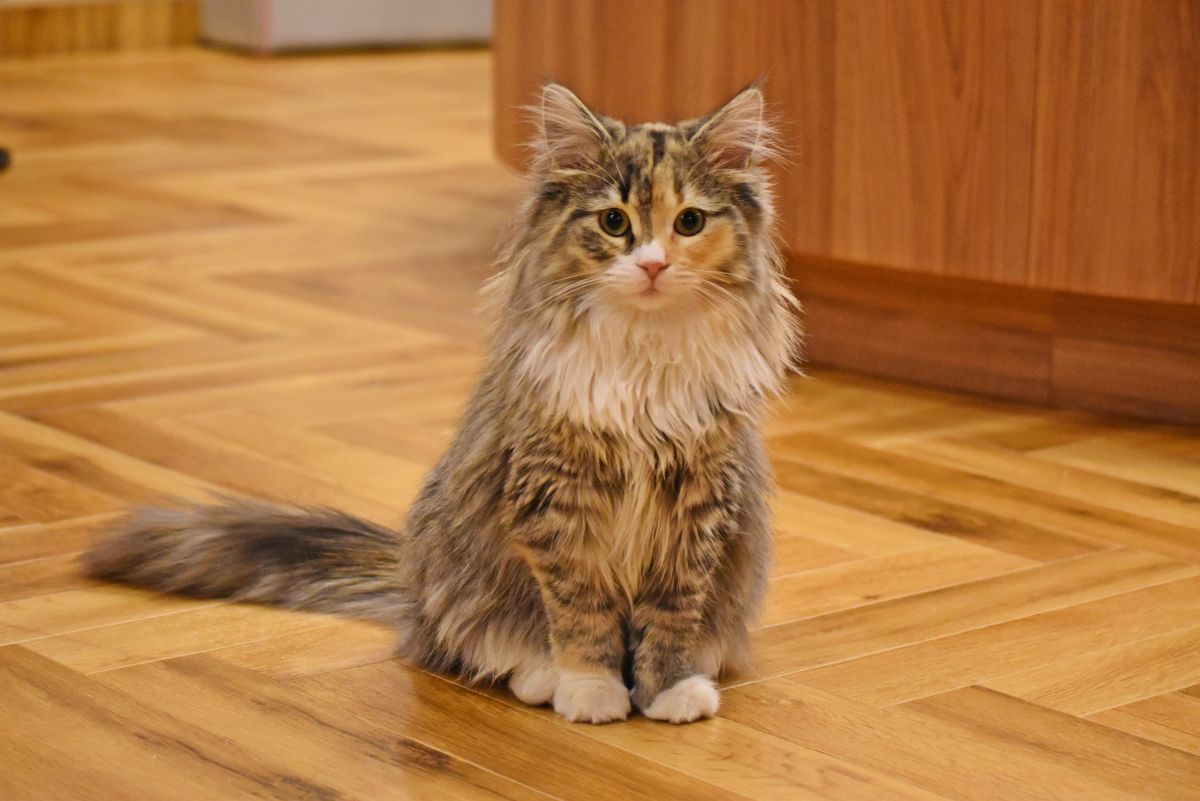 Your cat can get an infection from bacteria or fungus. Cuts and sores can easily get infected if you do not treat them, and things like tick bites can cause an infection. One of the most common infections you'll see on your Maine Coon is ringworm.
Many people think ringworm is an actual worm, but it is a fungal infection. When the dermatophytes fungi infect your cat, you and your vet can characterize this infection by the following:
Round, scaly, red patches of skin
Circular patches of hair loss
Stubbly hair
Skin inflammation and dandruff
The fungus enjoys eating keratin, something that's in hair and nails. So, the hairless patches are the result of the fungus eating away at your Maine Coon's fur.
If you find signs of ringworm on your cat's tail, contact your vet so they can give you an antifungal ointment to treat it. If you don't treat it, ringworm can spread to the rest of your Maine Coon's tail and even to you.
3. Parasites
Parasites, such as fleas and ticks, are another common issue among Maine Coons that can cause hair loss and thinning of the tail. When fleas and ticks bite your cat, they release saliva. Your cat's body sees this flea and tick saliva as an allergen, which makes your cat itchy.
To ease the itchiness, your cat will start biting and scratching at their tail and other affected areas. Due to this, your cat can break hair and even chew patches of hair off their bodies.
Look for small red bites and excessive itching to determine if your cat has a parasite. Your vet will most likely prescribe a washing solution to help rid your cat of parasites and sometimes an antibiotic.
4. Allergies
Animals can have allergies just as humans do. Maine Coons, like other cats, can be allergic to anything ranging from dust to food. Usually, one of the first signs of an allergy issue is scratching.
Dry, itchy skin makes your cat bite at their skin and fur, causing patches of hair loss. If you aren't sure what allergen is causing your cat to itch, you can get your Maine Coon tested for allergies. An antihistamine might also be a good idea to help control allergy symptoms.
5. Medical Conditions
Keeping up with vet appointments can help determine if your Maine Coon has any underlying conditions causing their tail to thin. A common medical issue in cats that can cause hair loss and thinning of the tail is hyperthyroidism.
Hyperthyroidism
Hyperthyroidism is an endocrine disorder that causes the thyroid gland to produce too much of the thyroid hormone. This disorder often happens in cats over eight years old, but it can occur in younger cats as well. One of the symptoms of this issue is hair abnormalities, which include hair loss.
Other signs of hyperthyroidism include:
Appetite and activity level changes
Vomiting and diarrhea
Itchy skin and skin lesions
Behavior changes
Medicine can help control this condition.
Skin Cancer
Skin cancer is another possible medical condition that can cause tail thinning in Maine Coons. If your cat has a tumor on their tail, signs include:
Licking
Swelling
Discharge from the affected area
Bad breath
Lesions and tumors from skin cancer can make the skin rather raw. These areas usually can't grow hair properly, leaving your Maine Coon's tail bare or patchy.
Other health issues that can cause hair loss and tail thinning include:
Cushing's Disease
Alopecia
Other endocrine disorders
6. Medication Side Effects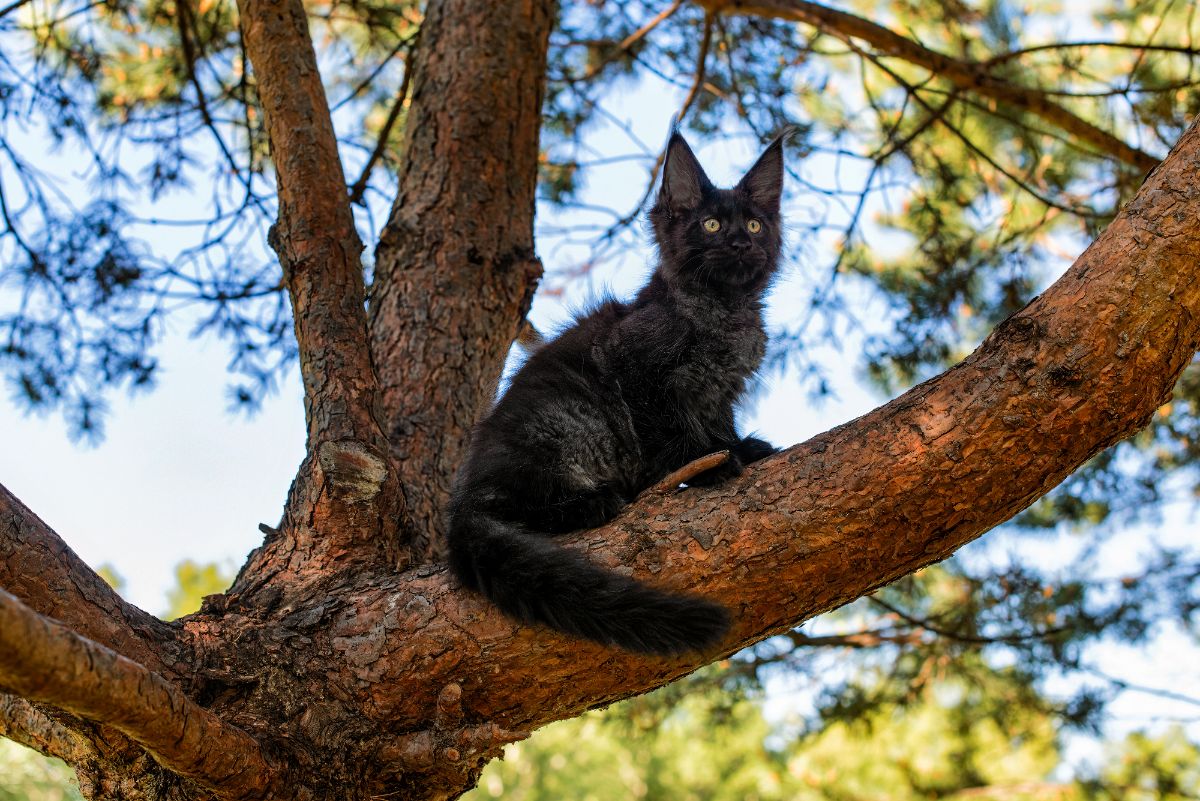 If your cat has been on medication for a long time, tail thinning and hair loss can be side effects. Steroids are the most common medication that can cause thinning hair and thinning skin.
These effects often happen after three to four months. So, it is unlikely for it to happen with short-term doses.
7. Stress
If you moved to a new home or something in your cat's environment changed recently, this could also cause your cat's tail to thin. When cats get stressed out, they tend to over-groom themselves as a way of coping. The name for overgrooming due to stress is psychogenic alopecia. You'll notice bald patches when your cat has this psychological issue.
Your vet may prescribe medicine to help your cat stop doing this.
Should You Brush a Maine Coon's Tail? Will It Help With Thinning?
You should brush your Maine Coon's tail, and the rest of their body, a few times a week. Doing this helps rid the fur of knots, dandruff, and trapped debris and bugs. Doing this doesn't necessarily help with thinning, but it can help you get a closer look at possible issues with your cat.
Final Thoughts
There are plenty of different reasons your furry Maine Coon is having tail thinning issues. While you can diagnose some of these issues at home, you should always take your cat to the vet to get an official diagnosis. Your vet can also prescribe medicine if needed.